Trying to read all the picture books published in a given year is daunting. So, I confess to cheating—keeping up only with the current books in the genre I tend to write (biographies, social studies, history.) Ask me (as some teachers recently did) about great science picture books and you'll likely get a blank stare (as they did.) Then I'll recover and spout off some titles that I saw in a booth at the last ALA show or in the latest SCBWI journal, but haven't read at all…a scary, and frankly, not very honest, way to go about the business of being a picture book author recommending good books for kids.
I'm not comfortable with science-related topics. I got a D in chemistry in high school (honestly.) Science scares me. Anytime I'm in the children's section of a bookstore or library, if I see a photo of whales, snakes, rocks, flowers or the cosmos itself, I pass right by, assuming that anything related to science is dull, complicated and confusing. I don't buy science picture books, heck, I don't even browse! Which is why I was shocked when I was stopped in my tracks at the library by a nonfiction picture book covered in…vegetables!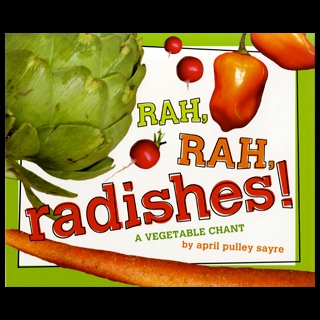 "Rah, Rah, Radishes!" by April Pulley Sayre is a picture book that covers a science related topic (healthy diet, plant growth, seasons, insects, farming, etc.) in such fun language, that my very own copy is on its way! April's peppy vegetable chant bounces us along page by page. She must have spent lots of time with very young children at some point, because on every page it was easy to imagine a group of preschoolers or kindergarteners chanting along.
This book is instantly memorable. There is no way as a writer or a reader to prevent falling in love with a line like, "Oh boy, bok choy! Brussels sprout." In fact, the last time I roasted brussel sprouts, it popped into my head like I had written it myself. That's how I know this book can teach me something about good writing. You know the advice, "don't write in rhyme?" Well, it's not a firm rule. The real rule is "make sure you rhyme unexpectedly and perfectly." April's rhymes? "Eggplant's extraordinary. Pumpkin's art. Don't eat zucchini? Time to start!" Irresistible. Unexpected. Perfect.
The other half of this gorgeous book are the photographs that April took herself. Photos that make the reader see farmer's market vegetables in a fresh (sorry, couldn't resist) way. Photos that make you think about the way vegetables grow and the people that grow them. This book makes vegetables and healthy eating interesting. This book is a way to introduce kids to a science topic that they'll never forget. This book can even help science adverse children's writers like me to get out of their comfort zone.
This book made me realize that a science related picture book can be made as fun and easy as any other. And, it turns out there are more of April's chant books, which I can't wait to add to the collection of books that I read over and over in order to continue learning how to write for children. Read a type of picture book you don't usually pick up, I hope you'll be surprised what you learn about writing. "Veggies Rock!"