Social media often has Throwback Thursdays, where people post photos of their younger selves on Facebook or Twitter.
Today, I'm having a Flashback Friday, where I look at one of the books that inspired me the most when I was starting out as a children's writer.
Therefore, I am proud to present: Wanda's Roses, written by Pat Brisson and illustrated by Maryann Cocca-Leffler.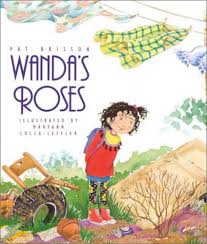 This gem was written in 1994, so it's older than my oldest daughter. I can't remember where  I first saw it — probably at the library — but I liked it so much, I went and bought my own copy, which I still have today.
The book is also still in print, a wonderful accomplishment in today's competitive picture book market. Here's what gives it staying power.
A likeable heroine. Who wouldn't like Wanda? She's cheery, enthusiastic, hardworking and, as we learn on the book's first page, a lover of beautiful things. In this story, she turns her affections toward a rosebush she finds in a vacant neighborhood lot.
A quest. The thing is, Wanda's bush doesn't have any roses. Or leaves. So Wanda decides she simply will love that rosebush until it blooms. This leads her to clean up the lot and water the bush and tell everyone she meets:  "You just wait … in a few weeks this lot will be full of roses."
Hope amid despair.  Wanda's belief never wavers. Even when extra sun and air and water and love don't elicit any changes in the bush, Wanda is convinced it will bloom, and she works day after day to make it so. Wanda's neighbors aren't so sure. They help Wanda with her quest, but doubt the thorny bush will ever flower.
A sense of community. The neighbors are a big part of this story. While they doubt Wanda's bush will bloom, they believe in Wanda and don't want her to be disappointed. So they help however they can and keep their concerns to themselves, until Wanda invites them to a tea party in her rose garden. Then, they take matters into their own hands.
Diversity. This books has diversity in a very effective, understated way. Wanda lives in a city and the folks around represent the make-up of a city. Young and old. Black and white. Blue collar and white collar. All united in wanting Wanda's dream to come true. Why? Because they like her, and that's what neighbors do.
Repeating elements. Wanda's, "You just wait" refrain is heard again and again and works quite effectively. And her neighbors' doubts follow a repetitive pattern, too. "If that's a rose bush, I'm the queen of England." "If that's a rose bush, I'm the king of France."
A task well done (although not in the way you might have originally anticipated). Another nifty thing about this book is that although Wanda's neighbors help her have the rose garden of her dreams in a very caring way, they are not the story's true problem solvers. Wanda is. She happily comes up with a solution of her own that gives the bush flowers "just as Wanda had always said."
I've mentioned heart in previous posts, and this book has that too.  Wanda loves something most people would look right by. She believes good things will happen, and she inspires others to do the same. So when the book comes to its satisfying conclusion, there's a strong sense that all's right with the world.
Which is a very good way to feel.
I hope you'll check it out!