We see a lot of picture books, don't we?  Sometimes it's a little mind-boggling. So many books! What should I read next?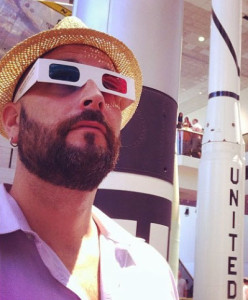 And then a book leaps off the shelf, grabs you by the collar, and says, "Read ME!"
Which is exactly how I discovered Zachariah OHora a few years ago (figuratively speaking, of course). I was walking out of the library when a striking blue gorilla caught my eye. I turned around, grabbed No Fits, Nilson!, and have been a huge fan ever since.
And, so, to celebrate the arrival of Zach's latest book, My Cousin Momo—a sweet and funny story about friendship and acceptance— I've invited him to come by to answer a few questions. He's also generously agreed to give away a signed copy of Momo to a randomly selected commenter (see more below).
First, a quick rundown of Zach's work to date. He's written and illustrated three books:

And illustrated three additional books written by (respectively) Lisa Wheeler, Sudipta Bardhan-Quallen and Ame Dyckman.

Okay, ready? Let's move on to the questions.  I guarantee you'll say "Awww" at least once. (Click on images to enlarge.)
1. Momo clearly marches to the beat of his own drum. Was he inspired by anyone in particular?
Momo was mainly inspired by photos I came across of Japanese flying squirrels as well as the emerging personality of my younger son Teddy. Quiet, mysterious and cute.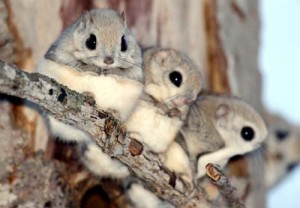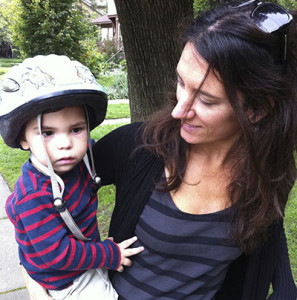 2. As both the author and illustrator of this book, did the story begin for you in images or words . . . or both? What media do you use? 
My books always start with an image or character. Usually it's finding the cutest thing I can find on the internet and making a card of it for my wife Lydia.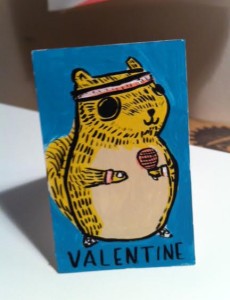 When I draw them long enough their personalities start to emerge. Sometimes I'll make a mini book out of paper scraps on my desk.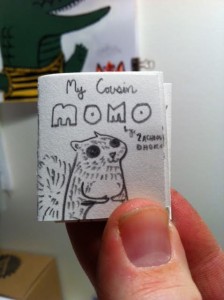 This was the beginning sketch of the fully realized Momo. I paint with acrylics and sometimes add some textures in Photoshop like the background below. But mostly I work old school and deliver a box of finished paintings.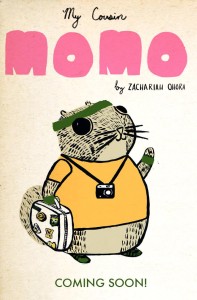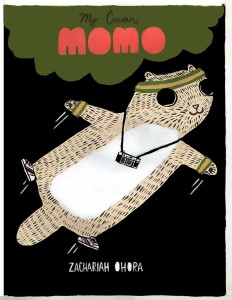 3. Your illustrations convey real kid-like emotions—even though the kids here happen to be squirrels. For example, we feel the girl's frustration with Momo when she whacks herself in the head with the Acorn-Pong paddle.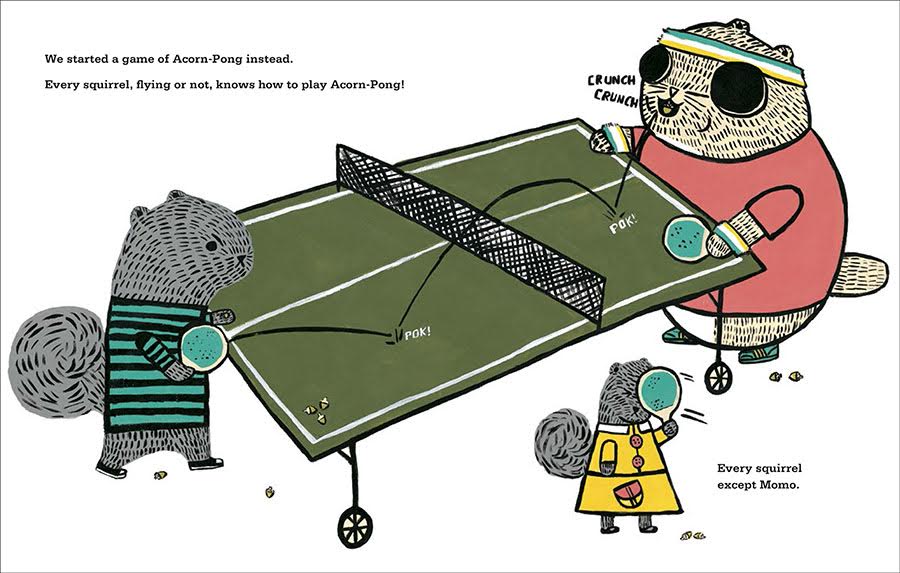 Did you have this image from the get-go or did you experiment? 
Momo went through quite a number of drafts, first with my editor Nancy Conescu and after she moved to Australia there were more drafts with Nami Tripathi and Lily Malcom too. So things evolved quite a bit. As the story changed, the younger sister squirrel's (Francine) personality really came to the fore. Her outbursts are some of my favorite moments in the book and they capture kids exasperation—almost a Linus from Peanuts level of visceral frustration that is funny because we all have felt it.
Here are a couple different early thumbnails for what became the acorn-pong spread. Quite different text too.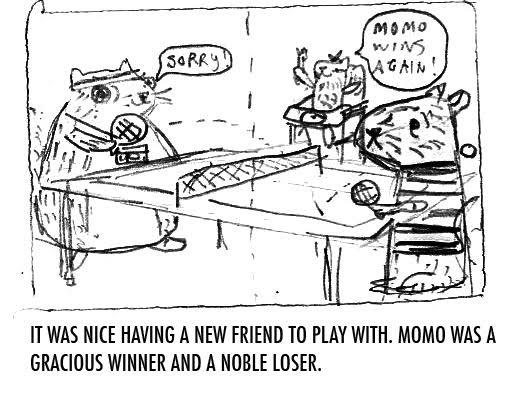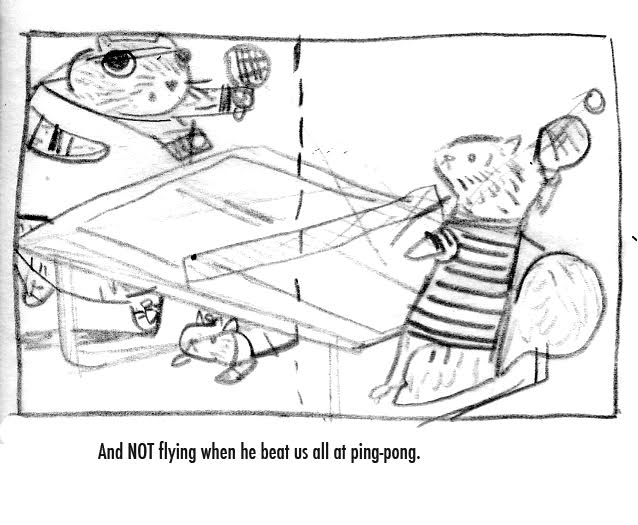 Here's an early sketch of that spread when it turned into acorn pong.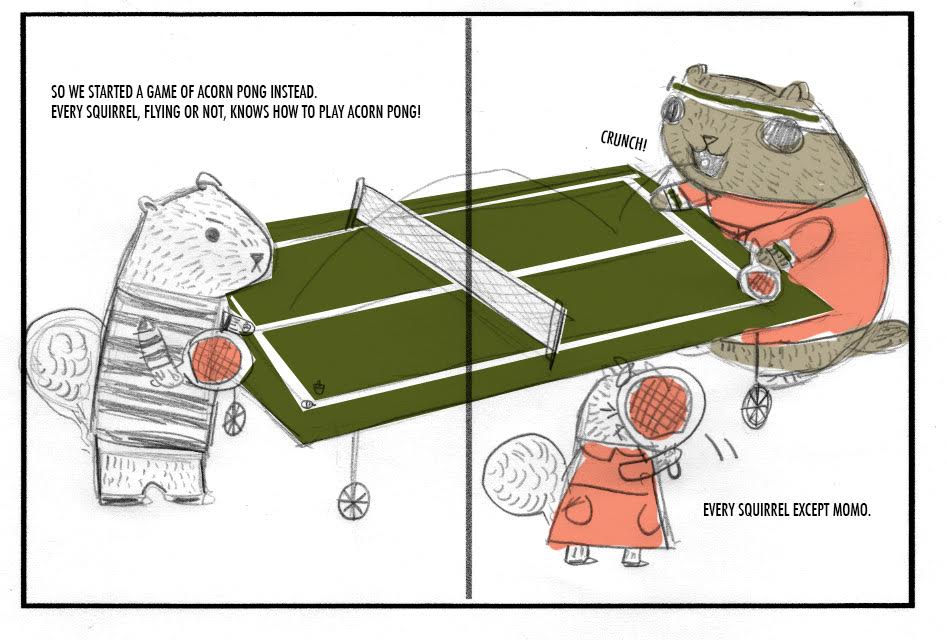 4. Your books are packed with the sorts of details that kids (and adults) love to study. In Momo, I'm particularly taken with the sprawling tree house design—the clothesline with squirrel-outfits attached, the bunk beds and bookshelves. How did the house evolve?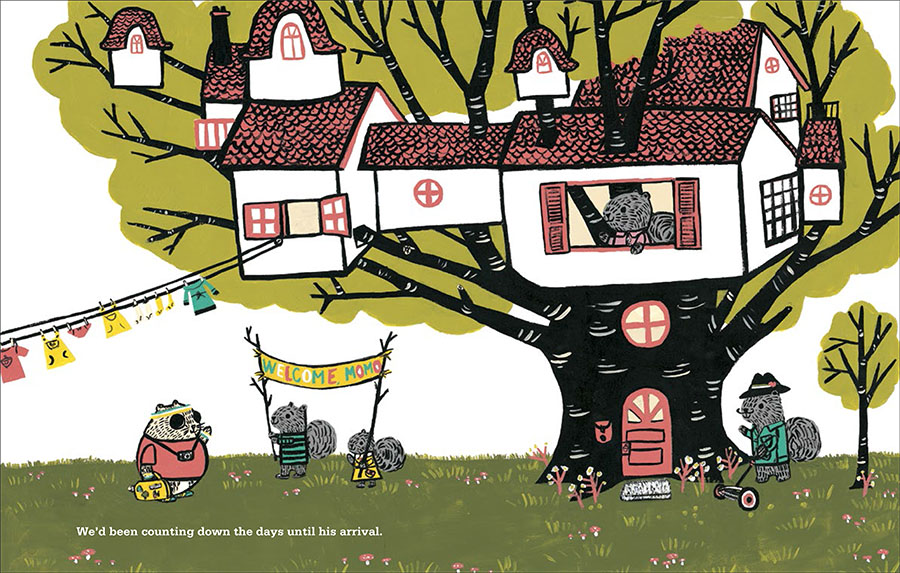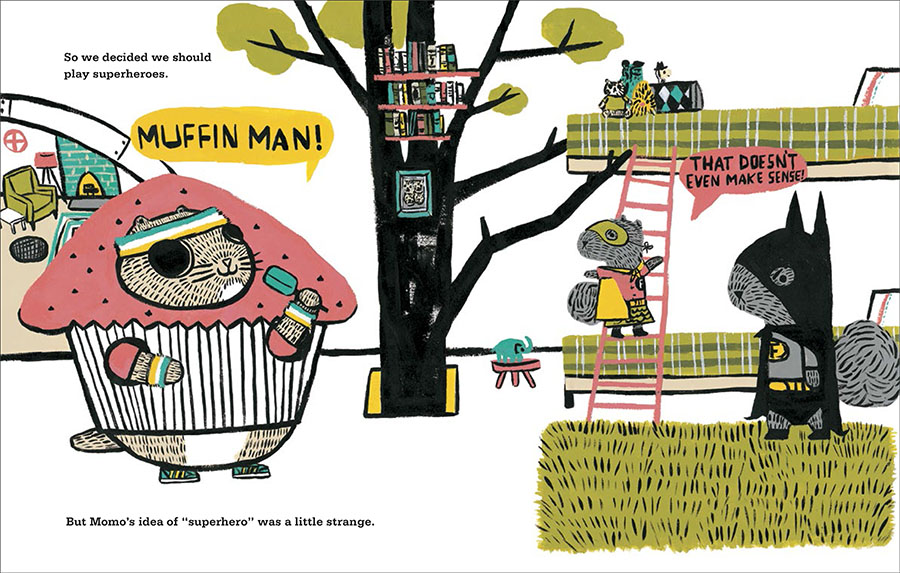 I knew from the beginning that I wanted the house to be an elaborate treehouse. So I looked at tons of treehouse pictures on the internet.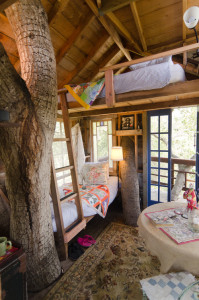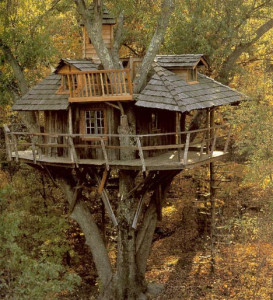 I was also inspired by a Fisher Price toy that my cousin got for Christmas that I was totally jealous of. The Woodsey's. I coveted this toy for years. A few months ago Ame Dyckman [author of Wolfie the Bunny] gifted me one. I couldn't believe it, childhood dreams do come true!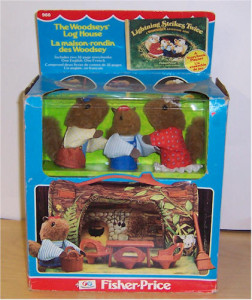 5. When I removed the book's dust jacket, I was surprised to see that the interior book cover (is there a technical name for this?) was different. Instead of the dust jacket images, we get to peek into Momo's suitcase on the front cover and look at the exterior of the suitcase—complete with fun travel stickers—on the back. How did that come about?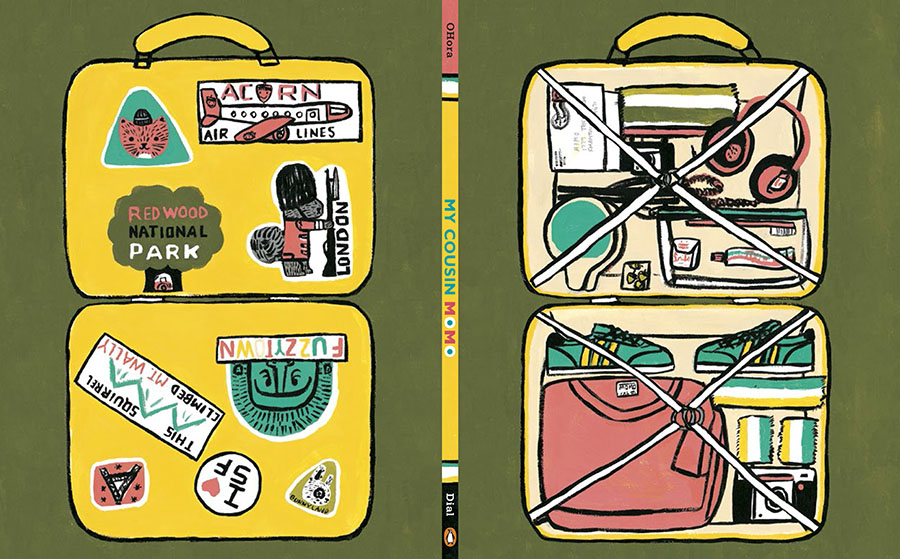 The hard board that makes the book cover is called the "case cover". Since it has to be printed separate from the dust jacket anyway, it's not any more expensive to do something different. I try to pack in as many little surprises and details as I can, especially for the parents who are hopefully reading the book a couple hundred times. As a parent I'm delighted when I discover something new in a book. Cause even if I love it—after a hundred readings in a row I'm ready to gouge my eyes out. Hopefully I'll be saving eyeballs by tucking in these little Easter eggs. Also my editor and art director give me lists of good ideas. Pretty sure it was Lily Malcom that had the idea for the case cover to be the suitcase.
6. You seem to have lots of projects going, in various forms of media. What feeds your creativity? Does anything sap it?
I do editorial illustration too. It's nice to have some jobs that are quick turnarounds and healthy distractions from the longer term book projects. Sometimes there's overlap of whatever I'm working on at the same time. This is a poster I made for The Free Library of Philadelphia's Summer Reading Program that is a nod to the 150th anniversary of Alice in Wonderland. Apparently, they owned the original manuscript that Lewis Carroll made and illustrated for the "real life" Alice. Knowing it was right when Momo was coming out I stuck him in there. And since there are fly agaric mushrooms in both stories it was a natural fit.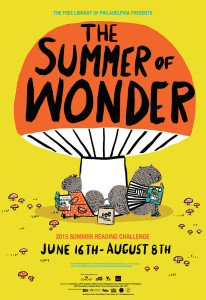 Everything feeds my creativity, my kids, books, movies, records, art and normal frustrating life stuff, like grocery shopping. That said, those are the very same things that sap my creativity too. You can't turn it on all the time either. You need sort of fallow periods for your brain to think of new stuff or problem solve. Much of my writing would appear as time wasting to a middle management corporate type. I take regular walkabouts, just wandering around the city (in this case now it's Philly) going to book stores, record stores, and hanging out in parks and stuff. A couple beers or coffees with Greg Pizzoli helps get some ideas flowing too. [Anyone else thinking it would be fun to join them?]
That wraps up our interview. Thanks so much, Zach! 
* * *    And, now, to win an autographed copy of MY COUSIN MOMO . . .    * * *
Just leave a comment below by July 15th and I'll randomly select a winner, to be announced in my next post (July 21st). If you've got questions for Zach, leave them in the comments—he'll stop by later to answer them. And for more about Zach, be sure to visit his website.