At book signings there's always somebody who, after flipping through a book, looks at me to ask, "Where'd you get this idea?"
Honestly, it isn't always easy to remember, 3-5 years after the fact, what sparked a story idea.
But if they ask that about my newest book, Elwood Bigfoot:  Wanted:  Birdie Friends!, I'll have no trouble.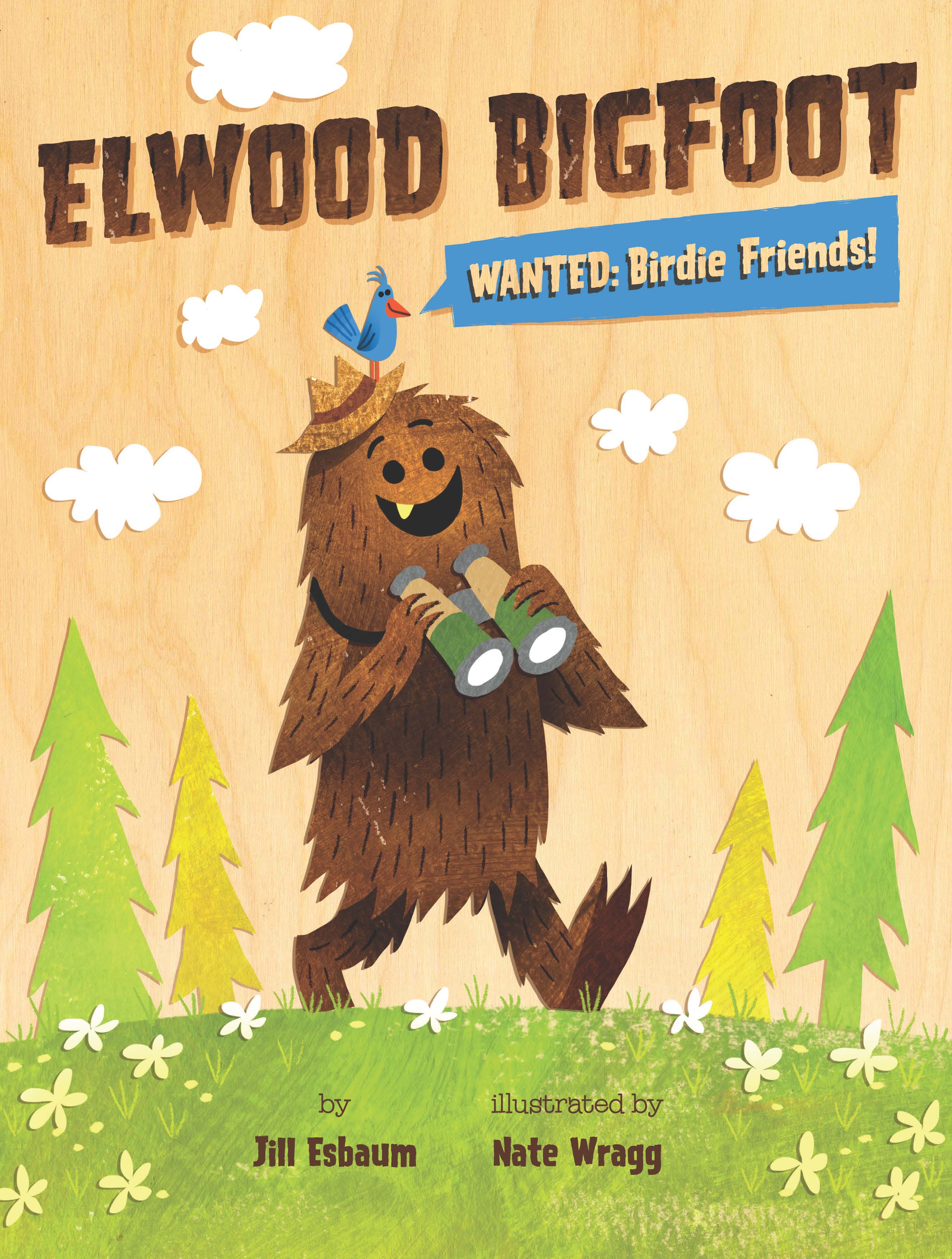 Once, while watching Finding Bigfoot on Animal Planet, something started bothering me about reported bigfoot sightings. Checking out dozens of accounts on the internet confirmed it:  the vast majority of spotters claim to have seen a bigfoot. That's "a" bigfoot. One. How lonely must that be? The poor beasts. Made me want to hold my nose and give one a hug. Or a friend.
My first effort was the sweet story of a bigfoot who lived in a forest near a kids' summer camp and watched them from across a lake, longing to meet one and make a friend.
It stunk. Sweet stories? Not my forté.
My second try featured a bigfoot kid on his way to bigfoot camp when a distracted bus driver accidentally dropped him off at a camp for humans. He tries to fit in through a variety of hilarious situations. At least I thought they were hilarious.
More stink. And I wrote many versions of that one. Ultimately, my then-agent said the ending was too predictable. Phooey. I tried and tried to rework it, but … ugh. The problem, I realized, was that I wasn't writing a character-driven story, but a plot-driven one.
Plot-driven stories? Not my forté.
That's when I had to sit back and say, "Okay, stop. What does Elwood WANT?" My third try felt right from the start. It's simply the story of a bigfoot, Elwood, who is devastatingly lonely. Thank goodness for …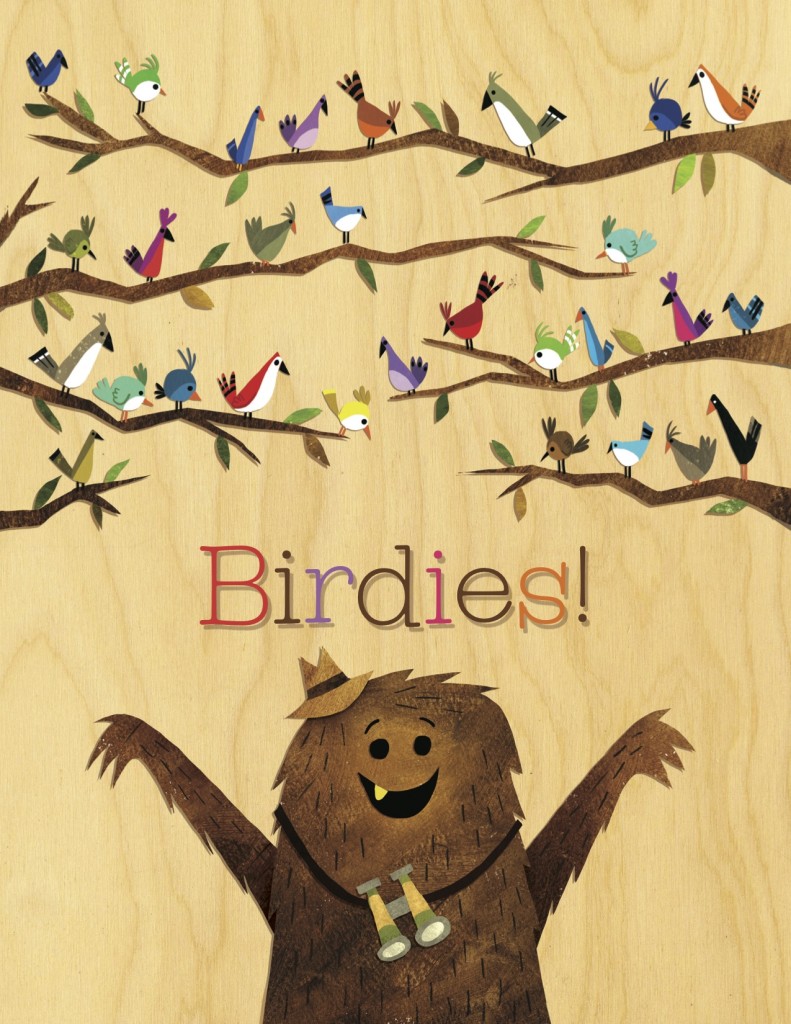 Reprinted with permission from Elwood Bigfoot © 2015 by Jill Esbaum, Sterling Children's Books, an imprint of Sterling Publishing Co., Inc. Illustrations by Nate Wragg.
From the book:
          Elwood loved birdies. Each flash of feather, each chirp and cheerful song helped him feel less alone. Whenever a birdie swooped by, Elwood hollered, "COME BACK, BIRDIE! BE MY FRIEND!"
          But no birdie ever came back.
Elwood knocks himself out trying to befriend the neighborhood birdies. He builds a home high in a tree. He crafts a disguise and acts like a birdie. He plans a wild housewarming party. Nothing works. He even creates a birdie theme park: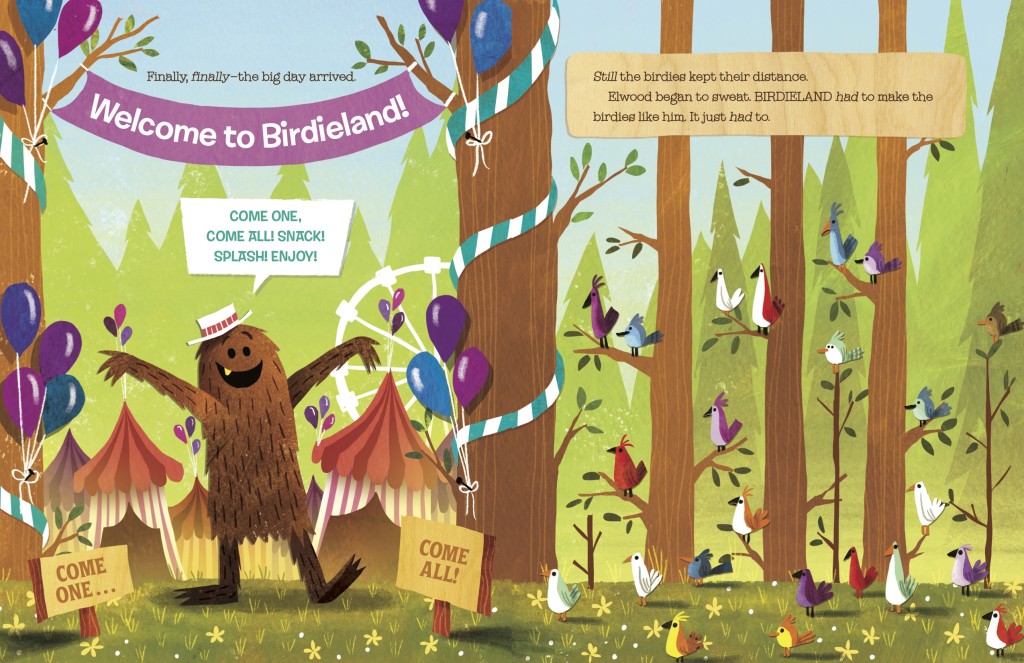 Reprinted with permission from Elwood Bigfoot © 2015 by Jill Esbaum, Sterling Children's Books, an imprint of Sterling Publishing Co., Inc. Illustrations by Nate Wragg.
From the book:
          Still the birdies kept their distance.
          Elwood began to sweat. BIRDIELAND had to make the birdies like him. It just had to.
It doesn't … until he finally discovers what he's been doing wrong.
Only one review is in so far, from Kirkus. And it's a whew. Among other nice things, they said:  "Esbaum's sweet tale of a friendship-seeking bigfoot is a good title to hand to those not quite ready for chapter books. The … simple text will keep them interested without unduly challenging their new reading skills. Wragg's adorable, snaggle-toothed bigfoot … will easily charm the kids (and birds). Bright, enticing cartoon illustrations and a character many can identify with will hook story timers and new readers."
The first time I saw Nate Wragg's illustrations – whimsical and colorful and filled with life – my heartbeat doubled. Wait till you see Elwood in his birdie disguise … and dancing the boola-boola … and demonstrating the Chick-a-BOOM-erang (a theme park ride) for the birdies. The big surprise, for me, was that Elwood's story ends on a sweet note.  🙂  How could it not? Elwood's a big, hairy pile of soft-heartedness.
Elwood Bigfoot stomps into stores next Tuesday, September 1st. If you'd like to win a copy for your favorite kiddos (or yourself), just comment below before Saturday, September 5th. I'll choose one winner in a random drawing, and we'll announce it here the following week.
Wait! Blue Slip Media has created a fabulous activity kit to go with this book. It's free to download from my website.   Please do!
And BEST of luck in the contest!
Jill