Attention, children, grownups, and dragons!
Liz Starin and I have a book that will be roaring onto the scene on October 6. ROAR! stars a little boy and two dragons who discover what it takes to start a friendship.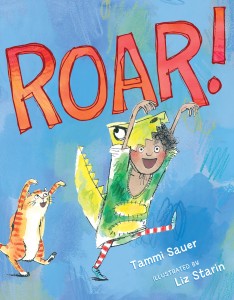 This, by the way, is what Kirkus said about our book:  "Big hearted, heart gladdening, and—best—a light-hearted approach to finding friends."
I love that! What about you, Liz?
I love that part, too! I also like the part about my "glittering, inviting artwork."
ROAR! is your debut as an illustrator. How did you come to illustrate this book?
Last year, I received an unsigned letter summoning me to a mysterious late-night meeting in a parking garage. When I got there, a man (I have promised not to reveal his identity) handed me a stack of pages bearing some encoded text. After writing a quick cryptanalysis program, I was able to decipher the text, which turned out to be the manuscript to ROAR!
So, you know, the usual way.
Weird. That's exactly how I get most of my ideas.
Your dragons are unlike any dragons I have ever seen. They are so fun, fresh, and expressive. Did they start out looking this way or did they evolve over time? Also, do they have names?
I started out by drawing lots of pictures of lizards. So this is what they looked like at the beginning: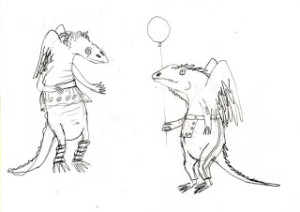 The dragons eventually became less humanoid (also less sardonic) and more animal:
And I experimented with color and pattern:

Laurent Linn, the art director, and Sylvie Frank, the editor, gently prodded me to make the characters sweeter and more relatable.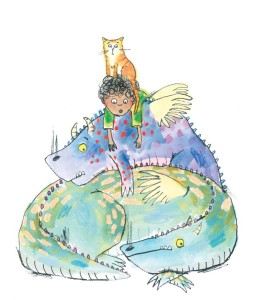 The only character in the book with a name is Stanley, which I love but didn't come up with. I was never good at naming my stuffed animals, either. Heaven help my future children.
[Note:  Stanley is the cat.]
Tell us a little about Stanley, Liz.
Stanley is entirely my invention; he was not originally mentioned in the text. Maybe because I have two younger brothers, I saw the boy character as a sort of kid brother tag-along type who wants to be just like his elder siblings, er, dragons. I thought it would be nice to wordlessly echo that relationship with a character who wants to be just like the boy. That's how life often works anyway: for all you admire someone, there's someone else who feels the same way about you.
Also, I think cats are just naturally hilarious.
Did you face any challenges while illustrating ROAR!?
Of course! This is a deceptively simple book, as the text is all dialogue. It seemed pretty clear to me from the start that I was dealing with something like a piece of black box theater, with little in the way of setting or props to hang my hat on. Body language and facial expressions had to tell the entire story. So then I had to figure out how to make the book visually interesting and varied even though every page features the same three (well, four) characters and not much else.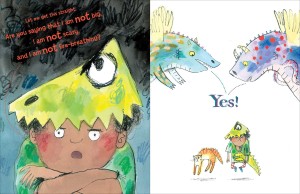 Which artists in particular inspired your illustrations?
When I was designing the dragons, I spent some time with William Steig's gorgeous ROTTEN ISLAND (incidentally, he considered it to be some of his finest work). I wanted to study his use of busy pattern + bright color and how he dealt with the challenge of working from pure imagination.
I also had Chris Raschka's YO! YES? in the back of my mind when I chose to mainly use a blank white background.
Strangely enough, I also kept thinking of the Walt Disney cartoon version of Cinderella. I wanted the dragons to be obviously a set, but also clearly distinct from one another. The stepsisters, Drizella and Anastasia, were just such a set, and I remembered how satisfying it was, when I was a child, to note the differences and to have a favorite.
Please give us a tour of your studio.
First off, let me say that I am a lucky monkey. I live in New York…but look at all this space! (I am neighbors with the incomparable Colleen A.F. Venable. Our neighborhood has houses.)
My studio has a maddeningly perfect view of my neighbors' backyard swimming pool.
Here are some flat files I bought new off eBay for an absurdly low price. Trying to get freight delivery to a New York apartment is another story, however.
Ooh. I spy a ROAR! drawer.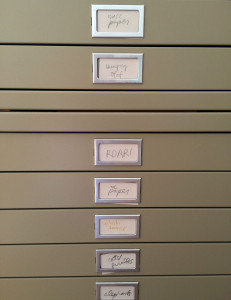 I got this bookcase off Craigslist from an NYU professor. Apparently it used to live in the Pan Am offices.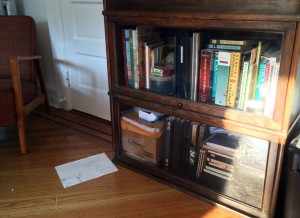 Having a big table to work on is the best.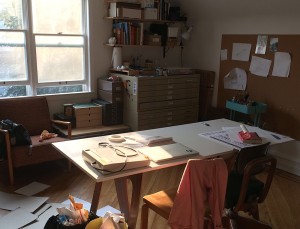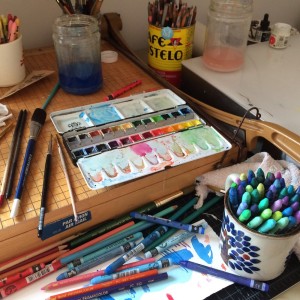 Compulsive doodler.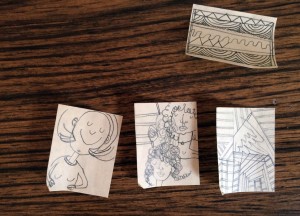 Cool stuff on shelves.
If you had one key piece of advice for illustrators, what would it be?
Read lots and lots of picture books. Then stop reading them for a while so you can create work that is truly yours.
Scoop time! What's next for you?
Well, you've just made me hungry for ice cream, but I'll try to stay on topic. Next up is my author-illustrator debut, SPLASHDANCE! It's coming out in Summer '16 from FSG.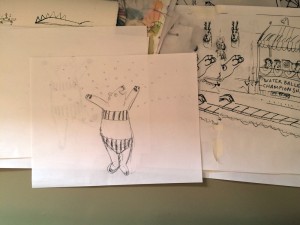 That is a great title. I suddenly have the urge to put on an off the shoulder sweatshirt and blast "What a Feeling."
Many thanks for joining us at Picture Book Builders, Liz!
Bio: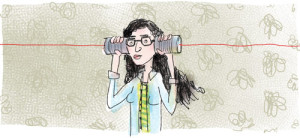 Liz Starin is a former children's book reviewer for Junior Library Guild. Now she is a picture book writer-illustrator and a software engineer. Liz lives in a big house in Brooklyn with her musician partner and also some other musicians. And some cats.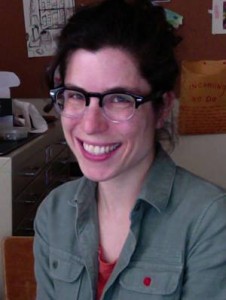 * * * * * * * * * * * * * * * * * * * * * * * * * * * * * * * * * * * * * * * * * * * * * * * * * *
Important News Bulletin #1:
To celebrate our release, I am giving away a signed-by-me copy of ROAR! To enter, just leave a comment below.
I'll announce a WINNER next month.
* * * * * * * * * * * * * * * * * * * * * * * * * * * * * * * * * * * * * * * * * * * * * * * * * *
Important News Bulletin #2:
The winner of a signed copy of THIS OLD VAN by Kim Norman goes to…
…Darshana! Thanks to everyone who entered. 
* * * * * * * * * * * * * * * * * * * * * * * * * * * * * * * * * * * * * * * * * * * * * * * * * *
Important News Bulletin #3:  
This week marks our one year anniversary at Picturebookbuilders.com!
*throws confetti*
Thank you for being part of the mix. 🙂