Three years ago, my Sterling editor, Meredith Mundy, asked me to rewrite the holiday song Over the River and Through the Wood with "plenty of chaos and wackiness" as family members travel to Grandma's house using various modes of transportation. We agreed that the characters should be a reflection of most families today—geographically scattered and diverse in composition.
Well, the book is now here—and, I'm thrilled to say, so is illustrator Kim Smith, all the way from Calgary!  I'm also thrilled to share that Publishers Weekly gave it a starred review. We'll be giving away two signed copies of the book (details below).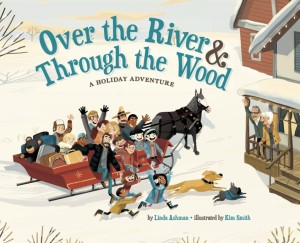 First, let me just say there are a LOT of characters in this book—specifically, eleven adults, eight kids, two dogs, one cat and a horse—plus dozens more in busy scenes at airports and train stations. In my manuscript, I used short-hand to refer to each family—Suburban, Urban, Far Away, and Adventurous—and color-coded my stanzas to keep everyone straight (if you're curious about what this looked like, you can view the manuscript here).
Sounds a bit, well, challenging, right? Let's see what Kim has to say . . .
Welcome, Kim!
Can you tell us about your creative process? 
First I start by reading the manuscript and making notes and little doodles on any images that pop into my head. It's a great starting point for developing the characters and the look of the book. From there I start sketching out the main characters and flesh out their personalities through their looks. I also do my rough sketches in pencil and try and get as many ideas down as I can. I scan in the sketches and put them all in a line and select the ones I think are best to tighten up and turn into the final characters.  (Click to enlarge all images.)

Once the final characters have been approved it's page sketching time! I create a ton of thumbnails for the pages, trying different layouts to see which ones will work best. (Below, some alternatives for the portrait wall.)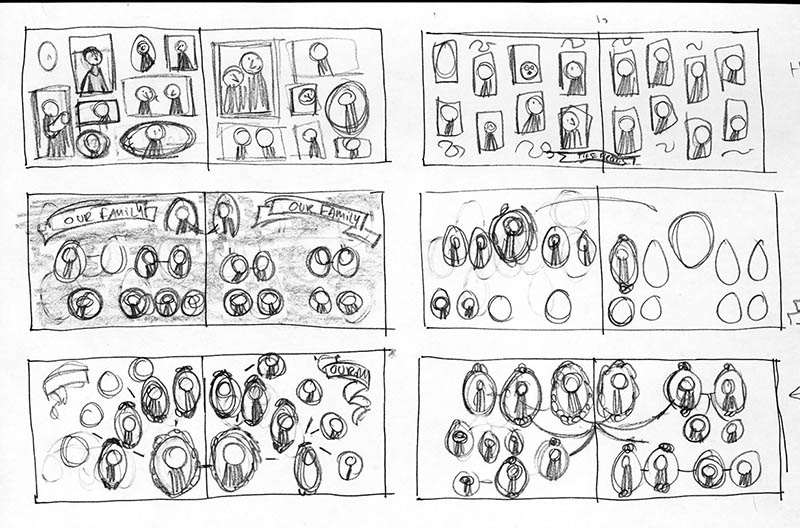 From there I scan them all in and start arranging the drawings for the pages on a single page. This way I can see how the story flows from page to page and see if there's any way I can improve it. Once approved these rough compositions get tightened up. This is the part that I add in the fun details. I usually make these drawings digitally so things are easy to change cleanly without a pile of eraser bits on the floor.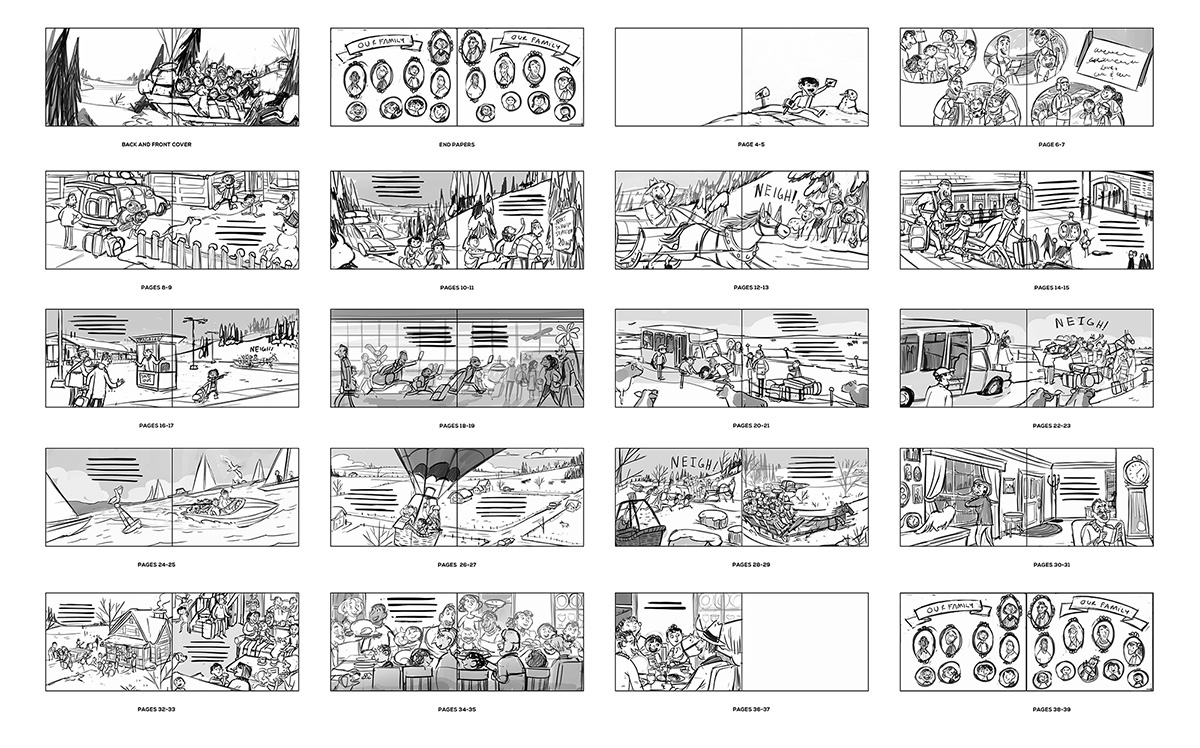 Upon sketch approval I create a mood board using several different pages to develop the colour of the story. I select pages that have the most varied lighting or settings so it's easier to get the idea of the overall story. From there I take the colour boards and paint each page up digitally in photoshop.
Was it challenging to keep all the characters straight? As soon as I had your handy portrait wall sketch, I made up names for everyone to help me keep track of them throughout the book.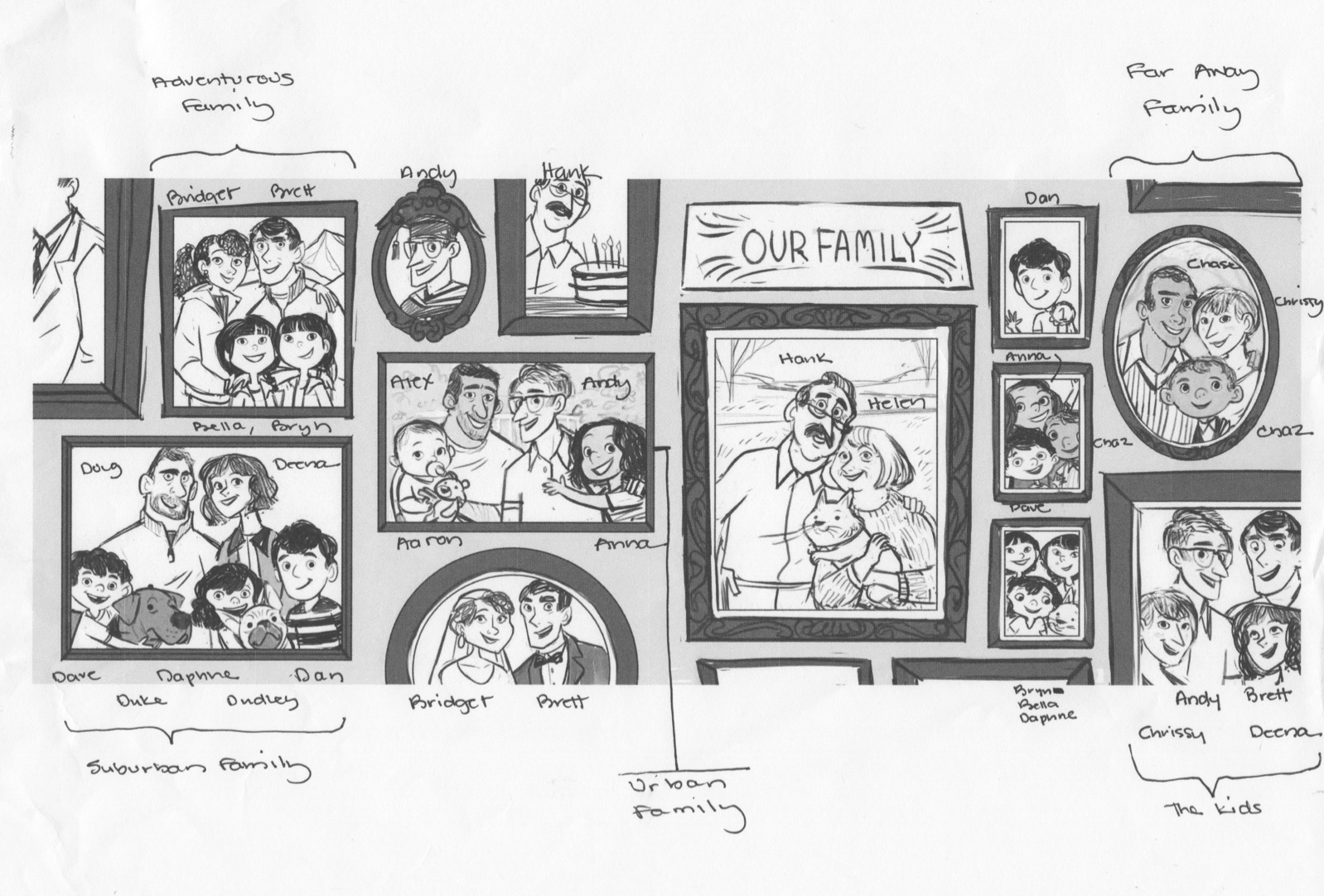 Having the details from you about their names and general story was very helpful! I designed the characters by family group to keep them all straight. I also identified which adults were their grandparents' children to help tie traits from them into a solid family tree. I wanted to make sure each character could be identified and not be confused with another, which was difficult with the many characters in the family. That being said the characters had to look like they were a group and meant to be with each other, so it was another challenge to pull them back together.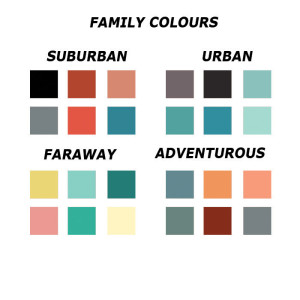 For the other characters in the backgrounds… I wanted to make sure they were faded back and the kinds of general people you would identify walking past on the street but not give too much notice. Maybe the only exception to this one is the airport scene where I wanted the reader to identify with the unique mix of individuals you see there.

In her last post, Jennifer Black Reinhardt confessed that she doesn't like drawing cars. Do you have any artistic aversions? And, conversely, are there things you could draw all day long?
Anything that's mechanical (cars, trains, boats… etc…) or architectural I find difficult at times. It's like you have to put on another hat to draw those sorts of things instead of drawing organic forms. Even though they can be difficult at times I really love challenging my skill set. With every bad building or boat drawing I get a little bit better and a little more comfortable drawing those things.

On the flip side I could draw raccoons, chickens, and red pandas all day long. I love drawing these little animals doing funny things people would also do. Also, I adore crowd scenes.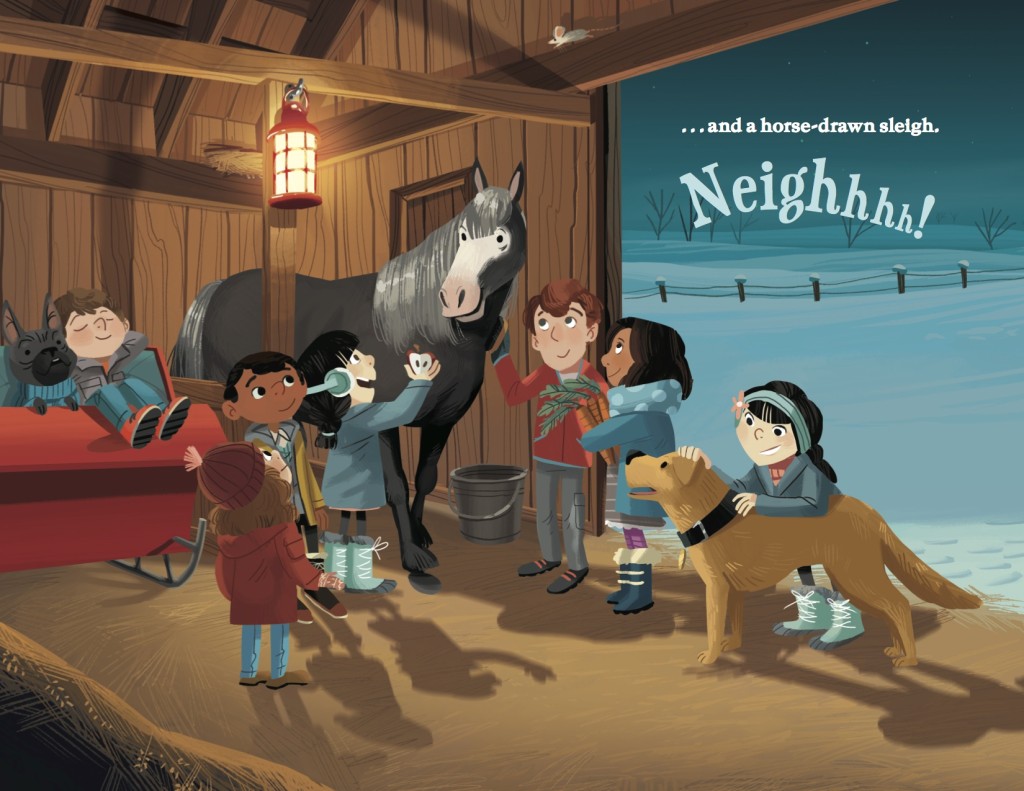 Any secrets that keep you motivated and on task (music, chocolate, exercise)?  
Podcasts and Audiobooks keep me on task and working. My particular favorites are This American Life, Radio Lab, Reply All and Planet Money. I am currently finishing the audio book Furiously Happy by Jenny Lawson, which has an amazing cover and the book is great too!
I noticed you have another new book out, based on the movie Home Alone. How did that come about?
Quirk Books asked me if I was able to illustrate it and I said, of course! I couldn't turn down an illustrated book based off of a classic Christmas film from my childhood. It was a lot of fun to work on.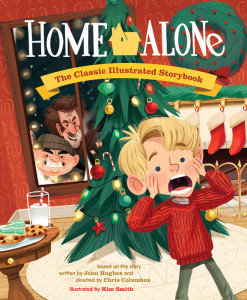 THANK YOU so much for stopping by, Kim! Be sure to check out more of Kim's work at her website.
And now it's time for the . . .
***BOOK GIVEAWAY!!!***
To win one of two signed (by me) copies, just leave a comment below by November 1st.  
I'll announce the randomly-selected winners in my November 10th post. 
(Goodreads Members: Enter this giveaway through November 7th!)
THANK YOU!