You know you've found a real jewel when you read a rhyming picture book that sings and hums. And Cock-a-Doodle Oops!, written by Lori Degman, is a rhyming book that hums just right!
Cock-a-Doodle Oops! is charming picture book (with gorgeous illustrations by Deborah Zemke) which shares some comical farm mishaps when rooster decides to take a vacation and the other animals must figure out how to wake Farmer McPeeper in the morning.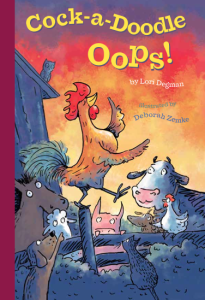 For my post today I've asked Lori Degman to share a bit about how she created Cock-a-Doodle Oops! (published by Creston Books, 2014)
Where did you get the story idea for Cock-a-Doodle Oops! ?
Thanks so much for having me on your blog!  My original idea for Cock-a-Doodle Oops actually came to me when I was in the back seat of your car, Suzanne!  We were driving to Tina's SCBWI holiday party with Laura.  I don't think I ever told you that!  At first it was going to be a "boy who cried wolf" type of story, where the rooster crowed at all times of the day because he was bored, but then I thought of Rooster going on vacation and I moved on from there.  I've got dibs on the first idea – I just need to start writing it!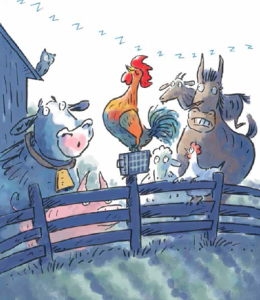 2. How did you find your great new publisher, Creston Books?  
I met Marissa Moss, my editor and the founder of Creston Books, at an SCBWI writing retreat.  I really loved the fact that Marissa was looking for solid, non-trendy books and that she was printing them in the US!  I submitted my story after the event and, luckily, she loved it!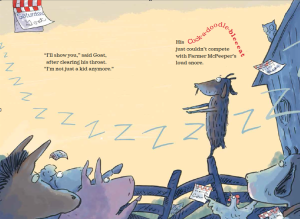 3. How long was the writing process? 
It's hard to say, exactly because I don't write full-time – and even if I did, I'm sure I wouldn't be working on only one story from it's conception to submission-ready manuscript.  I think from the first idea (in the back seat of your car) to my submission to Marissa was about two years.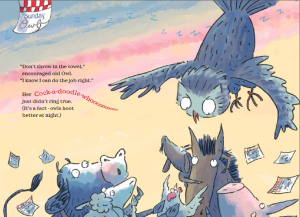 4. Your meter is perfect and the rhymes are so clever. (or as Kirkus' glowing review put it, "the author displays a gift for rhymes and language that is clever…") How do you accomplish that?
Thanks, Suzanne!!  I work really hard on the meter in all my stories.  I don't want the reader to be pulled out of the story because they stumble over a word and have to reread it or have to pause to think of how they should read a line.  There are several things I do make sure the meter works:
1 – I mark the stressed and unstressed syllables in each line and make sure each line follows the same pattern.
2 – I ask someone to read it out loud and I listen for any spots where the reader trips up.
3 – When I'm alone or I don't feel like bothering my friends or family for the millionth time, I print the story and cut each line into separate strips and read them out loud out of order. 
4 – I copy the story into Text Edit and listen to it using the speech option.  The pronunciation and stresses aren't always perfect but it helps.
I pay just as much attention to the rhyme as I do the meter.  The rhyme should enhance the story – not interfere with it or lead it in the wrong direction.  I try my hardest not to use the same rhyme pair more than once in a story and to find interesting and unexpected words to rhyme.  I especially like it when I can rhyme multisyllabic words or a series of words – that's the best!
*******************************************************************************
Thanks, Lori, for sharing your helpful rhyming tips!
And as promised, here are the lucky winners Jennifer Black Reinhardt's Book Giveaway from her Sept. 29 post — Andrea Allen and Mary York!
Please contact Jennifer through her website, JBReinhardt.com (Let her know if you would like your book inscribed & mailing address.)