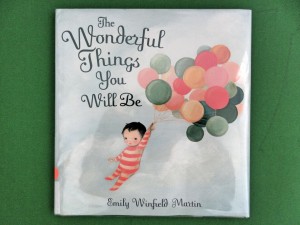 If you've read previous posts of mine, you'll know I'm a fan of picture books that make me say, "Awww."
Somehow, some way, they have to touch my heart and remind me of an emotion I thought  I'd forgotten. There are lots of ways picture books can do this. And that's part of what makes reading the good ones so much fun.
One of the good ones is THE WONDERFUL THINGS YOU WILL BE, written and illustrated by Emily Winfield Martin and published this year by Random House. It has the "Awww" factor in spades. And, if you are the sort of person who likes that sort of thing, this is the sort of thing you will like.
First, the plot. The book is told from the view of a parent imagining what a child might grow up to be. It's the hopes and dreams any parents might have for children they love.
Second, the style. The text is rhyming and sweet and simple. Here's my favorite "awww"-inducing stanza:
When you were too small
To tell me hello,
I knew you were someone
I wanted to know.
What parent or expectant parent or grandparent wouldn't turn to mush reading that? I almost teared up in the bookstore aisle, and I have two teenagers. This book is a great gift for baby showers or first birthdays or baptisms or naming ceremonies. It's soft, it's warm, it's sweet. It's classic, ideal baby love in its most pure form.
Third, the art. This reminded me a lot of Sophie Blackall in all the best ways. The end papers are a collection of all sorts of babies, each one cuter than the last. See below: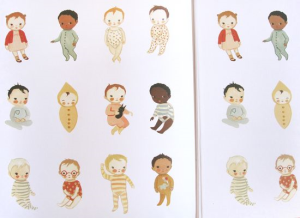 And the parents and children that fill the book are a wonderful mix of moms and dads, boys and girls, infants and toddlers  and school-age kids. (All impeccably dressed, I might add. Flipping through the pages was kind of like being inside a mini-boden catalog, which my kids are now too big for, which causes me occasional moments of great sadness.) The colors are soft and nursery-like except for a lovely, red, fold-out spread in the middle.
Ultimately, this book is an ode to the universality of parental love and hopes and dreams. Yes, sometimes you need a funny dinosaur book or a book about the various ways sharks have killed unsuspecting swimmers or a book with jokes about bodily functions.
But other times … other times … you need this.
Buy it. Keep it. Read it. Save it. And, when your precious, downy baby becomes a milk-spilling, trash-trailing, germ producer who asks, "Why?" 82,713 times a day, lock yourself in the bathroom and read it again to remember why parenting is worth it.
ALERT … ALERT … ALERT …
Thank you to everyone who commented on my SHARING THE BREAD post for a chance to win a copy. The free copy goes to Maria Gianferrari! Congratulations and happy reading!