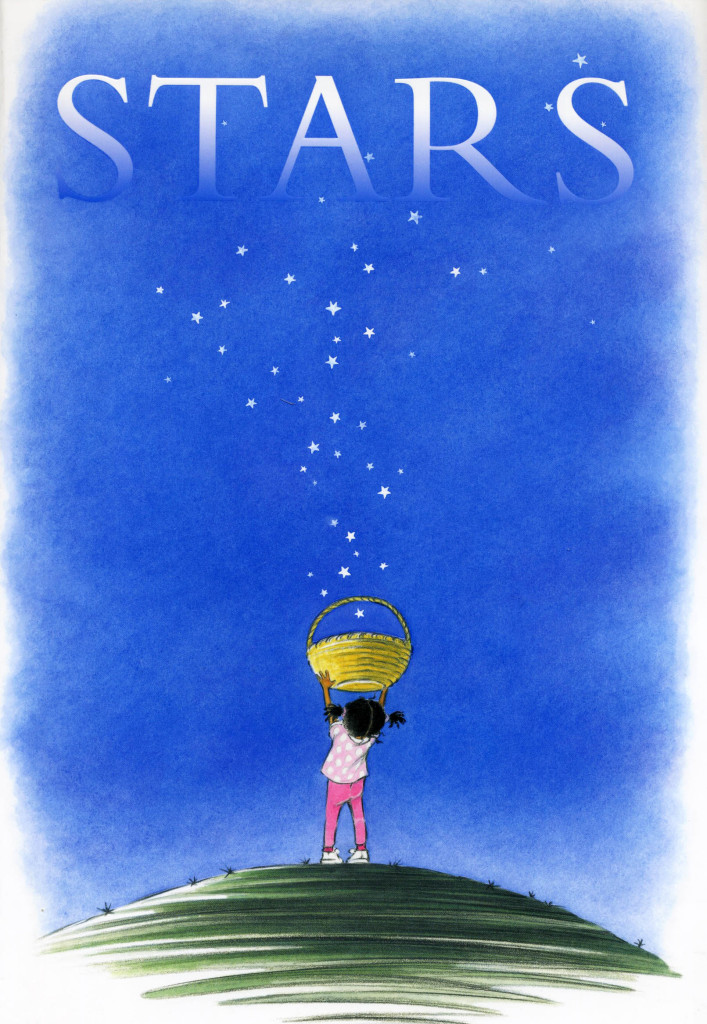 Stars, by Mary Lyn Ray and Marla Frazee.
What a beautiful, beautiful book. No names are on the front cover.
None. Which made me really want to explore this book and look for the answer to 'why' that decision was made?
The jacket features just the word, "Stars" brighter at the top and melting into tiny star shapes falling to earth and landing in a little girls' basket. Not that every single person shouldn't be able to identify Marla Frazee's distinct and unique style of artwork, so she really doesn't need her name on the jacket. But their names aren't there just because they're so well known and don't have to be. No, their names aren't there so that there is nothing to interfere with the beauty and magic of that image, of that singular word. This is a story told simply with word, and richly with image about just that… the awesome magic of a simple star.
The book is tall and vertical, stretching skyward. The shape and size of the book is always an intentional decision by the illustrator and designer.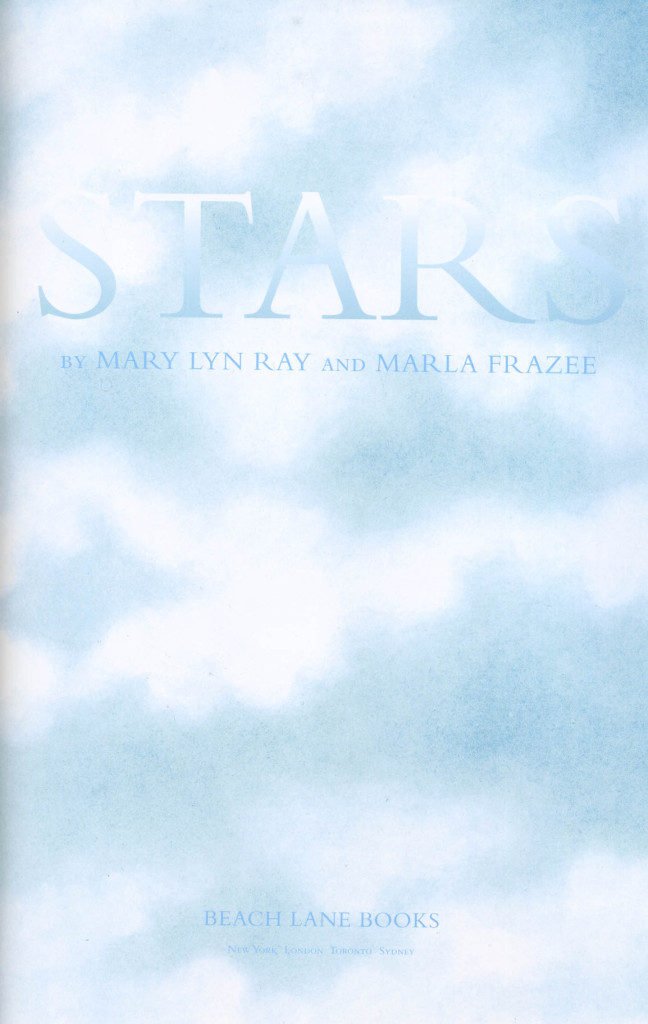 End pages… soft, billowy, clouds.
Open to the title page and you still won't find the bold, graphic credits one would expect. The names are here, and so is the title, but they are camouflaged in those same heavenly clouds. This book looks and feels like such a team effort. Even in the credits, it isn't "illustrated by" Marla Frazee, it is "By Mary Lyn Ray and Marla Frazee", I like that. Credit is also given to Ann Bobco as the book designer.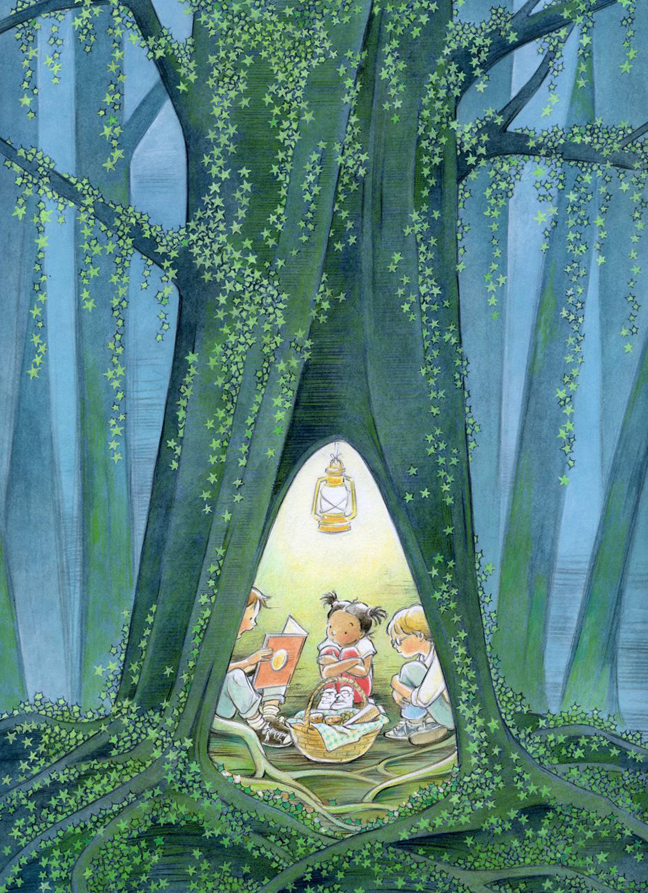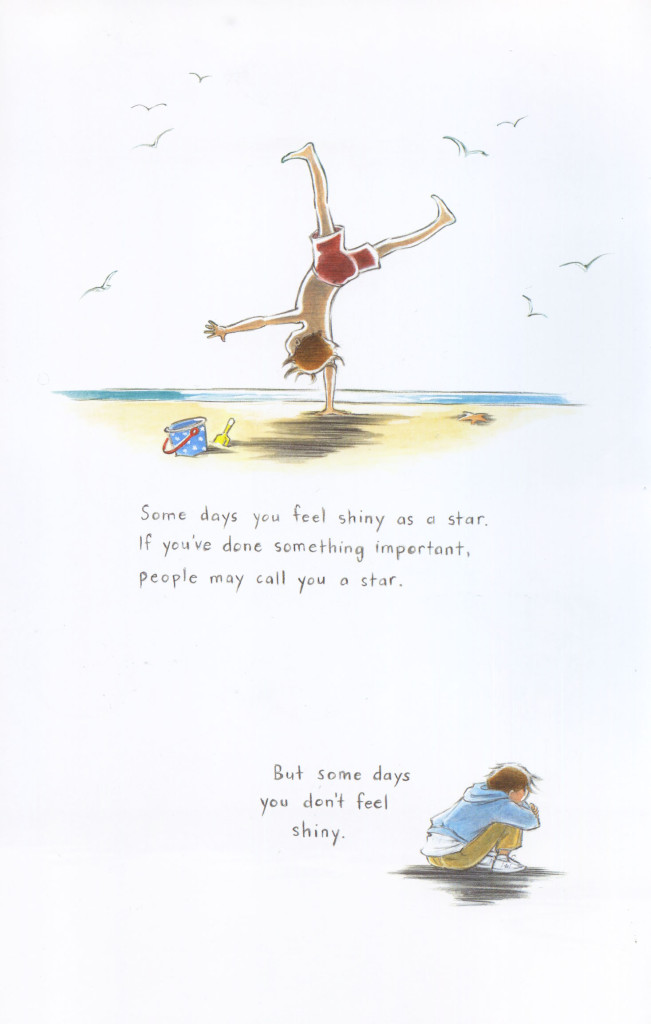 There's no denying that Marla Frazee draws beautifully. But what makes Marla Frazee exceptionally brilliant is that she's such a fantastic illustrator. I'm in awe of her page layouts. She seams together various designs in this book by adding pauses and breaks in the absolute perfect spots. Small spots, stacked page spreads, words to their own page, full page on the left, full page on the right— Gosh she's good. And I'm swept along by the cadence of the words and gentle action of the images. These build and build until we are gifted with swirling vast spreads, stars… more characters… the sharing and the power of stars.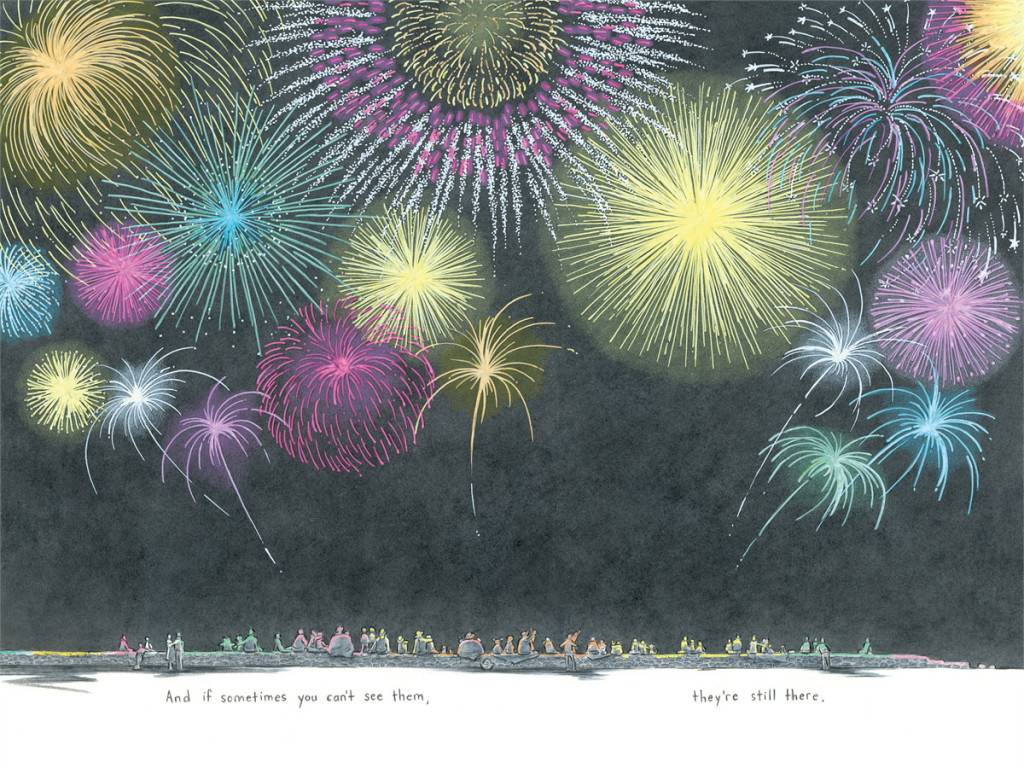 The back end pages, which mirror the front cloud end pages, are now beautiful, vast, twinkling… stars.
Mary Lyn Ray and Marla Frazee are fantastic and accomplished at their crafts and have written and illustrated an absolutely lovely picture book. But it is also a spectacularly designed picture book. From the lack of copy on the front and back, to the hand written text bending from page to page inside, it's the subtle attention to detail— to design— that knocks this book out of the park.