If you're a member of SCBWI (Society of Book Writers and Illustrators) you've probably heard about the big Book Launch Party which launched December 1 and features new 2015 children's book releases.
If you haven't heard about the party, it's about time you did!
This is one rockin' party because you can browse dozens of the newest picture books all in one place.
And that's not all. Many authors have contests on their own Book Party Pages where you can enter to win free autographed books, author Skype visits, and more.
What I love about this party is it provides a fun, quick overview of the wide variety of picture books recently released. Hope you enjoy celebrating and browsing through the list. Here are a few of the new picture books that caught my eye –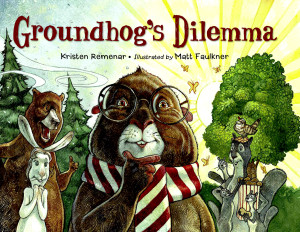 Groundhog's Dilemma by Kristen Remenar, Illustrated by Matt Faulkner
Summary: February 2 dawns, and Groundhog sees his shadow. Six more weeks of winter!  Half his friends cheer. The other half groan. Groundhog wants to please everyone, but it seems impossible. Besides, Groundhog doesn't control the weather—he just predicts it.  That's not how his friends see it, though, and Groundhog finds himself the recipient of food and favors—bribes to secure next year's result.
What a mess for poor Groundhog! How can he avoid upsetting half his friends?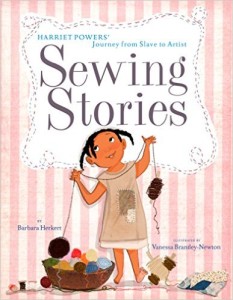 Sewing Stories by Barbara Herkert, Illustrated by Vanessa Newton
Summary: Harriet Powers learned to sew and quilt as a young slave girl on a Georgia plantation. She lived through the Civil War and Reconstruction, and eventually owned a cotton farm with her family, all the while relying on her skills with the needle to clothe and feed her children. Later she began pictorial quilts, using each square to illustrate Bible stories and local legends. She exhibited her quilts at local cotton fairs, and though she never traveled outside of Georgia, her quilts are now priceless examples of African American folk art.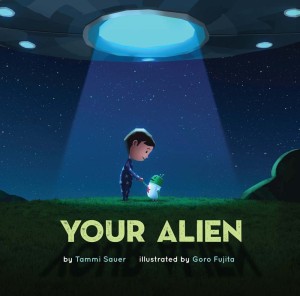 Your Alien by Tammi Sauer, Illustrated by Goro Fujita
Summary: When a little boy meets a stranded alien child, the two instantly strike up a fabulous friendship. They go to school, explore the neighborhood, and have lots of fun. But at bedtime, something seems wrong with the alien. Can the boy figure out what his new buddy needs most of all? This funny, heartwarming story proves that friends and family are the most important things in the universe . . . no matter who you are.
(The contest on this Book Launch Party page is giving away an autographed book!)
Speaking of Book Launch contests, enter to win a free Skype Author Visit at my Book Launch Party for The Inventor's Secret!
And if you enjoyed this party, guess what, there are more comin'! Several times a year SCBWI will be hosting Book Launch Parties for the latest children's book releases. Now that's my kind of party!