Today I'm very excited to share Deborah Hopkinson's latest book, Beatrix Potter & the Unfortunate Tale of a Borrowed Guinea Pig. I'm a big fan of Deborah's nonfiction work and her new picture book is simply delightful!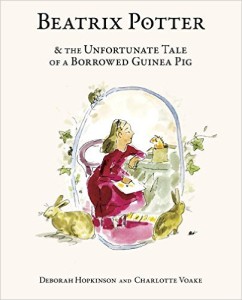 So what did I love so much about this book?
– First off, the facts in this story about Beatrix's childhood are incredibly interesting. For example, did you know Beatrix named her first pet rabbit Benjamin Bouncer? Or that she collected a wide variety of pets as a young girl including a duck, frog, canary, snake, as well as a variety of hedgehogs, newts, salamanders, lizards, rabbits, and more?
– Also, the book is surprising (to say the least!) When I first opened this gorgeous book I expected a sweet story with a sweet ending about Beatrix Potter, the renowned author of the adorable Peter Rabbit stories. But I soon discovered it was not going to be a predictable pet tale with a happy ending, as the author warns the reader right from the beginning — "But the sad truth is that although Beatrix loved animals, she did not always have the best of luck with them." Such a great line! And the perfect setup for the "unfortunate" event that befalls a regal guinea pig named Queen Elizabeth.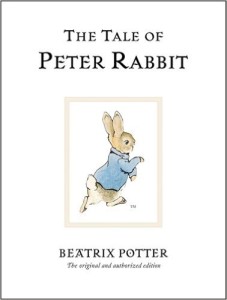 – This title also has marvelous voice. It's warm, winsome, and spot on. Periodically, the author addresses the reader directly, such as in her compelling first line — "My Dear Reader, This is a story about a girl named Beatrix Potter and what happened when she borrowed her neighbor's guinea pig."
– The book is well-researched. As a nonfiction author I like to share a lot about my research with readers, so I tend to be obsessed with backmatter pages. The Author's Note shares many fascinating details, such as the fact that the story is based on Beatrix Potter's own journal, and the best part — the text includes actual entries from her journal. This note also describes how Beatrix used a secret code when she wrote in her journal to keep her writing private. Many years later her secret code was cracked, and the entries in her journal were published in a book in 1966. The backmatter pages also explain that some of the dialogue was invented, and Beatrix's age was changed, so readers can discover all the facts behind this "mostly true" story.
– And last, the pen and watercolor illustrations by Charlotte Voake are magnificent. The fresh colors and adorable scenes are perfect for Beatrix!
So I know you're dying to read this book. Well, I was fortunate enough to score an advance copy of this delightful picture book (published by Schwartz & Wade Books), but don't worry, you won't have to wait too long.
Beatrix Potter & the Unfortunate Tale of a Borrowed Guinea Pig releases soon — Feb. 2, 2016!