Holy moly. There are hundreds of wonderful picture books in store for us in 2016. I want-want-want so many of them.  On top of all of the upcoming standalones, I am really excited for some companion books.
For instance….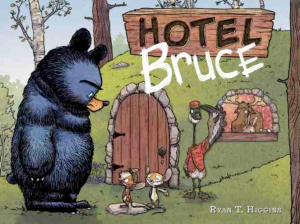 Hotel Bruce
Written and illustrated by Ryan T. Higgins
(Disney*Hyperion, October 18, 2016)
**companion to Mother Bruce**
When Bruce gets home from a southern migration trip with his goslings, he is tired. He is grumpy. And he is definitely not in the mood to share his home with the trio of mice who have turned his den into a hotel.
There's a possum pillow fight wreaking havoc in one room, a fox luring guests into a stew in the kitchen, and a snuggly crew of critters hogging the bed. Bruce growls and grumbles and tries to throw them all out, but the entrepreneurial mice just can't take a hint. Bruce is in a little over his head, especially once the goslings join the staff. Will this grumpy bear ever get his quiet, peaceful den back to himself?
*******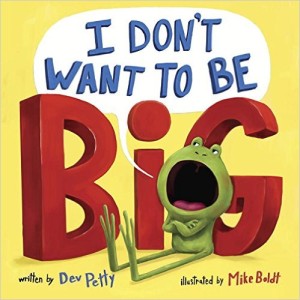 I Don't Want to Be Big
Written by Dev Petty and illustrated by Mike Boldt
(Doubleday Books for Young Readers, October 11, 2016)
**companion to I Don't Want to Be a Frog**
Frog does NOT want to grow up. Doesn't need to be tall. Doesn't want to be able to jump high enough to see the tree frogs. He's just FINE being small. Besides, if you grow up, you don't get to do fun things like jump in mud puddles with your best friend, Pig. Do you?
*******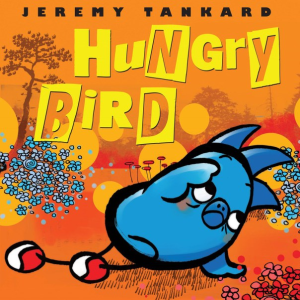 Hungry Bird
Written and illustrated by Jeremy Tankard
(Scholastic Press, sometime this year!)
**companion to Grumpy Bird and Boo Hoo Bird**
I could not locate a description of this book, but I don't even need one to know I MUST HAVE IT. My heart started racing when I first found out this book was in the works. Actually, it's still racing. Thank you, Mr. Tankard, for bringing back my favorite bird.
*******
Want to know what else to look forward in 2016? Dylan Tuet, mega-fan and supporter of children's literature, has made it easy. Check out his amazing lists!
Psst! I'm also looking forward to these companion books, Ginny Louise and the School Field Day (Disney*Hyperion, June 14, 2016) and Your Alien Returns (Sterling, October 4, 2016), written by yours truly.
What companion book are YOU looking forward to seeing?