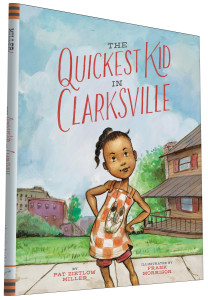 Some stories stay with you.
I don't remember exactly when I first heard the story of Wilma Rudolph. It was probably sometime in grade school.  But I do remember the details of her life.
Wilma grew up in a low-income family with 22 children in Clarksville, Tennessee, a segregated town.
She often was ill as a child, wore a leg brace and was told she would always need it to walk.
Wilma and her family worked hard to heal her leg until she eventually took off her brace and walked without it.
She started playing basketball and then began to run and eventually won three gold medals at the 1960 Olympic Games in Rome, Italy. This made her the first American woman to win three golds at the same Olympics and turned her into a household name.
I remember being inspired by Wilma's anything-can-happen-if-you-work-hard-enough story. I wrote a speech about her in college and then didn't think much about her again until I started working on the manuscript that would become THE QUICKEST KID IN CLARKSVILLE, which releases Feb. 9 from Chronicle Books.
The book tells the story of Alta, a girl growing up in 1960 in Clarksville. Alta idolizes Wilma and wants to run just as fast as she does. She's looking forward to attending Wilma's victory parade when a girl with fancy new shoes moves in down the block. To Alta's dismay, Charmaine thinks she's the quickest kid in Clarksville. The girls compete and, ultimately, figure out a way to work together.
The book is fiction, but I was able to work in a lot of wonderful details about Wilma Rudolph's life — including something I didn't  know before I started researching the book. Wilma's victory parade was the first major integrated event in Clarksville history, and the only reason it was integrated was because Wilma said she wouldn't participate unless it was.
Researching and writing this book increased my appreciation for Wilma. I even found some awesome quotes from her to pair with Frank Morrison's brilliant art from the book. (To see more of Frank's work, check this out.)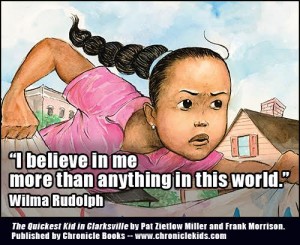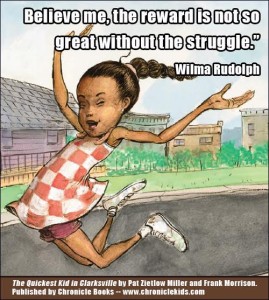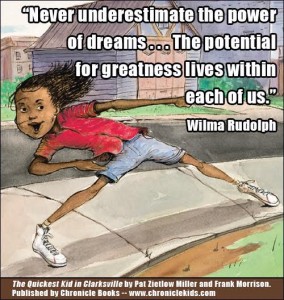 And, I would be very happy to send a bright and shiny, brand-new copy of the book to someone who leaves a comment on this blog post. Because I think everyone should know about Wilma's story. So please say "hi" below and/or tell me who inspires you. I'll choose a random name as the winner.