I'm so excited to have author/illustrator Rebecca Bond here today to talk about her gorgeous book, Out of the Woods – A True Story of an Unforgettable Event (FSG, 2015). What a treat!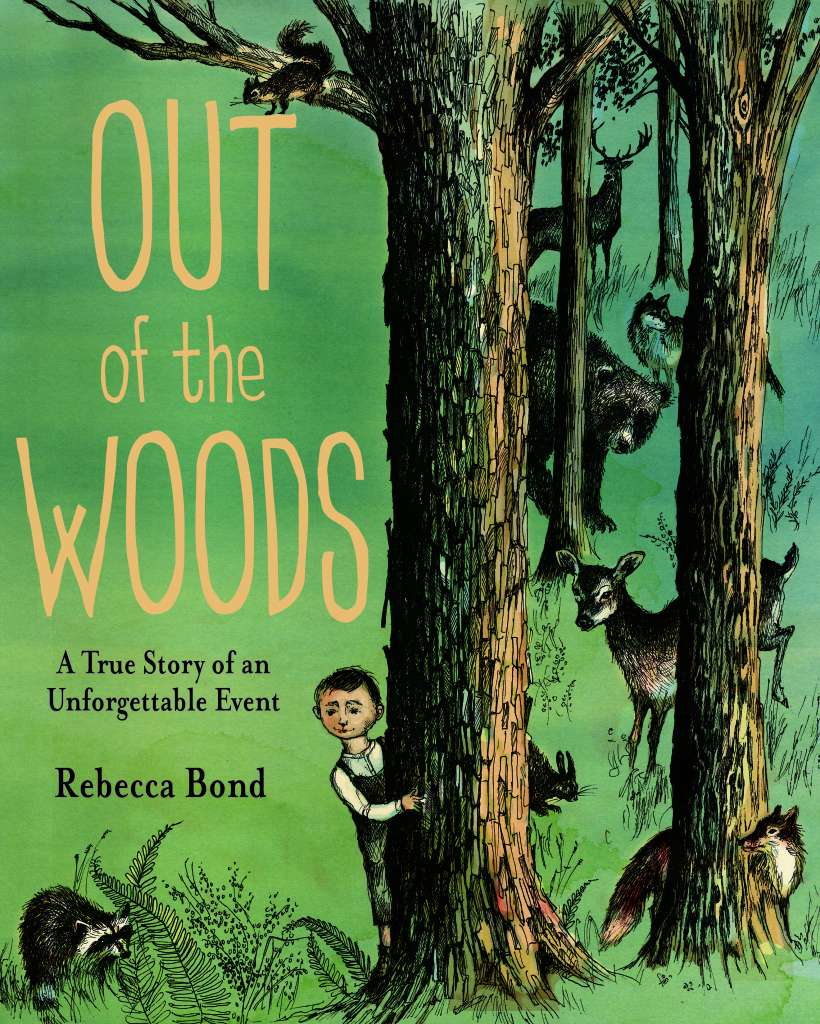 When I read that Out of the Woods was based on a family story passed down from Rebecca's grandfather, my curiosity was immediately piqued. I know how TOUGH it is to do that well. I've only tried it once myself, and, after a lot of hair pulling, I ended up having to come at the story a bit sideways, as a direct retelling just didn't work (that was Estelle Takes a Bath).
So when I saw Out of the Woods while browsing my local B&N one morning, I had to take a look. I pulled it from the shelf and paged through it. I started out skimming, but the pages turned more and more slowly as the story and detailed illustrations engaged me. When I tried putting it back on the shelf, it wouldn't let go of my hand. Just that quickly, the story had crawled into my heart. Maybe because it was a Grandpa story? Maybe because it was a forest story? Maybe it was just that unexplainable story magic.
For those who aren't familiar with the premise, here's the flap copy:
Antonio lived deep in the woods on the edge of a lake in a hotel that his mother ran. There weren't other children around to play with, so Antonio made friends with the hotel workers, lumberjacks, and woodsmen who lived and stayed in the hotel. What Antonio loved most of all was exploring the woods, hoping to find signs of the animals who lived there – but the animals always remained hidden, fearful of people. Then on a hot day during a very dry summer, disaster struck:  a fire tore through the forest.
The people we've met through young Antonio run to the lake. They wade in, then stand in the shallows as the fire and choking smoke whoosh through. But the magical part of this true story? Those elusive animals emerge from the smoky forest to join them there:  "Wolves stood beside deer, foxes beside rabbits. And people and moose stood close enough to touch."
The writing? Lyrical, rich with sensory details. The art? I guess what I love best about the fabulously-detailed art is that it really makes me feel that it's 1910 and I'm there in that forest, living the story.
Rebecca was kind enough to answer a few questions about the book and share a few spreads with  us.
JE:  Is the story here presented pretty much intact, as you learned it, or were there holes you needed to fill?
RB:  I had been told this story a number of times before I decided to write it down as a picture book, and yes, there were holes I needed to fill. I asked my mother and aunt what they remembered hearing about the hotel my grandfather grew up in and what they knew about the layout and about the men who stayed there. They filled in basic information, but some of the details I had to imagine. There are no photos that I know of of the actual hotel, so I made up what it looked like, based on what I knew.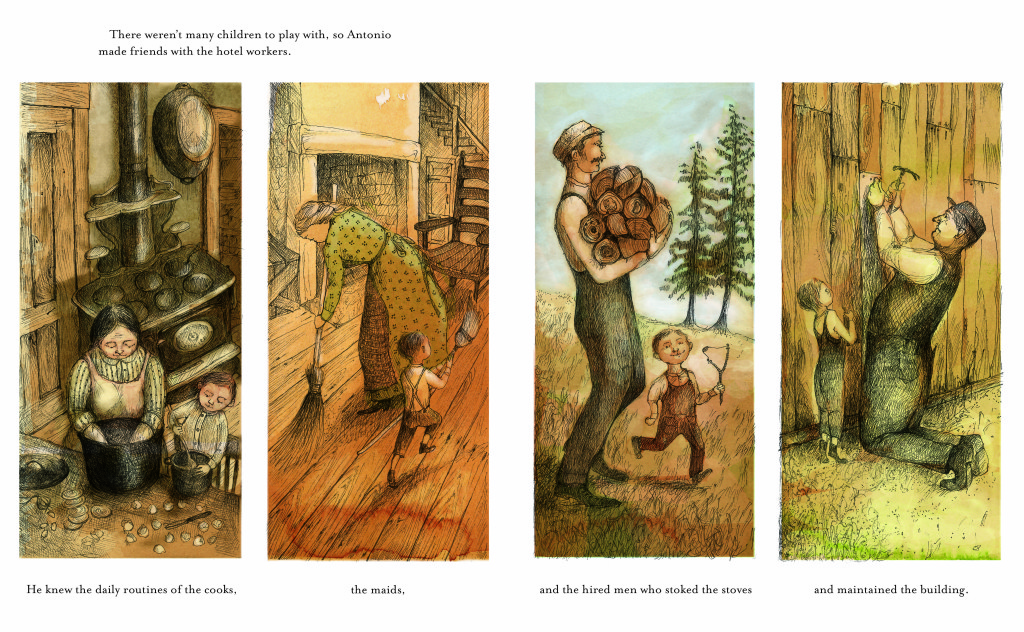 JE:  Where did you go for visual references and inspiration?
RB:  I looked at a lot of reference from early 20th century logging camps to get an idea of clothing and hair styles, hats, furniture, fishing equipment. I did lots of Google image searches for these things and for each of the woodland animals, and for forest fires and burned forests. I printed out the images which I put into folders to use as needed or hung up in my studio for inspiration. I looked at lots of books with black and white photographs of this era. I love the research that goes into capturing a place and time as best I can.
For color palette, I wanted sepias and woodland colors to suggest the historical setting but also to be a nice backdrop for the reds of the fire. I looked at some children's books with limited color palettes as I figured this direction out.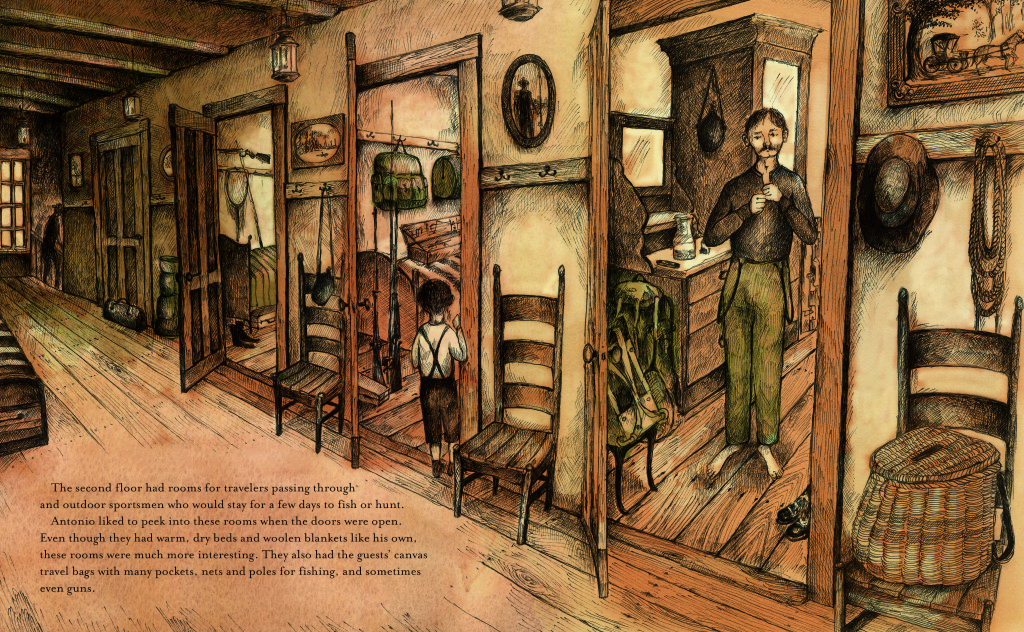 JE:  What was your biggest challenge in creating this story?
RB:  My biggest challenge was learning to work in this new art technique. I did the B&W line drawings first, which were scanned by the publisher. I then did many layers of watercolor washes, each on a separate piece of paper, which I scanned in myself.
Then I put all these layers together in Photoshop and erased the parts of each color layer I didn't need. I have never created a book this way and the files were huge and cumbersome and I was not sure how the colors would work, so this was a big challenge! But fun.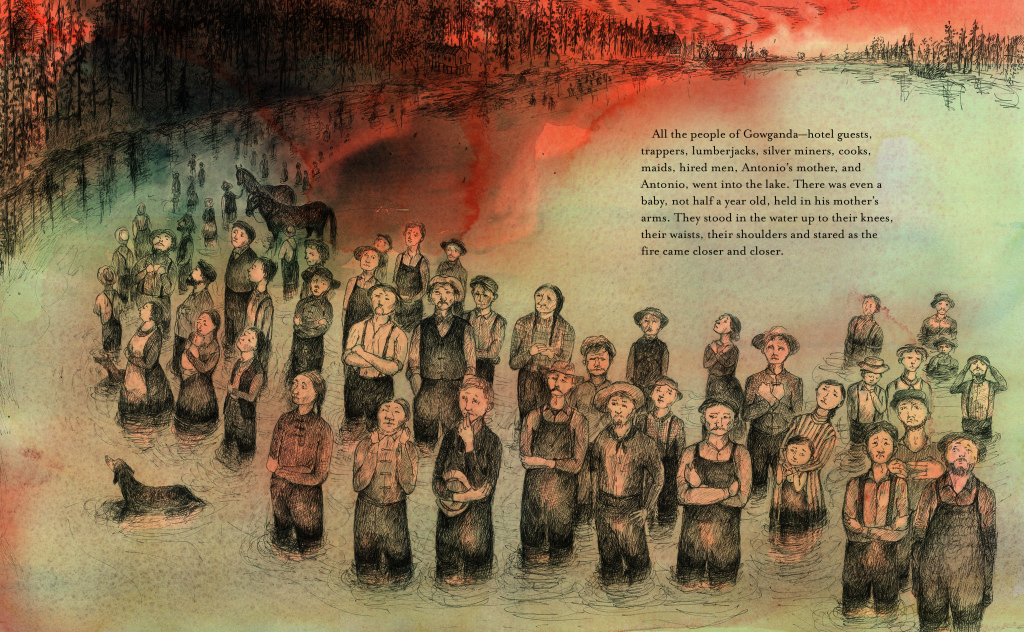 ———————————
Thanks, Rebecca! Reading about your art process for this book makes me tired – and in AWE of you!
Readers, I don't know about you, but this one has me yearning to interview my elders for family stories. May we all get lucky and find a hidden gem!  😉
Visit Rebecca Bond's website:  www.rebeccabondart.com
About Rebecca:  Rebecca Bond was born in Vienna, Austria, where her parents were teaching, but she mainly grew up in a small Vermont town. Here she spent a lot of her childhood free time drawing and reading and making things and playing outdoors. She went to Brown University, in part because of its affiliation with the Rhode Island School of Design, where she took a number of illustration classes. After college she explored work in social services and teaching, and simultaneously started working on her first children's books. Eventually, she began working as a children's book designer at Houghton Mifflin Harcourt in Boston. She lives in an old house in Jamaica Plain, Boston, and is a single mother to two small children.