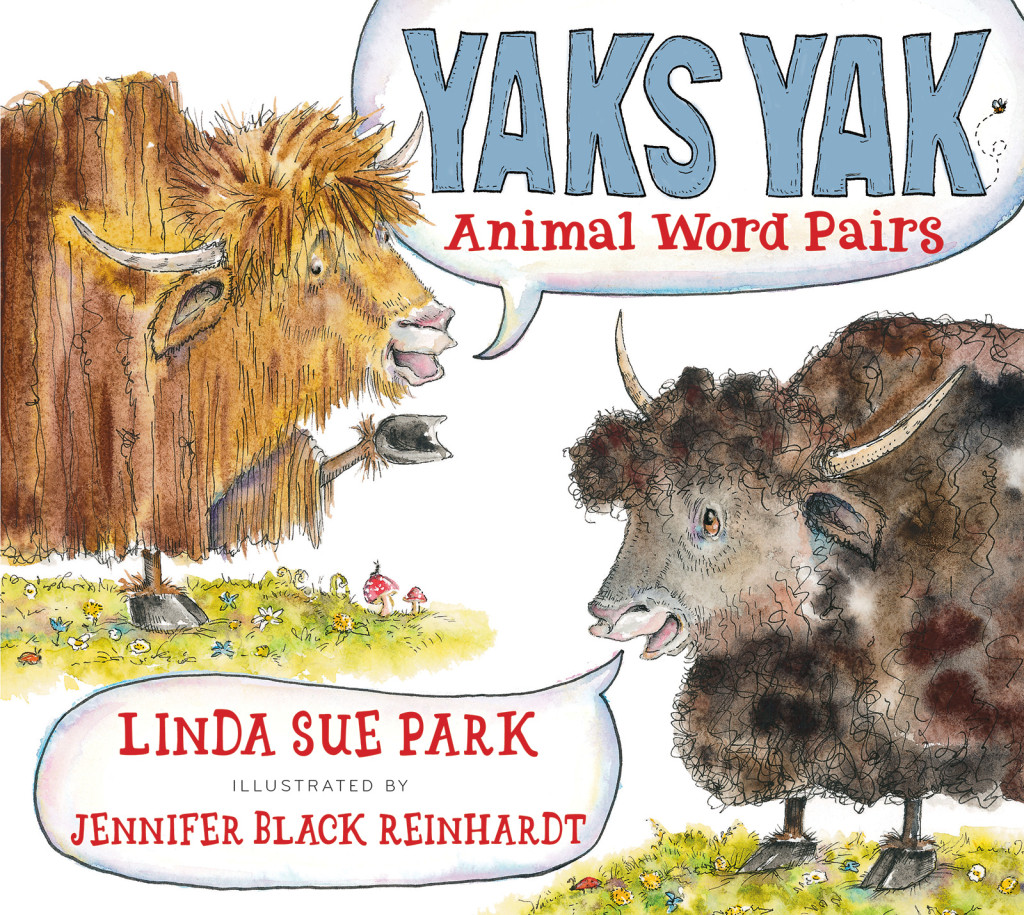 Here's something to crow about— Yaks Yak, Animal Word Pairs by Linda Sue Park and illustrated by me hits the bookshelves today!
In this fun and funny picture book "Bugs bug bugs", " Flounders flounder", and "Steers steer"!
I asked Linda Sue where her idea came from for the book, and this is what this talented author had to say…
"YAKS YAK was born out of my love of wordplay. I think that authors–at least this author!–are always… let's say, 'concerned' about how their words will be illustrated, and I have to confess that for this book I was even more anxious than usual. There are so few words! How could an illustrator possibly glean the spirit I intended for the book with so little to go on?!
Dinah Stevenson, publisher at Clarion Books, could not have made a more perfect choice. Not only did Jennifer capture that spirit of the fun and fascination of words, she made the book hers as much as it is mine, strengthening the text with her brilliant choices and additions. I love the illustrations so much that it's hard for me to pick a favorite…but do take a close look at those rams ramming…"
Thank you, Linda Sue! (Blushing) I feel for authors! So hard to entrust your 'children' and ideas to someone else. This was such fun, and Christine Kettner (art director at HMH) is brilliant.
Here's a little peek at the process I went through to illustrate. These are the first ape sketches…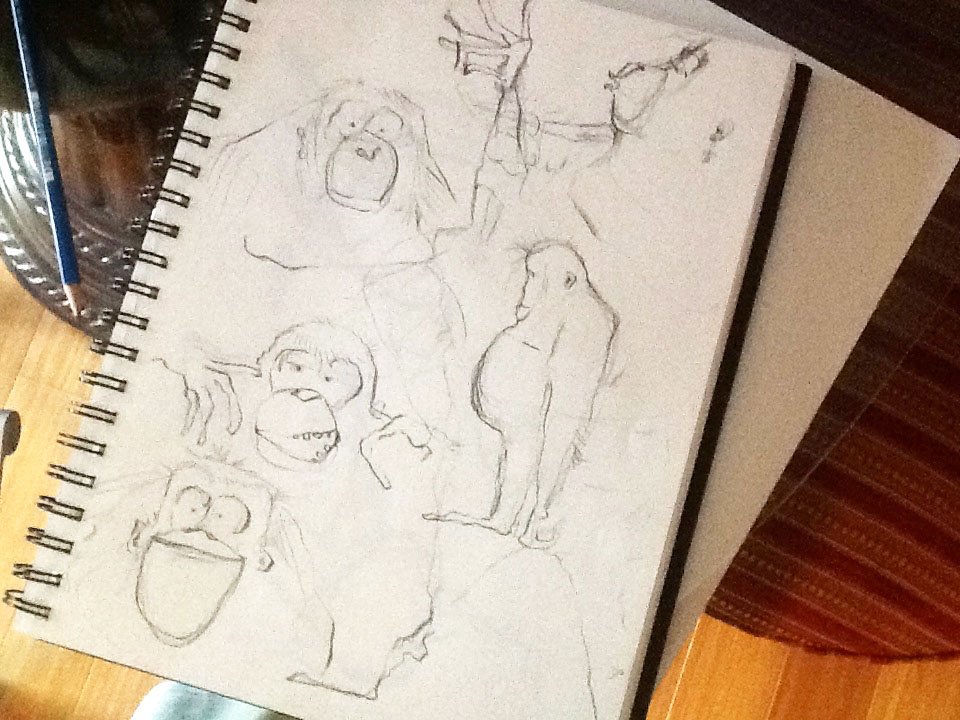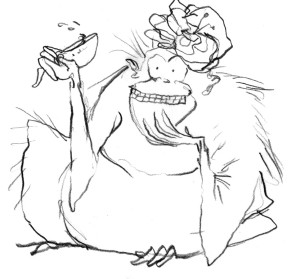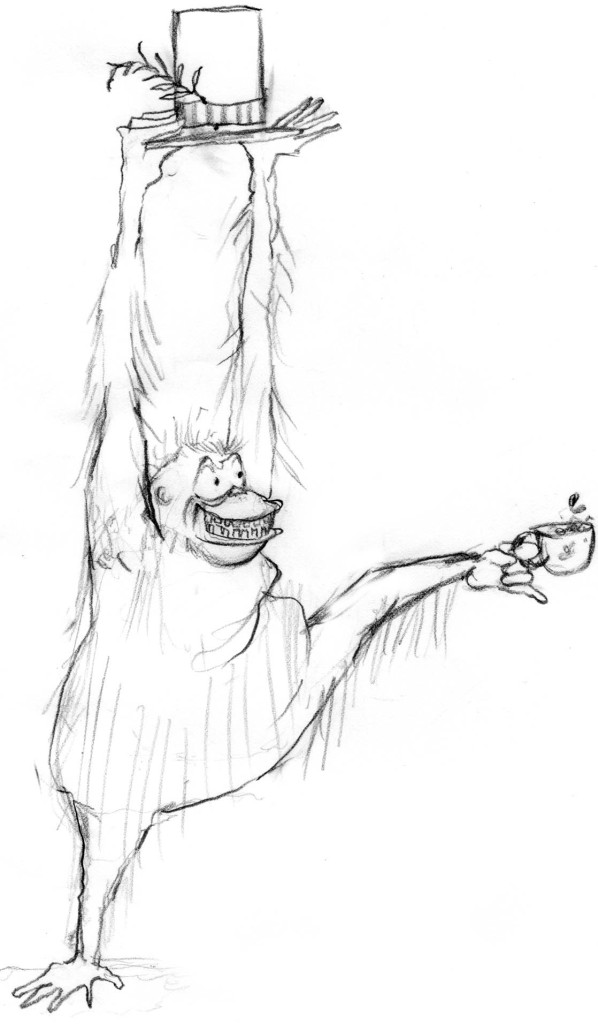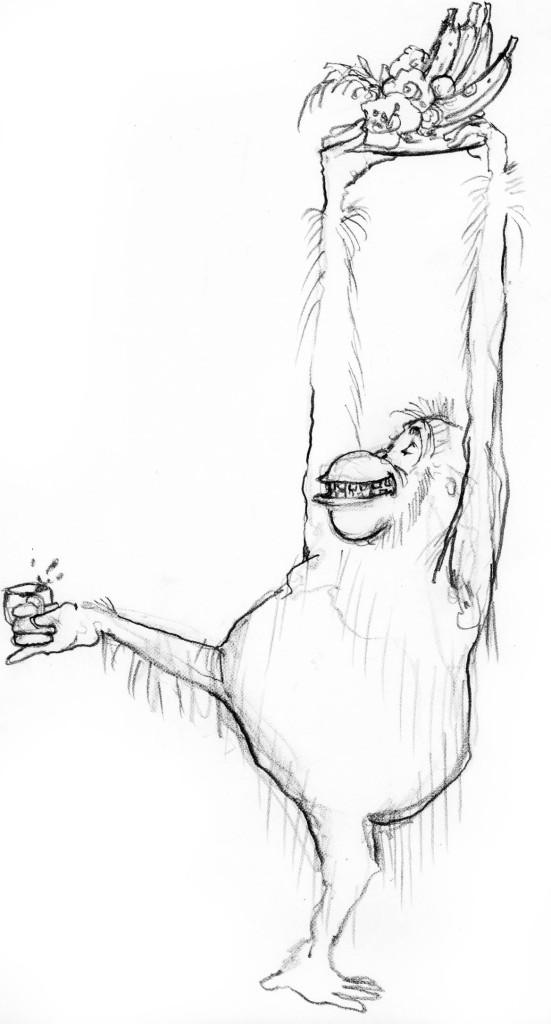 And here are the early thumbnails. I hate doing thumbnails and usually end up giving up halfway through. When we were first envisioning the layout of this book, we had the page turns hooking together with a little 'clue' in the bottom right hand corner of what would be on the next page. That proved too problematic, both in the logistics of the narrative, as well as potential production headaches.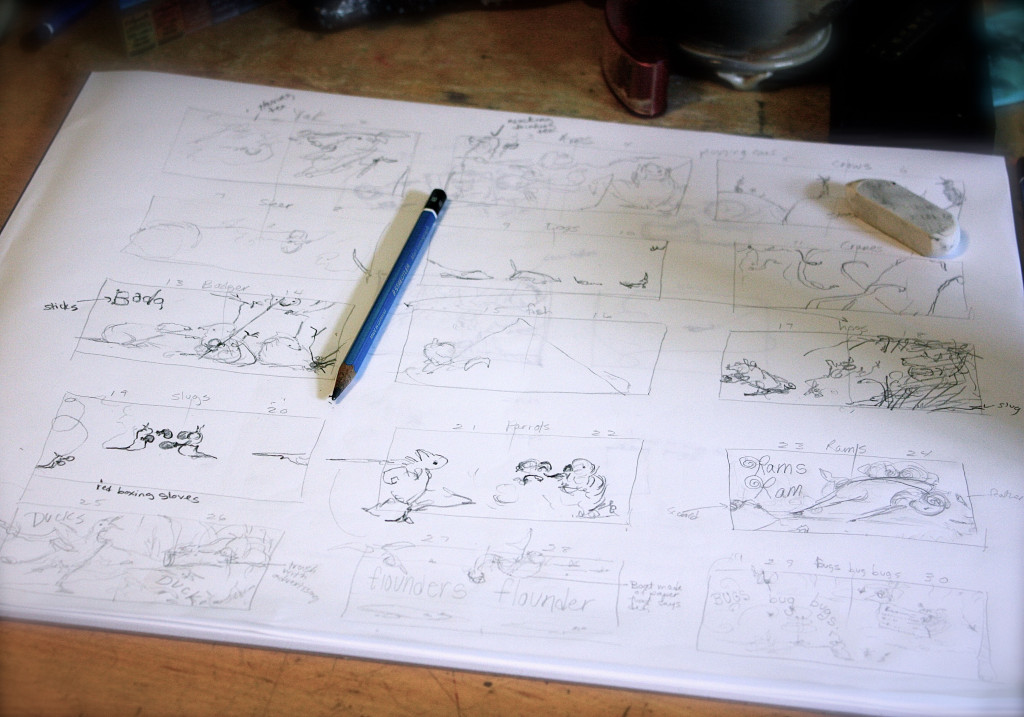 Illustrating this book was a blast to do. Each spread is a different cast of characters. Each animal (noun) is shown with that same word used as a verb. In some instances, the animal really does do that action. For instance, apes aping and parrots parroting, but others' not so much.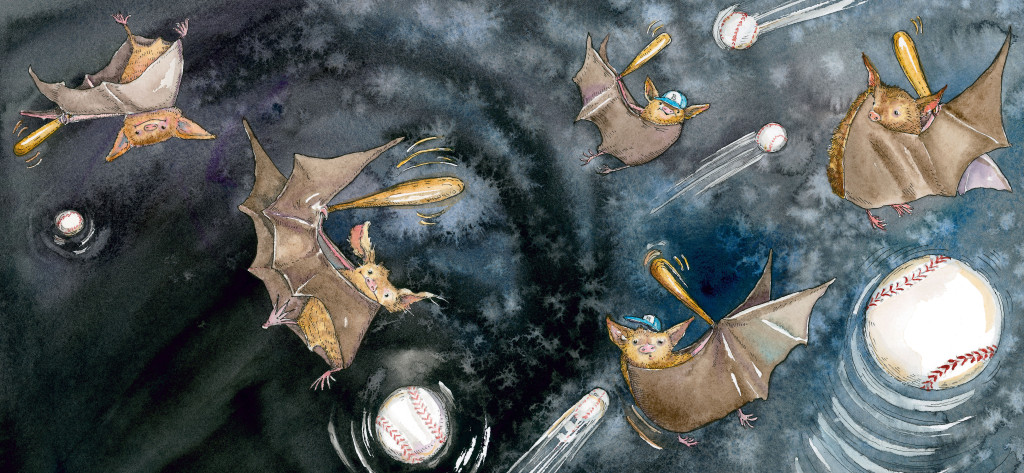 If a bat is holding a bat (an action they would not, and could not do) the illustration still needed to be as relatable as a dog dogging (which they do do).
I decided that I needed to give myself some 'tools' to use when i needed to (voice banners), and that I would try to tie the spreads together with a unifying use of fun and humor, hence the hats, and fancy Victorian accessories.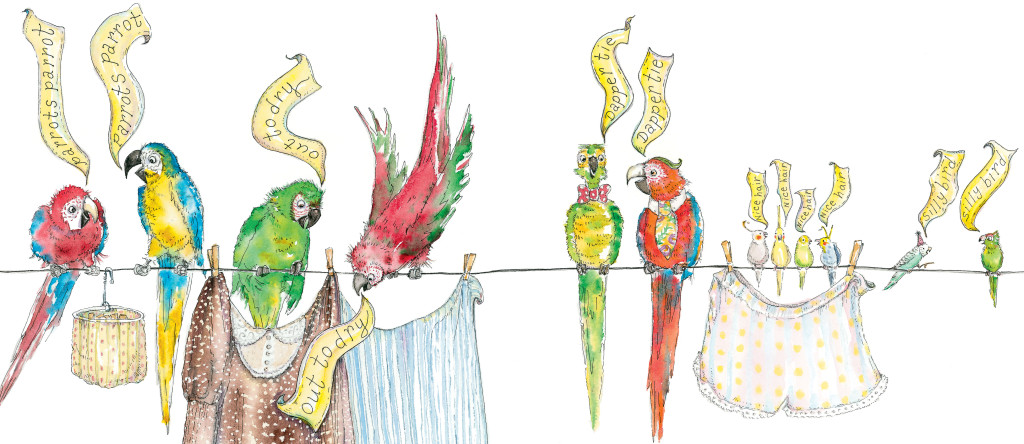 It was important that the reader knew clearly and immediately the name of the animal at which they were looking. Seeing a"parrot" and not just a "bird", looking at a "fish" and not a "trout".
Here's another 'work in progress shot'— I work on heavy watercolor paper (faithful readers of this blog have read of my paper predicament. I ended up using the 300 pound hot press, but using the back side, which isn't as smooth).
First, I tape down the paper and because this is a full bleed, I then use masking fluid to paint over the foreground. In this photo I've masked out the fish and plants and I've painted the background. The next step will be to peel up the mask and paint the foreground. Next, I go in at the end with ink line. Each spread also needed a designed spot for the definition.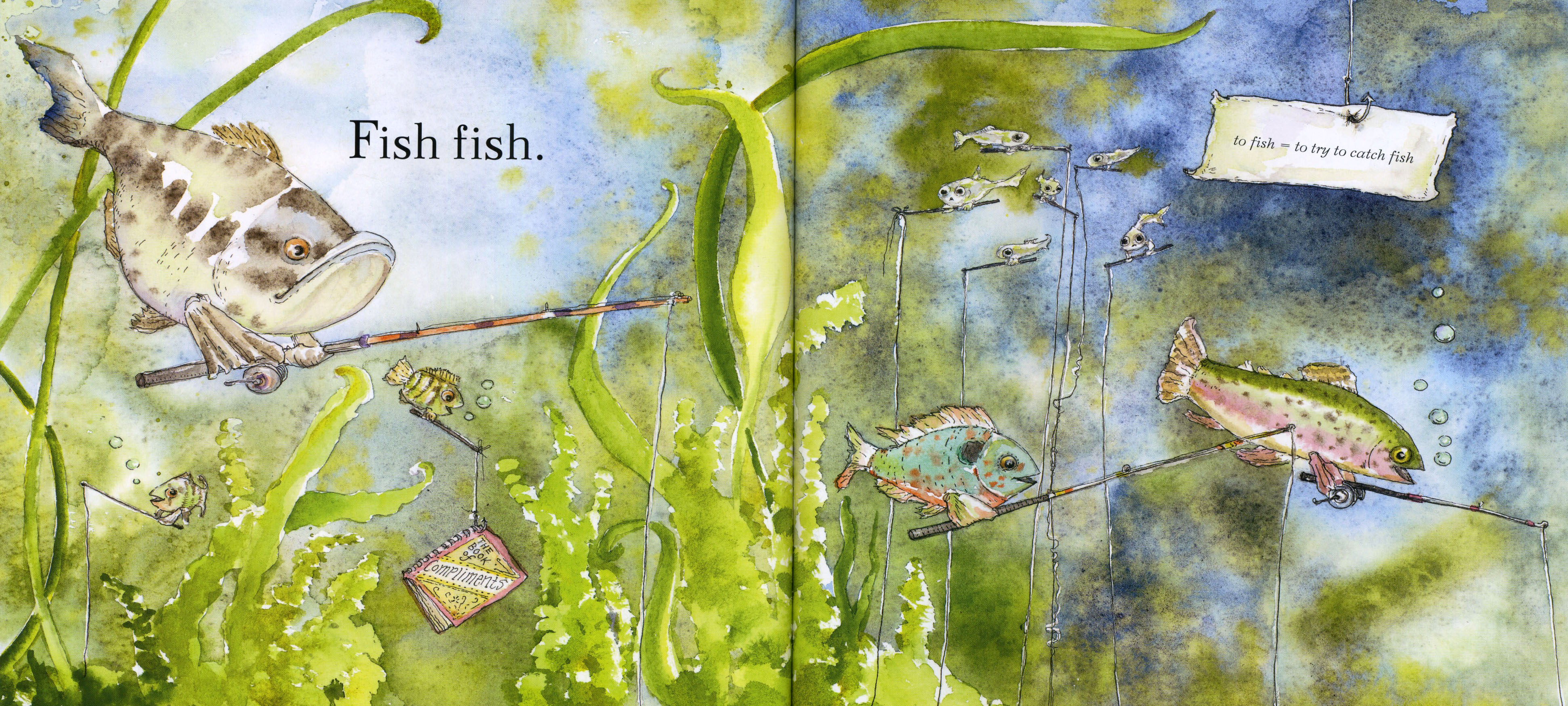 The reviews have been very good;
"Details such as hats and teacups carry through from picture to picture, and on each spread the animal's behavior and interaction with other animals of its kind are spot-on…Children will recognize the behaviors from their fellow humans while learning new vocabulary in a memorable way."
–Horn Book
* "Gleeful linguistic fun that kids will wolf down."
–Publishers Weekly, STARRED review
* "Animal and word lovers alike will enjoy this clever take on homographs…"
–School Library Journal, STARRED review
"Young readers will love this hilarious, informative book."
–Booklist
I especially love hearing which spreads the reviewers have pulled out to talk about in detail, and which seem to be people's favorite one. One of my personal favorites is the badgers. I think because it was one of the hardest to solve and communicate. In the end, I'm pleased with the stream of consciousness dialogue and the bit of collage.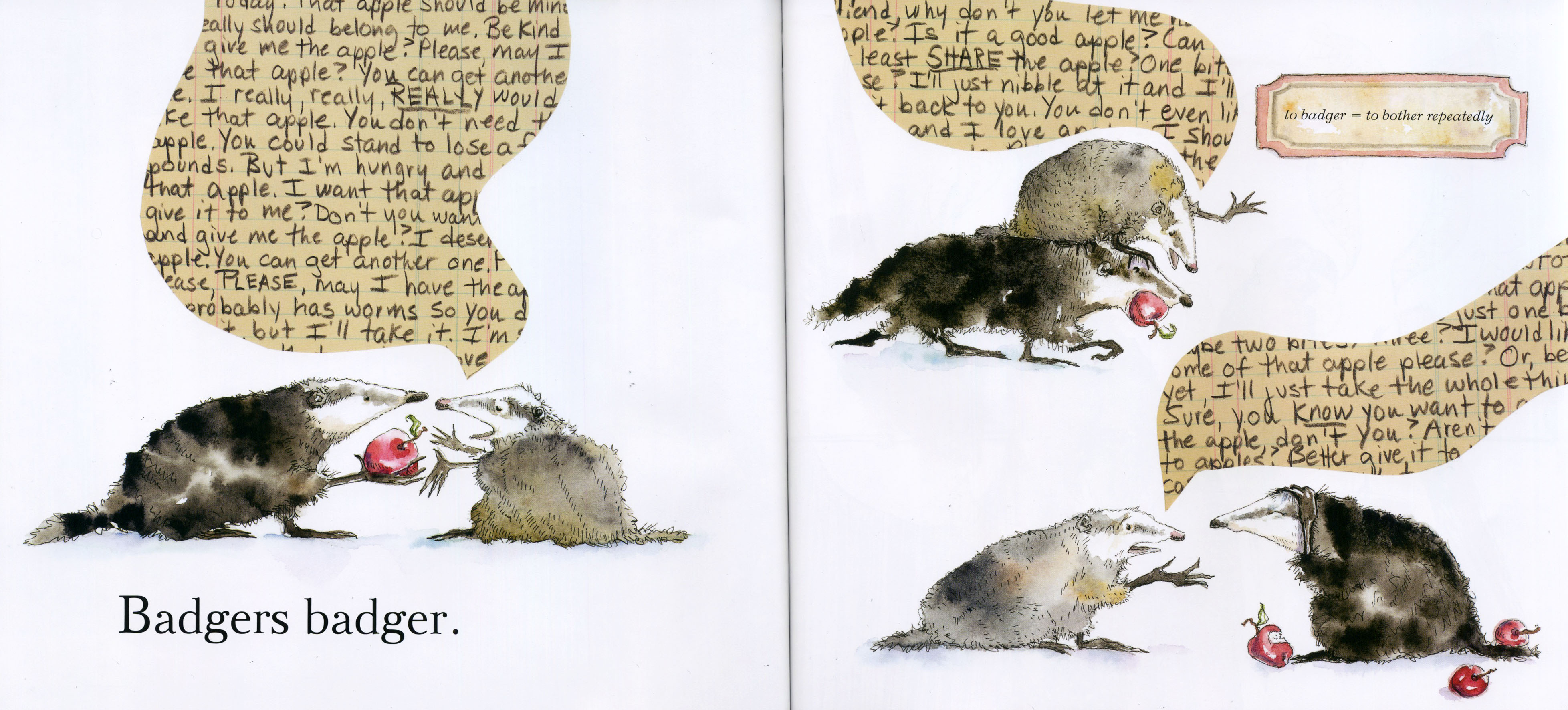 This book also has a wonderful chart at the back which dives into the etymology of each of the words and provides teachers and kids with a great learning tool.
And, hopefully they'll have a chuckle at the same time.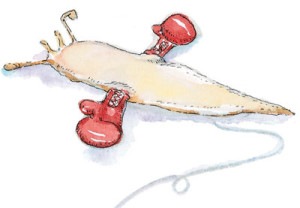 Happy Birthday, Yaks Yak! I'd like to giveaway a birthday present, or two!
I'll send a book to two lucky commenters! Suzanne will announce the winners on her March 15th post.
Good luck and thanks for stopping by!