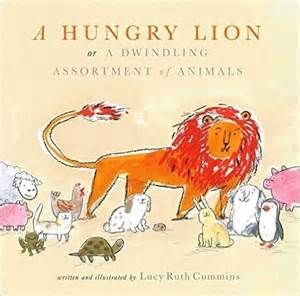 A Hungry Lion, or a Dwindling Assortment of Animals by Lucy Ruth Cummins is a book that I have been wanting to devour for months and months. It'll be released into the wild from Atheneum/Simon & Schuster on March 15, and Lucy is HERE to share some behind-the-scenes information.

Let me begin by telling you that the book's description alone is delicious:
The very hungry lion is all set to enjoy an exciting day with his other animal pals. But all of a sudden his friends start disappearing at an alarming rate! Is someone stealing the hungry lion's friends, or is the culprit a little…closer to home?
This, by the way, is what Kirkus had to say about the book in a starred review:
"Gets even better with multiple readings…a good dose of subversively hearty laughter."
And, this is what PW shared in yet another starred review:
"Cummin's dizzy meta-tale has just enough wink and cheek to assure readers that it's all in good fun, and her visual style—sketchbook playful, slyly spiking sweet-seeming scenes with moments of menace and fear—should leave them hungering (in a nice way) for her next book."
Personally, I give this book five gold stars, two thumbs up, and a standing ovation. 
Welcome to Picture Book Builders, Lucy! I have to know…what sparked the wonderful idea for this book?
One day the thought crossed my mind that if you had a group of animals, and with a page turn, there were animals who seemed to disappear, that with just that much you'd have a mystery on your hands! I did some thumbnails of this concept and I was sharing them with my writer friend Alexandra Penfold and I mentioned to her that I needed to think of an author and illustrator who could tackle the idea.
Without missing a beat, she suggested that I take a crack at it myself, which hadn't even occurred to me! As an art director, I'm so used to matching projects to talented people and to smoothing and polishing the stories of other folks that it didn't instinctively occur to me that what I had was a solid story idea I could explore on my own.
Your animals are so fresh, fun, and just-plain-adorable. Some might even call them yummy. Did the cast members start out looking this way or did they evolve over time? 
There was a bit of a casting call process for who made it into the pages, actually. I started by filling a page with individual animal doodles as they came to me, species by species stream of consciousness style. Then I whittled them down bit by bit to a core group who met two criteria: very cute, and very edible. Honestly! Among the rejects was a very adorable porcupine who I didn't think would . . . go down quite so easily.
Did you face any particular challenges while writing and/or illustrating A Hungry Lion?
One of the challenges I had was that I did the initial roughs for the story straight through, working from beginning to end, thinking "these are roughs, and they will evolve" but when it came time to add polish, there were a few spreads where the very first attempt I made had the most energy, and captured the emotion and expression I wanted more perfectly than later versions. I was honestly a little nervous to say to my art director Sonia Chaghatzbanian that I wanted to keep some elements of the dummy. She was very supportive, though, and agreed with my preferences. I don't know why I was terrified to ask! I think I was worried I wasn't working hard enough if some things came straight out of the pencil in a way that worked for the storytelling.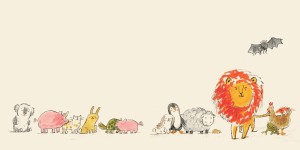 (sketch)
In terms of writing the story, my editor Justin Chanda asked during the acquisition process if I thought there was anyway to add one last beat to sweeten the pot a little bit. Initially I balked—I didn't want to defang my lion! But in the end I think that prompt led to a VERY satisfying final spread that I wouldn't have gotten to otherwise.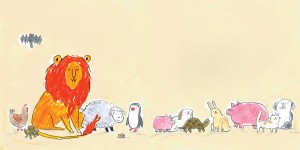 (final)
Text for this spread: 
Once upon a time there was a hungry lion,
a penguin, a turtle, a little calico kitten,
a brown mouse, a bunny with floppy ears
and a bunny with un-floppy ears,
a frog, a bat, a pig, a slightly bigger pig,
a woolly sheep, a koala, and also a hen.
Please give us a tour of your studio.
My studio is really just an art cart with all my supplies, wheeled up to my dining room table when I need to work. And if I have a lot of work to do, I tilt that table so it has a view to the television set (because I very much enjoy doodling and watching at once). I do a lot of drawing while I sit on the couch, too, just with a lap desk, when I'm just doodling.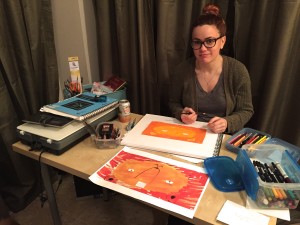 My primary writing studio is the L train and then the F train, every morning and every evening on the way to and from work. I work on my stories on my iPhone in the Pages app, as often as I can, in bursts while on the train. I also keep little lists of idea stubs in my phone's notepad.
I had my son Nathaniel in August of 2015, and as a new mom, and newly back at work, my creative time often has to be carved out wherever it can be found these days!
***Click here for a 30-second time lapse video of Lucy doing her thing.***
If you had one key piece of advice for writers and/or illustrators, what would it be?
As an art director, one of my favorite things to do is look through the portfolios of illustrators, and identify a piece within their body of work that looks like it is situated in the center of an existing story, and ask them to brainstorm back a few steps and forward a few steps to create a story around the piece.
This is also a good exercise for writers—just to look at the world around them, existing photography, things that show up in your Facebook feed, a fight between two birds over a bagel in the street. Look to the world around you, and craft stories that answer the question of "how did they arrive at this place, and how will the move forward."
Ooh. That's a great exercise!
Scoop time! What's next for you?
I am currently polishing up a dummy for a new picture book and hoping to start sharing it soon, and I have two other stories still in draft stages that I'm excited to keep honing. In the meantime, I'm getting super excited for the launch of A Hungry Lion, which is March 16, and the launch party that will be at Books of Wonder in New York on March 19. I finally found a dress! And the cupcakes will be spectacular.
Thanks for visiting Picture Book Builders, Lucy! 
BIO: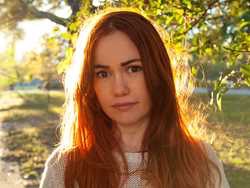 Lucy Ruth Cummins is a writer and an illustrator and also a full time art director of children's books. She loves watching television, reading really long books about US Presidents, and Pomeranian dogs. She was born in Canada, raised in upstate New York, and currently resides in Brooklyn, New York. Her favorite food is the french fry.
Bonus Fact:  Lucy is also the mastermind designer behind ME WANT PET!, my book with Bob Shea.
BOOK GIVEAWAY!
Lucy is giving away a signed copy of her fun and fierce book. Leave a comment for your chance to win. I'll notify the winner on April 1, no foolin'.
Also, pretty please WARN EVERYONE YOU KNOW ABOUT THIS BOOK! 🙂