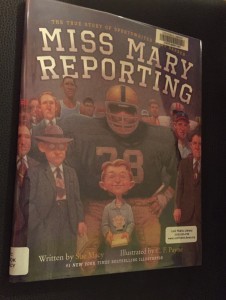 The summer before my freshman year of high school, I decided I wanted to be a sportswriter.
I devoured the sports section of my local newspaper, The Oshkosh Northwestern, and the sports section of The Milwaukee Sentinel. I also read Sports Illustrated magazine and books by Frank Deford, the sportswriting king of the day.
As soon as I could, I joined my high school newspaper, The North Star, where I eventually worked my way up to being the sports editor AND got a part-time job covering local sports for The Northwestern. At first, I earned $10 a story for covering American Legion doubleheader baseball games that lasted all afternoon. I would have done it for free. Later, I got the princely sum of $5.95 an hour and considered myself rich.
My goal was to be a sportswriter for the Chicago Tribune.
That never happened, but when I saw MISS MARY REPORTING, a new nonfiction picture book written by Sue Macy and illustrated by C.F. Payne, I was hooked. The book explains how Mary Garber broke ground when she became a sportswriter for the newspaper in Winston-Salem, North Carolina in the 1940s.
First, the backstory:
Mary overcame more obstacles than I ever had to. My biggest hurdle was coaches who either didn't believe I was a sportswriter or who assumed I didn't understand sports. Mary wanted to write sports from the start, but got assigned to the society beat instead. She only got a chance to pursue her dream when all the male sportswriters left to fight in World War II.
Even then, she was made to sit with the coaches' and players' wives, instead of being allowed in the press box. And, when she finally was allowed in, she had to wear the badge all journalist wore that stated: "Press Box: Women and Children Not Admitted."
Her efforts for personal equality made her a champion of others' rights. She sought out and covered games at all-black high schools giving those athletes space in the paper they had never had before. And she did so for more than 50 years, eventually earning a spot in the Sportswriters Hall of Fame. A quote from the book explains her impact:
According to Mary, the greatest compliment she ever got came from a young boy. It happened in the 1950s when Mary was covering the Soap Box Derby in Winston-Salem. A friend of hers, who was sitting in the stands, overheard a conversation between two African-American boys about eight and ten years old. The older boy pointed to Mary and asked, "Do you see that lady down there on the field?"  The second boy nodded. "That's Miss Mary Garber. And she doesn't care who you are , or where you're from or what you are. If you do something, she's going to write about you."
Now, the nuts and bolts:
So, obviously, this book follows the first rule for writing compelling nonfiction: Find a subject with an amazing story to tell.
And it hits it out of the park — to use a phrase Mary Garber might have loved — on all other counts.
It reads like a story. There is no dry, data-driven prose here. The story is all about Mary's love of sports and how that shaped her life. She's an awesome character, and by the time readers are done, they will know her and like her whether they care about sports or not.
Its details are carefully chosen. When you write about someone's life from childhood to retirement, there's a lot that could go in. But there's also a lot you have to leave out. Unless it supports your main theme and moves your story forward, you shouldn't include it no matter how interesting is. I can only imagine the research and sifting Sue Macy must have done to find and choose the perfect examples she uses.
It makes the reader care. Mary's rise to being a sportswriter when all the others were men, is an interesting story. But it's her determination to tell all people's stories and how she integrated the sports pages that takes this story to the next level. The perfect final note is a quote from current ESPN reporter Ashley McGeachy Fox. She grew up in Winston-Salem and saw Mary covering her tennis tournaments. Mary showed Ashley that women could be sports reporters and set her on her current career path.
It has resources. I love author's notes. And this book has a great one with a picture of Mary with her typewriter, a factual summary of her life and a great quote that sums up Mary's love of athletics. There's also a list of resources Sue Macy consulted and a shout-out to the Forsyth County Public Library for the help it gave her.
This book is a winner. I feel quite confident you will like it whether you like sports or not and whether you like nonfiction or not.
And if your goal is to write the perfect nonfiction picture book, you will love it and use it as a model.
Happy reading!
WINNER ALERT:
The winner of a signed copy of A Hungry Lion, or a Dwindling Assortment of Animals is LINDA ANDERSEN! Linda, please contact Tammi at tksauer at aol dot com.