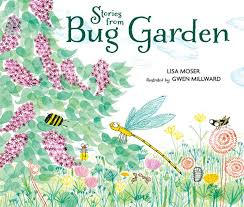 Lisa Moser takes a different turn in her latest picture book STORIES FROM BUG GARDEN (Candlewick Press, 2016).
Moser is known for traditional picture book stories like WATERMELON WISHES, KISSES ON THE WIND and RAILROAD HANK. But in her recent release, she creates a collection of delightful poems about a bunch of bugs who move into an abandoned garden and make it their home.
The poems are linked, because they all relate to the bugs' time in the garden, but readers can open the book and read the poems at random and have a thoroughly enjoyable experience.
What I especially love about these poems is their simplicity and subtle humor. Whether they're about a ladybug who doesn't consider herself ladylike, an ant and a cricket debating the proper way to pick a peach, or a lightening bug who never wins at hide and seek, you will find yourself smiling and nodding and admiring as you read.
And, really, what more could you ask for?
Gwen Millward's simple, colorful illustrations are the perfect complement to Moser's words.
Here is one of my favorite poems from the book. Read it, enjoy it, then get the book to read the rest:
HORSEFLY AND BUTTERFLY
"What are you doing?" asked Butterfly.
"I am running," said Horsefly.
"See the wind ripple my mane?
See my mighty hooves flash?
See my tail streaming behind?"
"No," said Butterfly.
"I don't see any of those things."
"Look again," said Horsefly
as he ran around the garden.
Butterfly watched closely.
"You know you're not a horse.
You're a horsefly.
A teeny, tiny bug."
Horsefly stopped running.
He looked at Butterfly and sniffed.
"Well, you're not butter, either,"
Then he ran some more.
You can learn more about Lisa and her wonderful books here.