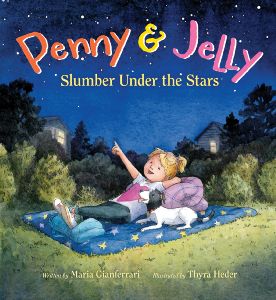 Take note, picture book lovers: There's a new book in town. And you could win a copy.
It's PENNY & JELLY: SLUMBER UNDER THE STARS by the wonderful Maria Gianferrari who is so busy writing books she hasn't had much time to slumber under the stars or anywhere else. We'll hear more about all her books later, but for now, you should know that this book is a sequel to PENNY AND JELLY: THE SCHOOL SHOW.
Maria graciously agreed to stop by Picture Book Builders and answer questions about this book and some of her many, upcoming titles. Read what she has to say, and then leave a comment for a chance to win a copy.
Where did you originally get the idea for the dynamic duo of Penny and Jelly? And how'd you come up with such perfect names?
The story was inspired by my daughter, Anya, and her relationship with our dog, Becca. Since Anya's an only child, Becca's like her dog sister, playmate, and best friend. Jelly was always called Jelly from the very first draft. I loved it, because it's a funny name, and seems like the type of name a kid might give to a dog. Penny used to be Penelope, since the original manuscript was titled, Penelope, Untalented. However, since I was very fortunate to have received a two-book debut deal, we needed a more general title to carry over to the second book, and Penny & Jelly was born. I like how the names are reminiscent of peanut butter and jelly too.
How did writing the sequel compare to writing the original story. Was it harder? Easier?
Writing the sequel was definitely harder. What I most wanted to do was stay true to the best friends bond between Penny & Jelly, so it took a while to come up with a plotline that had the same emotional tone. Once I found the right one, it didn't go through many drafts.
Penny and Jelly have such a close bond. Is there a dog in your life? If so, are you his or her "main human"?
Yes! Our dog, Becca, is a Dixie Chick rescue mutt from Tennessee. We got her when she was six months old, and Anya was nearly four, so they've grown up together. (Anya's now 14, and Becca's 10). I'm her main human, and she's my main girl. We enjoy our daily morning and evening walks, and she keeps me company during the day. I write to the rhythm of her snoring.
Are more Penny and Jelly adventures planned?
I wish! I have ideas for more stories starring Penny & Jelly, but I have nothing more under contract. I would be a dream come true to write more, and have them illustrated by Thyra Heder—she's rendered them with tenderness and humor.
What other books do you have in the works?
I have two other books coming this year. The first one is my nonfiction debut, Coyote Moon, with intricately detailed illustrations by Bagram Ibatoulline, which will be published by Roaring Brook Press in July; the other is Officer Katz & Houndini: A Tale of Two Tails, with hilarious illustrations by Danny Chatzikonstantinou, releasing from Aladdin in October.
I have three more books under contract with Roaring Brook Press. In the spring of 2017, they will publish Hello Goodbye Dog. I'm completely in love with Patrice Barton's illustrations! I'm also very excited to have Brian Floca as the illustrator of another nonfiction book, Highway Hawks. And I'm thrilled to have been paired yet again with Bagram for A Home for Bobcat, which was recently acquired.
I also have a nonfiction concept book, Terrific Tongues, forthcoming from Boyds Mills Press as well as Whooo-Ku: A Great Horned Owl Haiku Story, in the works with G.P. Putnam's Sons.
What do you think makes a truly memorable picture book?
A picture book that touches our hearts, with words that sing and images that shine, gets imprinted upon us. We want to read it over and over again to re-experience those emotions.
Here's a little more about Maria. She has two favorite stars: the dog star, Sirius, and Betelgeuse — just because it's so fun to say. Maria stargazes from her background in Virginia with her husband, Niko, an amateur astrophotographer, her artist-daughter, Anya, and the dog star of the household, Becca. For more information about Maria, visit mariagianferrari.com. You also can visit Penny & Jelly at pennyandjelly.com.
Thank you for stopping by, Maria! Best of luck with Penny & Jelly's new adventure.