Have you ever parked yourself in front of your computer, determined to write a fabulous, inspiring picture book, but you can't come up with a single idea? Well, take heart! In Philip C. Stead's new picture book, IDEAS ARE ALL AROUND, this talented author/illustrator shares the same struggle on his second spread –
"I have to write a story today.
That is my job. I write stories
But today I don't have any ideas."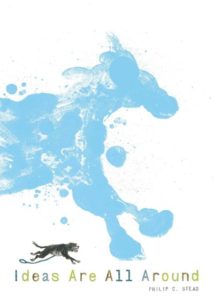 As the story continues, the author describes his walk around the neighborhood with his faithful dog, Wednesday (who, by the way, doesn't like the author to write because she'd rather be outside.) This lovely, first-person narrative reads like nonfiction, yet the title is listed as fiction. The endearing text describes the simple pleasures the author and his dog encounter on their walk–a sunflower, train, ducks, a painted turtle named Frank, and more. I loved this beautiful story because I felt like I was along on the walk with the author and his dog. And as one idea leads to another and the reader soon discovers that ideas are all around.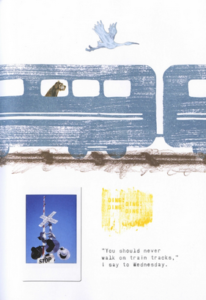 The artwork in this picture book isn't like anything I've ever seen. It's unique, fresh–and simply stunning! Now I'm not an artist, so I don't know the proper terms to describe his illustrations, but to me they appear to be a combination of collage, actual Polaroid photos, and hand-drawn art. The typewriter font adds a textured, authentic feel to the book. It's no wonder School Library Journal calls this book "a provocative, artful journey." I definitely agree!
So if you're searching for book ideas (or want to share a sweet story with your precious little one) take a look at IDEAS ARE ALL AROUND (Roaring Brook Press.) This story is the perfect example of how big ideas are often found in the smaller moments of life. And perhaps like me, you'll find inspiration and encouragement in your writing!