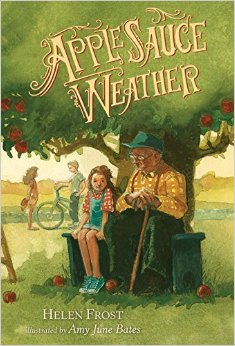 Full disclosure. Today's post does not talk about a picture book.
At least not one in the classical sense.
I mean, I am blogging about a book, and it certainly has pictures, but it's not a 32-page, full-color picture book.
But this book is so beautiful, I had to give it some love in a public forum. How beautiful is it? It's so beautiful, I  wish I'd written it myself.
Let's start with the basics.
Title:  Applesauce Weather
Author: Helen Frost
Illustrator: Amy June Bates
Publisher: Candlewick Press
This 103-page book probably would be classified as a chapter book. But, it's also a poetry book and an illustrated book and a can't-put-it-down book.
It's a collection of unrhymed poems told from the point of view of young Faith and Peter, their Uncle Arthur and their Aunt Lucy who has recently died.
Every year, when the weather turns crisp and the first apple falls from the family tree, Uncle Arthur and Aunt Lucy come to visit and help make applesauce. But now that Aunt Lucy has passed away, will Uncle Arthur still come? Peter isn't so sure, but Faith — who is true to her name — is certain he will.
And he does.
And once Uncle Arthur arrives, he tells stories about apples and love and family that are full of light and truth. Along with stories that are the tallest of tales.
Which are which? Faith can't tell. Peter thinks he knows, but he might be mistaken after all.
This is a book about family traditions and the rites of passage that connect one generation with the next. The language is simple and clear and beautiful. It's a book you can read quickly, but one that you'll want to linger over and savor. It's a good book to read to yourself, and it would be a beautiful read-aloud choice.
Overall, one of the best books I've read in 2016.  Celebrate the fall season and applesauce weather with this beauty.