Three authors have joined forces to celebrate the 100th Anniversary of the National Park Service. Janet Fox, Barb Rosenstock, and Liz Garton Scanlon are spearheading a month long (August) program to showcase our beautiful national parks. Their Page Through the Parks promotion is also filled with fantastic giveaways that are perfect for any fan, teacher, librarian or book lover, in the kid lit industry. So today I thought I would turn my post over to them and let them tell you about this exciting program!
Me: Where did the idea for Page Through the Parks come from?
Janet: I realized suddenly that the Centennial was fast approaching (August 25), that I have a book set in Yellowstone that almost makes the Park a character, and that I love the Parks, love motivating kids to read, and love motivating them to experience the natural world (which is hugely important to me, too). I contacted Liz and she was thinking along the same lines, since she has a book set in the Grand Canyon, so we brainstormed. She suggested inviting Barb with her Yosemite book, and here we are! You can follow along on Twitter with #readUSA and on our Facebook page.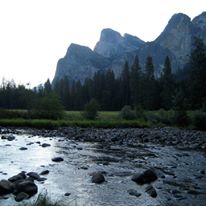 Me: What do you hope this program achieves?
Barb: When Janet and Liz contacted me about joining them, I couldn't say no. The Camping Trip that Changed America was my first sold book. Before I was a writer for children, I was an avid reader as a child and my favorite place to read was outdoors. There was nothing better than reading under or in some tree or by a creek in a park (national or otherwise.) I hope in a small way this program can encourage teachers, librarians, and parents to use our books as stepping stones to get kids excited about the natural treasures in our national parks and the happiness to be found in words and in the wild.
Janet: Perfectly put, Barb. And I had the same childhood experience, reading in and reading about nature. We also have put together a list of books for young readers from picture books through young adult that are set in or are about the Parks.
Liz: My picture book In The Canyon takes place in the Grand Canyon so it was an obvious fit for Janet's celebratory idea, but many of my books feature the natural world. Being immersed in trees, water, wildness and bird song is like food (or sometimes medicine) to me, and I'm drawn to sharing that with young readers through books. All kids deserve the space to dream that both books and the great outdoors provide.
Me: You all have books which showcase our parks. Can you tell us about your books and where the idea/motivation came to write them?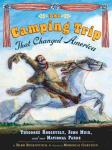 Barb: I read a newspaper article that mentioned Theodore Roosevelt "left Washington" to camp in Yosemite. A few months later I ran across the famous picture of Roosevelt with John Muir in Yosemite. The two men looked peaceful, strong and alone in the wilderness. I couldn't help thinking that modern presidents are always surrounded by people. I started wondering. What was so important that Roosevelt left Washington to camp? How did he meet Muir? Who were they with? What did they talk about?  After an awestruck visit to Yosemite (and its park library—isn't that cool? Some of the parks have their own history libraries!) and many, many drafts, The Camping Trip that Changed America was born.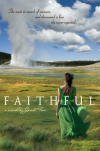 Janet: Like Barb, Faithful was my first published book. I was writing a story about a girl who loses her mother (I had lost mine), and I took Maggie's experience into Yellowstone in 1904 mainly because we live nearby and I find Yellowstone to be one of the most magical places on earth. It's such a varied landscape: geysers, hot springs, mountains, canyons, and roaring rivers, and filled with some of America's most majestic animals – bison, elk, wolves, grizzlies. Like Yosemite, Yellowstone has a terrific research library and I was able to hold in my hand a 1904 guidebook, and read the diary of the Park director.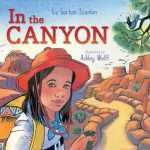 Liz: My book had a kind of surprising genesis in that my agent was the one who spurred me to write it. She knew I spent a lot of my free time hiking and camping, and thought I might be the one to write a picture book about the Grand Canyon. I'd never written a book spurred on my anyone else's idea before, but since I'd hiked the Grand Canyon in my 20s I loved the idea! I was able to remember and recreate that trip so easily because it was so, so grand.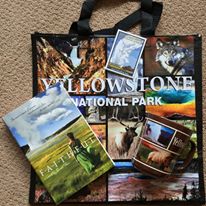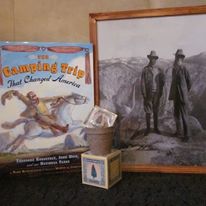 Me: Everyone loves a giveaway, can you tell us how and what we could win?
Janet: We have 4 giveaways! Each of us is separately giving away signed copies of our books on Goodreads.
And for teachers and librarians we are running a Rafflecopter giveaway with a boatload of goodies: a copy of IN THE CANYON, signed by both author and illustrator; a piece of Canyon-inspired art by Ashley Wolff; a beautiful chain-stitch embroidered Sequoia patch; a hardcover copy of THE CAMPING TRIP THAT CHANGED AMERICA signed by Barb; a grow your own Sequoia kit from "Tree in a Box"; a framed 13 x 19 poster of John Muir and Theodore Roosevelt camping in Yosemite; a 500-piece Yosemite jigsaw puzzle; a signed copy of FAITHFUL; a Yellowstone Old Faithful magnet; a Yellowstone coffee mug; and to hold all that stuff, a Yellowstone tote bag.
What a terrific program and fantastic giveaway opportunity! Thank you all for sharing this with Picture Book Builders! Below are links to more information and the Giveaways—-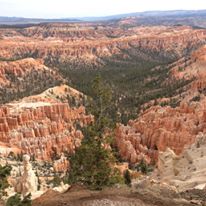 Facebook page: https://www.facebook.com/PageThroughTheParks/
Our 3 Goodreads giveaways:
https://www.goodreads.com/giveaway/show/194670-in-the-canyon
https://www.goodreads.com/giveaway/show/194493-the-camping-trip-that-changed-america
https://www.goodreads.com/giveaway/show/194674-faithful
Rafflecopter:
http://www.rafflecopter.com/rafl/display/46131fb31/?
our 3 websites/blogs: