A few years ago, I read that late author George Stanley sometimes made lists of random characters and situations, then cut them into strips, picked two, and played around with how he might match them up for a story.
Why not? I thought. So I made a long list of possible characters that included Pirate, Snake, T. rex, Ghost, Ballerina, etc. Situations included first day of school, bully trouble, birthday party, etc. I drew T. rex and birthday party. A voice popped into my head, and a book was born.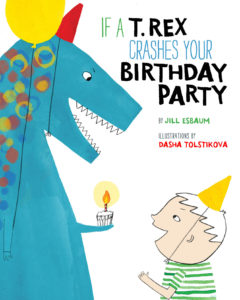 Okay, it wasn't quite that easy, but it was a fun process. Here's how the story begins:
If a T. rex crashes your birthday party, you'll probably be super excited. All that stomping and ROARing and waving those little arms around … Woo-hoo! A barrel of laughs, right?  
     But someone should warn you about a few things. Someone who knows.
     Like me.
Things start off all right. Sort of. Except that a T. rex is as big as a school bus.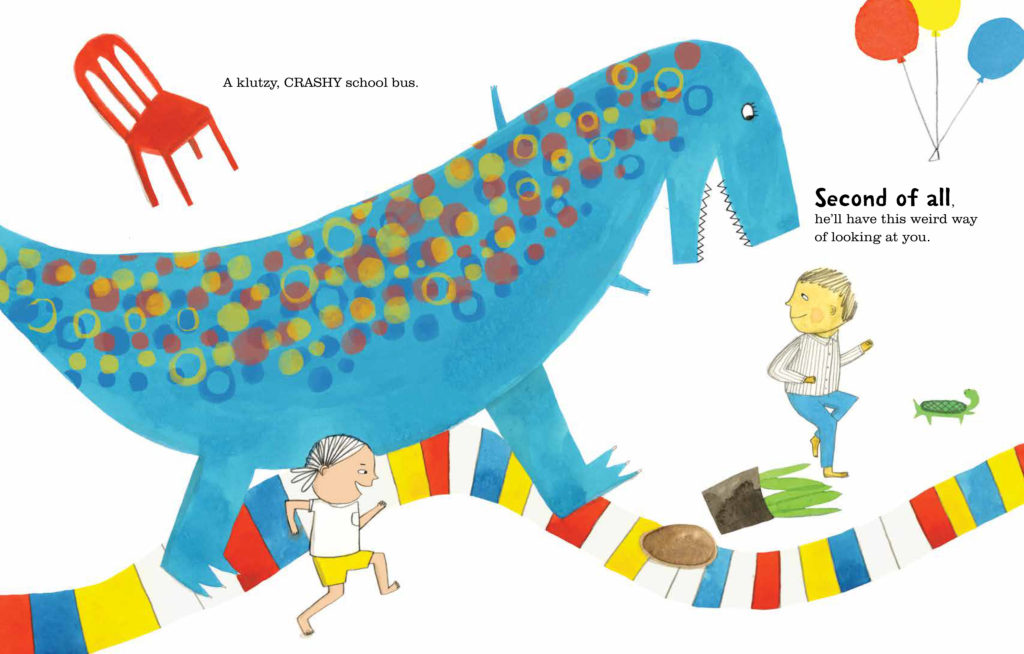 But the narrator warns you to expect lots of ROARING and stomping because, as it turns out, a T. rex is easily upset by … well, everything. Like when his 10-inch toenails puncture your jumping balloon. Or when his party hat breaks.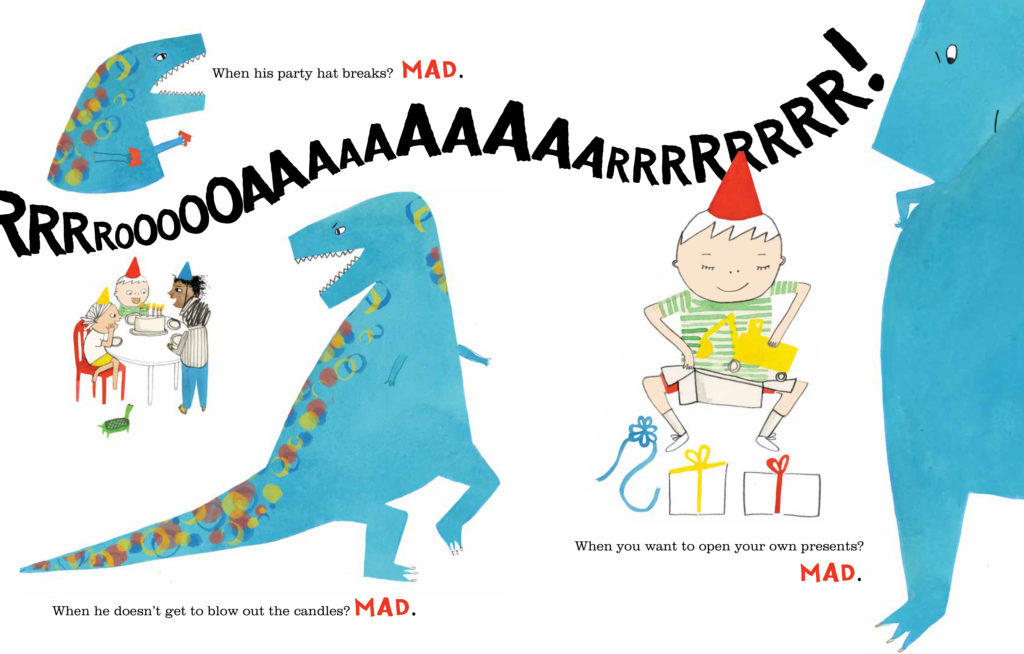 Or when you have a tiny mishap while playing Pin the Tail on the Dino.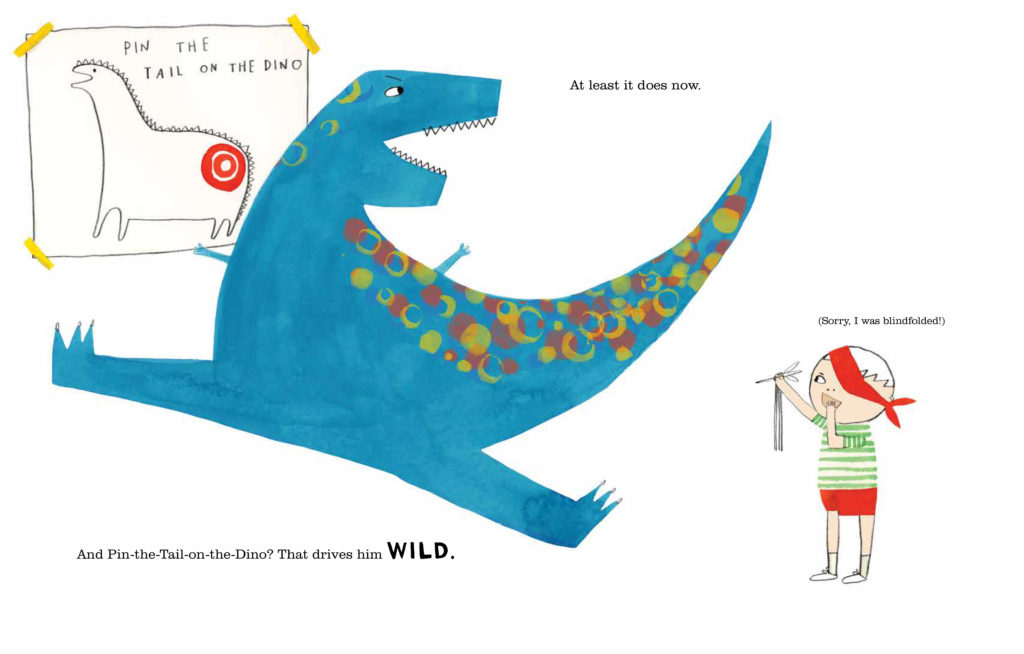 Or when he has trouble with Water Balloon Toss. Or can't hit the piñata. At the end of the day, though, you might be surprised when–    
Well, you know how I hate giving away an ending, right? Anyway, isn't that big turquoise guy cool? The illustrations are, as you can see, wacky and whimsical and entirely kid friendly. I thought it'd be fun to interview illustrator Dasha Tolstikova.    
JE:  Tell us how you decided on the look of T. Rex – his color, his spots, his squareness. (The illustration in which his eyes are both on the same side of his head still cracks me up.)
DT:  I actually played around with what I wanted him to look like quite a bit. Originally I was drawing him much more realistically  – I bought some toy plastic T. Rexes and carried them around with me – sketching and trying to figure out what he looks like whenever I got a chance – but as it turns out a more realistic T-Rex in my drawing style looks a lot more like a giant chicken than you would probably imagine – so I kept going and eventually hit on the T-Rex as we know him today. The color and the spots all sort of grew out of earlier versions of him, you could say it's evolution at work.
JE:  I love how the turtle keeps showing up throughout the book, even while the characters are in a jumping balloon! What inspired the addition of this little guy?
 
DT:  I thought it would be fun to have a very small friend at the party, in addition to the VERY LARGE one!
JE:  The expressions on the kids' faces and their (and the dino's) body language are so simple, yet convey so much emotion. Tell us a bit about how your style has developed over the course of your career.
DT:  Thanks so much! I feel like I am still learning and growing with every book I do. While I work I tell the story to myself and really try to get into the heads of all the characters (even the very small ones – like the turtle) – maybe that's where the expressions come from?
 
JE:  Tell us a little about your next book….
DT:  I have another book coming out in October – it's called Friend or Foe and it's a dark fable about whether it is possible for a cat and a mouse to be friends. It was written by the Canadian poet John Sobol and it's being published by Groundwood, who of course put out my book A Year Without Mom. Besides that I am working on illustrations to a Little Red Riding Hood variation and plotting away at a picture book OF MY OWN! Stay tuned!  
Thanks so much, Dasha. For everything!
Readers, you can see more of Dasha's work here.  And click here to download a fun-filled T. rex birthday party kit!       And if you'd like a chance to win a copy of IF A T. REX CRASHES YOUR BIRTHDAY PARTY for yourself or a dino-crazy little one, just leave a comment below. Otherwise, the book is available everywhere. Today. Yay!