Big news! My new picture book, THE MUSIC IN GEORGE'S HEAD: GEORGE GERSHWIN CREATES RHAPSODY IN BLUE, releases from Calkins Creek today. George Gershwin's birthday is also this month (Sept. 26), so I'm glad you stopped by to celebrate this incredible composer/pianist. You can also find out where the idea for this story came from, read a wonderful interview with the fabulous illustrator Stacy Innerst, and toss your name in the hat for two fun giveaways (details below!)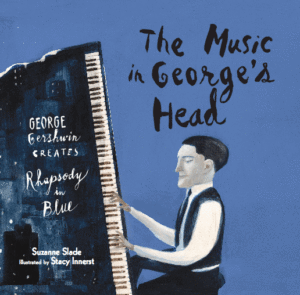 So, the idea for this book suddenly appeared years ago (on the Fourth of July) when I was watching a fireworks show on my local PBS channel. During the program, Gershwin's famous Rhapsody in Blue was playing in the background as the commentator shared interesting facts about this well-known, iconic tune. And before I knew it, I was scribbling down Gershwin facts on a scrap of paper, but I wasn't sure what I was going to do with them. Then overnight, a story idea began percolating in my mind.
Nearly a year later (after a boatload of research, interviews with a music PhD and the Music Specialist at the Library of Congress George & Ira Gershwin Collection, and 47 revisions) I finally sent Gershwin's story out into the publishing world. Fortunately, it didn't take long to find the perfect home–Calkins Creek.
And then Calkins found the perfect illustrator, Stacy Innerst. It was very exciting to see Stacy bring Gershwin's story to life in a unique and colorful way. So after admiring Stacy's work for a long time, I'm excited to ask him a few questions about his thoughts on the book.
I was thrilled when I found out you'd agreed to illustrate THE MUSIC IN GEORGE'S HEAD as I've been a big fan of your work for years. I'm curious, what attracted you to accept this book project?
Thank you! There was absolutely no hesitation when I read your manuscript for GEORGE. I especially liked that your story took him from childhood to adult and that I'd have the opportunity to depict an entire inspired life in a few pages. I grew up with Gershwin often being played in my house… My mother used to play Rhapsody in Blue on the piano while my brother sat on either side of her on the bench, so that music has always had a special association for me. I knew I'd love the project.
I've done other musically-themed books in the past and music has been a favorite subject of mine to illustrate.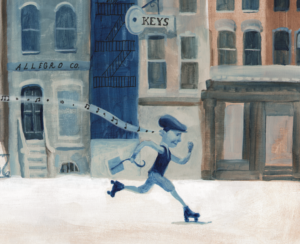 The variety of blue tones in your illustrations are unique and stunning. I also adore your handwritten words sprinkled throughout the text. How did you come up with these clever design elements?
I did a lot of image research when I started the project and it kept coming back to blue. I watched the Rhapsody in Blue Fantasia film many times and looked at album covers and posters and paintings from the era and I knew that I had to limit the color pallet in that way. My original thought was to do the illustrations as those electric blue cyanotypes but I settled on painting them in acrylic, mainly with Prussian blue and raw umber to give a sense of the era.
The art director, Barbara Grzeslo, and I discussed using handwritten text for the book as I had done it in my previous book for Calkins Creek and we liked the results. I was also inspired by the way Gershwin's handwriting looked on his musical scores. Barbara really pushed me to do much more with the handwritten passages throughout the book.
Did you encounter any special research challenges while illustrating this historical, nonfiction title?
I did. Gershwin's compositions were inspired by a variety of forms of music including jazz, ragtime and the blues, all influenced by African American musicians. He used to hear Jazz and Blues spilling out of the Harlem clubs in his youth. His bandmates at the time of the debut performance of "Rhapsody" were all white, however. I wanted the scenes to be as accurate as possible, but there was such a color barrier in that era that I chose to depict the musicians as amalgamations of some of the African American musicians that actually inspired the music, rather than as an all white band. I think George would've approved.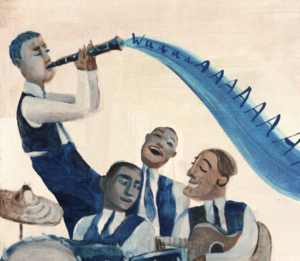 As an author, it's always exciting for me to watch the illustrator's creative journey as rough sketches become finished sketches, and then colorful final art. Would you care to share photos of the fascinating progression of one spread?
Of course! Here is the thumbnail–to sketch– to finished painting process of the swirling rhapsody spread from the book. I think it's my favorite spread because it encapsulates the music for me.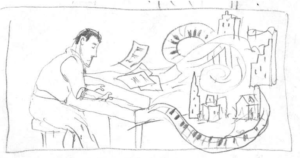 Thumbnail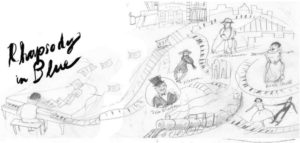 Sketch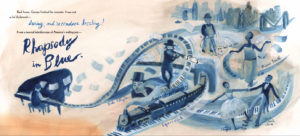 Final Illustration
I'm very thankful Stacy shared his creative vision and talent for this book. I adore everything about his fabulous illustrations, and it seems the book reviewers do too!
      Kirkus Reviews, starred review — "Innerst's acrylic-on-paper compositions, in a striking palette of indigo, sepia, and white, whimsically evoke both the period and the composer's creativity…. Bravo!"  
      Booklist, starred review —"
The swirling text wraps around the inventive (and mostly blue) art, both literally and figuratively, capturing the time period as well as the dazzling musical piece." Innerst's acrylic-on-paper compositions, in a striking palette of indigo, sepia, and white, whimsically evoke both the period and the composer's creativity…. Bravo!" 
      School Library Journal, starred review — Innerst's acrylic spreads are almost entirely done in blue and gray tones, with broad brushstrokes, scanned textiles, and paper adding texture; each scene is striking." 
***Giveaways Info.***
Two winners will be randomly selected from those who leave a comment on this post.
One winner will receive an autographed copy of the book plus a book poster with a Teacher's Guide on the back.
The second winner will get a live Skype Author Q & A visit for a classroom (*to enter the Skype visit giveaway, please provide school name, teacher, and grade in your comment.)
PS. If you'd like to find out more about my writing/research on this book, I did an interview for Deborah Kalb's lovely blog today.