Ahhh, October. My favorite month, wrapped in the cozy blankie of my favorite season. Crisp air, blue skies, fire-shaded leaves, harvest, apple pies. Lots to love.
One new thing I love is – surprise – a picture book, one I discovered in a Wisconsin bookstore while between presentations this past weekend at the Sheboygan Children's Book Festival (one of the best-run festivals I've ever attended!). Look at this cover: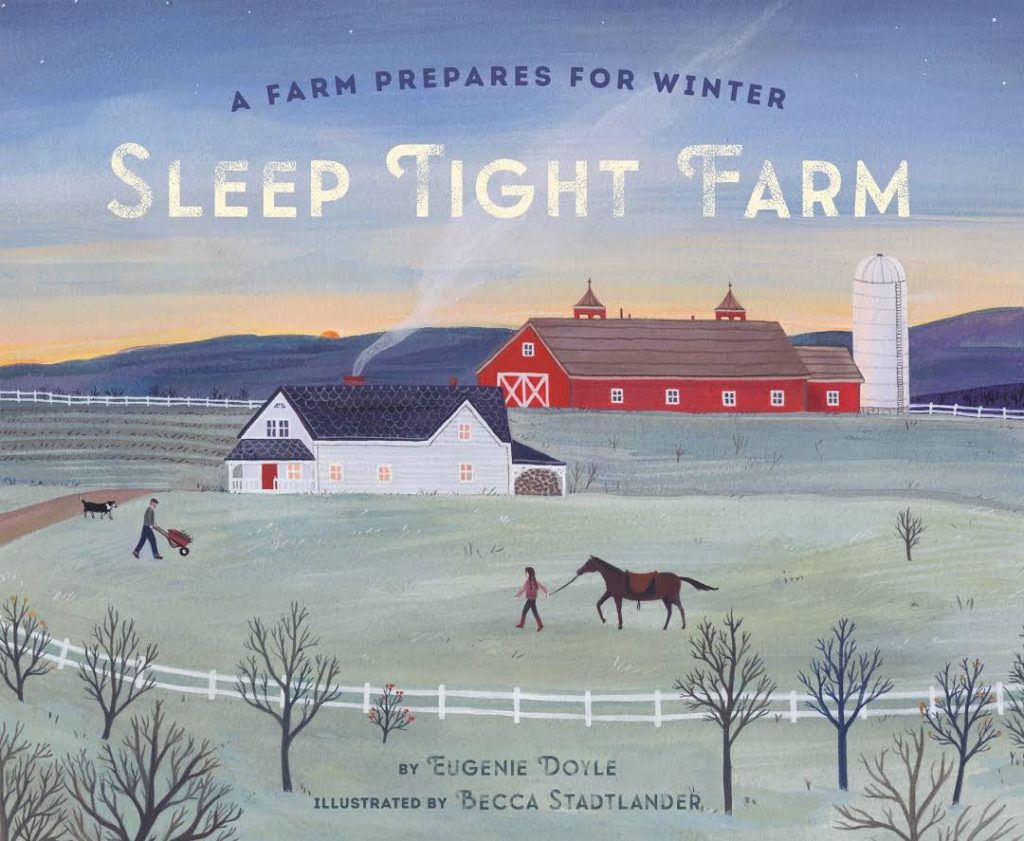 Sleep Tight Farm by Eugenie Doyle, illustrated by Becca Stadtlander (Chronicle, 2016) allows readers to follow along with a family as they button up their farm for the approaching winter. More about the story in a minute. First, endpapers. The front:
And the back:
Effective fall-to-winter progression, yes?
What I like about this one is that Ms. Doyle tells the tale in a rhythmic-but-straightforward, kid-friendly way, moving us from one chore to the next. Yet she sneaks in so many lovely, lyrical turns of phrase. She calls what the family is doing "putting the farm to bed." When they shake straw over their large strawberry patch (the family has a roadside stand, as does Ms. Doyle), they "blanket them from winter's frosty bite." And they don't just cover tender plants in the hoophouse, they "float sheets of white cloth over the baby greens…" It's all so evocative, and it isn't just because I live on a farm myself that it warmed me from the inside.
Repeated throughout is the child narrator's refrain that bids good night to the plants, the fields, the hoophouse, the bees, etc., as each is prepared to withstand winter.
This is illustrator Becca Stadtlander's second picture book. The first is On the Wing, by David Elliott (Candlewick, 2014), which I'm going to have to find. She is really impressive and obviously a star on the rise. I can't wait to see what she does next. Sleep Tight Farm is set in the present day, but Stadtlander's richly-detailed paintings have a soft, nostalgic feel that make you want to curl up beside a cozy fire and sink into them. See? I mean, that cat in the window. The eggs in the boy's basket. A Mom wielding a hammer. Love that (and her knee pad!).
All in all, this is a beautiful book you'll want to share with the kiddos you love. I know I'm going to buy a few for gifts, because mine has earned a permanent place on my bookshelves.
Websites:  Author/farmer Eugenie Doyle. Illustrator Becca Stadtlander.
Wishing you a gorgeous fall, great book discoveries, and one of these beauties cooling in your kitchen. (Oh, does my house smell great right now!)