At the ALA conference in Atlanta last week, the winner of the 2017 Randolph Caldecott Medal for the most distinguished American picture book for children was RADIANT CHILD (written and illustrated by Javaka Steptoe.)
And what a radiant book it is!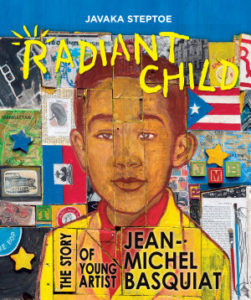 As the subtitle explains, this stunning picture book biography shares the story of artist Jean-Michel Basquiat, whose "collage-style paintings rocketed to fame in the 1980s as a cultural phenomenon unlike anything the art world had ever seen."
I'm not sure what I love most about this book. The text and glorious illustrations are both exceptional.
As a writer, I find myself lingering over Steptoes's fresh word choices/phrases. For example, the opening spread describes Jean-Michel lives "Somewhere in Brooklyn, between hearts that thump, double Dutch, and hopscotch …" Later, the text explains how he draws on a "storm of papers," while another page shares the decorating style of his mother "makes the house look like a stylish magazine."
Each spread is stunning — filled with bold, gorgeous illustrations Steptoe painted on wood pieces he gathered from New York City dumpsters, city streets, and wood discards from a local museum. The textured background provides warmth, grit, and authenticity to Steptoe's work. His unique artistic vision and style perfectly conveys his subject's passion for art, and the power of his paintings. Meanwhile, the text shares the crucial message that art doesn't need to meet certain expectations, or fit inside specific lines, to be important and appreciated.
And of course, this post wouldn't be complete without sharing the lovely 2017 Caldecott Honor Books below. Enjoy!