On my hold shelf at the library this week was a picture book called THE JOURNEY by Francesca Sanna. The story is one of a family attempting to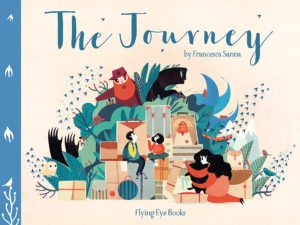 escape a war and travel in secret to a new place in order to make a better life. The author created this book inspired by many different accounts of the people who have migrated from one country to another—and she successfully shows what the experience is like on a personal level.
The illustrations use sophisticated color palettes and shapes, patterns, flat geometry, and a vintage/modern look – indicative traits of European illustration. While the pictures are more surreal, the text is straightforward–the voice of a child;
"The war began. Every day bad things started happening around us and soon there was nothing but chaos."
The subject matter is scary and sad—there's war, death, a chase, and an open ending–and as I read the book, I wondered how children have been reacting to it. I could imagine it potentially being too upsetting for a small and sensitive child, but on the other hand, the artwork's colors and shapes act as a soothing juxtaposition for the harsh reality of the story.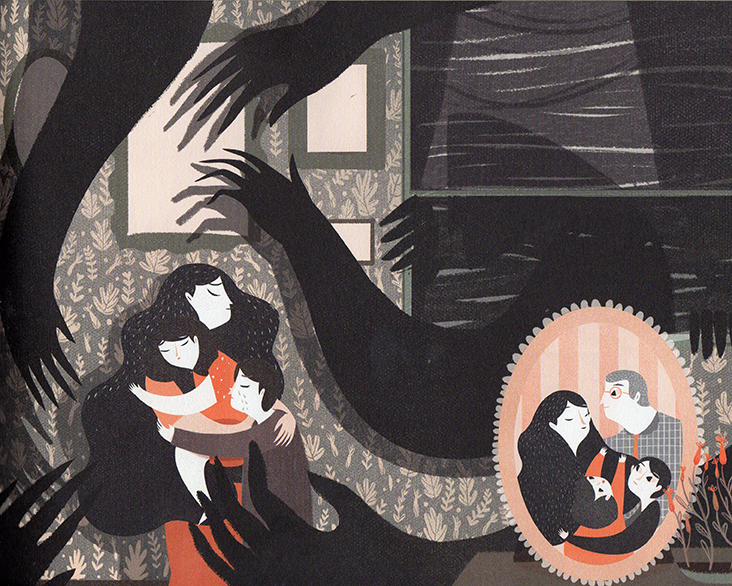 Those who are especially passionate about the present migration issues should brave the tricky subject in order to introduce their child to this journey. Francesca Sanna depicts the experience with thoughtfulness and beauty, and imparts sympathy for and empathy with those travelling from one place to another in search of a better life–an experience that has been shared by the ancestors of nearly every citizen in this country.