Happy New Year! We're glad to see you back at Picture Book Builders as we kick off 2017! I wish all of you a wonderful year filled with great stories, friendships, and an extra dose of kindness.
I thought it would be fun to start this brand new year with first-time author, Meg Fleming, and her incredibly sweet, gorgeous book, I HEART YOU, which celebrates what our world could use a bit more of–love. Meg's debut picture book released last month, and she's kindly stopped by to tell us about her new book. So without further ado … here's the super-delightful Meg! (And if you've met Meg, you know she is indeed super-delightful.)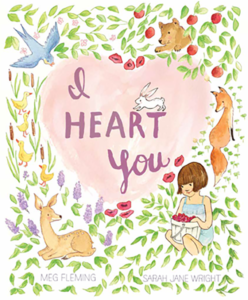 First off, how did you get the idea for I HEART YOU?
Well, actually… I was revising another story and a wise, wonderful author (and friend!), Esther Hershenhorn, suggested I pull out all the verbs in my manuscript and write them out as a list— to make sure I was using the best possible verbs. As I went through that exercise, I couldn't help but play around with the verbs—I started resituating and rhyming and it was just a fun little puzzle.
A little while later a rhythm…
a beat…
a pattern…
fell into my head and I couldn't shake it loose. (That's my favorite thing. It's the best when rhythm falls from the sky.) So, I had to sit down and find my way through it.
I kept thinking show don't tell… show don't tell, and then a question came:
How would I say "I love you" to my kids if I couldn't actually say it?
And that was the birth of the idea.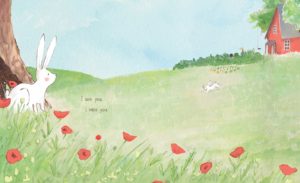 (Illus. credit: Sarah Jane Wright)
What was the revision process for the book like before it sold?
I kept this story pretty close, actually. With some stories, I work through revisions heavily with my critique groups and critique partners—this one, I kept close. There was something in it that I didn't want to interfere with. I wrote the initial draft and let it sit for a while so that it could just be there… it could just be mine. I revised it lightly, trying to shake out a story arc without disrupting the spirit of the story, and then after some time I shared it with my critique group. After they read it they had tears in their eyes, so I took that as a good sign.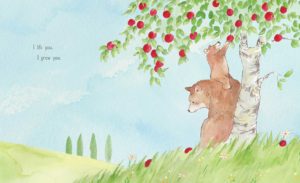 (Illus. credit: Sarah Jane Wright)
I HEART YOU has been out for almost a month. What has this "release month" been like for you?
Haaaa! That is a great question! I really didn't know what to expect from the release month. There were so many questions spinning around and since this was my first book, I had no idea what to think. I had three great events to kick off I Heart You's existence: a kid-filled bookfair at Barnes and Noble, an awesome launch party at Town Center Books, my local bookstore, and a fabulous reading and presentation at Laurel Book Store in Oakland. The best part has been seeing friends, family and even strangers read my book. I knew I'd be excited to see it on the shelves, cause, c'mon… the whole thing is kind of crazy, but I guess I didn't think it would come so close to people's lives. I didn't think about babies patting the pages because their hands don't do the page-turn-thing yet. I didn't think about older siblings reading it to younger siblings. And I didn't think about librarians saying things like "Oh! This would be great for our lap readers!"
The whole month has been very exciting and special. Mostly, I've been feeling immensely grateful to everyone who has believed in this manuscript from the get-go— my critique partners, my editor, Andrea Welch, my agent, Emily van Beek, and gosh… Sarah Jane Wright, I am so incredibly thankful that she got it. Cause she rocked it!
All in all, it's been a great month!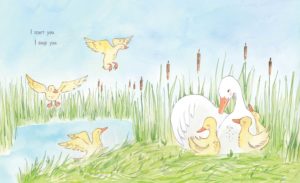 (Illus. credit: Sarah Jane Wright)
Any marketing/promotion suggestions for other authors?
Hmmm… I am still all ears on this topic. I'm definitely trying to figure this aspect out as I go. We did do a fun Mannequin Challenge at my launch which was supposed to go viral and people were gonna be like "Oh my gosh… did you see this WONDER?!" Seriously. Did you see it? Oh my gosh, you have GOT to see it. Look! (www.youtube.com/watch?v=1DbcVtFZp48)
Lol… truth be told, I am a Marketing WIP! 😉
Thank you again for having me! This was lovely.
(Illus. credit: Sarah Jane Wright)
And thank you Meg for sharing your wonderful book with all of us! You can find out more about Meg and her books–yes!–she has more coming out soon at http://megfleming.net/.