I was in Barnes & Noble, minding my own business, when some irresistible, voyaging animals caught my eye.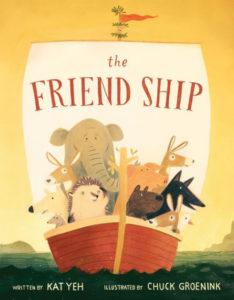 I opened The Friend Ship, written by Kat Yeh and illustrated by Chuck Groenink, and happily set sail with this adorable crew.
This is what Kirkus had to say about the book:
"Yeh makes effective use of dialogue and repetition, investing her characters with personality with just a few lines. Groenink employs sunny, warm hues that increase in saturation as the boat fills and Hedgehog becomes surrounded by friends. A sweet, simple story with a nicely offbeat heroine."
Nice, huh?
Kat was kind enough to stop by Picture Book Builders.
Kat, congratulations on your latest picture book! Please tell us about The Friend Ship.
Thanks, Tammi. 🙂 The Friend Ship is the story of a very lonely Hedgehog. One day, she overhears some woodland animals talking about her and how things will get better. "Friendship is out there, all she has to do is look." As you might have guessed, Hedgehog comes up with her own interpretation of the conversation. "The Friend Ship is out there! All I have to do is look!" and she decides to build a boat and head out to find this elusive thing called The Friend Ship. Along the way, she meets some other lonely creatures who would love nothing more than to join the search.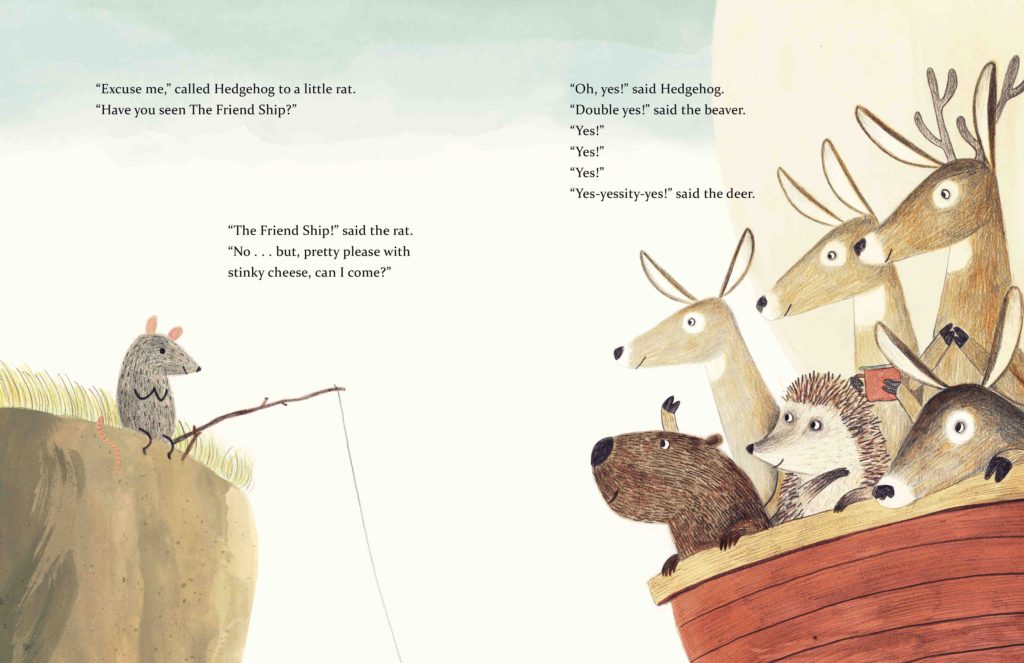 What sparked the idea for this book? A Carnival Cruise? An unexpected hedgehog sighting, perhaps?
1) I'm terrified of cruises (because: Titanic)
2) I wish I had unexpected hedgehog sightings in my life!
Actually, this idea dropped down from the sky in the midst of picture book brainstorming during Tara Lazar's PiBoIdMo (Picture Book Idea Month) a few years ago, but it was only a title. An idea. The Friend Ship. I just wasn't sure what I wanted to do with it. So, I let it sit. For what ended up being a few years. I'd peek in on it every now and then while I was working on other stories. Til one day, I knew.
Chuck Groenink's art feels like the perfect match for your text. The palette, the classic feel, those animals! What was your reaction when you saw the art for the first time?
When Rotem Moscovich, my editor at Disney-Hyperion, sent me samples of Chuck's work as the potential illustrator for The Friend Ship, I fell hard and fast. Not only with the charming way he created his animals, but as Rotem put it: "Just look at the way he handles light." His work glows with warmth. So, I knew it was going to be charming and beautiful and fun. But when I received the art for the book, I was reminded of the very best part of being teamed with an illustrator: Having a partnership with someone who can make your words and story come to life in a way you never thought of. A partner who is there to make your idea Even Better. I mean, c'mon, the endpapers, the personalities of the animals, the teeny secret details that you only notice in repeated readings. I just felt incredible lucky and so happy to be teamed up with Chuck.
If you had one key piece of advice for writers, what would it be?
Read.
If you're writing picture books, read everything out there. Carry stacks home from the library and immerse yourself. Then write without thinking too much or worrying at all. Write out of joy or love or silliness or whatever it is in you that makes you want to take part in this wondrous profession in the first place. You can edit and figure things out later. For now, just create. Then put it all away and let it sit. Sorry, I think that's more than one key piece of advice. And I haven't even gotten to drafting and editing, etc. Maybe we can talk about that another time. For the record, I just checked and I had 16 drafts of The Friend Ship (and that's not counting 16a, 16b, 16c—16h).
Thank you for sharing the number of drafts. It shows that it takes a lot of work to make a good thing great.
Scoop time! What's next for you?
I have a new middle grade novel out in September from Little, Brown, THE WAY TO BEA, about 12 year old Beatrix Lee, a seventh grader who discovers that someone is responding to poems (written in invisible ink!) that she has been hiding in a secret place in the woods. I'm so crazy about this book and can't wait to share it. I'm currently working on my next middle grade novel, as well as a couple picture book ideas that are making me snort out loud in the quiet section of the library. But I'm most excited about this April. I'll be the Dorothy Carter Writer In Residence at Bank Street, working with 9-10 year olds on novel writing. Kids are incredible. They go for things creatively in ways we all should.
Ooh. It sounds like 2017 is going to be an amazing year for you, Kat.
Thanks so much for spending a little bit of time with us at Picture Book Builders!
* * * * * * * * * * * * * * * * * * * * * * * * * * * * * * * * * * * * * * * * * * * * * * * * * * * * * * * * * * * * *
GIVEAWAY:
Kat was kind enough to offer a signed copy of The Friend Ship to one lucky duck commenter. The winner will be revealed in my next post.
* * * * * * * * * * * * * * * * * * * * * * * * * * * * * * * * * * * * * * * * * * * * * * * * * * * * * * * * * * * * *
BIO: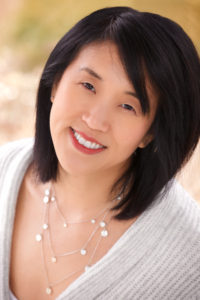 Kat Yeh grew up reading and scribbling in Westtown, Pennsylvania. She worked as a copywriter for many years in advertising and sports marketing, while writing poems and children's books in the wee hours of the night. She is the author of picture book, THE FRIEND SHIP (December 2016) from Disney Hyperion and middle grade novels, THE TRUTH ABOUT TWINKIE PIE (January 2015) and THE WAY TO BEA (coming Fall 2017), both from Little, Brown Books.
She currently lives on Long Island where she spends any non-writing time being outside as much as possible and exploring all the bay and harbor beaches with her family.