My friend Sue Lowell Gallion's first book, the warm and adorable PUG MEETS PIG (Beach Lane Books), entered the world last fall, and I thought it might be fun to talk about the book and interview Sue. What better time than Valentine's Day to highlight a story in which two species become best pals?
In turn, Sue thought it might be fun to interview her book's illustrator, Joyce Wan. Yippee! Two for one!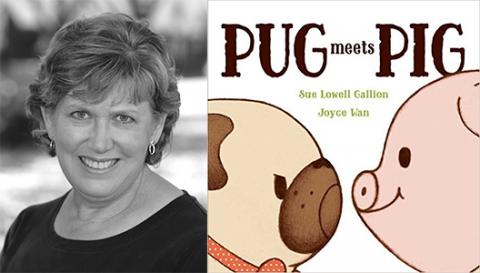 First, the publisher's description of the book:
"An unlikely pair—a pug and a pig!—realize that it's better to be together.
"Pug is a very happy pup. He has his own yard, his own bowl, and even his own cozy bed! That is, until Pig moves in and starts eating from Pug's bowl, interrupting Pug's routine, and, worst of all, sleeping in Pug's bed. Will Pug and Pig ever learn to live together as friends?
"This sweet and silly story about a darling duo celebrates the timeless themes of embracing change, being kind to others, and finding friends in unlikely places."
What I love about the book is that Sue kept the text super simple. Pair that with the appealing, oversized illustrations by Joyce Wan, and you've got read aloud magic for group situations. And lap situations, too! Enjoy.
Jill: Tell us what sparked the idea that became PUG MEETS PIG.
Sue: A friend in my water aerobics class told me about a family with a pug named Charlotte, who adopted a rescue pig. They named him Wilbur. Every week, while we treaded water, we heard more tales of the pug and the pig. Unfortunately, Charlotte did not like Wilbur. The family eventually had to find Wilbur a new home. I thought a story about a pug and a pig needed a happy ending.
 
Jill: While writing this story, was a goal to keep it short (what WAS the final word count?) or did that happen while revising?
Sue: My first drafts of this story, in 2011, were written as an early reader so I used a controlled vocabulary. Those drafts were less than 150 words. As I revised the story over several years, it grew, and it seemed to work better as a picture book (and it had gotten a number of rejections as an early reader!) The manuscript I submitted for a manuscript critique at the SCBWI LA conference in 2013 was 350 words. The revised manuscript Beach Lane bought was 293 words.
 
The final version, though, is only 230 words. The original manuscript did have more repetition. And as Joyce Wan brought the story to life, some sentences and descriptions weren't necessary any more, and slowed down the story. Andrea Welch, the editor, sent me sketch dummies several times during the process, and we talked through how to trim the text as well as word changes. For example, in the story, Pug "works" in his yard. The text originally had several more sentences that described Pug barking at blowing leaves, strolling people, and prowling cats. With the illustrations telling the story, those lines could be cut. So the length and the vocabulary work well as a beginning reader after all.
 
I think the editing process is magical. It was amazing watching the book evolve.
 
Jill: Since your lines (especially in the first part of the book) are amazingly spare, did you include any/many illustration notes?
 
Sue: Well, looking back, the early reader versions had more illustration notes than text! As the story evolved, I got rid of all the illustration notes, but the text was more explanatory. 
 
I did put a three-sentence intro in italics that helped set up the story on the draft that I submitted for critique. That's one work-around if you need to identify that your main character is an ostrich, or if the story won't make sense unless you establish a certain setting. But I try to avoid illustration notes altogether if I can.
 
However, a caveat – since this book sold as a result of a manuscript critique, I also had a 20-minute one-on-one editorial conversation with Allyn Johnston, vice president and publisher, of Beach Lane Books. You don't usually get a chance to talk through a manuscript you are hoping to sell with an editor! That's one of the reasons why SCBWI regional or national conference manuscript critiques are so valuable.
Okay, now it's Sue's turn to interview illustrator Joyce. Take it away, Sue!
Sue Lowell Gallion: Joyce, would you walk us through your process in creating Pug and Pig's world? What's the backstory behind giving Pug a doghouse? It is quite a deluxe model with the window boxes and shutters.
Joyce Wan: I wanted to create a world that felt safe and cozy to go with the roly-poly, huggable characters in the story. The doghouse is a symbol of home. Pig sleeping in Pug's doghouse meant Pug's domain, as he knew it, was no more. It's the last straw that breaks the camel's back before Pug decides he must leave. Regarding the souped-up doghouse I also wanted to show that Pug was a pampered dog who was king of his castle and got everything he wanted. 
Sue: What made you choose the color palette and textures you use in Pug Meets Pig? 
Joyce: I tend to gravitate to a particular color palette in a lot of my work and they're usually colors that are a little off from the traditional rainbow colors. So instead of straight red, green, blue and black, I'll use colors such as blush pink, olive, teal, lime, and brown which you will see a lot of in Pug Meets Pig. The colors are soft and muted to go with that safe and cozy feeling that I wanted to establish.
Sue: Pug Meets Pig is all about feelings. One of the comments I hear the most is amazement at how your illustrations convey both characters' expressions and feelings so subtly with line. It amazes me, too. Your comments?
Joyce: The art in Pug Meets Pig was illustrated in pencil and colored in Photoshop. I appreciate simple design and clean lines, characters and objects that are stripped down to their purest form and art that is bold and iconic yet lovable. While working on this book, I would often draw the pug or pig face and body over and over again until I captured the right nuance of expression with the least amount of lines. 
——————————–
Check out Sue's website here. On her Resources page, you'll find a dynamite Pug Meets Pig activity kit with a maze, pencil toppers, friendship bracelets, etc., free for the downloading. Kids will love it!
Want to win a copy of the book for your kiddos? Just leave a comment!
Thanks, Sue and Joyce, for stopping by PBB!