Big news! (And I mean really big.) In a few weeks — May 16th to be exact — the American Writers Museum opens in Chicago. That's right. The first national museum featuring American writers and their works is making its home in the windy city. Talk about a must-see museum! So when AWM Program Director, Allison Sansone, recently invited me to visit, I jumped at the chance. Hope you enjoy this sneak peek of the museum.

Located at 180 N. Michigan Avenue, the American Writers Museum is one block from Millennium Park (and across the street.) Inside the building, gorgeous elevators (check out those fancy doors) stand ready to whisk you to the museum on the 2nd floor.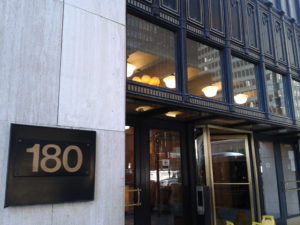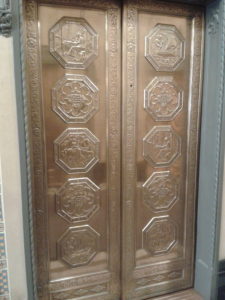 The American Writers Museum contains seven permanent exhibits: A Nation of Writers, Readers Hall, The Mind of a Writer, Chicago Writers: Visionaries and Troublemakers, Writers Hall, and the Children's Literature Gallery. In the center of the museum is a Changing Gallery which will feature a new exhibit about every six months. The first changing exhibit, Palm: All Awake in the Darkness, celebrates poet W.S. Merwin and how his works help connect readers to nature. This installation, created by artists Saylor/Morris in collaboration with Ian Boyden, will be an immersive experience with a live palm tree forest.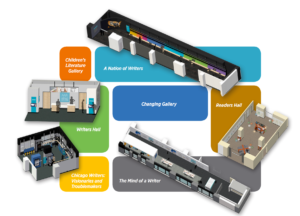 As Allison showed me around this unfinished 12,000-square-foot museum space, she shared interesting aspects about each interactive exhibit. Now looking over the six pages of notes I scribbled down during my visit, there are so many fascinating details I'm not sure where to begin. So I've decided to share a little about three exhibits to whet your appetite, then you can explore the rest on your own museum visit.
First stop, A Nation of Writers.
After stepping off the elevator, I spied a huge 3D map of the United States (below, left.) It's part of the first display in A Nation of Writers exhibit. This large map will be the background for a short film which "traces the emergence of a distinct 'American' form of writing that spans the breadth of the country and the range of writing types" as depicted in the museum's drawing of the finished display on the right below.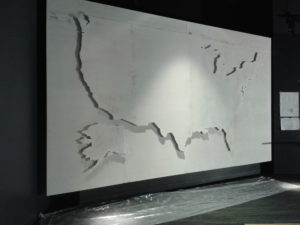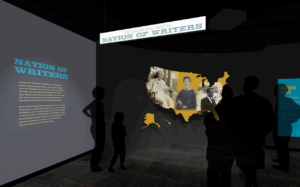 From there we headed down a long, wide corridor with metal support beams lining the wall (left photo below.) The museum's future drawing of this space (right below) shows it will become the colorful American Voices Timeline which shares stories of 100 influential American writers.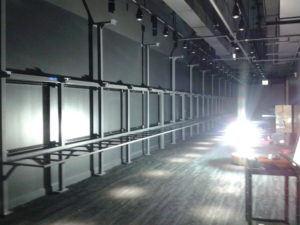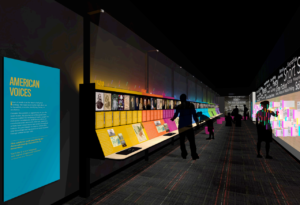 Located across from the Timeline, guests can explore the interactive Surprise Bookshelf with illuminated boxes on the wall. The face of each box will have a hint about a certain type of American writing such as a novel, poem, play, speech, or screenplay. When visitors slide the lit box to one side, they will discover something interesting, memorable, or unusual about the work inside.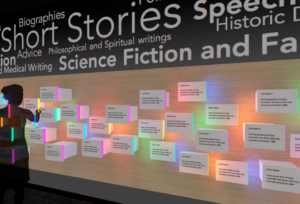 Next we have Writers Hall.
Here eager writers can get right to work and help create the "story of the day." Every morning an AWM staff member will begin a story by writing one sentence on a paper.  Visitors are invited to continue the story by adding their own sentence or paragraph. At the end of the day, guests can download the finished story from the AWM website as a keepsake of their visit.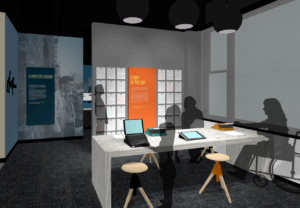 And now, what you've been waiting for — the Children's Literature Gallery!
In the photo below of the Children's Lit. Gallery unfinished space, you can see it contains large windows facing Michigan Ave. making it very bright and inviting. When completed (drawing on the right), it will be a cozy reading area with dozens of children's books for readers to curl up in a chair with or share with friends. The gallery will also feature large illustration reproductions of well-loved, timeless children's books as it celebrates the authors and illustrators who created them.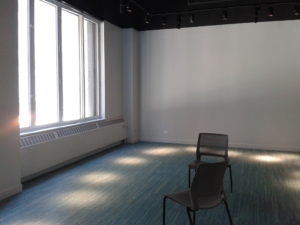 But this is just a small sampling of the exciting exhibits that await adults and children at the interactive American Writers Museum.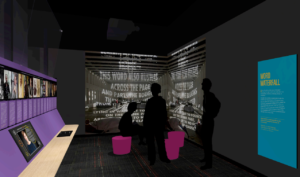 Guests can also discover:
— Word Waterfall:  a floor-to-ceiling waterfall of illuminated words that arrange themselves into sentences/phrases as they fall to the ground.
— Writer's Room Gallery: a unique display of precious artifacts on loan from other museums and institutions (the famous Jack Kerouac scroll will be displayed at the museum opening.)
— Word Play: various games on interactive tabletop consoles where guests can experiment with words in new ways.
— And much, much more!
I hope you enjoyed this preview of the American Writers Museum. The next time you're in Chicago for a conference or vacation, be sure to experience it for yourself!