Narwhal, Unicorn of the Sea by Ben Clanton is a marvel. An undersea romp with confidence and joy and a little bit of absurdity.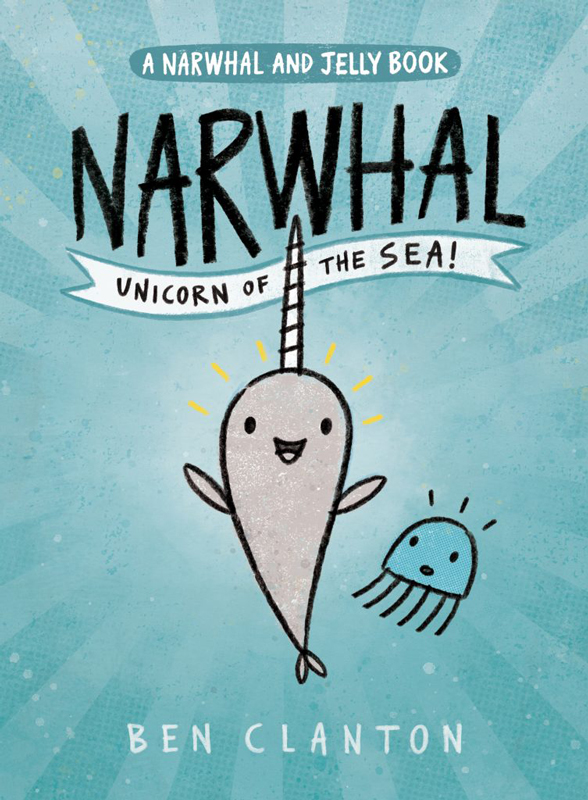 The opening line, "NARWHAL IS REALLY AWESOME," pretty much nails this terrific little book.  It contains short tales, natural history facts, and even a song about the "happy little narwhal." 
Narwhal is a joyful and happy character. You wonder if it has ever had a bad day in its life. It is easy to get caught up in the positivity of Narwhal as it meets a new friend, Jelly, a somewhat skeptical jellyfish. They both question if each other is real with delightful conversation and actions. They determine eventually that, yes, they are friends, whether they are in each other's imagination or not. And they both like waffles.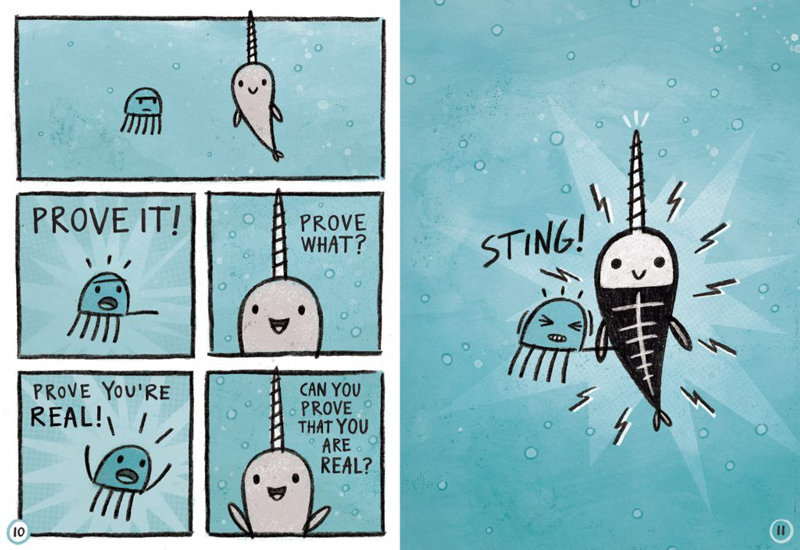 When Narwhal learns that narwhals usually travel in pods, and searches for her pod unsuccessfully. So she decides to form her own pod. She invites a series of characters, a shark, a blowfish, an octopus, etc. to be part of her pod. And donning long spiral headgear, they all join up. Unintentionally, Jelly is never asked, leading to hurt feelings.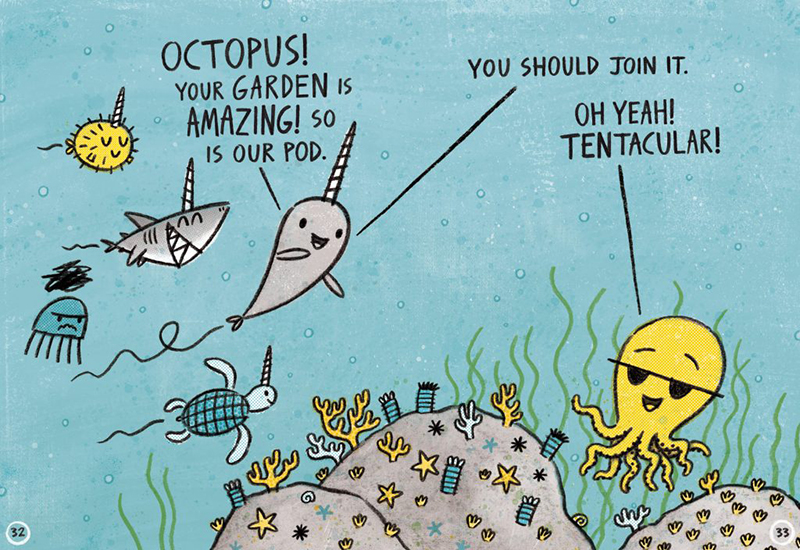 The final tale has Narwhal sharing her favorite book with Jelly who she helps explore the possibilities of imagination. There are robots and waffles and even a sea monkey.
There is a page of facts about narwhals (they can live up to 90 years!) and a page of facts about jellyfish (a group of jellyfish is called a smack!)
There is also a Narwhal song included. Only slightly narcissistic, but cute and fun.
Clanton's art, limited to a palette of yellows and blues and grays is perfect for the underwater world. The drawings are simple but compelling and the crazy cast of characters come alive and are expressive with a few simple lines. 
This is a 64 page collection of stories about friendship and adventures and parties and waffles. It is about imagining and imagination. It is a charming jump into a sea of joy. The cast of characters are endearing and cuddly. Or, you know they would be if they could leap off the page. It is hard to read this book without a smile and without a chuckle. And though I haven't tried, I imagine it is hard to read this aloud without a heaping dose of exuberance.
This is A Narwhal and Jelly Book. The first one in a series of what I am sure will be classics. Book two is out in May!
Visit Narwhal and Jelly's website at : http://www.narwhalandjelly.com/