Hooray! Today I get to introduce an adorable new picture book–ALL ABOARD THE LONDON BUS by Patricia Toht (illustrated by Sam Usher) which releases next week (May 4th!) It's the delightful story of a family exploring the exciting sights of London (Buckingham Palace, the London Eye, Big Ben, and much more) while riding on a red double-decker bus. In this book, inviting poems and Sam Usher's gorgeous illustrations combine to create a wonderful adventure everyone will enjoy. The poems are sharp and engaging, while at the same time they share interesting facts young readers (and older ones too) will find fascinating!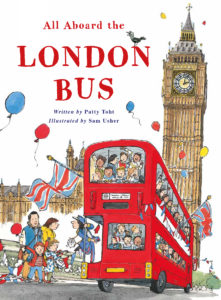 Author, Patty Toht, has kindly agreed to answer my nosy questions and give us a behind-the-scenes look at the book. AND she's giving away an autographed book to one lucky person who leaves a comment on the post!
Thanks so much for joining us Patty! First off, congrats on this lovely title and your other upcoming books. Could you share a bit about your background in children's books (and what you have in common with Meg Ryan?)
Thank you, Suzanne! I'm so happy you asked me to chat. I love the Picture Book Builders blog!
My background includes lots of kids and books – teaching, facilitating author and illustrator visits, working in public and school libraries. The thing I have in common with Meg Ryan is that, just like her character (Kathleen Kelly) in You've Got Mail, I owned a children's bookstore and, unfortunately, my store followed the same script and succumbed to fierce competition from the big stores, too.
If you've seen the movie, I actually had a particular Kathleen Kelly experience! Do you remember the scene where she checks out Fox Books? Well, after my store closed, I was hanging out in the children's section of Borders when a customer said to the clerk, "I'm looking for a poetry book. The author's name is Jewish. Weinberg? Or Finkelstein, maybe?" The clerk tapped away at the computer, and said "I don't see anything under those names…" At which point I said, "Shel Silverstein? Where the Sidewalk Ends?" and I put the book in his hands.
I also have have another You've Got Mail moment – I met a cute guy at the store and he is now my husband!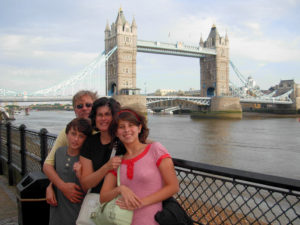 It's interesting a writer who's lived most of her life in Chicago ends up writing a book based in London. Can you tell us about your recent life experience which led to the creation of ALL ABOARD THE LONDON BUS?
I'm sure many people will wonder about that! My husband is co-creator of a children's TV show called Chuggington, and his job took us to London, where the show was produced. During our years there, I had lots of time to tromp around London and write. My experiences worked themselves into poems which became the collection ALL ABOARD THE LONDON BUS. I also signed with my agent Julia Churchill there and made lots of SCBWI-British Isles friends ("Scoobies!").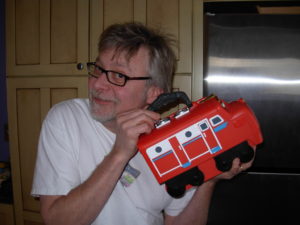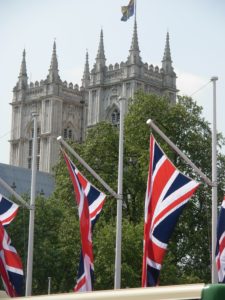 It seems every book has its own unique journey. Were they any particularly challenging or interesting twists during this book's creation process?
The biggest twist was that we moved back to the US before the collection was finished! Luckily, I had packed two notebooks with loads of information and photos that proved to be invaluable. Another interesting twist was that my agent and I were both worried about its salability, but a terrific critique at the SCBWI LA Conference led to a U.S. publisher requesting the full manuscript. That publisher turned it down, but it gave the manuscript a needed boost to be submitted around the U.K. Frances Lincoln Children's Books picked it up and paired me with an absolutely fantastic illustrator, Sam Usher.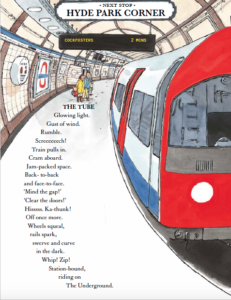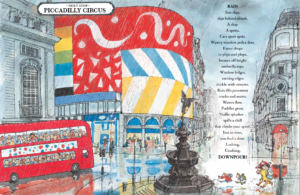 Sam Usher's illustrations for ALL ABOARD THE LONDON BUS are so inviting, colorful, and fun! What was the art process like from your perspective. 
My editor, Katie Cotton, knew immediately that she wanted Sam to illustrate the book. His architectural eye and his Quentin Blake-like characters are just perfect! One autumn day, Sam and the publishing team met for tea to discuss the book, and I came along via Skype. (I made myself a scone and a cup of tea at home. It wasn't the same.) We brainstormed, chopped a few poems, and decided that a few more needed to be written. After that, I followed Sam's progress on Twitter, as he often posted sketches of what he was working on. It was so cool!!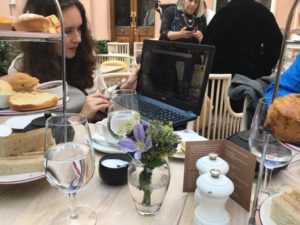 This book is published by Frances Lincoln Children's Books, a wonderful publisher outside the U.S. How did you end up working with an overseas house?
When we moved to the U.K. I left my book collection behind. To feed my reading habit, I frequented charity shops to pick second-hand children's books. I found charming poetry books published by Frances Lincoln, so when it came time to submit my collection, I suggested them to my agent. I also have two books coming out within the next year that will be published by Walker Books in the U.K., so I guess England is a sweet spot for me!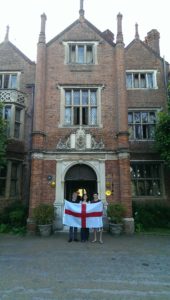 Thank you SO much for joining us Patty! And thanks for sharing your writing and book insights on your wonderful GROG blog!
You can also connect with Patty on her Website – www.patriciatoht.com, Twitter – @PatriciaToht, and Facebook – www.facebook.com/patricia.toht
* Giveaway * – To enter the book giveaway simply leave a comment on this post by May 4th (The release day for ALL ABOARD THE LONDON BUS). Winner will be announced May 5th!