I think every picture book author has a mental list of picture books he or she loves SO MUCH that the writer wishes he or she had written them.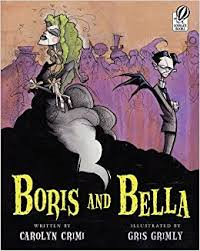 My personal "why-couldn't-I-have-written-that" list has five books on it.* And one of them is Carolyn Crimi's BORIS AND BELLA, an absolutely perfect tale of two ghouls — one a neat freak and the other a slob — who find friendship nonetheless. It's fun to read and structurally perfect. I won't tell you how many times I've tried to write a similarly structured book and failed.
In fact, if you haven't yet read BORIS AND BELLA, which is illustrated by Gus Grimly, you should go do so now and then come back to this post. No worries,  I'll wait.
There. See what I mean?
So I'm always excited when Carolyn has a new book out. And this past Tuesday, her THERE MIGHT BE LOBSTERS hit the shelves. It's illustrated by Laurel Molk and published by Candlewick.
As you might expect, it's lovely.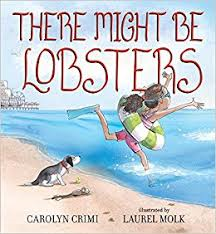 The book touches on fear, something every child (and adult) understands. But in this book, it's a small dog named Sukie who's scared, which automatically makes the book's reader feel brave. Sukie is scared of the beach and everything that goes with it. Sandy steps. Bouncing balls. Salty waves. And the fact that, well, there might be lobsters.
Sukie's fears are so real and childlike and logical to her, that readers will hop right on board. There's also Eleanor, Sukie's patient owner, who coaxes her to try new things, but doesn't judge her when she declines. And there's Chunka Munka, a stuffed monkey who keeps Sukie company while Eleanor enjoys the beach.
Will Sukie overcome her fears? Will she see a lobster?
I know you want to know, but I'm not telling.
This book is an classic story in the best sense of the word. There's no edgy concept, breaking of the fourth wall or allegory for the reader to interpret. Just a loveable character, an understandable problem, the search for a solution with its attending failures, and an ending that solves the problem with heart and hope. Oh, and the writing is beautiful. There are a few lines that are so well executed, I stopped reading to admire them, And the characters are relatable. Everyone has been Sukie or Eleanor or  both at different times.
As a true test of quality, I read this to my husband whose literary tastes run more toward sports stories than children's literature. He enjoyed it and spent the rest of the evening calling our cats Chunka Munka.
So add this to your collection. If you're a picture book writer, you just might end up wishing you'd written it yourself.
* Oh. The other books on my wish-I'd-written-that list are: IF YOU WANT TO SEE A WHALE by Julie Fogliano; STARS by Mary Lyn Ray; ZOMBIE IN LOVE by Kelly DiPucchio; and WANDA'S ROSES by Pat Brisson. Then there's this list of picture books I think are Mary Poppins-like: "Practically perfect in every way."