Today I'm excited to share a sneak peek of Don Tate's upcoming picture book about how a puny, weakling kid grew into a powerful bodybuilder–STRONG AS SANDOW: HOW EUGEN SANDOW BECAME THE STRONGEST MAN ON EARTH.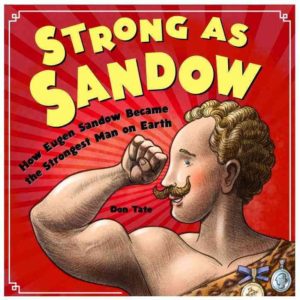 This fascinating (and gorgeous) picture book biography is set to release August 22. It's already been named a Junior Library Guild selection and is getting lots of great buzz. Author/illustrator Don Tate is one busy, talented guy! Some of his previous projects include Poet: The Remarkable Story of George Moses Horton (author and illustrator), author of It Jes' Happened: When Bill Traylor Started to Draw, and illustrator of several picture books, including Whoosh! Lonnie Johnson's Super-Soaking Stream of Inventions, The Amazing Age of John Roy Lynch, and The Cart That Carried Martin.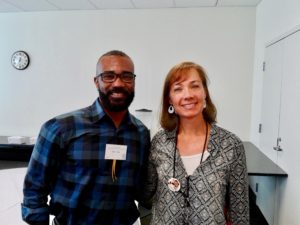 I had the privilege of meeting Don last fall at our SCBWI Prairie Writers' and Illustrators' Day conference. It was so nice to chat with another pb bio. enthusiast. Thankfully, he agreed to join PBB and answer a few questions about STRONG AS SANDOW (published by Charlesbridge.)
How did you get the idea to write a book about Eugen Sandow? And would you care to you share a bit about your own experiences training and competing as a bodybuilder? 
I competed in natural bodybuilding nearly 20 years ago, winning first-place in the Open category, and second place in the Novice Men category. I'm not a tall guy, and I wasn't hugely muscular. Some folks wondered how it was possible that I competed in bodybuilding when I looked nothing like the bulky guys seen in popular bodybuilding magazines. 
 I competed in natural shows, which meant that dangerous growth hormones or steroids were prohibited. True natural competitors focus on working out hard and eat healthy—but no drugs. Therefore, we look like natural, everyday people and not like monster trucks. And actually, that's what Eugen Sandow was known for. He looked like your typical guy when dressed in a suit. But when he ripped off his shirt—bam!—his muscles exploded. 
Competitive bodybuilding was so much fun, and I wanted to figure out a way to get that thing I loved into a book. When I came across this picture of Eugen Sandow, his story became mine to write.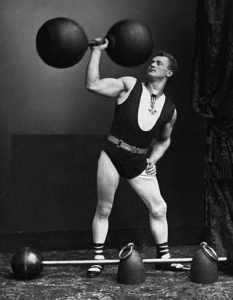 Did you encounter any challenges, surprises, or unexpected detours in your research for the book?
Writing Sandow's story was a challenge, which I addressed in my Author's Note. After his death, for reasons unknown, Sandow's family buried him in an unmarked grave and destroyed his personal belongings. Just think about the primary sources that were lost! More challenging, the sources I used to tell his story contradicted one another. Was Sandow born sickly or not? Was he a weak child or an average child health-wise? Sandow contradicts himself in his own writings. In all honesty, I think some of Sandow's early biography may have been the creation of an imaginative showman.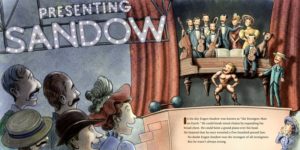 How do you hope STRONG AS SANDOW inspires young readers?
I think all of the stories I've written support an underlying message of perseverance, of not giving up. Sandow was a weak sickly kid who wanted to get strong. He had many obstacles along the way, but at the end of his life, he had become known as "the Strongest Man on Earth." That said, I didn't write the book with the goal of pushing any kind of message. My goal here was to simply entertain my readers, to provide them with something fun to read. I wanted to create a book especially for reluctant boy readers. I was a reluctant reader as a kid, and I would have loved a book like STRONG AS SANDOW. What's cool, however, is how many people tell me that they are buying the book for their young daughter or niece—it's a story for everyone to enjoy!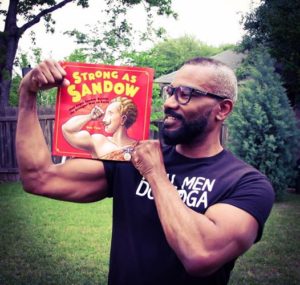 You're the author of some picture books, the illustrator for others, and sometimes both the author and illustrator (as is the case for STRONG AS SANDOW.) How do you decide which of your writing projects you'll illustrate? Do you enjoy one aspect (writing or illustrating) more than the other?
I enjoy all aspects of the book business—writing, illustrating, design, promotion, speaking to kids. STRONG AS SANDOW was my story to write and illustrate, I wouldn't have had it any other way. But I'm open to—and sometimes prefer—other illustrators creating the visuals for the stories I write. I've developed a variety of illustration looks in my work throughout the years, but that doesn't mean that one of my looks is the best look for a particular text.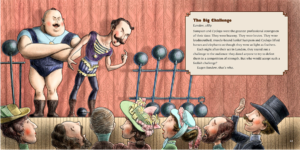 Find out more!
Background info. about STRONG AS SANDOW on Don Tate's website
STRONG AS SANDOW Discussion Guide
THANKS so much Don for joining PBB and discussing  your great new book!
~~~~~~~~~~~~~~~~~~~~~~~~~~~~~~~~~~~~~~~~~~~~~~~~~~~~~~~~~~
The winner of the book giveaway is Kathleen Mazurowski! Kathleen, please contact Jennifer Black Reinhardt by emailing her through her website, JBReinhardt.com and she will send you a signed copy of Blue Ethel— CONGRATULATIONS!!!!!