I've long admired Laura Purdie Salas's poetry and picture books. I'm also kind of moon-nutty. So after reading Laura's latest—If You Were the Moon (Lerner 2017)—I was eager to have her visit us here at PBB. And, look—here she is!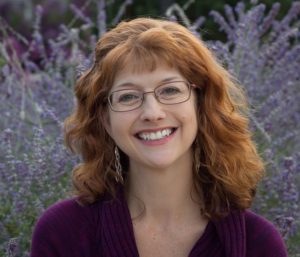 AND there's a giveaway! As always, to win a copy of this beautiful book, leave a comment below.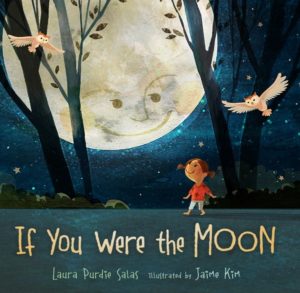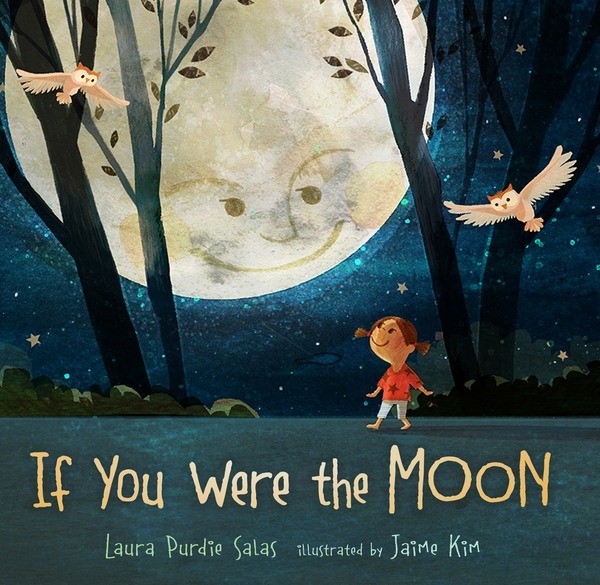 First, a quick summary. If You Were the Moon (illustrated by Jaime Kim) is almost like two books in one: a lyrical bedtime story for young kids and a fact-filled moon book that will appeal to teachers (as well as any lunar enthusiast). It begins with a young girl in bed saying:
Helloooooooooo up there, Moon! I'm sooooooo tired.
I wish I could do exactly nothing, just like you.
The moon then proceeds to set the girl straight, telling her—in brief, poetic language—all the things she does, like "Challenge the ocean to a tug-of-war." Sidebars on each spread offer kid-friendly explanations on all sorts of fascinating moon-related things.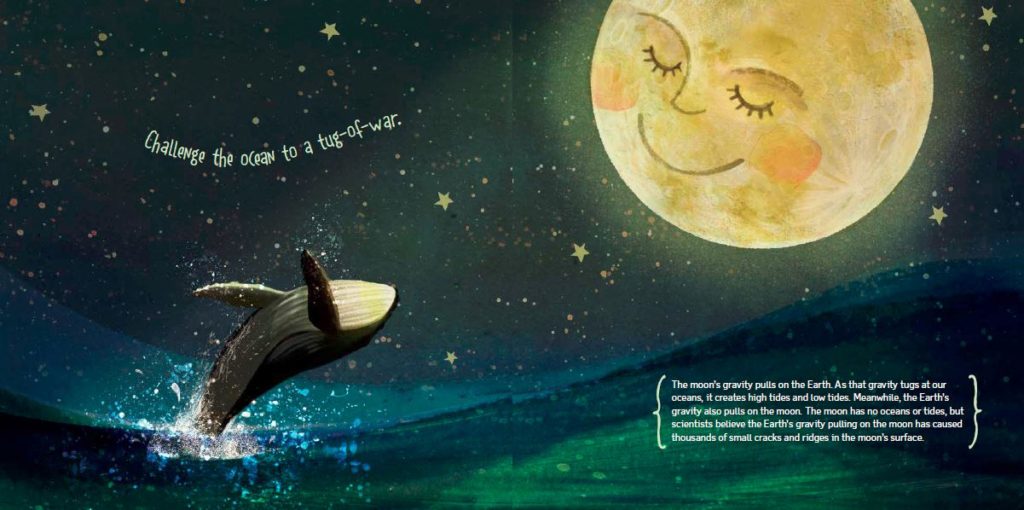 And, now, to Laura:
Can you tell us how the book came about?
I just think the moon is magnificent, and this project started out as strictly a "Things to Do If You Are the Moon" poem to honor the moon. This poem form is a metaphorical list poem written to an inanimate object, and I love writing them. I already had in mind the scientific prose sidebars, as my dad spent most of his career at NASA, and I love science, too.
Did you always imagine it as a dialogue between the moon and a child?
The child/moon framework came about because my brilliant Millbrook editor, Carol Hinz, commented: "I wonder if we need some sort of brief setup here…While the title tells readers the scenario here, I'm worried some readers might not immediately make the connection between the title and what's happening inside the book."
I tried a couple of different options, and the child/moon one felt the best. I still wasn't sold on it at first, though. Honestly, I really liked just the poem. But over time, I came to agree that it was needed in order to orient the reader.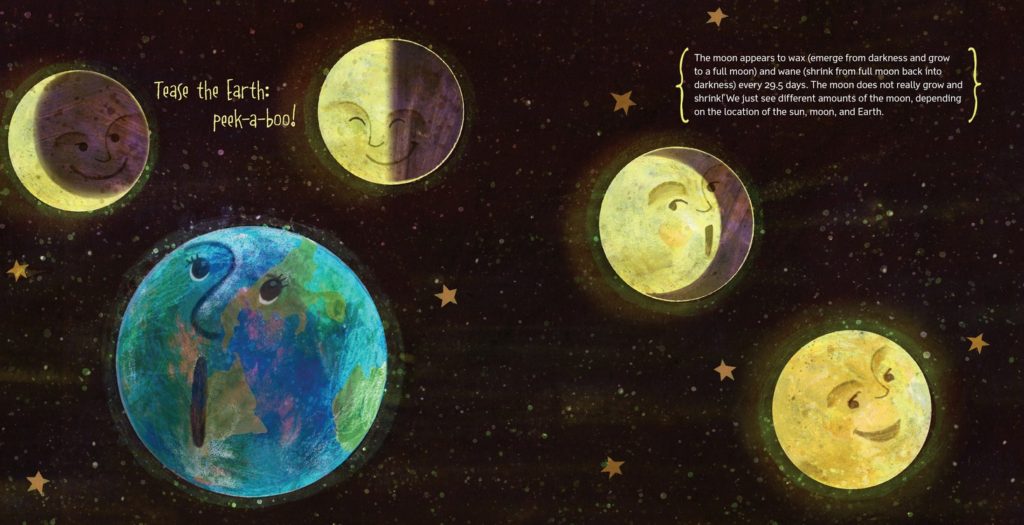 I'm also a big fan of your three-book series that began with A Leaf Can Be (Lerner, 2012, illustrated by Violeta Dabija). I love how these books teach natural science concepts with such clever language, vivid imagery and brevity. Any insights into your writing process? (I picture lots of brainstorming!)
Thank you! As far as my writing process…well, I had the form first. I adored your book Castles, Caves, and Honeycombs and also Lola Schaefer's An Island Grows. Those were my two mentor texts. I ended up wanting to do a list poem like your book, and then I spent a while trying different topics and discarding them. Eventually, I came upon a bat poem I had written about Honduran tent bats, and I thought, if leaves can be homes for bats, what else can leaves do? I did broad research into the roles of leaves and started brainstorming. And the book grew. Hehe…leaf…grew:>)
The writing is a lot of brainstorming—you're absolutely right! Here's part of my very first notes that evolved into Water Can Be… It's really a lot of wandering wordplay.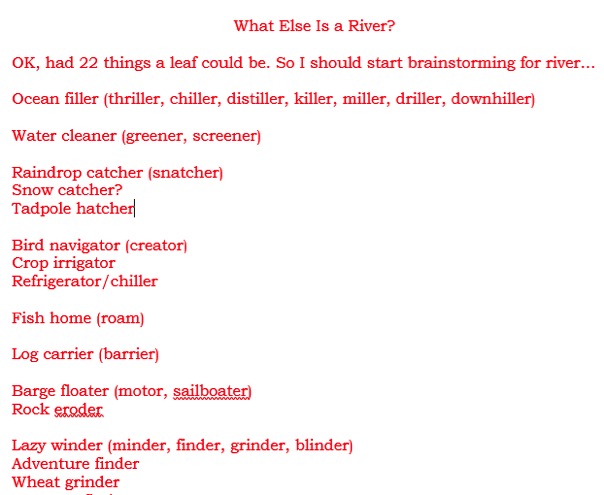 Were they intended as a series from the get-go?
These were not intended as a series. A Leaf Can Be… was getting a lot of love from Lerner and good buzz, and I was coming up with other nonfiction book topics. Then it slowly dawned on me, "Hey, maybe I could do this again." Luckily, Lerner was game! Those books were pure delight to write.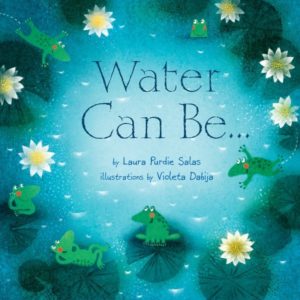 You do a lot of writing for the educational market. How is that different from writing trade picture books?
SO different. For the educational market, it's filling someone else's needs and writing it the way the editor wants it written. It's like working a puzzle—meeting certain standards and word counts and so on.
For the trade market, it's taking a form or topic I need to write, and playing with it and trying to tell that story in a way that someone else might want to read.
Educational writing is a break, actually, because the hard decisions are already made! And because they aren't as close to my heart—they don't hold as much power over me and my moods.
I've spent some time on your excellent website (which made me feel like a complete slacker!). In addition to picture books, you write poetry, blog posts, books about writing, newsletters and offer video classes (among other things). I'm always interested in how productive people allocate their time. How do you prioritize? What do you enjoy the most?
My productivity comes from two things, I think. 1) I get bored easily. 2) I need to earn a certain amount of money or go find a job. So I'm motivated!
Poetry and trade picture books are what I enjoy the absolute most. But I am kind of a born teacher, too, I think (and former 8th-grade English teacher). It IS a struggle juggling it all, and my process changes regularly. Right now, what's working for me is to pick ONE writing project that is my top focus each month and ONE business-related project. Each "normal" (non-speaking, non-traveling) workday, I try to spend 2 hours on writing and 2 hours on major business stuff, and everything else is overhead tasks—answering emails, creating promotional materials, signing contracts, etc. For focus, I work in 25-minute blocks, with 5-minute breaks in between. Even I can ignore email and dishwashers for 25 minutes at a time:>) More details here for any process geeks.
Any new books we can look forward to in the coming months?
Ooh! Yes! My next picture book is Meet My Family! Animal Babies and Their Families (Millbrook 2018, illustrated by Stephanie Fizer Coleman). It's a look at diversity in the animal kingdom (and its implied counterpart in the human world). I want kids to know there is no RIGHT kind of family, and who better than cute baby animals to point that out? In 2019, I've got three picture books coming out with three different publishers, so that will be a busy year:>)
Also, I'm working on a book for children's writers called Making a Living Writing for Kids. I plan to have it out this fall, and it will give writers some concrete information and a real peek into the world of a working children's writer. (For a glimpse of what this looks like, check out Laura's detailed report in her annual series: How Much Money Does a Writer Make?—LA).
Finally, can you tell us a bit about your services for writers?
I love sharing info with children's writers—especially picture book writers! My approach is down-to-earth and super practical. I offer:
Thanks, Linda! I'm such a fan of your work. It's an honor to be here on Picture Book Builders! And picture book writers, read Linda's Nuts & Bolts Guide. And, no, she didn't ask me to say that!
Ha! Thank you, Laura! And thanks so much for visiting!
* * * * * B O O K G I V E A W A Y * * * * *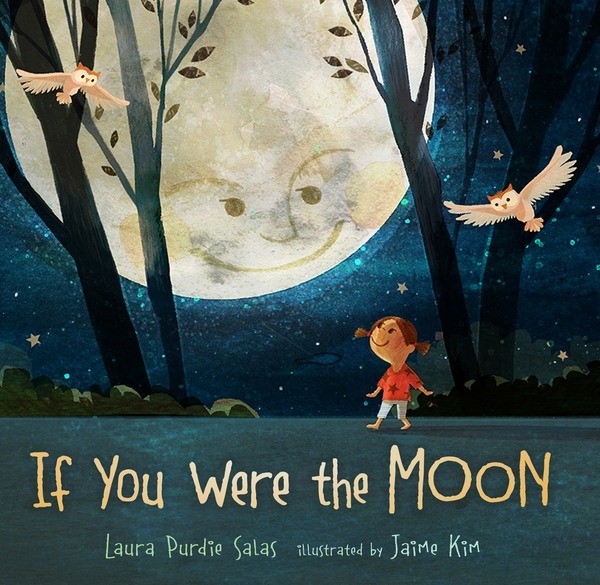 To win a copy of If You Were the Moon, leave a comment below by September 10, 2017. I'll announce the randomly-selected winner in my September 19th post.
Kamagra without prescription
Buy Singulair online
citalopram no prescription