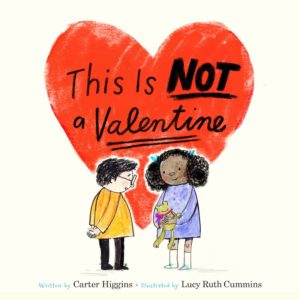 I visited Nerd Camp Michigan this summer — a gathering of teachers, librarians, writers and artists — where I had the great good fortune to see an advance copy of a book by Carter Higgins and Lucy Ruth Cummins called THIS IS NOT A VALENTINE.
The book doesn't release until the day after Christmas, which is sad, because I firmly believe you should read it right now. But since you can't, perhaps pre-ordering it will have to do. Then, when Feb. 14 rolls around, you won't have to wonder what to give to someone you love.
Because this book is perfect.
It features a boy giving small things to his friend, who's a girl, that he insists are NOT valentines.
You might think the fellow is protesting too much.
But, as the gifts continue — a rock, a drawing, a paper airplane, a secret — it's clear that what these two have is perhaps greater than romantic love. It's a true friendship. They understand and appreciate and know each other. He knows the color of her best shoelaces and the risks involved in playing Duck, Duck, Goose. As the boy himself puts it: "I don't only like you today. I like you tomorrow and next Tuesday and last week, too."
This book wins in several ways.
The language.
It's simple and stunning and 100 percent true-to-kid-life. It's lyrical without being pretentious and it reads aloud beautifully. There are tons of memorable  phrases, but one of my favorites is when the boy's at the end of the line for the water fountain. (Or, as we Wisconsinites say, "the bubbler.") While he waits, he throws a paper airplane to the girl at the front of the line. He says: "This is not a valentine since you're up there at the front of the line and I am the caboose. Maybe one day we'll both be in the middle. I hope it's a Wednesday. Maybe a Monday. Or any of those other days, really. Until then, whoosh."
My teen daughter also appreciated a reference to CHICKEN SOUP WITH RICE, one of our favorite picture books by Maurice Sendak When she read that page she said: "Mom! Mom! Remember that book?" Of course I do. Who does she think she's talking to, anyway?
The multiple audiences.
Picture books are primarily for kids, and this one hits the mark. You can read it with small ones and talk about what it means to like someone and what it means to be a friend. About how friends are kind to each other. About who their friends are. About who is friendly to them. About why it's important to have someone know your favorite colors. You also could talk about how not all valentines have to be red, heart-shaped or lacy and come up with your own plans to give "not valentines" to people you appreciate in your lives.
But … this also could be a great gift book for adults. It would work with romantic partners, parents and children, someone you hope might become your friend, really good friends, or a person who already is a really good friend that you hope might become something more. I could see someone proposing using this book. (And if you do, please tell Carter and Lucy Ruth about it. I'm sure they'd want to know.)
The look.
This book is very well designed. It's sized like a gift book, and it's square. It not the glittery, sparkly, frou-frou thing you might picture a Valentine's Day book to be. It's subdued. Classy. Because, you know, it's not a valentine. Really.
The art is simple and compelling and warm-hearted with lots of small details. Every time I read it, I noticed new things. Like the progression of the red cape.
So maybe this book, and the boys' gifts, are not a valentine. But my post is a love letter for this book. Order it early so you'll have it when you need it. You might even want to get two. One to keep yourself and one to give to someone you care about.
Whether you intend it to be a valentine, or not.
You can learn more about how the book came to be in this All the Wonders blog post.
Happy hearting.