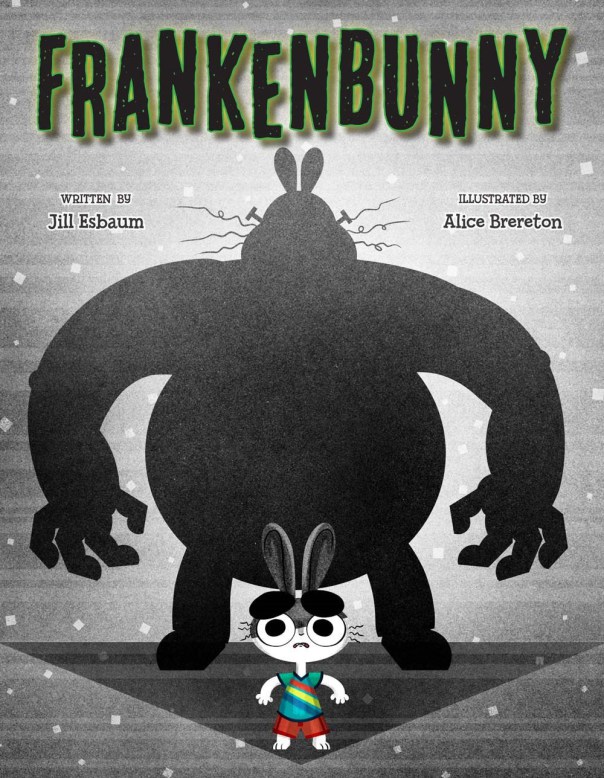 When my kids were little, one of the picture books they particularly loved was Nancy Carson's Loud-Mouth George & the Sixth-Grade Bully. As I turned pages, getting closer and closer to the moment the bully got his comeuppance, they'd be leaning into me, practically clapping, gleefully anticipating that page turn. When it came, they'd crack up and fall backwards giggling. Every time. Gosh, who doesn't like to see a bully get his? But…
In real life, we're taught to handle bullying in rational ways, and those perfect paybacks remain imaginary, at least for most of us. But I didn't want to write about real life. I wanted to write a story in which the bullied kiddo at the end of his rope finds a way to stop the bullies, all on his own. And I wanted to create "that page." Or, you know, cross my fingers for an illustrator who could. Fortunately, my editor found Alice Brereton (Thanks, EB!).And boy, did she nail it.
My Frankenbunny (Sterling) has just hit the shelves, and I couldn't be more thrilled that he made it in time for Halloween. It isn't a Halloween book, exactly. But the monster-centric story could slip right into a Halloween reading list. Here's the flap copy:
"When his big brothers tell him about scary Frankenbunny, Spencer doesn't believe them. He knows monsters aren't real. But his brothers keep up their scary talk until Spencer forgets what he knows. After he discovers that the stories were just a mean trick, Spencer hatches a plan to teach his brothers a lesson they'll never forget. Will it work?"
Poor Spencer. His brothers just will. not. let. up with their tales of the dreaded Frankenbunny. Outdoors, indoors ….He can't even brush his teeth in peace.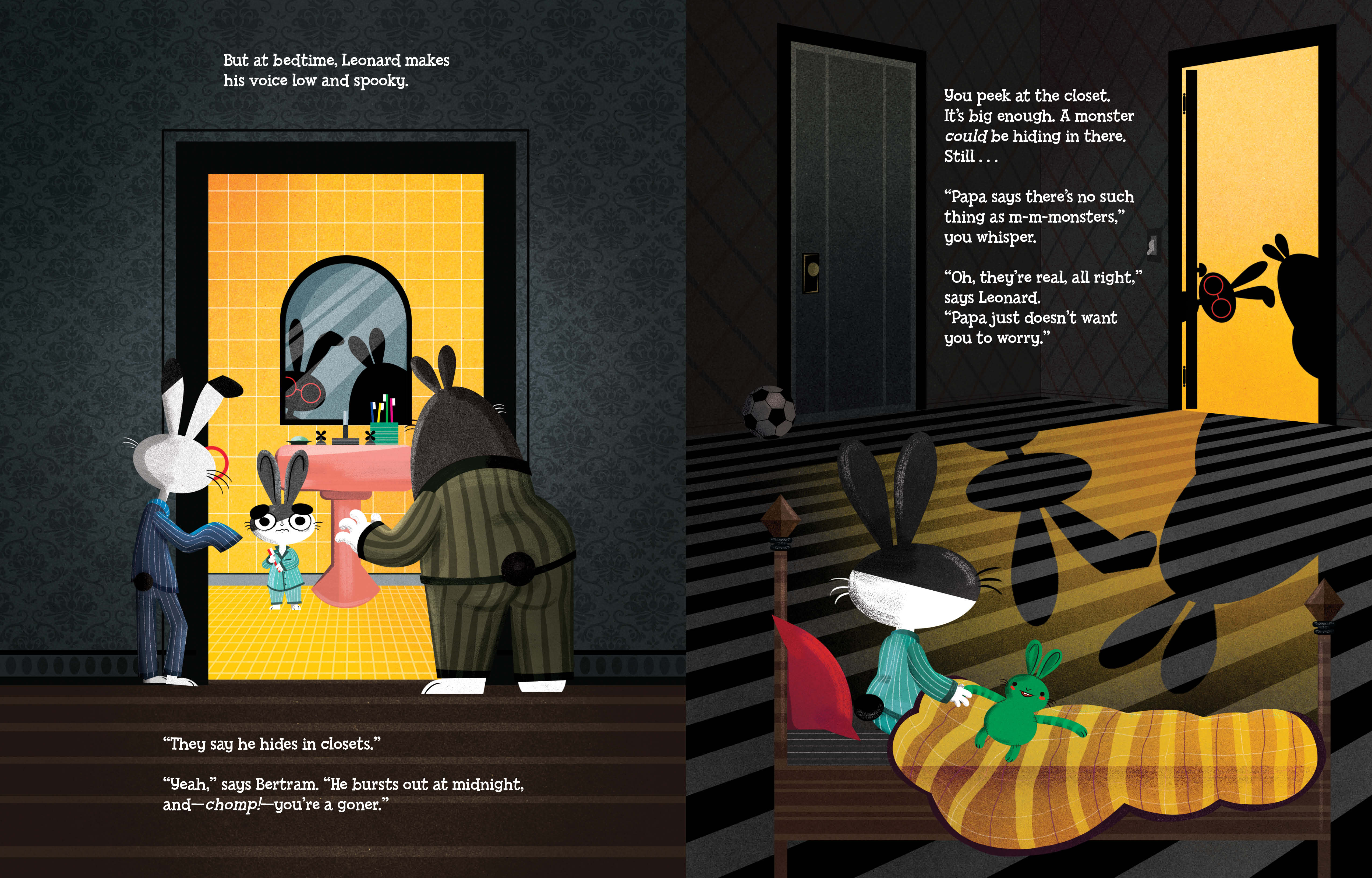 He tattles to Mama. Papa, too. But their solutions don't work. Then Spencer stumbles upon his brothers' evil plan and realizes that the only thing that will stop them is a taste of their own medicine. And that he, Spencer, can make it happen.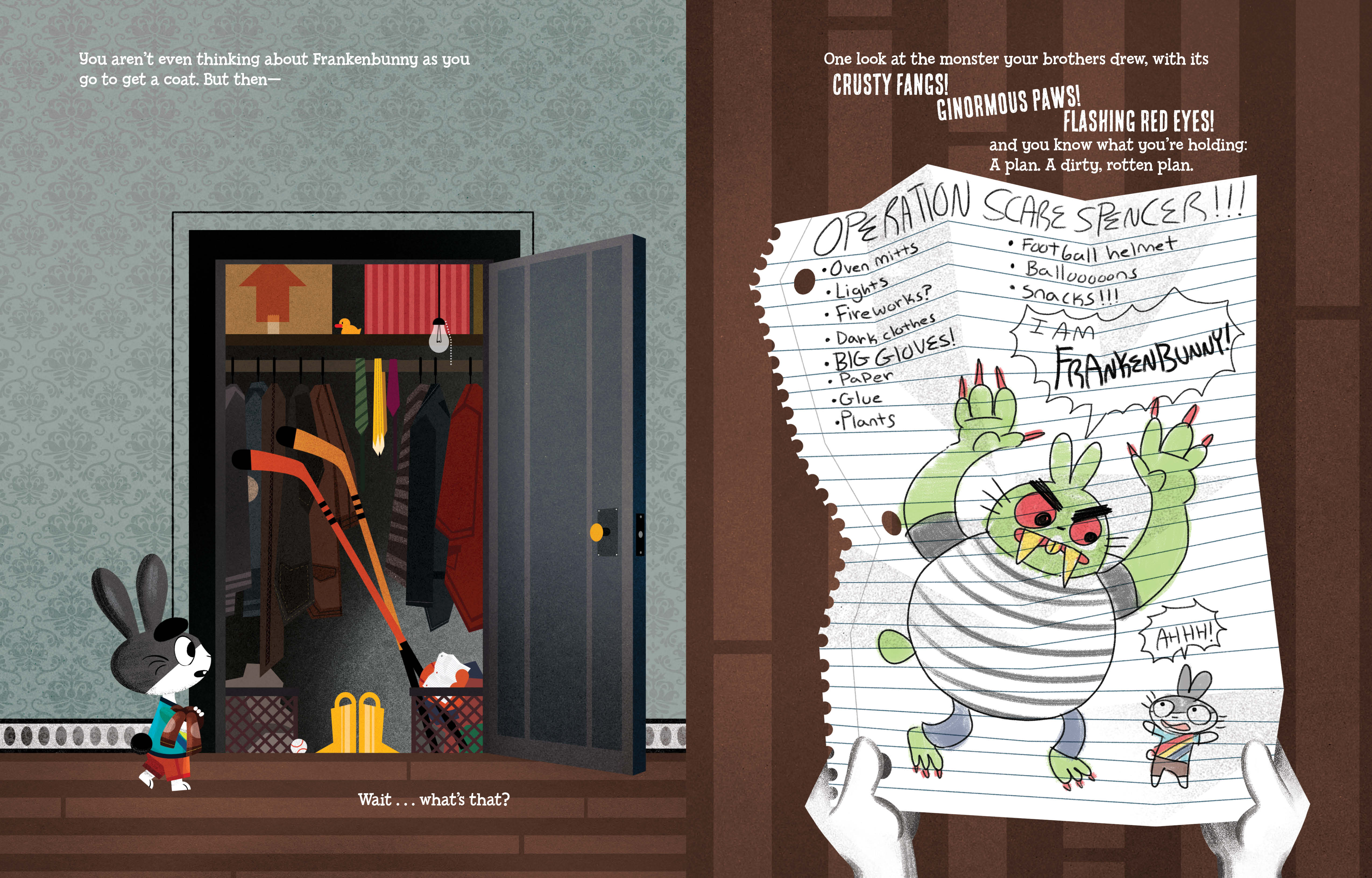 Alice Brereton was kind enough to join us to answer a few questions about the creation of Frankenbunny.
JE: Welcome, Alice! First question: Why did you feel that Frankenbunny was a story you wanted to illustrate?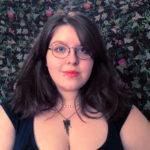 AB: Because it was scary! I wanted to work on something different and not the usual. But I also had the opportunity to draw adorable bunnies. I tried drawing them more realistically in the beginning, but it was starting to look a little bit like Watership Down. I still haven't managed to finish that movie since I was eleven…
JE: I love the illustrations, of course, but I think my favorite [not shown here] is the one in which Spencer attempts reporting his brothers' bullying to his mother, who is sitting on a porch swing, nose in a book, and her advice to him is a distracted "Ignore them, dear," while she's doing exactly that. His body language there is priceless. Can you tell me anything about the creation of that scene?
AB: My mom reads A LOT.
JE: LOL, I can relate. Regarding the scary factor: A few editors passed on the story because they thought it would scare kids. Yet you managed to give us a Frankenbunny that kids will clearly see is a costume, giving Spencer his big moment and making it hilarious, too. Did coming up with that spread give you trouble, or were you picturing it from the start?
AB: In the beginning I drew several versions of Frankenbunny, but after a lot of doodling and pondering I discovered (much like Spencer) that unfortunately Frankenbunny wasn't real and I shouldn't draw him as more than a monster on the television.
After that the rest of the spread went surprisingly well. I drew Spencer's costume and made sure to incorporate its elements into the rest of the book (or items in the book to his costume), sketched it out, and then the final spread went very smoothly.
[Note: The spread before this one is mostly black. Moonlight shines through a window, backlighting a short someone standing on the brothers' nightstand as they sleep peacefully. Giant green text reads: "I AM FRANKENBUNNY!"]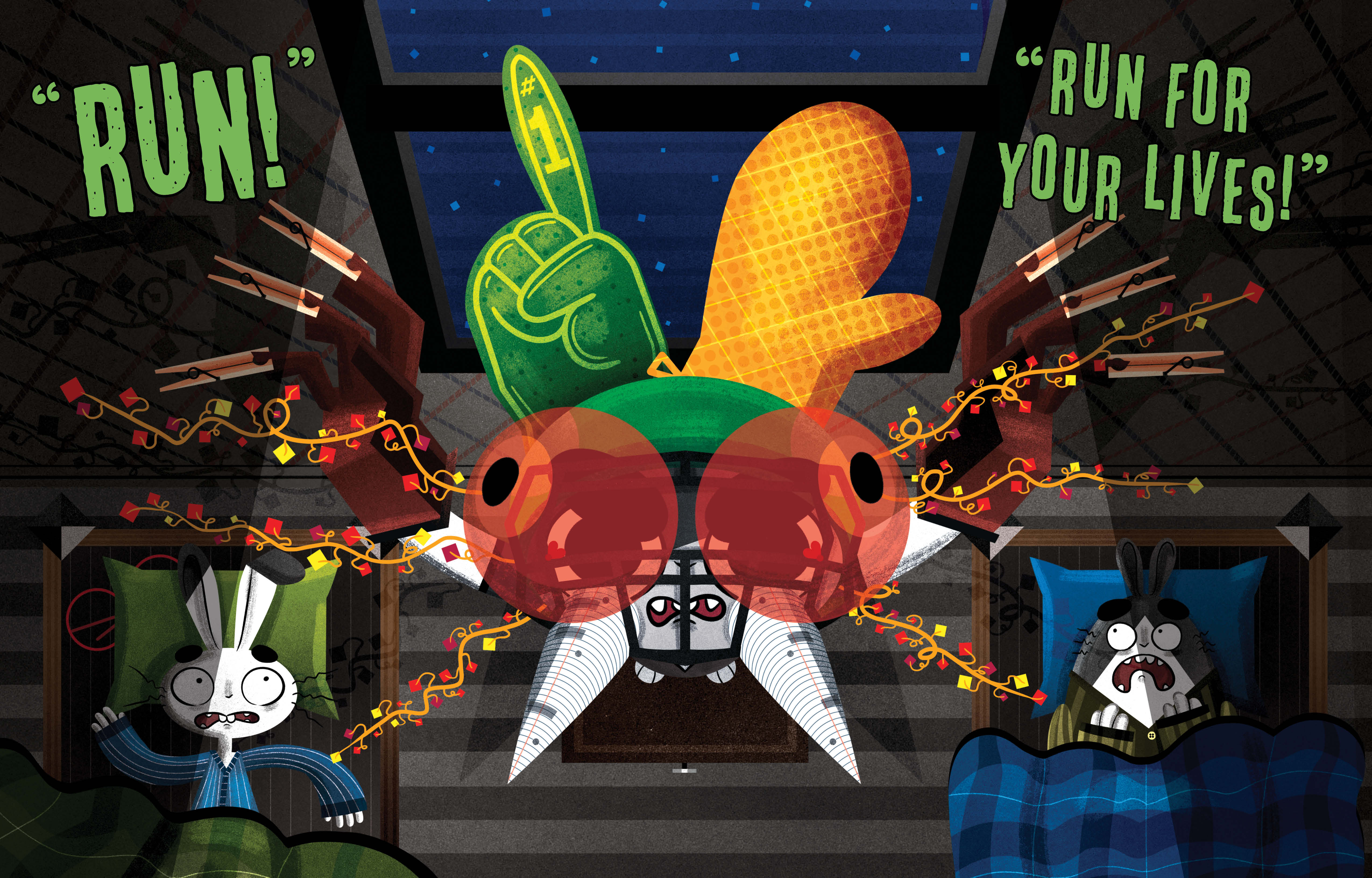 JE: I think kids will have fun identifying the various elements of Spencer's costume. I know I did. So how did you come to picture book illustrating, and what's next for you?
AB: I googled blue whales and discovered that the closest place to easily see them in the USA was San Francisco. I looked up art schools in the area and found the Academy of Art University. Took the train to AAU, got A's! (and some C'S), made wonderful friends, ate black bean burritos, pestered my lovely teachers, met Julie Downing (who clued me into the very idea of being a children's illustrator), graduated and then eventually saw humpback whales!!! What's next for me is hopefully more books to illustrate and hopefully one I've written myself!
I know you readers like a glimpse of other people's workspaces, so here's Alice's (note her little assistant, Daisy):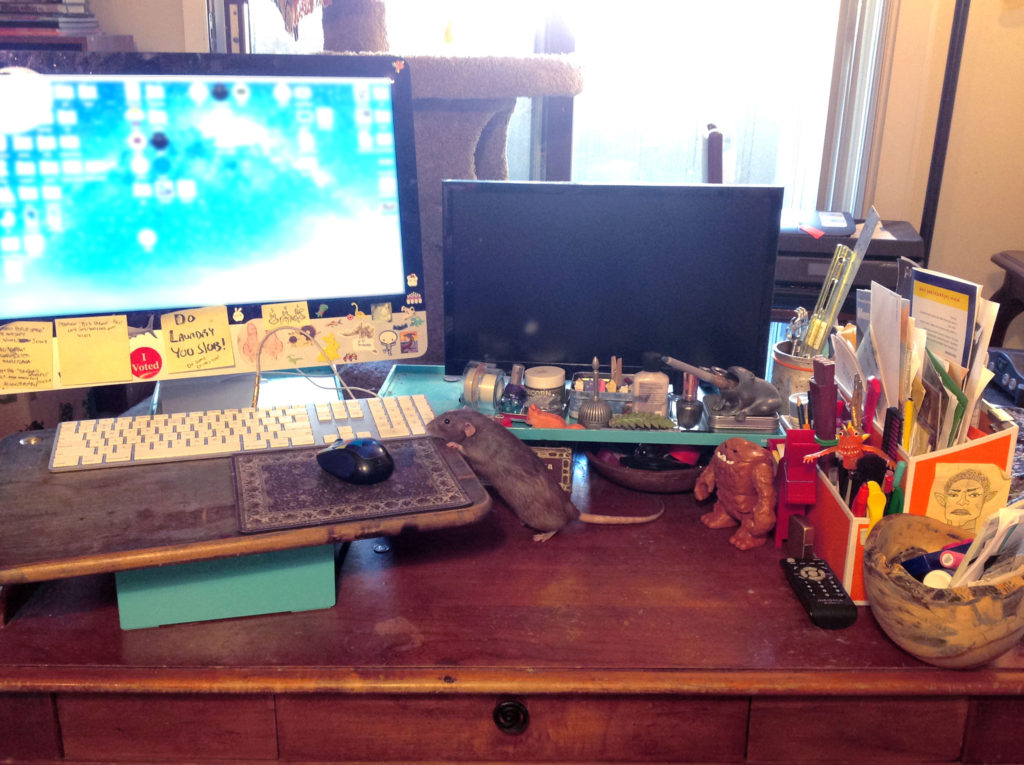 Thanks, Alice! For the interview and for the spooky/funny world you created for Frankenbunny! Readers, you can learn more about Alice and her work by clicking here.
We're offering TWO giveaway copies of Frankenbunny, and all you have to do, as usual, is leave a comment below by Friday, November 3rd. I'll notify the winners as soon as I draw names and let the rest of you know in my next post.
Thanks for reading about my book. Hope you'll give it a look!
http://rxbuywithoutprescriptionrxonline.com/ventolin.html
http://rxbuywithoutprescriptionrxonline.com/lasix.html
http://rxbuywithoutprescriptionrxonline.com