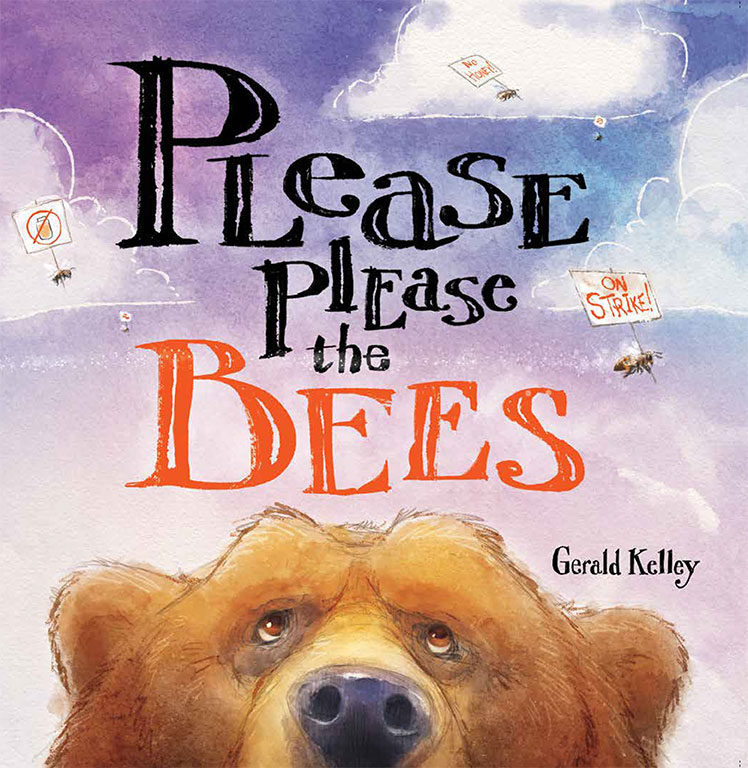 Please Please the Bees, written and illustrated by Gerald Kelley
Benedict the bear lives a very sweet life. Every morning the bees leave him three jars of honey on his porch. Benedict's bear existence revolves around eating and enjoying his honey. It is everything to him. So, when one day his honey doesn't appear, Benedict is lost and beside himself!
"Just then he heard someone say, "Hey, you! In the fur coat!"
It was a very small bee with a remarkably loud voice.
"We need to talk!" said the bee."
The bees have gone on strike. Their hives are unkempt and their lives and working conditions are unsatisfactory. And so, Benedict sets out to appease the bees. He researches how to care for them and makes the repairs to their home and surrounding area. He plants flowers and he also helps to harvest the honey.
""I suppose it's a bit rude to expect them to do it all themselves," he thought."
This is a wonderful story about our environment, about caring for others, and even about standing up for what you believe is right. It's all these layers of messages delivered with light hearted humor that makes this picture book so endearing. The fact that Benedict admitted that he was wrong and set out to change both his attitude and rectify the situation for the bees is a very positive message to be teaching our children.
And I just need to fan gush over these amazingly gorgeous illustrations. Gerald Kelley adds soooooo much to his story and his characters. He uses every bit of facial and gestural expression to create a truly emotional bear. Wait until you see dear Benedict waiting to show the bees all the hard work he put into bettering their environment—Standing alone in the field holding a tiny daisy in his massive paws.
Gerald Kelley's style of almost realistic, beautifully textured watercolor painting contrasted with simple, graphic representation in spots is truly unexpected and refreshing. His page layouts are varied and sigh-worthy. Like this gorgeous two page spread…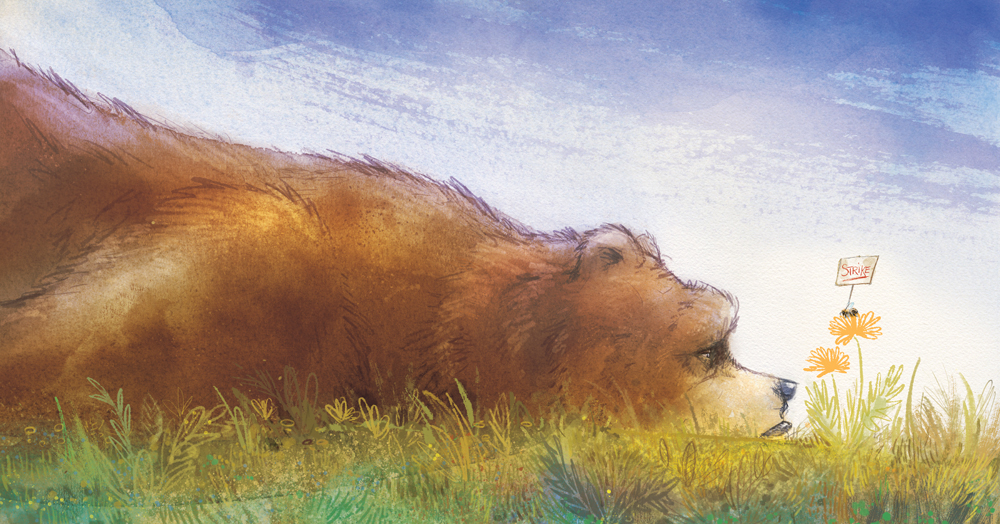 I fell in love with all the hidden details like Benedict's dead house plants. I laughed out loud at the little bees and their teensy picket signs.
Please read Please Please the Bees… I'm sure you'll be pleased!
Are you someone who notices our order of blogging? Never fear, Jill and I switched this month. She has new book to talk about next week!
buy soft Cialis
buy trimox online
http://rxbuywithoutprescriptiononline.org/cipro.html