A week ago I attended an outstanding event for book lovers — the National Book Festival in Washington DC. For those of you who've never attended this colossal event, here's a brief fly-on-the-wall summary.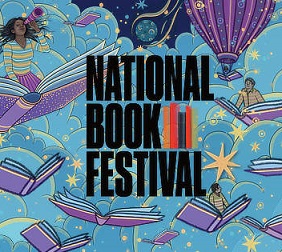 But first, let's start with the Author Gala on the Friday night before the festival. The gala was held in the Library of Congress, which was lit up with soft, colorful lights and a glowing balloon (note soaring books/balloon theme above.) Attendees included 100+ authors who would be presenting the next day and special invited guests. The magical evening began with a casual cocktail reception. Our wonderful Librarian of Congress, Carla Hayden, hosted the evening and I was thrilled to meet her.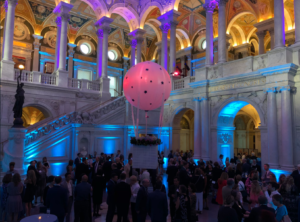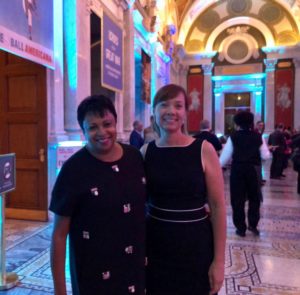 Then we enjoyed an author program in the auditorium where five literary icons — Jacqueline Woodson, Brian Selznick, Jon Meacham, Annie Proulx, and Amy Tan — shared their insights, personal experiences, and challenged us to action. I love how Jacqueline Woodson began her talk. "The first thing I want to say," she exclaimed, "is give literacy all your money!"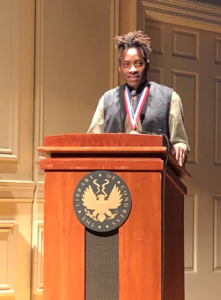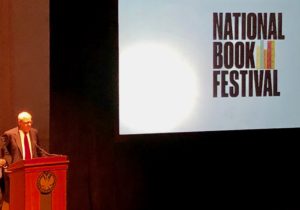 The evening ended with a moving feast where guests mingled as they gathered around tables filled with treats such as dumplings, seafood salad boats, mango-coconut puffs, and balloon shaped cookies.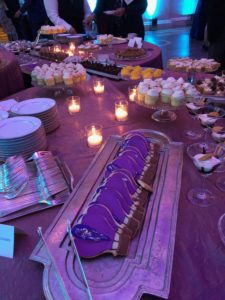 Saturday morning the Book Festival began at 9:30 am in the huge Washington Convention Center. When I arrived at noon, it was buzzing with activity. And I have to admit, the Children's Purple Stage where I was to present that afternoon looked a little overwhelming. The stage/seating area was much larger than I'd anticipated (and I was already nervous about presenting among such an incredible line-up of esteemed authors and illustrators.)
The 2018 Caldecott winner, Matthew Cordell, got the day off to a great start as the first presenter on the purple stage.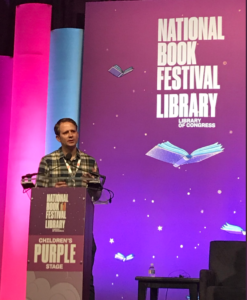 Then the smart, adorable Danica McKellar (remember Winnie Cooper on the Wonder Years show?) was up next. She discussed her math books, and how she hopes to encourage readers to embrace and enjoy her favorite subject, math. (A woman after my own geeky heart!)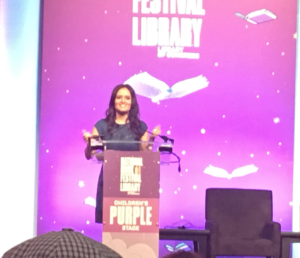 Next, David Shannon shared his endearing new book, GROW UP, DAVID! This recent release commemorates the 20th anniversary on his Caldecott Honor title, NO, DAVID!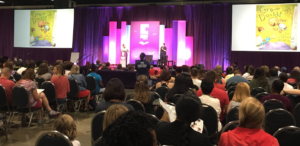 And the big names just kept coming: Chris Grabenstein, Matt de la Pena, Jacqueline Woodson, Jennifer A. Nielsen, and more. 
Finally, my appointed time arrived and when I stepped on stage there was a packed audience waiting. The adults in the crowd seemed to enjoy testing their space knowledge with the "Apollo Quiz" I shared, while the children seated on bean bag chairs in the front row eagerly called out answers. They also asked great questions.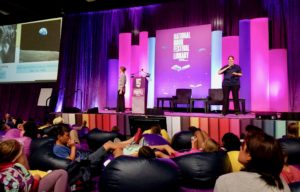 After my presentation, the incomparable Jason Reynolds ran on stage. Jason described how Go-go music had been a big part of his childhood, and how it is a metaphor for the importance of children seeing themselves represented. He captivated the entire audience, and before we knew it, Jason closed out the purple stage with cheers and thunderous applause.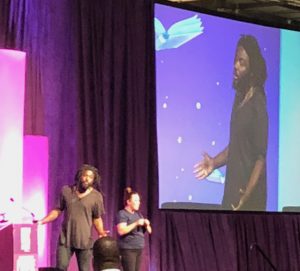 The event also featured panel discussions, family activities, games, character meet and greets, and a poetry slam. Throughout the day authors and illustrators were presenting on various stages in the convention center . . .
Minh Le and Dan Santat wowed their audience on the Children's Green Stage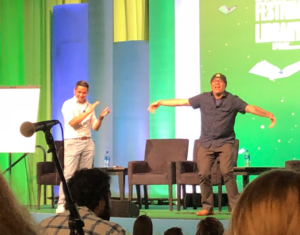 Carla Hayden interviewed Sonia Sotomayor and discussed her new picture book biography, TURNING PAGES: MY LIFE STORY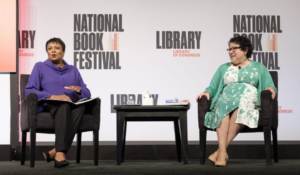 Brian Selznick shared the new Harry Potter covers he'd created for the 20th anniversary of the series.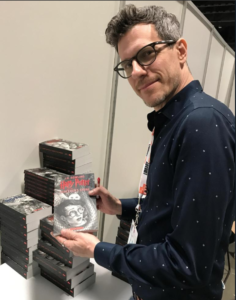 And eager attendees waited to get books signed by their favorite authors. (The on-site store sold 17,000+ books!)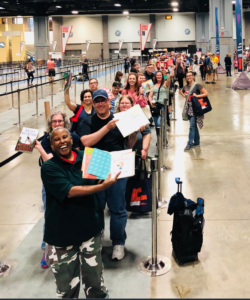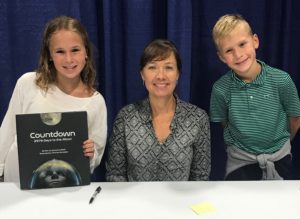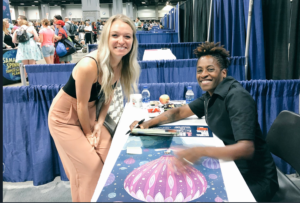 Perhaps best of all, student authors were recognized with awards for their outstanding writing.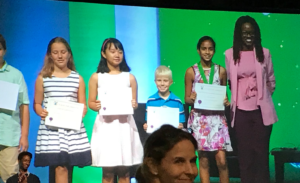 Then the incredible day was over! 200,000 attendees headed for home. (It was the largest National Book Festival ever!)
If you want to check out the National Book Festival for yourself, circle August 31, 2019 on your calendar so you can be part of the excitement next year. It's free and open to the public! 

*   *   *   *   *   *   *   *   *   * WINNERS from Suzanne's August 31 COUNTDOWN post! *   *   *   *   *  *   *   *   *   *
Congratulations to the winners below! Please email me from my website and send your address so I can mail out your prize!
Autographed COUNTDOWN book – Carey Fox
Autographed COUNTDOWN posters (2) – Danielle Hammelef and Linda Mitchell
COUNTDOWN bookmark with real moon rock! (3) – Debra Shumaker, Kathy Wiechman, and Vijaya
And that's not all …
*   *   *   *   *   *   *   *   *   * WINNER from the Sept. 4 We Are Grateful: Otsaliheliga post! *   *   *   *   *  *   *   *   *   *
Congratulations Lisette! Please contact Traci Sorell from her website (/www.tracisorell.com) and provide your address so she can mail your autographed book!
*   *   *   *   *   *   *   *   *   *   *   *   *   *   *   *   *   *   *   *   *   *   *   *   *   *   *   *   *   *  *   *   *   *   *   *   *   *   *   *