I'm excited today to talk about Beth Anderson's debut picture book, AN INCONVENIENT ALPHABET. This one had me at the cover.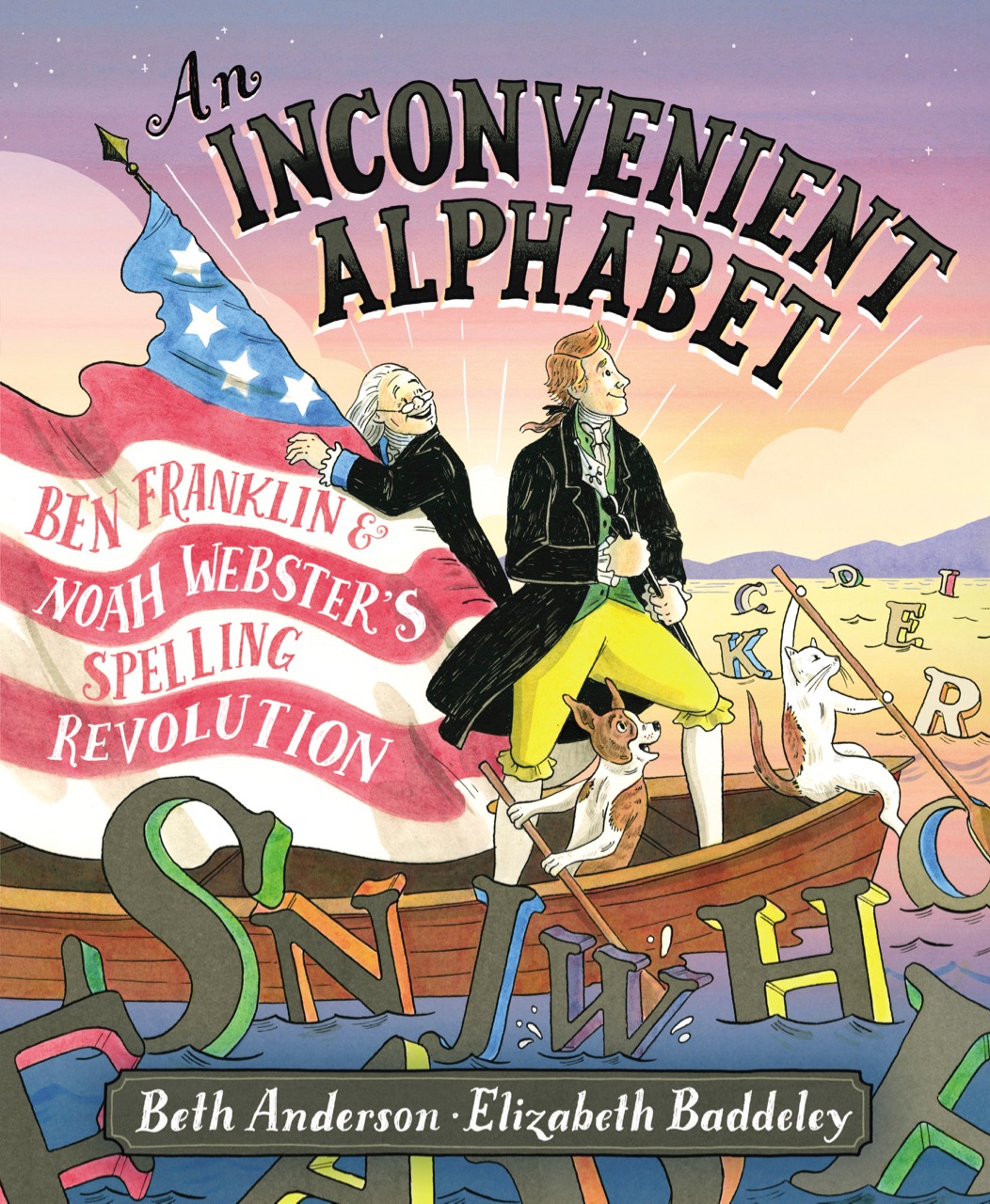 But when I got a look inside, word nerd me was absolutely bowled over. What struck me about this book—other than the delightful story itself and the lively, detail-packed illustrations by Elizabeth Baddeley—was that a writer could take this vast, sprawling subject (the crazy and hard-to-remember spellings of our melting pot of a language) and figure out how to condense it to fit into a picture book format AND manage to make it feel like nothing is left out.
Here's the flap copy:
Do you ever wish English was EEZEEYER TO SPEL?
Ben Franklin and Noah Webster did. Once upon a revolutionary time, two great American patriots tried to make life easier. They knew how hard English words were to spell. They knew that sounds didn't match letters. They knew that the problem was an inconvenient English alphabet.
In 1786, Ben Franklin and Noah Webster teamed up. Their goal? Make English easier to read and write. But even for great thinkers, what seems easy can turn out to be hard.
Boy, that's for sure. And this book captures that so perfectly.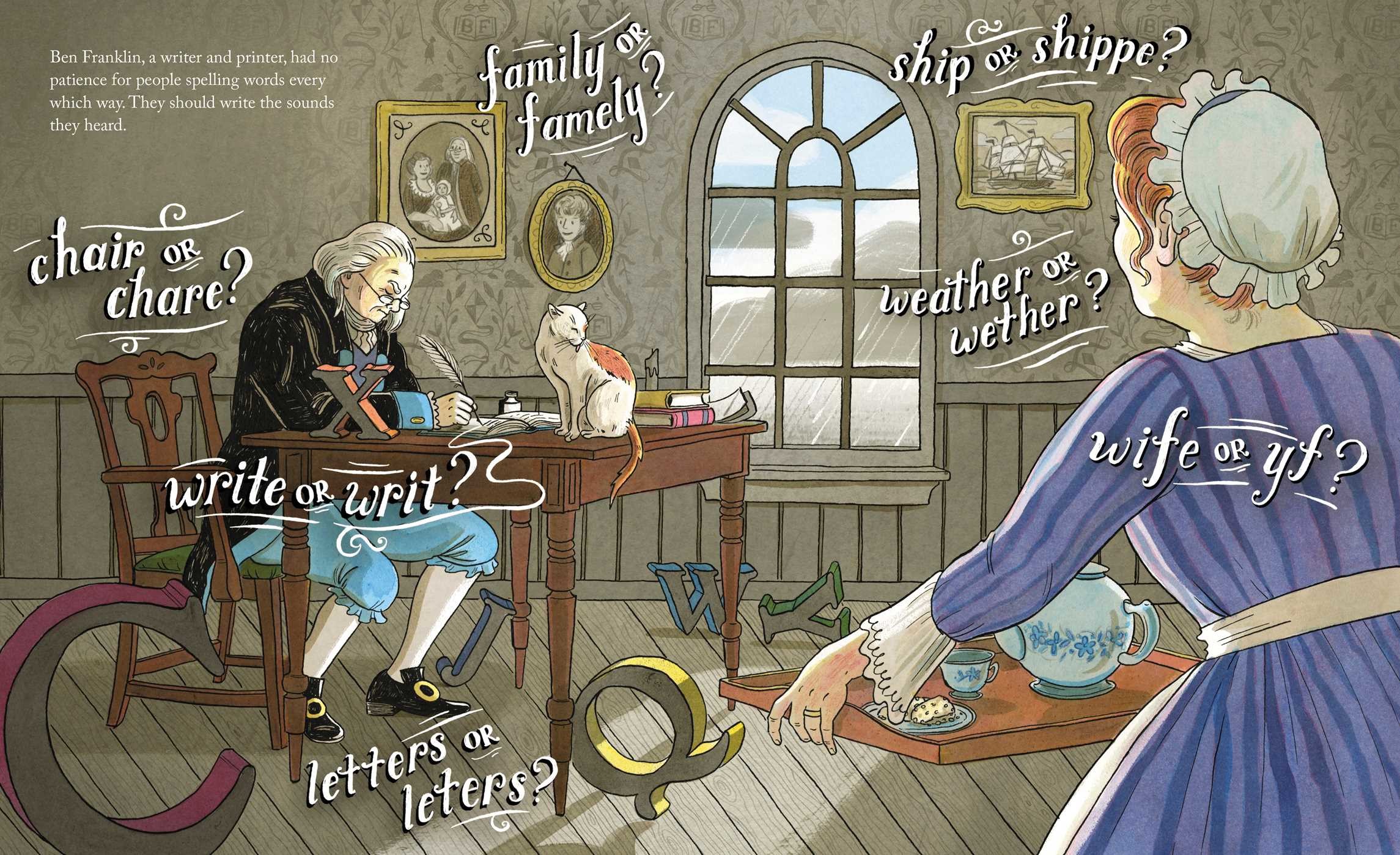 I really appreciate what Anderson says in her backmatter (OH, THE BACKMATTER!) of Franklin, that "we seldom hear of his failures." That's so true about many of our heroes and inventors, isn't it? I'd never heard of Noah Webster's alternative spellings, either—only his dictionary. (Imagine the herculean task it was to complete that puppy!)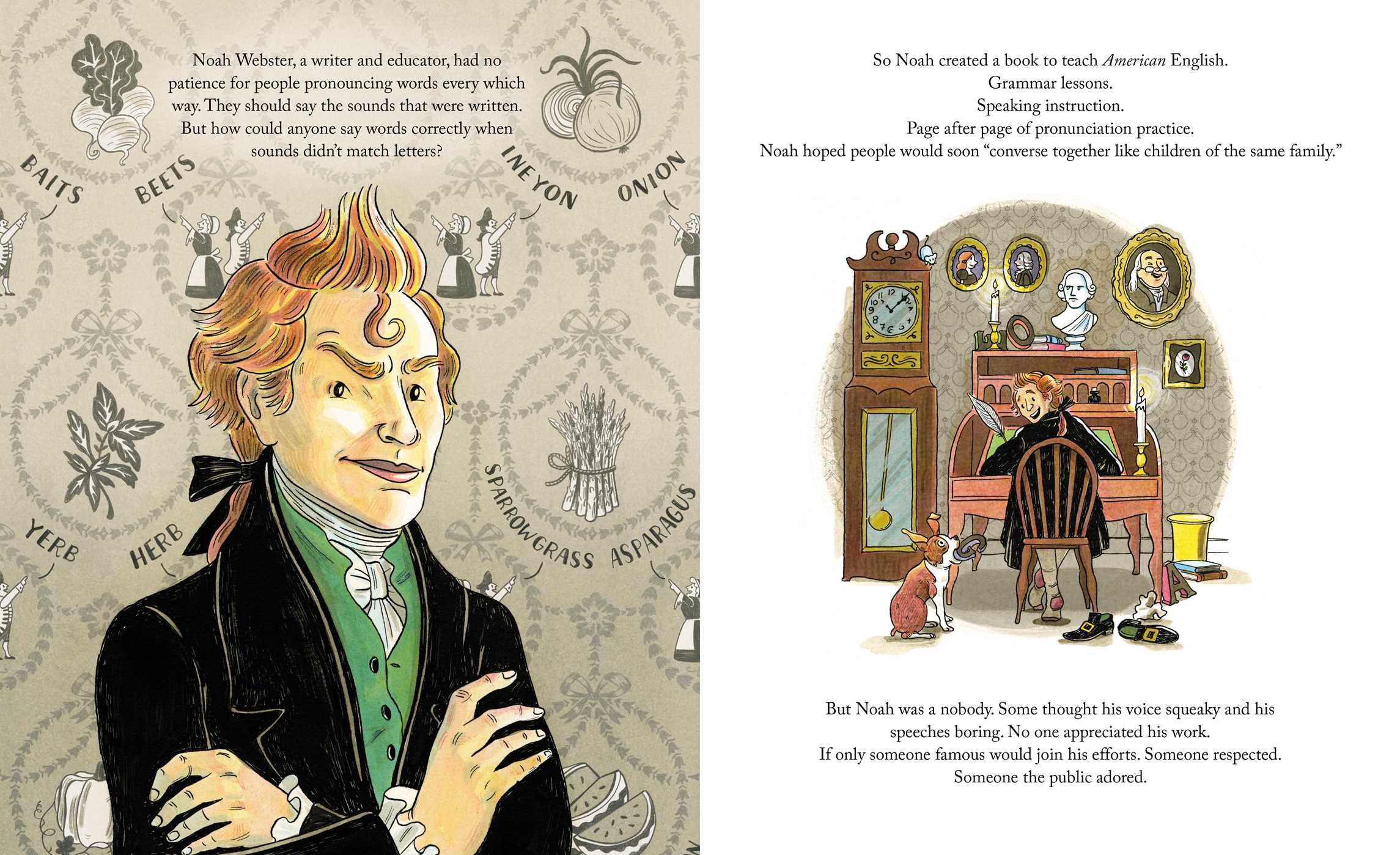 Back matter notes from both author and illustrator are jam-packed with more fascinating information. There are also research notes, quotation sources, and a meaty bibliography. (Bonus: If any of you are looking for nf pb mentor texts, THIS.)
Beth Anderson was kind enough to answer a few questions for us.
JE: After determining that this story was a viable one, was there ever a moment when you thought you may have bitten off more than you could chew?
BA: Oh my goodness! So many moments! My stalwart critique partners kept saying, "this is a tough one," but they continued to encourage me to find a way.
The physical form of a book itself and reading aloud was one challenge. How do you share spelling issues that will only be seen by a reader? If I threw out C, J, Q, W, X, and Y as Ben did, how could I carry it out? Much of what I wanted to show required marking up or playing with text on the page, and that would be lost in a read-aloud.
And then there were the voices…This wasn't the first manuscript in which I heard voices. Initially, it was the public protesting the inconvenience of spelling reform. Then a meta-reader voice began a contemporary commentary on the actions of the past, bringing a child's perspective and lots of fun. But that became too much, and the story was becoming lost amidst the rabble rousing.
All sorts of ideas such as plays on revolutionary slogans, spelling tests for Ben and Noah, Ben's ironic thinking that bad spelling was good spelling, and Franklin proverbs all fought to be part of the story. It becomes a lesson in detachment when you have to leave the things that tickle your creative spirit behind.
There was just so much to tell – how could I pare it down to the story of these two men without cutting out important information? I am so grateful to Elizabeth Baddeley, such a creative illustrator, who found ways to include many of the concepts in the art. (Be sure to pause on each page and enjoy all that's packed into the illustrations.)
Along with so much to tell, there's also the problem of holes in the historical record. So how does one get around the missing information? (There's no record of what I called "plan A.") I think the perpetual challenge with nonfiction is deciding what's necessary to include and HOW to include it. For me, it comes down to experimenting with structure.
JE: Yes, all that! It's what struck me, as a writer, as … well, before seeing your book I would have called it impossible. I can only imagine the sheer volume of research you juggled while writing this book. Tell us how you organized all that.
BA: YIKES! I had research on Ben, research on Noah, and research on Ben and Noah. I had the history of American English – etymology, all the borrowing, spelling of the time, pronunciation of the time. I had phonics – multiple ways to write each sound, multiple sounds for various letters. I had spelling rules, their exceptions, and old spellings.
Previous manuscripts taught me that I needed to find a way to organize myself better. I had tried charts, note cards, and all sorts of methods. (I like to be able to see a lot of things as I write so putting it all on the computer hasn't worked well for me.) It wasn't only the research, but the need to SORT bits of research and also record all the random thoughts that pop as I'm writing—a title, a pitch phrase, a teacher idea, a character tidbit, backmatter info, an image, and on and on. Just grabbing a piece of paper to jot something down or looking for that list of titles, now where was it….really wasn't working. So, I began using an author version of a writer's workshop notebook. Basically, I use a 70-page spiral with a table of contents containing page/s for everything I could possibly need (structure, titles, quotes, setting, characters, timeline, sources, contacts, etc.). As I got into the writing, I discovered more and more topic pages to add. And even after signing the contract, I found it helpful to add more—editor notes, more research, acknowledgements, complimentary copies, etc. Now, as I deal with the promotional end, I discover more things to keep track of. ☺ Each manuscript has its own needs. I did a blog post on my organization method, so if anyone wants to know more, HERE it is. (Note from Jill:  Whoa. Don't miss this!)
JE: I think I would have thrown up my hands long before finishing, Beth. I read in another interview that this book went through 40 drafts. I can see why! So, quick question, just for fun: What was the highest word count you hit before paring the information to its current form? 
BA:  Looking back at the revisions, they range mostly from 800 to 1000 words, but revision 28 looks like the highest word count at 1380 plus 220 in illustration notes! It included speech bubbles and the meta-voice that broke the 4th wall, but no backmatter.
A brutal battle raged throughout with illustration notes vs text. I was trying to cut words and use illustrations, but it was really more about what concepts I could cut.
JE: A battle…I believe it! Let's talk backmatter. VERY impressive and so, so fascinating for your fellow word nerds. Was including it a decision you made while putting together the manuscript, or was it added at the request of your editor?
BA: The backmatter was included in the original submission. I like to know how and why authors come to write a story, and there was just so much fascinating content I had found along the way. (I just couldn't let it all go!) I could anticipate some of the kids' questions – like "Why does C have so many sounds?" I wanted to connect Ben and Noah's efforts to kids today, help them understand the organic nature of language, and give them food for thought.
(Here's an additional small confession about me and my backmatter…I've learned it's really important for me to do the backmatter early on because, often, an editor or critiquer finds that I've expressed a key idea in the backmatter, loud and clear, but it needs to appear more strongly in the story.)
JE: What can we look forward to next?
BA: I've got two completely different stories coming in 2020 from Calkins Creek, both dealing with transportation in New York City.
LIZZIE DEMANDS A SEAT, ELIZABETH JENNINGS FIGHTS FOR STREETCAR RIGHTS (spring 2020) is being illustrated by the amazing E.B. Lewis. Lizzie's story provides a glimpse into the lives of free African Americans in the North before the Civil War when free was far from equal. One hundred years before Rosa Parks took her stand, this young schoolteacher stepped onto a streetcar in New York City. When she was refused entry due to her race, she decided to fight back. Her story not only embodies the power of individual initiative, but also illustrates the vital role of collective action in social change. Her court case, the first in the nation to test discrimination on public transportation, inspired others to continue the fight.
I recently got to see preliminary sketches by Jenn Harney for "SMELLY" KELLY AND HIS SUPER SENSES, THE MOSTLY TRUE STORY OF AN ORDINARY MAN AND HIS EXTRAORDINARY NOSE (fall 2020). I can't wait to share this story with kids! After immigrant James Kelly gets a job in the subway, his powerful senses astound everyone as he tracks down leaks from the dangerous to disgusting and comical to bizarre, saving the subway from cave-ins, explosions, and obnoxious odors. But when the subway legend is faced with a crisis in which his super senses are useless, he's forced to dig deep for something even more powerful.
I have another manuscript under contract for spring 2021, but it's still top secret. ?
Thank you, Picture Book Builders! It's truly an honor to be featured on your fabulous site!
JE: You've been busy, Beth! Thank YOU for taking time for us today. Best of luck on your upcoming books! Readers, I know how you like to see workspaces, so here's a shot of Beth in her office. Note Ben himself keeping an eye on things.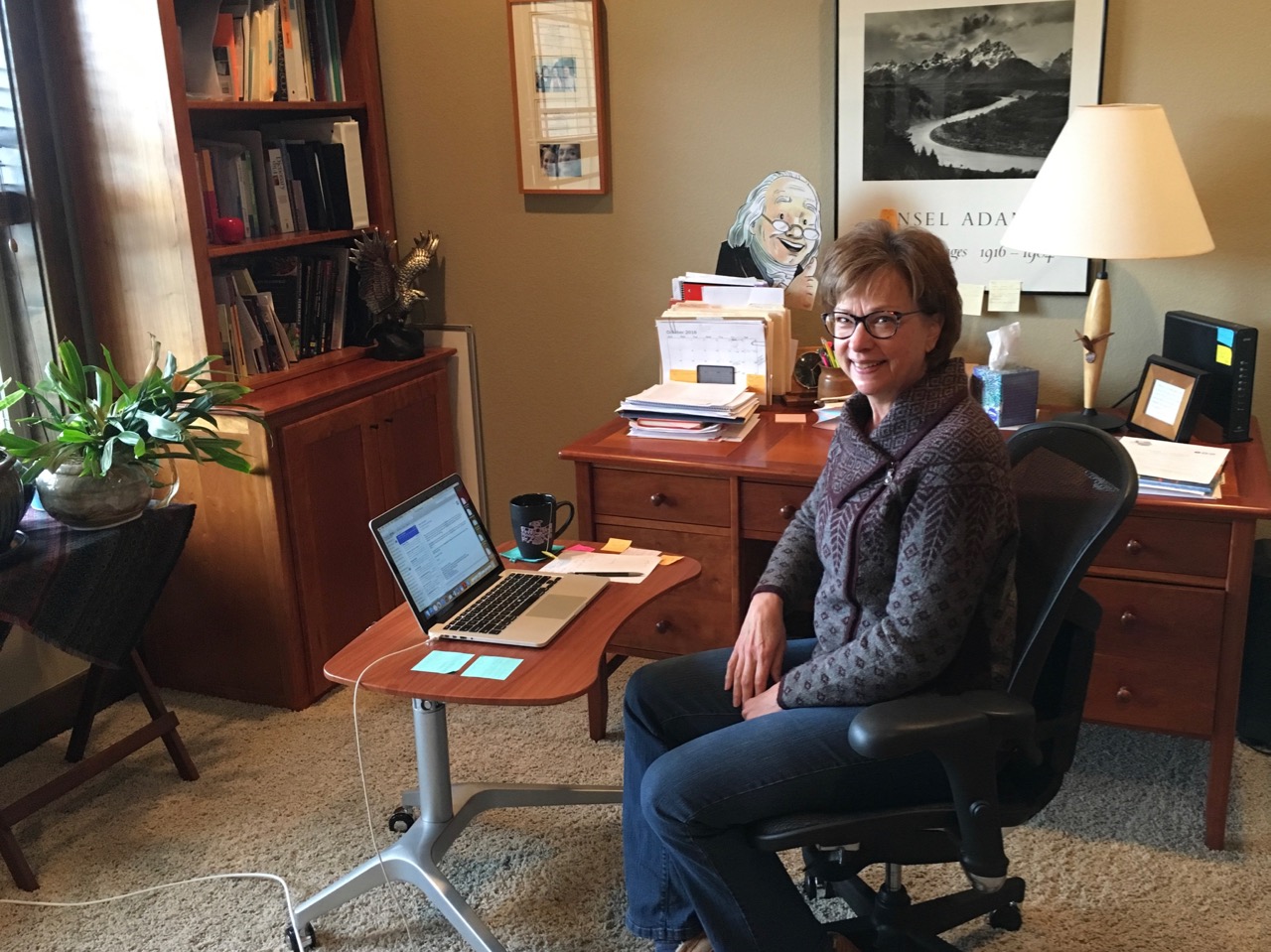 ---
Comment below, and you're automatically entered to WIN your very own AUTOGRAPHED copy of Beth Anderson's AN INCONVENIENT ALPHABET! Good luck!