In February 2018, Wordy Birdy (Doubleday), written by yours truly and illustrated by Dave Mottram, was released. Wordy Birdy is a bird who loves to talk, talk, talk. But she never listens.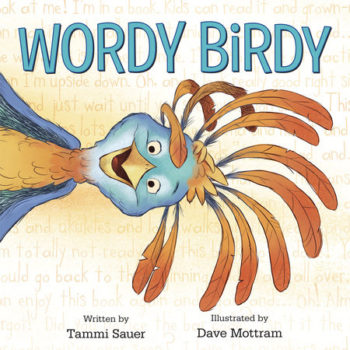 In fact, Wordy Birdy has so much to say, she has another book due out February 5, 2019. It's called Wordy Birdy Meets Mr. Cougarpants.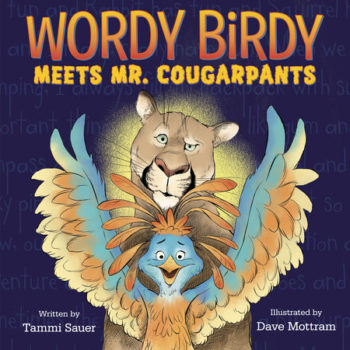 In the first book, Wordy Birdy's talking gets her into some big trouble.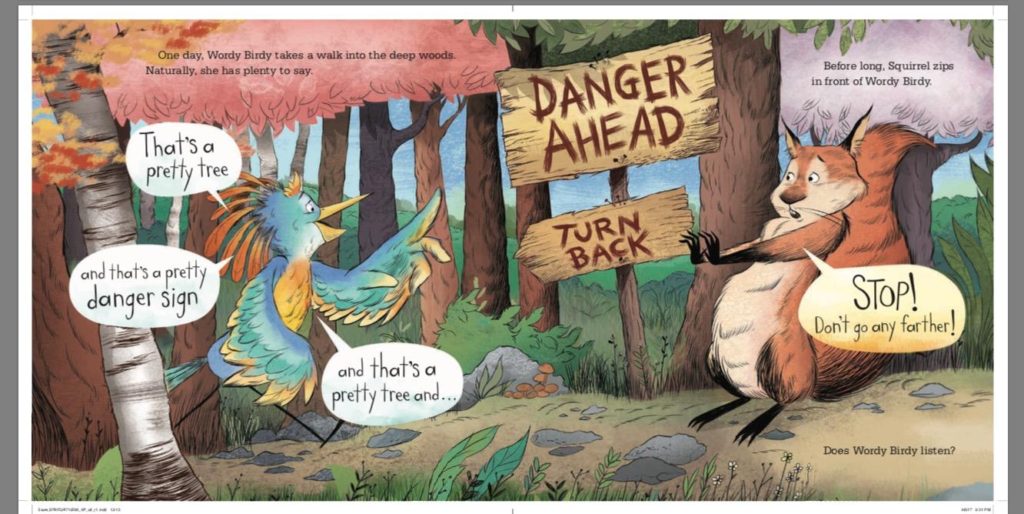 In the second book, Wordy Birdy's constant chatter saves the day.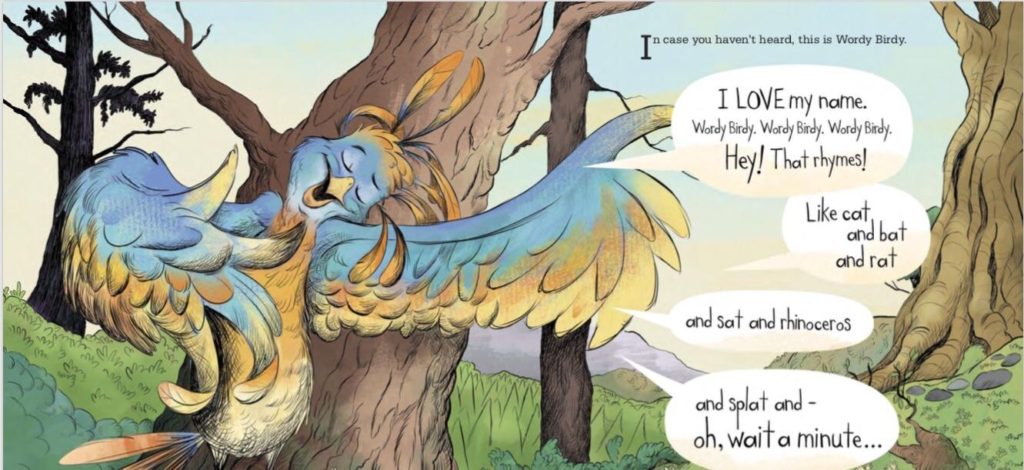 Today, Wordy Birdy is going to do her very best to stay quiet and let illustrator Dave Mottram be the star of this post.
Welcome to Picture Book Builders, Dave!
Thanks Tammi! I'm happy to chat!
Shortly after I accepted the offer for the two Wordy Birdy books, our oh-so-amazing editor, Frances Gilbert, sent a picture of your Caffeinated Owl Chart my way. That was all I needed to see to know you'd be the perfect fit for Wordy Birdy! Immediately, I was taken by your humor and your ability to capture expressions. Tell us a little about this flock.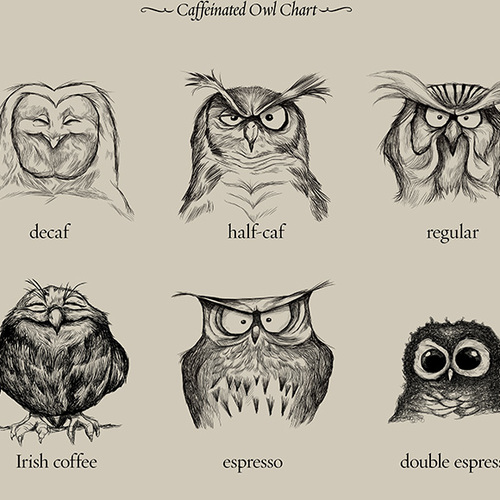 Sure. So I had drawn a small parliament of Owls a few years ago in pencil. Someone was using them as a meme for coffee. After I saw that, I thought – Hey, I drew these. So I took my drawings and made them into a small chart.
My grandmother loved Owls. Every time, I went over her house she would have a new ceramic Owl. Eventually, there were little Owls all over her house. I would spend my time over there looking at them over and over. Since then, Owls have always been my favorites.
What first drew you to illustrating the Wordy Birdy books? Was it her love of spaghetti and unicorns? Maybe her aversion to tuna salad and turtlenecks?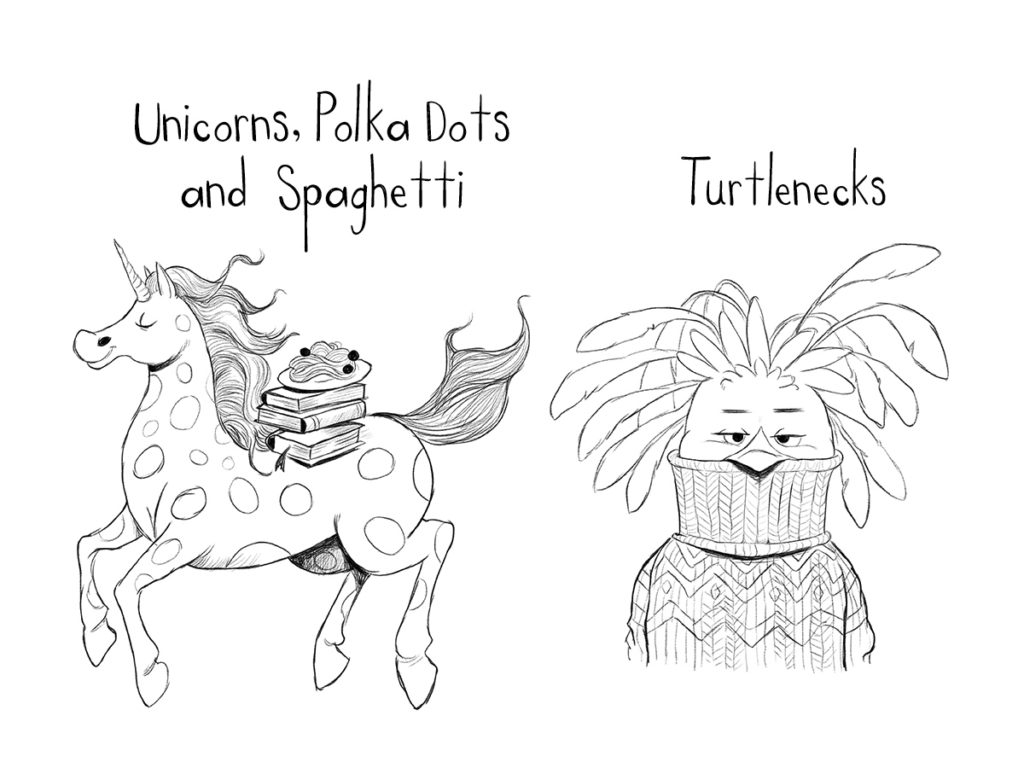 Ha! Yes! she loved Unicorns! I really liked her character. Plus, I can totally relate to being the one who is talking and talking. But, I can also relate to the other animals who are – Please listen and stop talking!
I love drawing birds. It was an enjoyable process to sketch out a flock of Wordy Birdies. Plus, when there's a great sense of humor behind the characters, I'm all in.
When we were initially coming up with Wordy, we drew inspiration from Phyllis Diller and Iris Apfel. She had been drawn with big, fashionable glasses but we decided she looked older than desired. She needed to have LOUD and bright colors. So, she has flaming orange feathers on her head and wings that taper to a blue.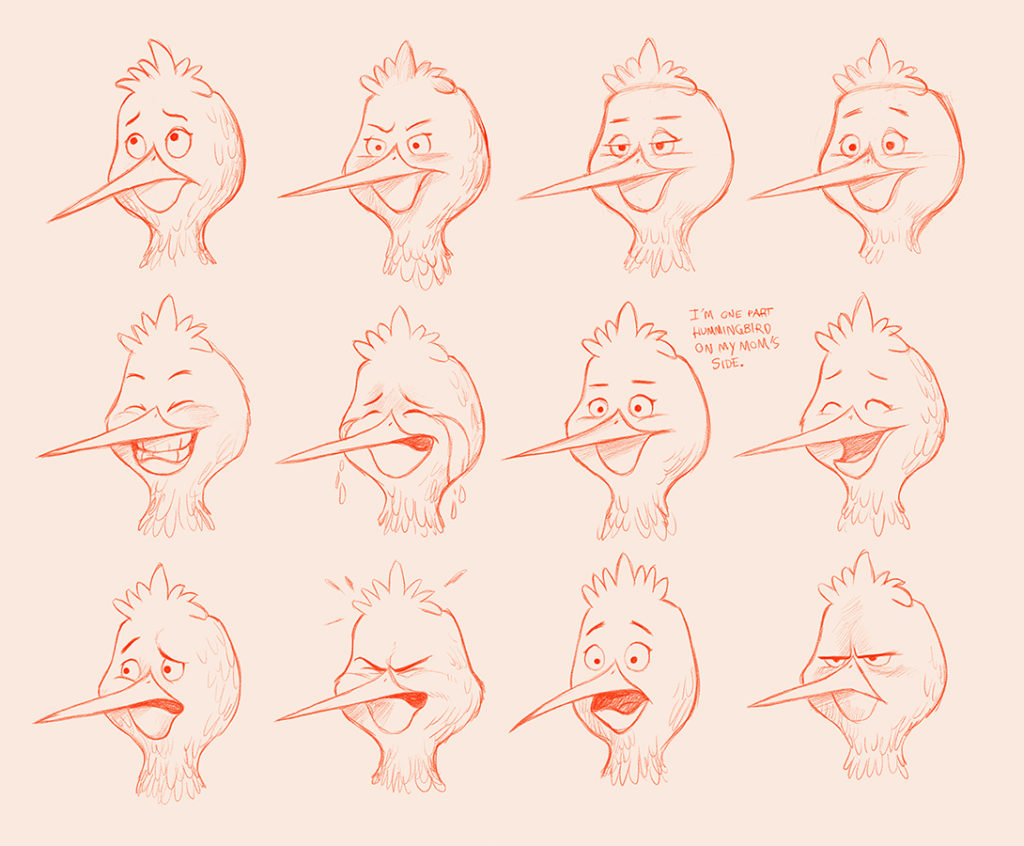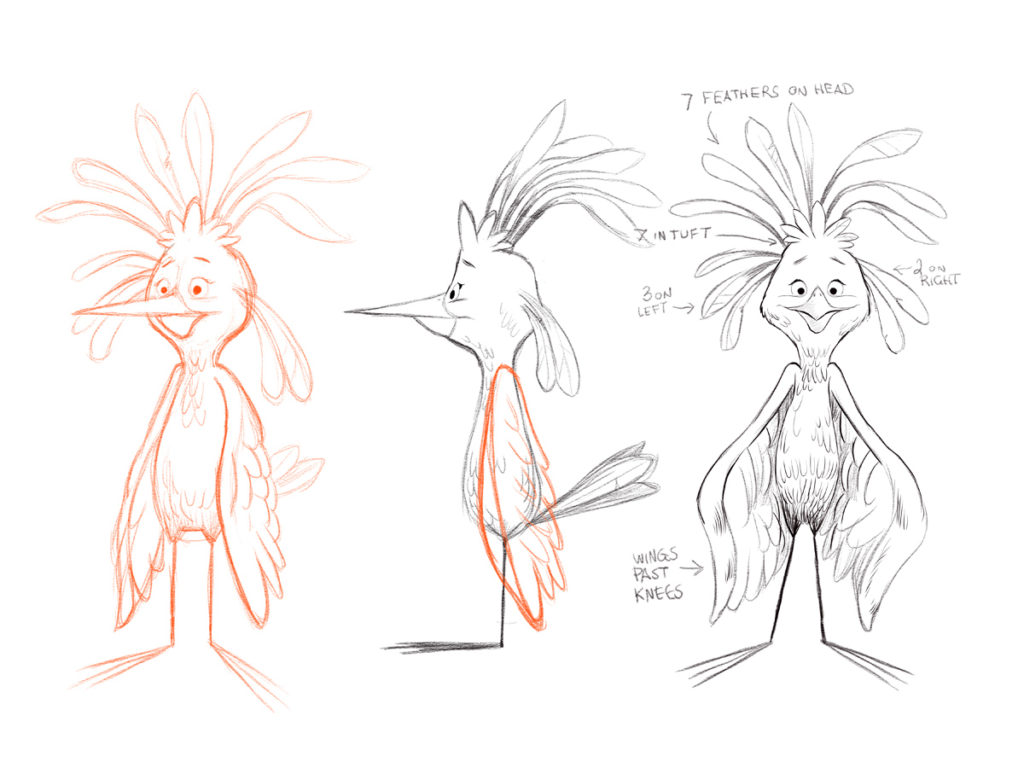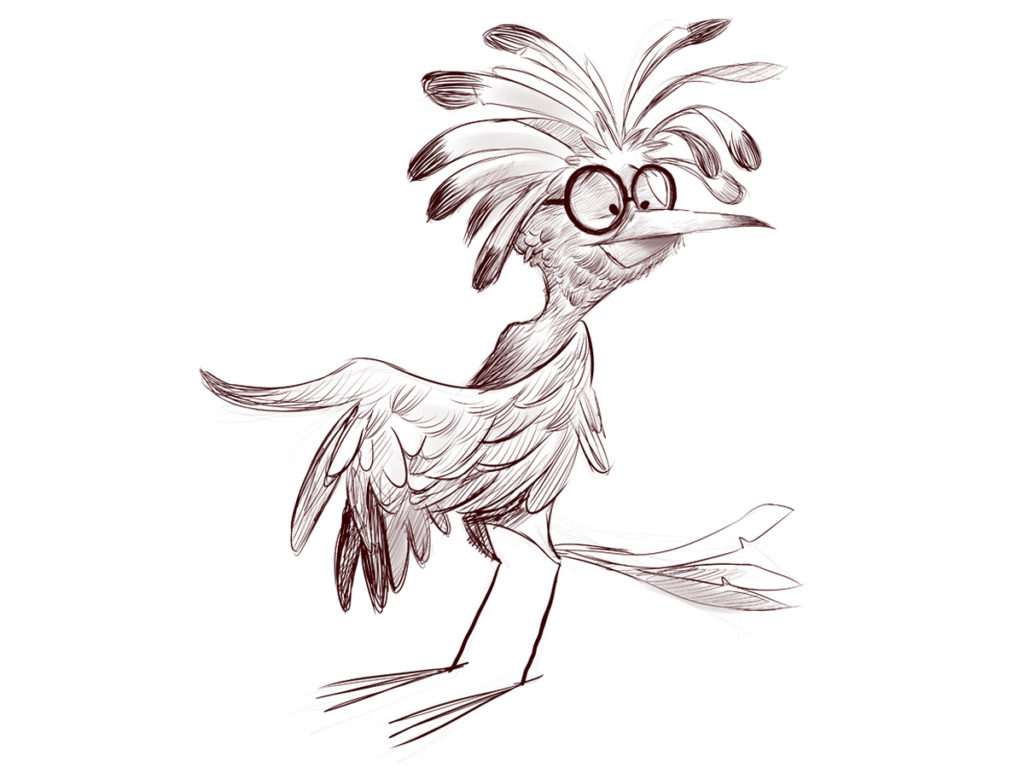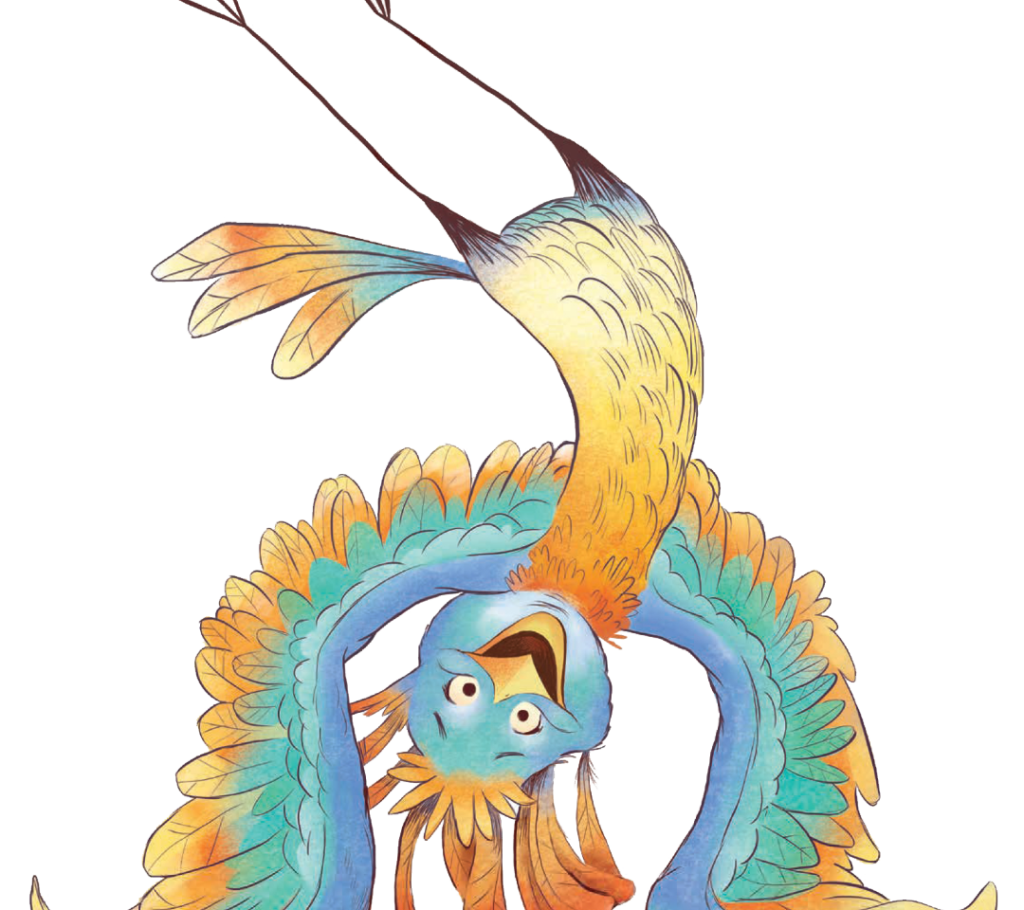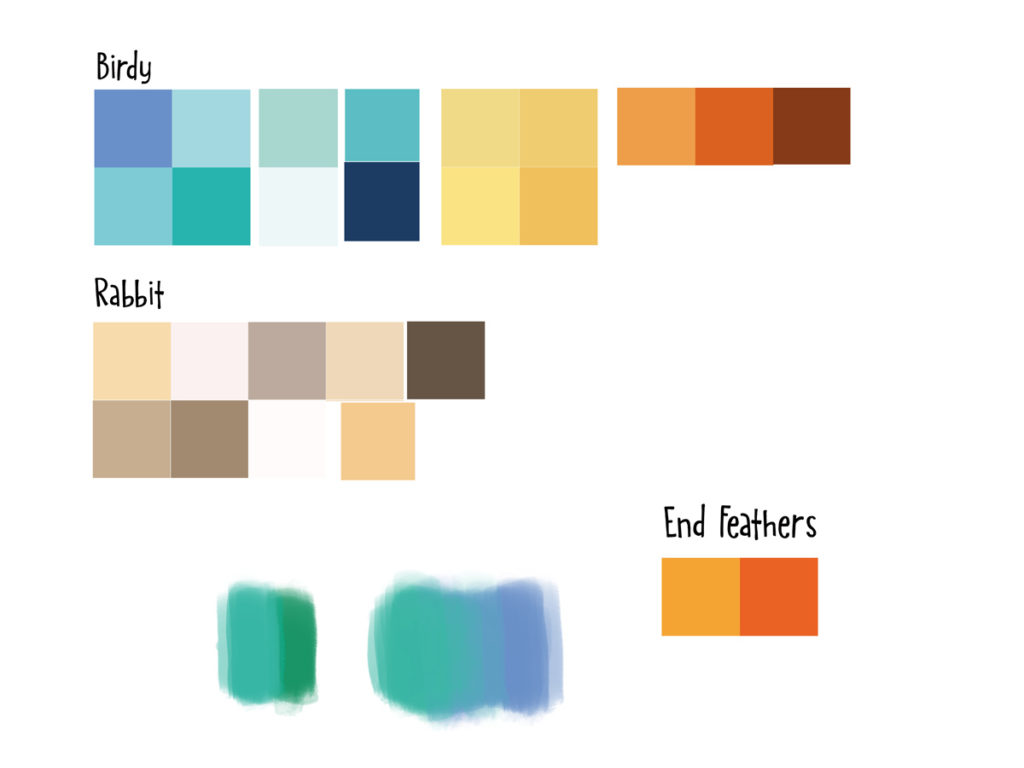 Then, there were the friends. Rabbit is floppy and really laid back. Squirrel has a bushy tail and always looks direct. He's a squirrel of few words ( the opposite of Wordy). Raccoon is like the older sister that is kind of balancing everything out.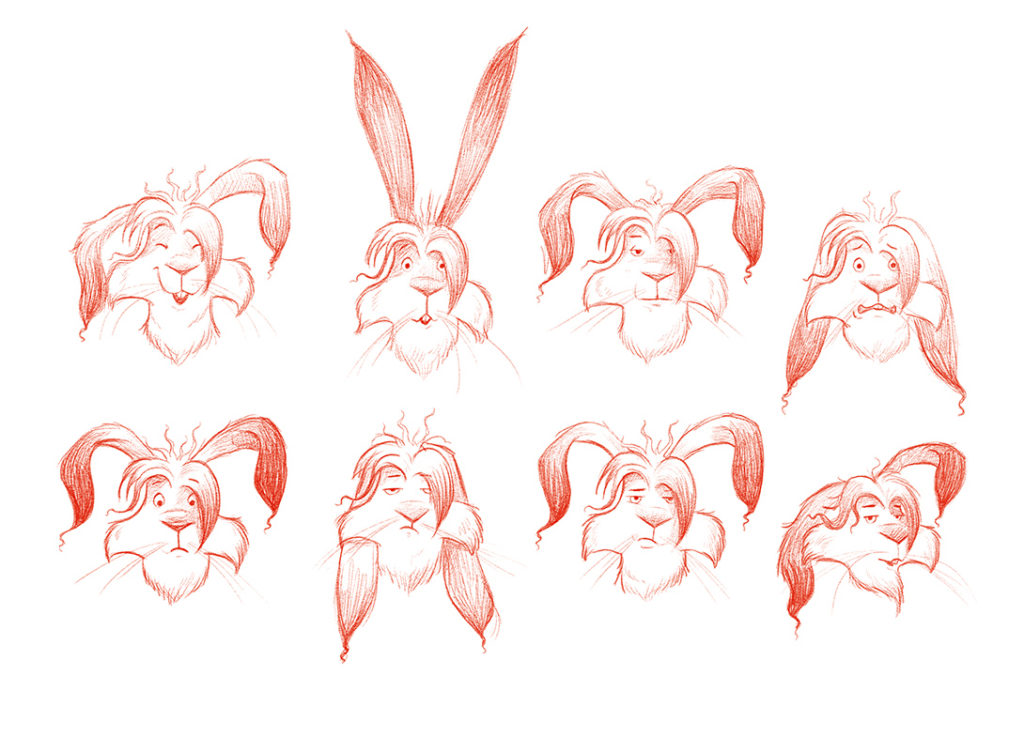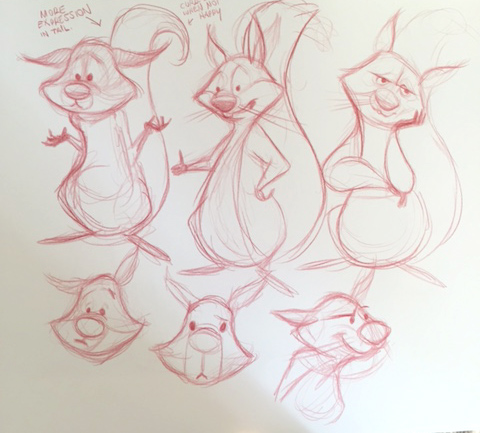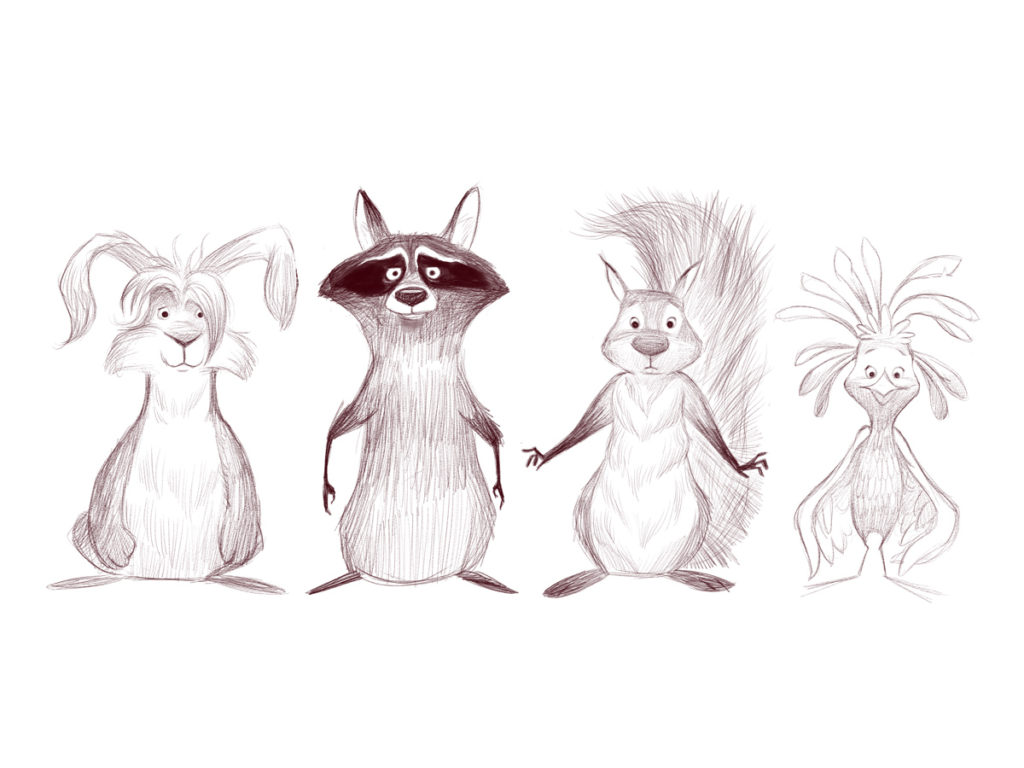 Can you share a little about your process?
My process is always changing it seems. I wish I could lock down a way of doing things and simply follow it every time.
When I'm working on a book, I want the process to follow the characters and story – so I let that drive the medium & style. With Wordy, that was different. I was selected because of the Owls I drew, so the style was already set.
These days, I bounce around between Digital and Traditional. I enjoy them both. I've always loved the feel of pencil to paper. The roughness of the paper and smearing the graphite. Lately, it's been sketching on paper and coloring digitally using Photoshop.
Also, the iPad has changed things in a way that I can take my work wherever I go. I draw on that as well.
Please give us a tour of your studio. (You get bonus points if there is a bird, raccoon, rabbit, or squirrel in the scene.)
So, here's my studio…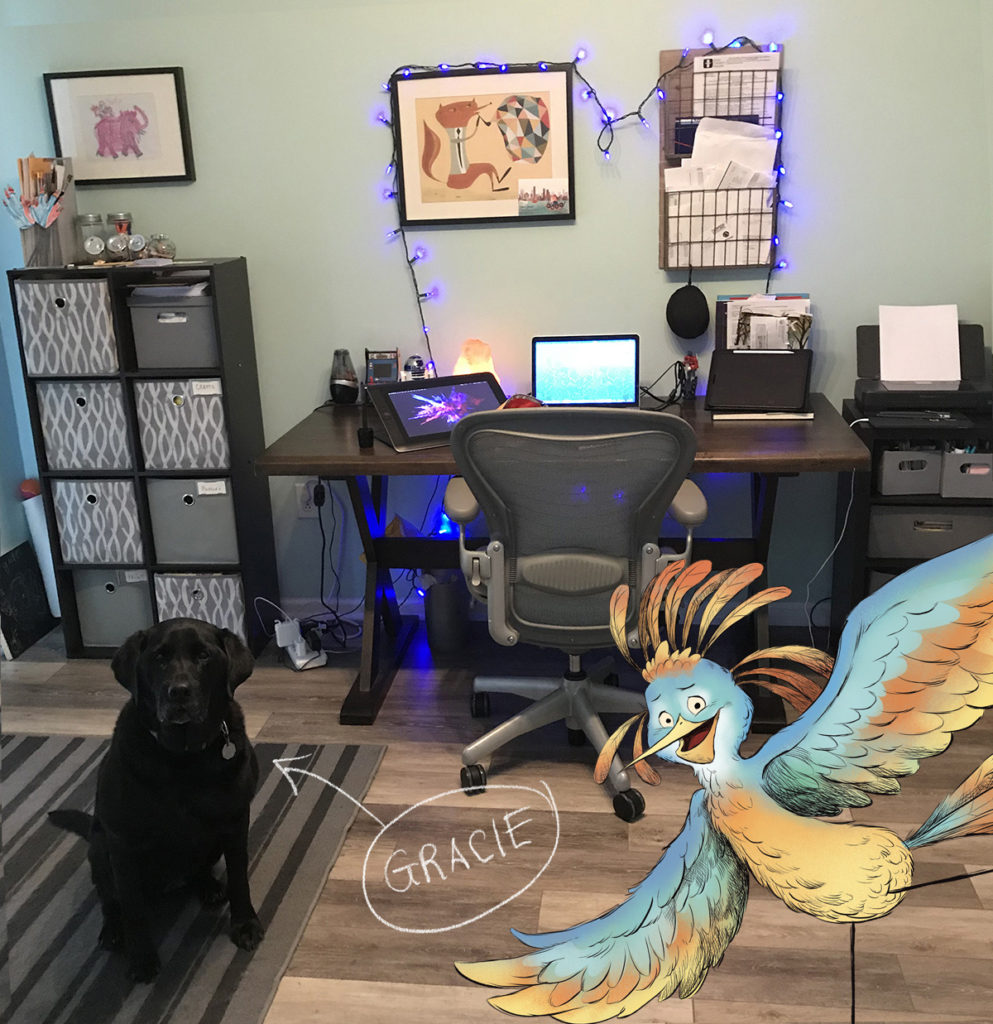 I wish there were more animals here! So I'm adding them.
I have loved viewing your work on Instagram. It's clear that you are big on putting in the practice. What inspires you to create these pieces?
Thanks! I try to do a sketch early in the AM. Usually it's just for me. It's like morning meditation and coffee to me. Just something that is on my mind or maybe I want to understand an animal better. Sometimes, if I draw something enough – I can picture it better in my mind. That really helps.
Yep, practice, practice, practice.
Can you share a couple of your recent favorites?
I like this turtle because I've been trying to get back to working simpler.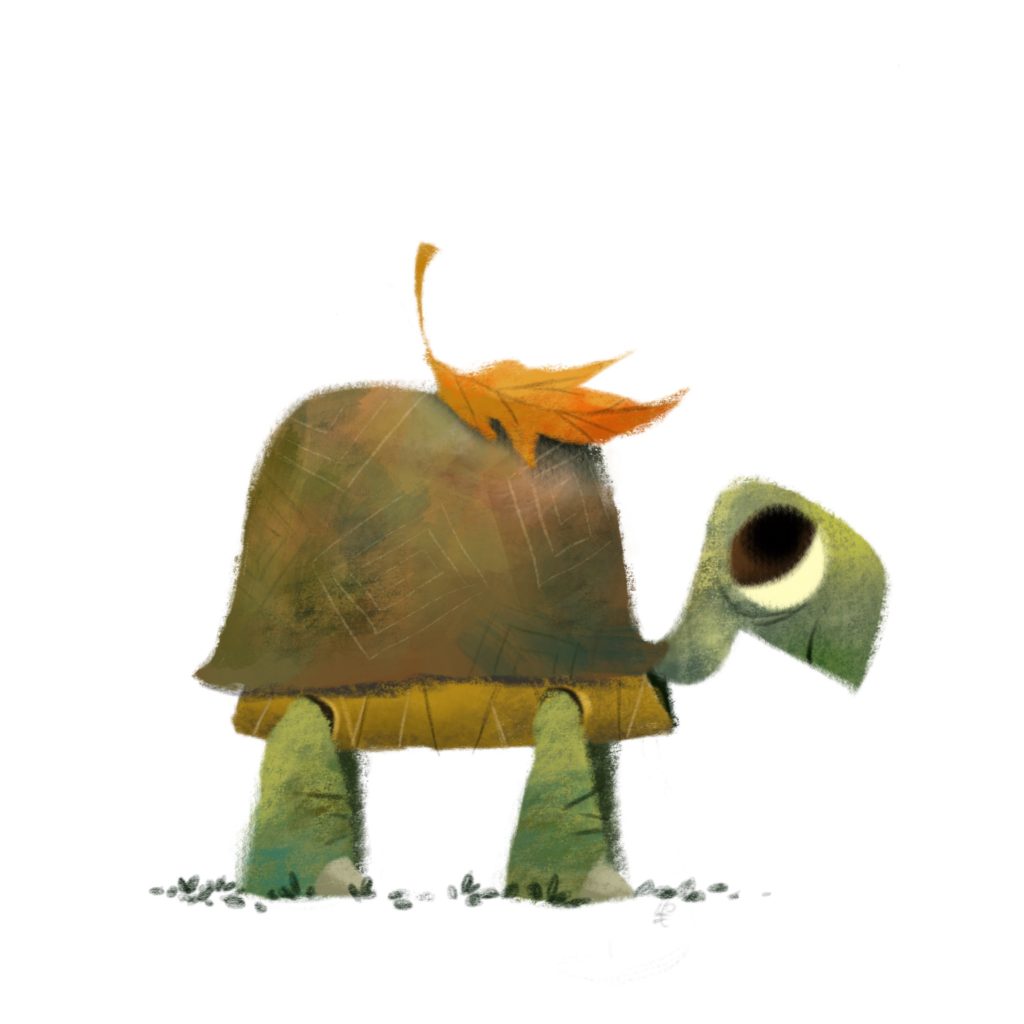 Tiki bird is because I have always loved Tikis and the The Enchanted Tiki Room.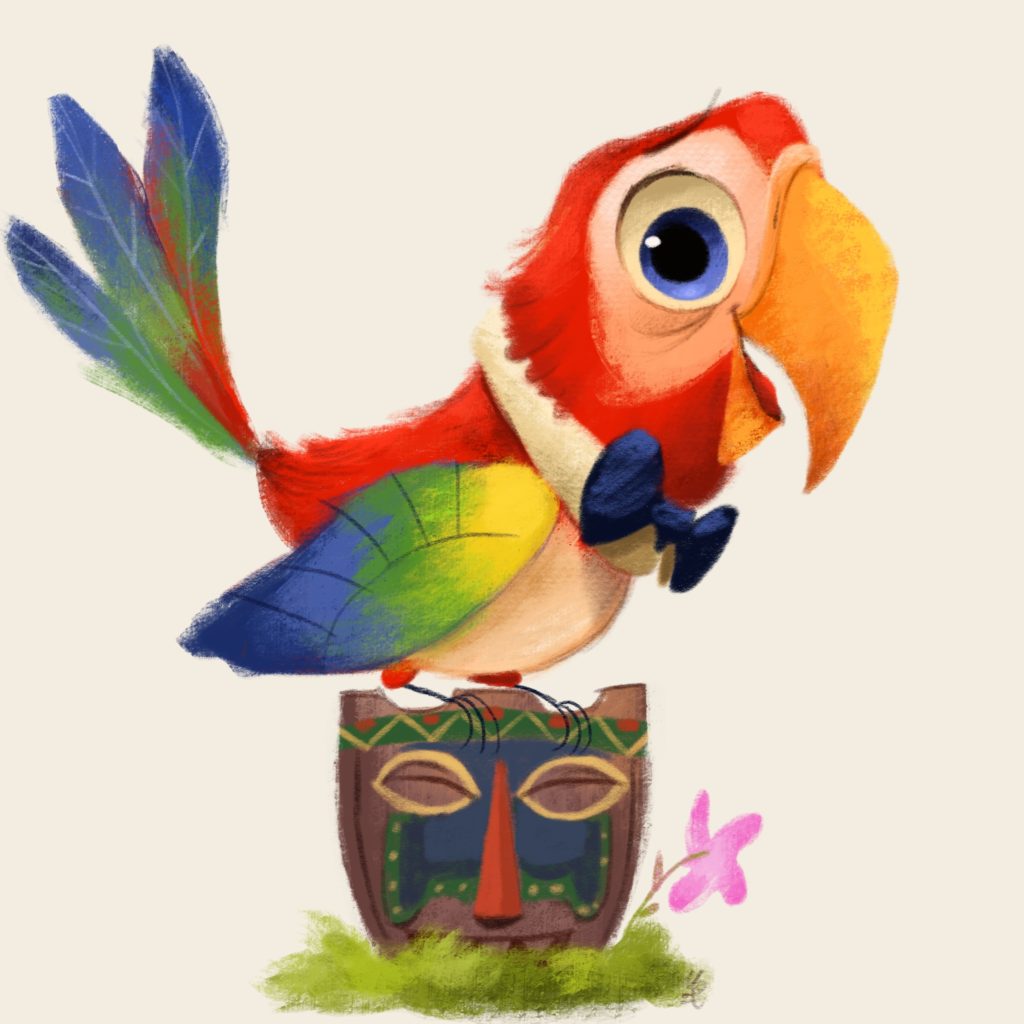 The gnomes because I'm trying to get better at doing backgrounds and the characters working together.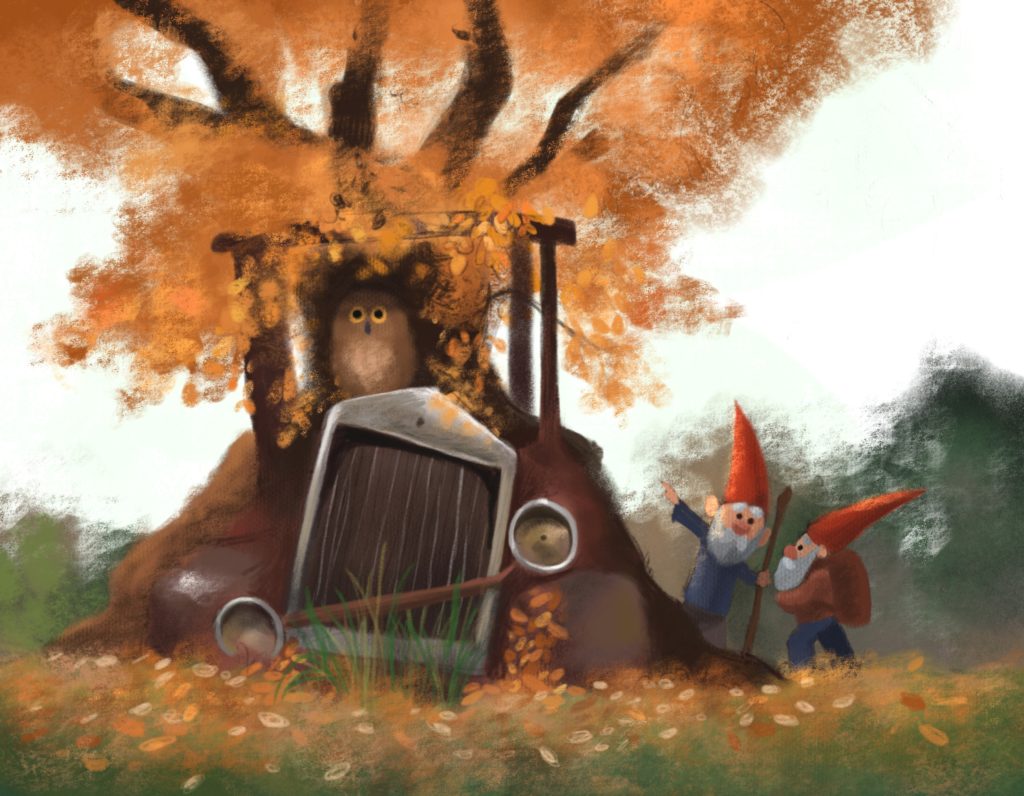 Scoop time! What's next for you?
I just finished a book called Emergency Kittens! It's about 3 super kittens that save the day with nothing but sheer cuteness.
I'm currently working a picture book called Willow the Armadillo.
BIO:
Dave Mottram is an illustrator living in Ohio who worked as a graphic designer for various agencies which led him to pursue his passion for illustration. He paints traditionally and digitally with color and layers. He loves tikis, tacos, animals, and geeking out on Art Supplies.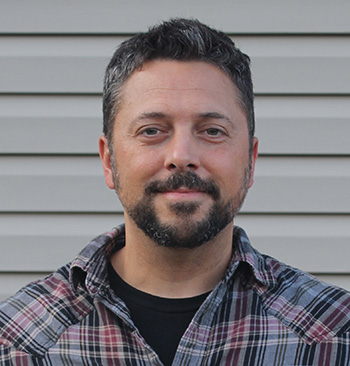 GIVEAWAY: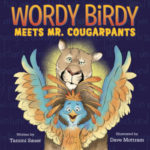 One lucky duck will receive a copy of Wordy Birdy Meets Mr. Cougarpants.
ANOTHER lucky duck will receive an original Wordy Birdy sketch from Dave!
For a chance to win, leave a comment and/or share this post on Twitter. Make sure to tag Dave (@dmott70) and Tammi (@SauerTammi).

WINNERS:

Congratulations to these lucky ducks:
Brian Gehrlein
Patricia Nozell
Joy Pitcairn
Puppies are about to invade their mailboxes. They each won a signed copy of The Great Puppy Invasion.