Today I'm over-the-moon to announce the release of my new book (March 12) — A COMPUTER CALLED KATHERINE: HOW KATHERINE JOHNSON HELPED PUT AMERICA ON THE MOON, illustrated by Veronica Miller Jamison.
Long before the Hidden Figures movie and book (2016) introduced many people to Katherine Johnson, A COMPUTER CALLED KATHERINE had already been acquired by Little, Brown for Young Readers.
Now that it's finally releasing, I can't wait to share this gloriously illustrated picture book about Katherine Johnson: child math prodigy, accomplished scholar who graduated from college at age 18, and NASA mathematician who made crucial contributions to space exploration.
I'm grateful Veronica Jamison shared her remarkable talent with this book. Her thoughtful illustrations help readers understand Katherine's passion for math, her determination, and her groundbreaking work.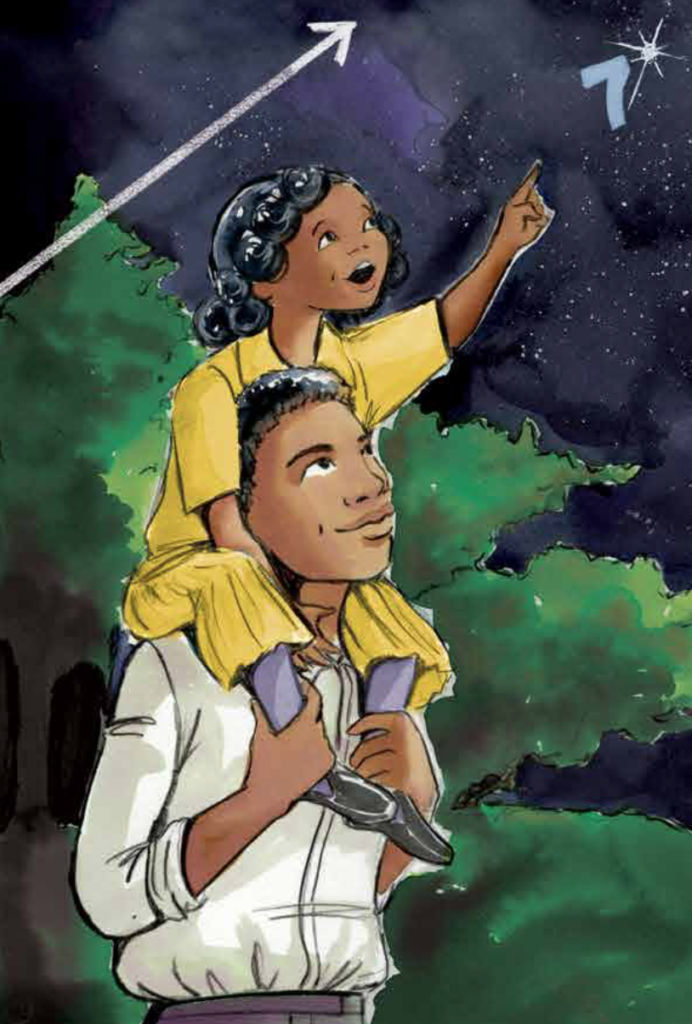 Her artwork also conveys emotions in a powerful way, yet also accurately shares science details.
Just take a peek at the marvelous details in this illustration: actual formulas Katherine used, her huge desk calculator, and a realistic sketch of the Apollo flight path. (Notice the spacecraft orbits Earth before heading to the moon, circles the moon before and after landing, and the moon moves during the several day mission?) Spectacular!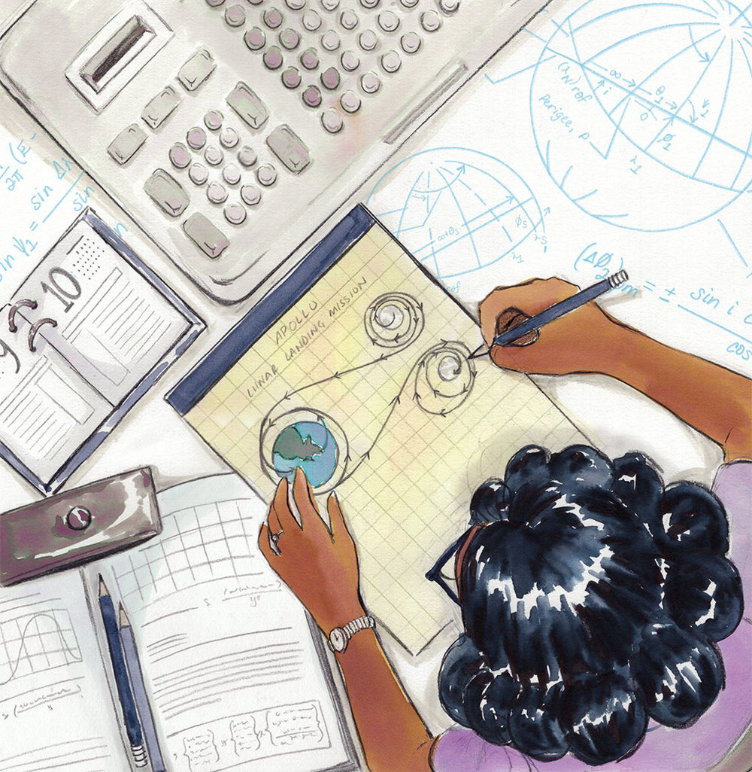 And check out this gorgeous spread of America's first manned spaceflight with the vibrant ocean, rich space background, and adorable red parachute. Curious readers can also discover that the spacecraft soared 125 above Earth. Love it!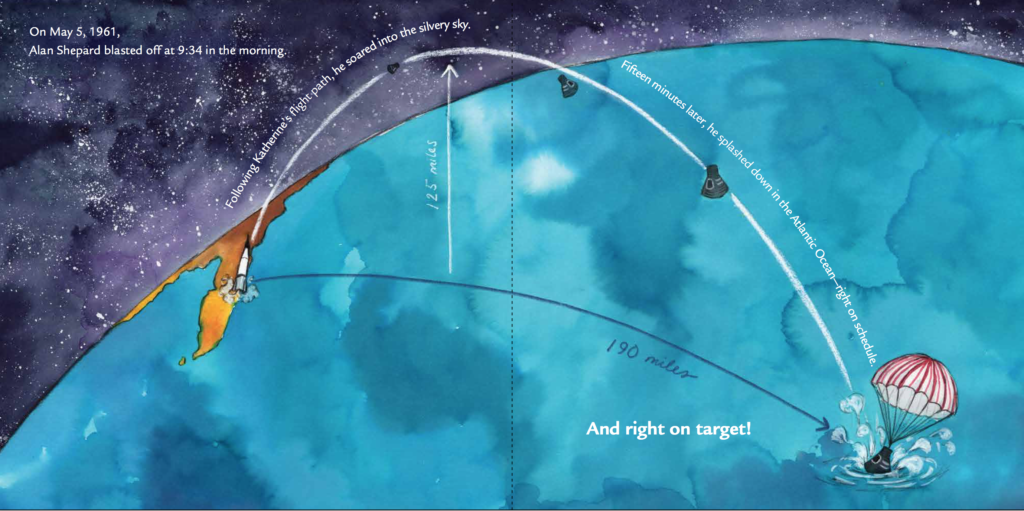 This beautiful illustration also encourages budding scientists to ask questions. Notice how the rocket launches from Florida and a small capsule splashes down later? These details help critical thinkers investigate how rockets work (and discard used parts.)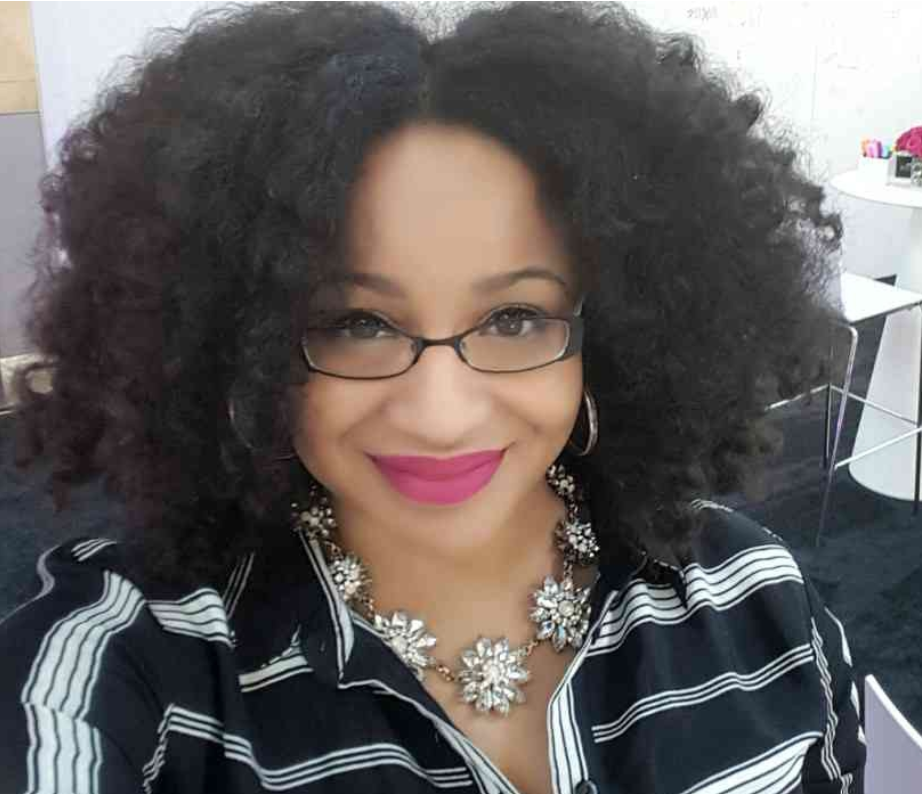 Let's find out about the phenomenal artist behind these illustrations as Veronica answers a few questions about her work on A COMPUTER CALLED KATHERINE — her very first picture book!
1. What about Katherine Johnson's incredible life and accomplishments inspired you as you worked on this project?
Just about everything! I tend to be fascinated by people who have lived their lives exploring and mastering a particular subject. Katherine's early fascination with math and her journey with it throughout her life became the basis of my inspiration. We know that Katherine became this incredible mathematical mind for NASA, but she got there by being a little kid who was just incredibly curious about numbers. That was the nugget of inspiration that carried me throughout the book.

2. Your illustrations are engaging, creative, and powerful!
The scientific nature of this book made it an especially daunting project — particularly for a first picture book. It's obvious you did extensive research on the spacecraft and flight trajectories, as well details like clothing and hair styles. Were there any surprises or challenges during your research?
Thank you so much! One challenge was mapping Katherine's career progression over the changes that NASA itself went through. For example, there's a spread showing Katherine early in her career working at Langley, and we had to figure out – what exactly was the name of the campus? What logo would have been on the hangar? And what kind of aircraft would they have been working on at the time? The team at Little, Brown worked with me through the process of fact-checking and cross-referencing to make sure the images were just right.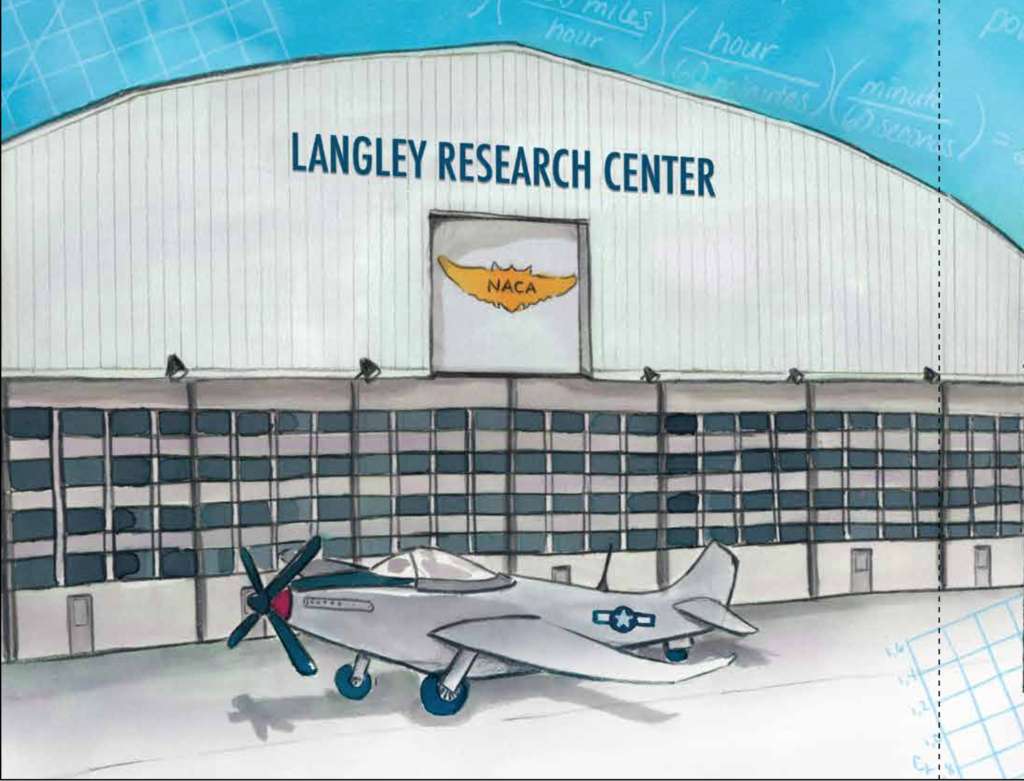 3. I loved your interview where you shared a bit about your illustration process. What was your favorite part of working on the book?
There were so many! I never anticipated how much I'd love painting space! I particularly loved the spreads where I got to play with large expanses of color to depict space, the earth and the ocean.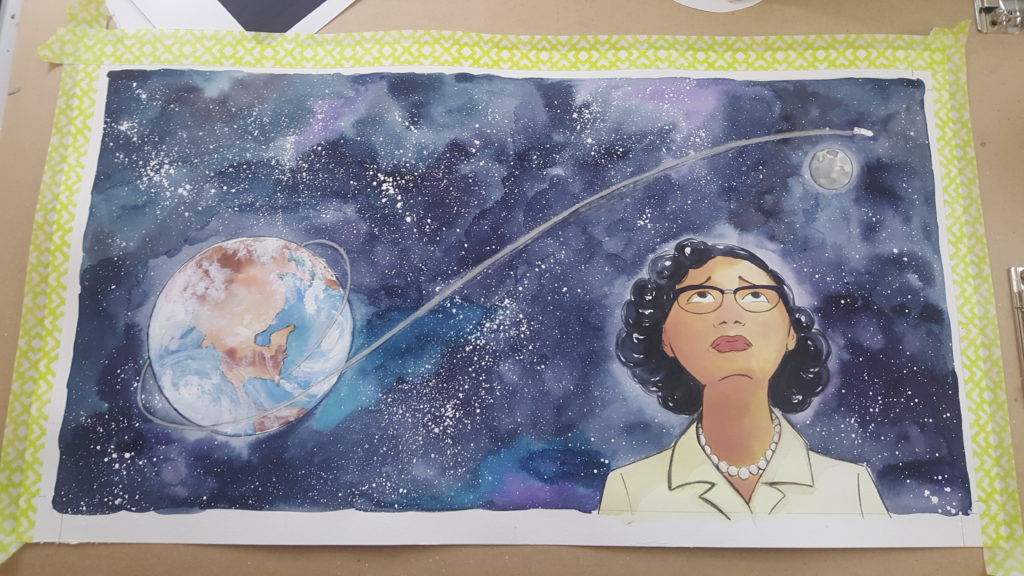 The part closest to my heart though was researching and illustrating what Katherine's world may have looked like as a little girl — her school, her family, her classmates, and her imagination. That's the part of the story I'll always be attached to — that foundation is what allowed her to become the figure we know her to be today.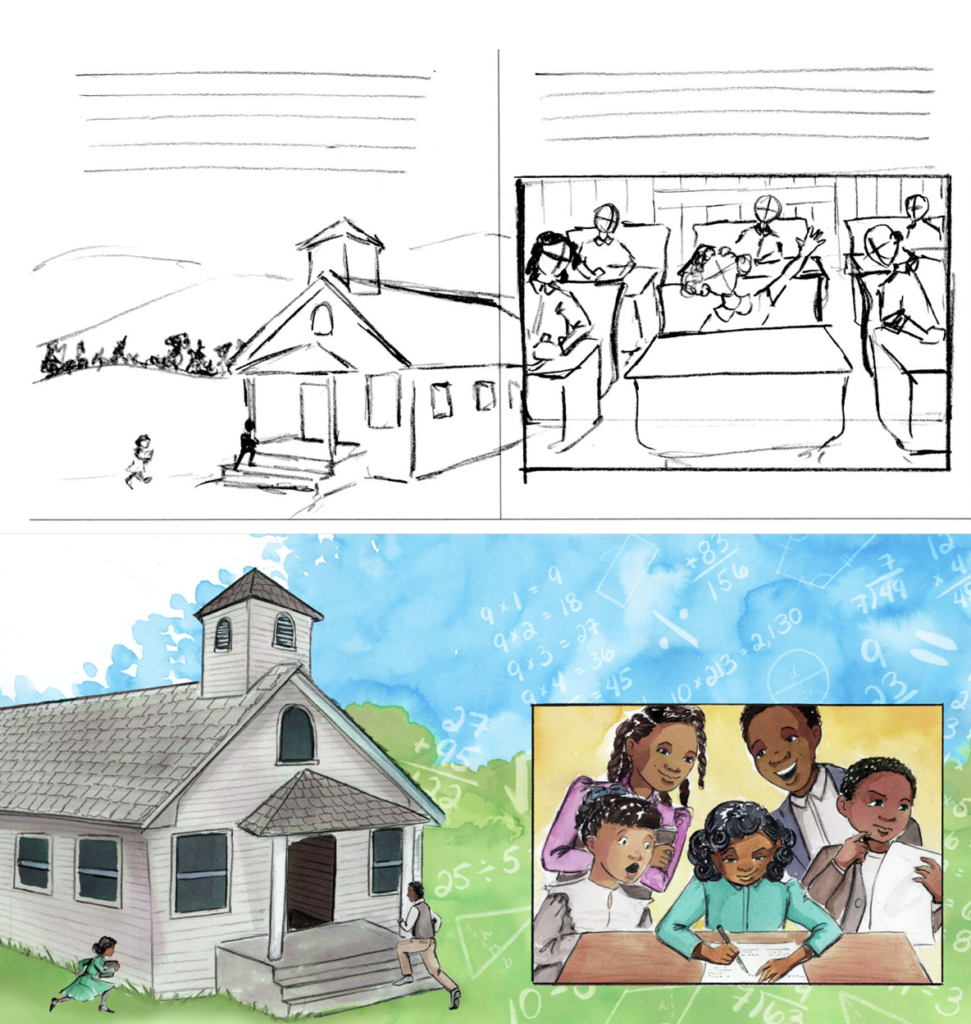 Thanks Veronica for joining us and sharing your insights on the project.
No doubt, Katherine Johnson is an inspiring pioneer and role model. As a woman engineer who has worked on rockets, I did my best to make sure all the details and facts in the book are correct. That meant years of research, interviews, and meticulous record keeping. (My "Sources Document" with the source for each number, fact, and quote is 32-pages long.)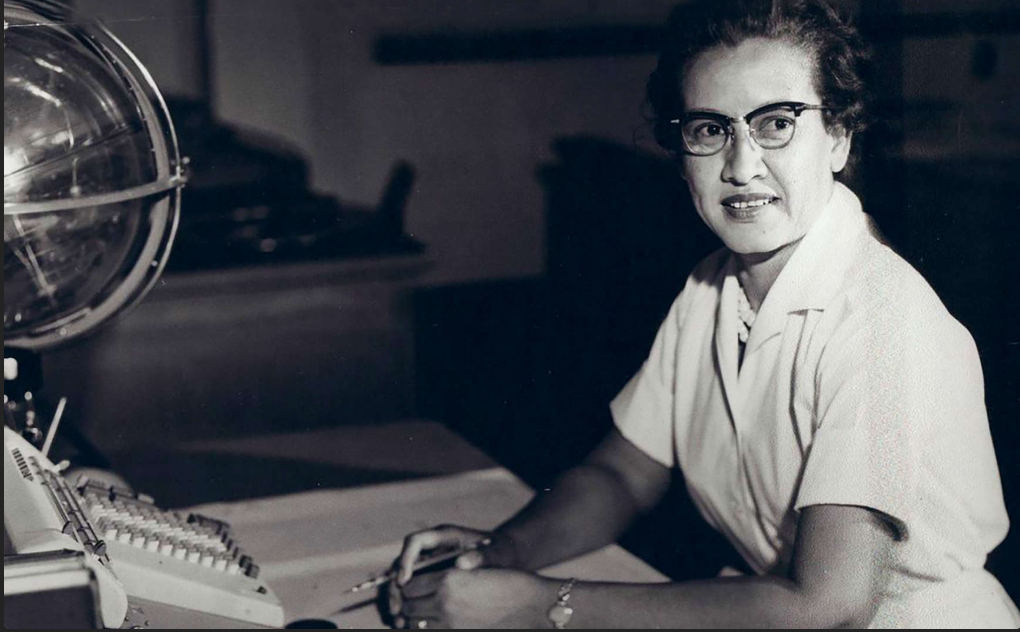 I also wanted to help readers connect with Katherine — to get an authentic sense of her personality and beliefs. So I decided to include a few actual quotes so readers could hear Katherine express her thoughts in her own words.
For example, after Katherine was invited to join the "space team" she discovered women weren't allowed in their group meetings. When she asked her co-workers about the policy, the engineers explained, "Women don't ever go to those."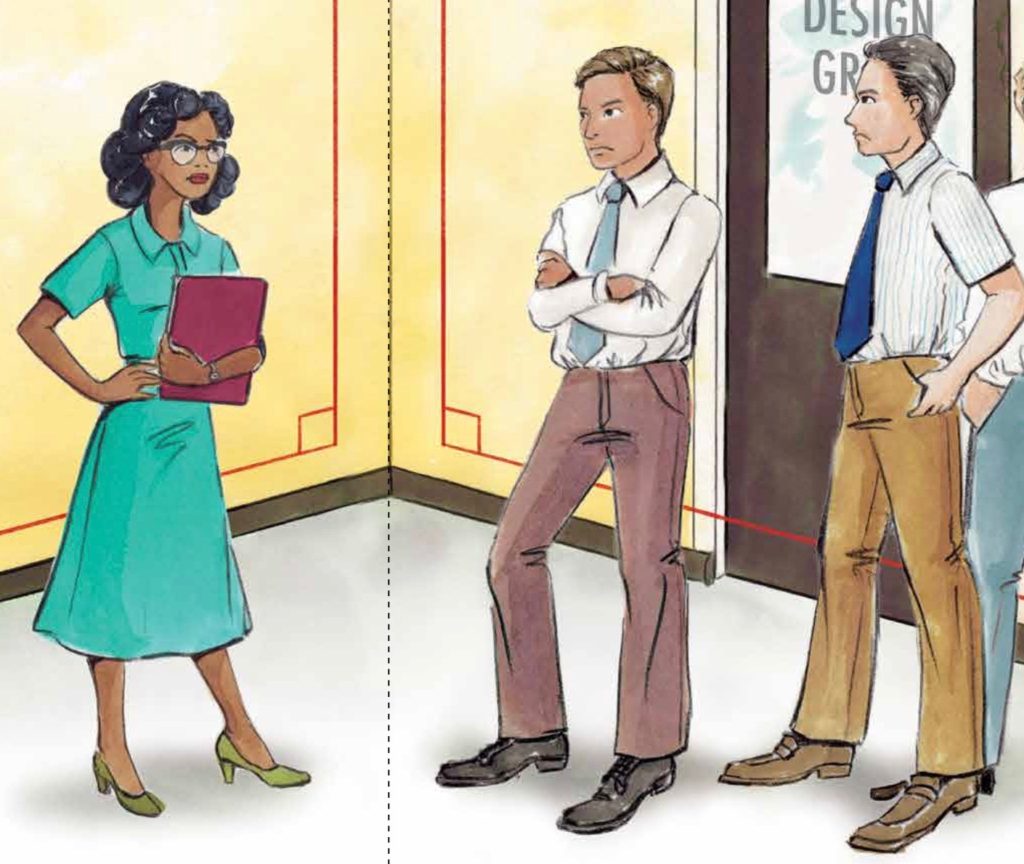 To which Katherine promptly responded, "Is there a law against it?"
Her clever response tells readers so much about Katherine — her confidence, grace, and determination. Her words were also very effective because after that she attended all the group meetings!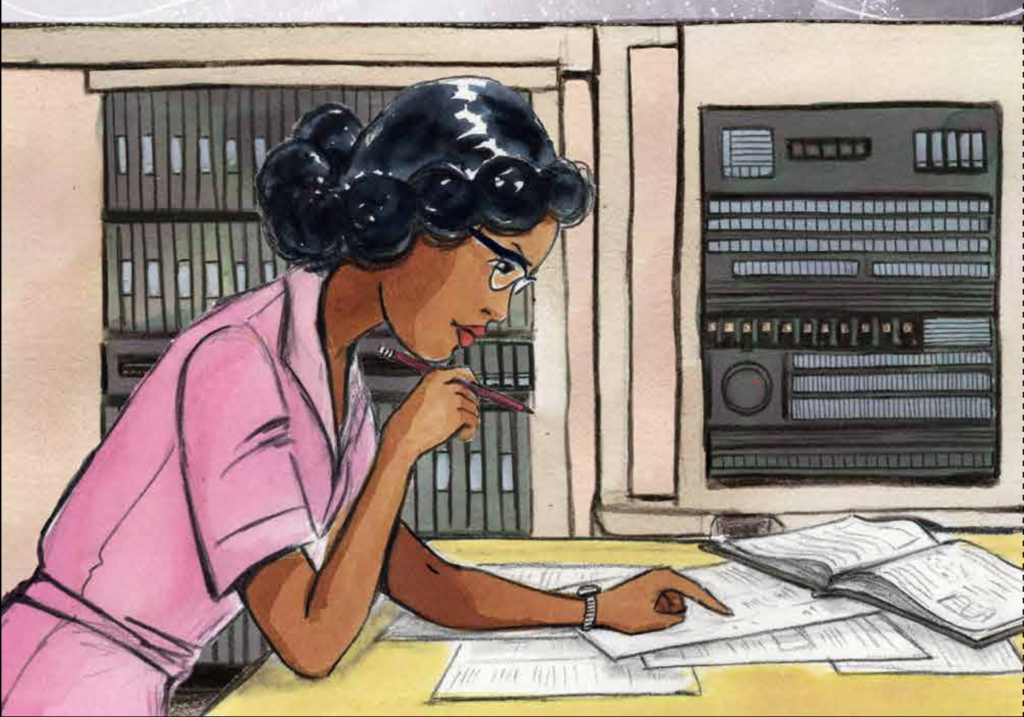 Another great quote from Katherine appears in the back matter — "If you want to know, ask a question. There's no such thing as a dumb question."
Just imagine how Katherine's empowering words will encourage today's readers to speak up and find out what they want to know!

★ "… compellingly told biography … An excellent way to introduce young readers to an African-American female mathematician who deserves to be remembered and celebrated." — Kirkus Starred Review
* * * * * * GIVEAWAY * * * * * *
I'll randomly select one person who comments on the post to win an autographed copy of A COMPUTER CALLED KATHERINE. Good luck! (Winners from my last blog post below.)
* * * * * * * * * * * * * * * * * * *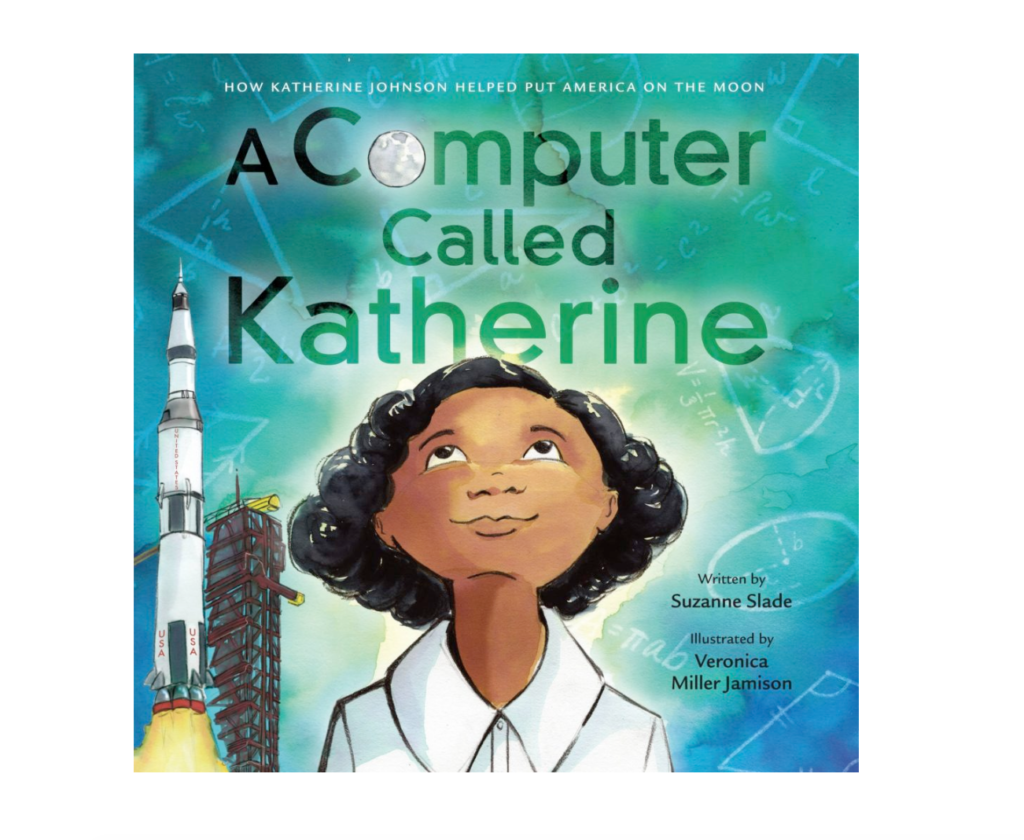 If you'd like to learn more about Katherine Johnson, check out these great interviews: Makers Profile Interview and National Visionary Project Interview (Bottom of page)
* * * * * * WINNERS! * * * * * *
Winners of their very own Space Selfies from my last post — Tina Cho, Beth Anderson, Kathy Weichman, Terri Michels, and Jennifer Phillips. You all make awesome astronauts. Feel free to copy and keep!