Do you know how many people have walked on the moon? (Hint: check out the post title.)
That's right! Only twelve astronauts—ever—have visited our beautiful moon.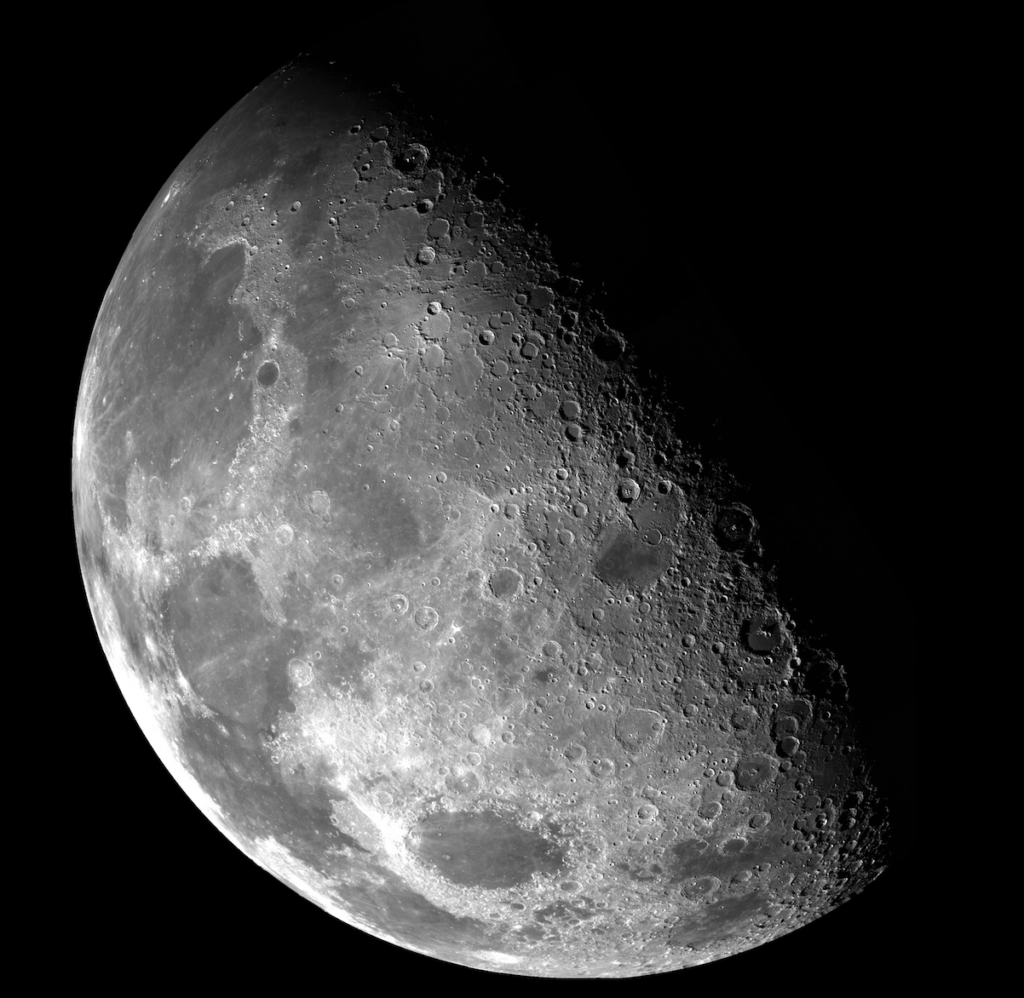 You've probably heard a lot about the moon's first guests, Neil Armstrong and Buzz Aldrin, and their famous Apollo 11 landing. Yet most people know very little about the five missions which later landed on the lunar surface.
All the moon missions were remarkable. Each one faced their own challenges and accomplished astonishing goals! (Fyi: Each of the six moon landing missions carried two brave astronauts, hence the "Daring Dozen.")
My new picture book DARING DOZEN: THE TWELVE WHO WALKED ON THE MOON shares the exciting adventures and incredible discoveries of all of these heroic space pioneers.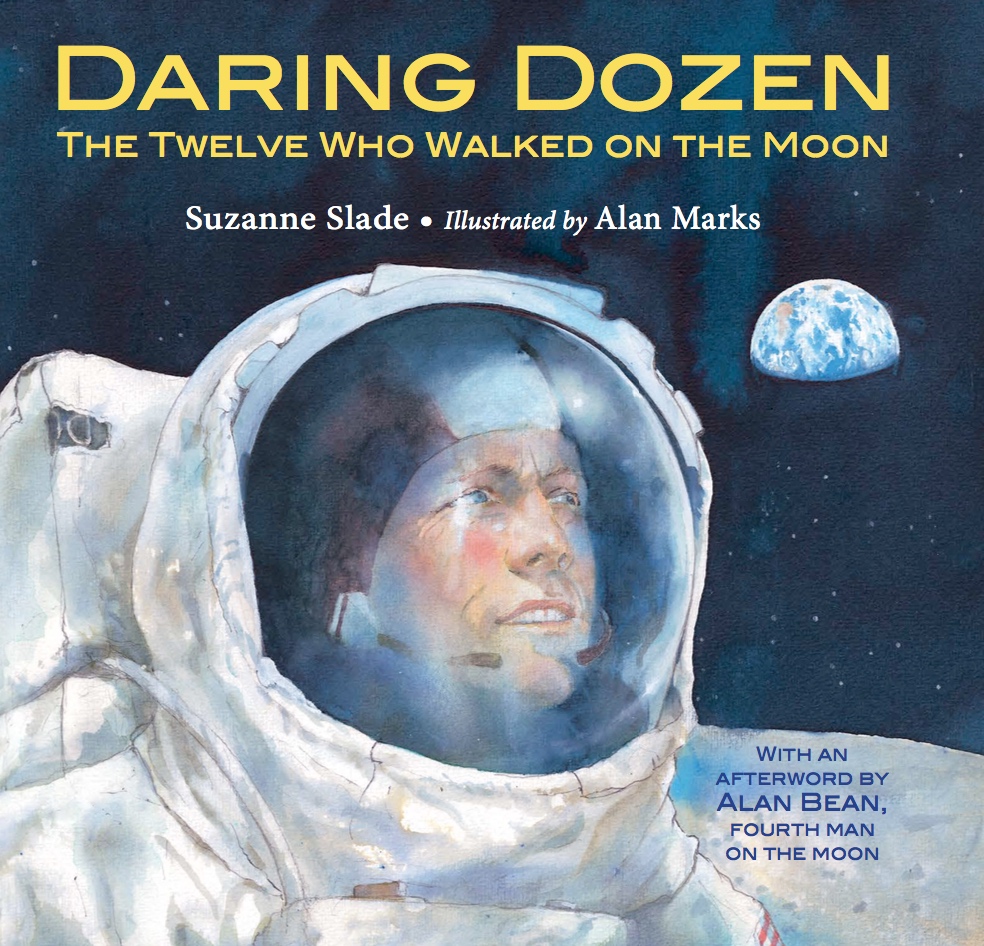 Illustrated by Alan Marks, DARING DOZEN releases March 5—just in time to celebrate the 50th anniversary of the first moon landing! (July 20, 2019)
As part of my research I had the privilege of interviewing the fourth man on the moon, Alan Bean, before he passed away in May 2018.
Captain Bean was gracious, funny, smart, and very punctual! One Monday morning I called him a few minutes before 9 am (our agreed upon time interview time), and he politely asked me to call back at the scheduled time. So I hung up, dialed again three minutes later, and he was ready to talk!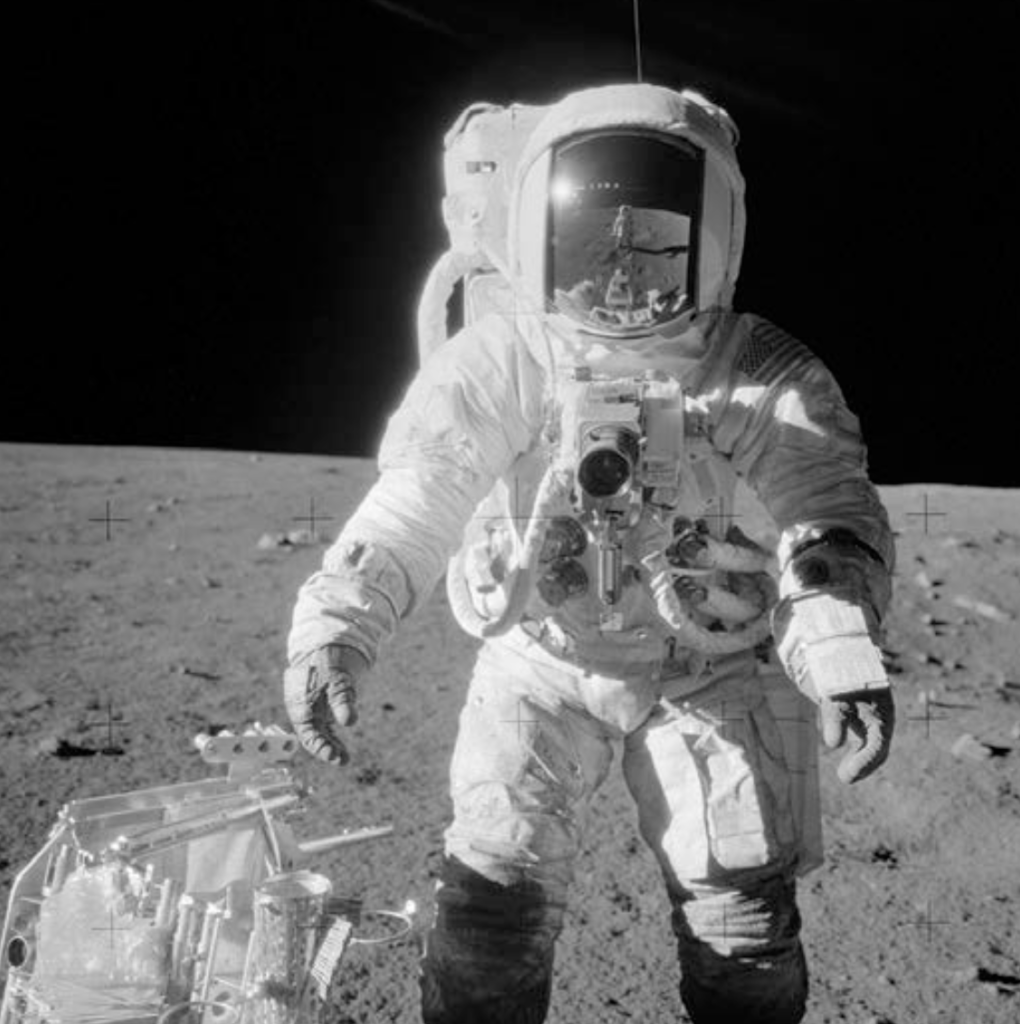 Alan Bean was kind enough to write a special note for DARING DOZEN. The note shares his first-hand account of how it actually felt to walk on the moon. The story also includes actual quotes from other astronauts as they explored the moon, so readers can feel like they're part of the action.
When I began working on DARING DOZEN years ago, eight of the twelve moonwalkers were living. Now only four remain: Buzz Aldrin (Apollo 11), David Scott (Apollo 15), Charles Duke (Apollo 16), and Harrison Schmitt (Apollo 17.)
The book also contains 14-pages of back matter with stunning photos of the Apollo crew and spacecraft, plus fascinating details about each mission.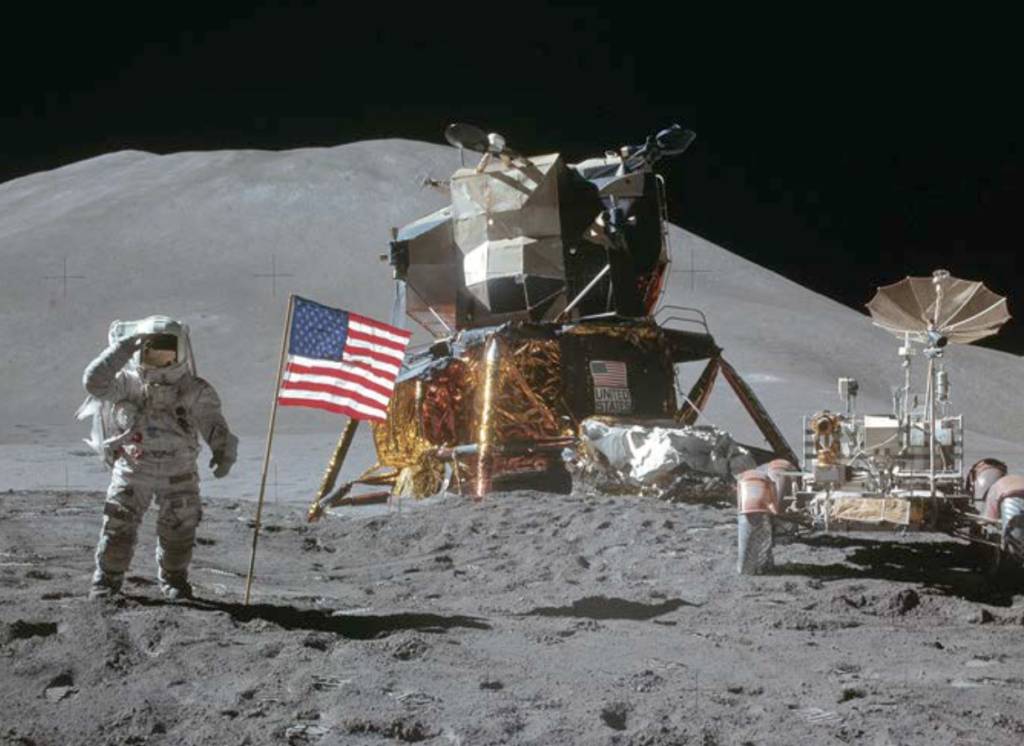 I'm so grateful Alan Marks agreed to illustrate DARING DOZEN. His illustrations elegantly capture the action and excitement of these phenomenal moon missions. Alan is also a super nice guy who agreed to share his insightful answers to a few questions about the project below.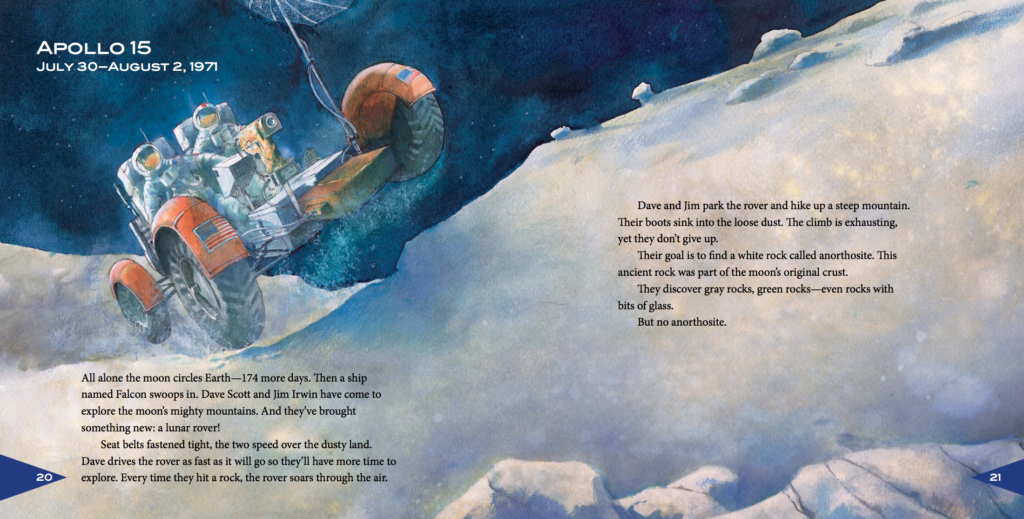 Question 1. Your illustrations are colorful and fun, yet you also accurately depict many details of various spacecraft, spacesuits, and more. What was your research process like for this book?
I'm not a scientist or an engineer, my work is about visual representation and my understanding of what I'm drawing comes through looking. That could be true for a humming bird as much as for a spaceship; drawing is a great way of understanding things.
Fortunately NASA makes a lot of its images publicly available; pictures of astronaut training were particularly helpful. There are also documentaries about the how Grumman and Co. made the lunar lander and videos often show how an object moves and view it from different angles. I also had help from Alyssa and Diane at Charlesbridge, who fact-checked all of the work. But, as you say, I want fun and drama as well as accuracy; darkness and shadow are very helpful for concealing areas of an object that I'm not sure about and also add atmosphere and mystery to an image, as does the glint of light on a dark background.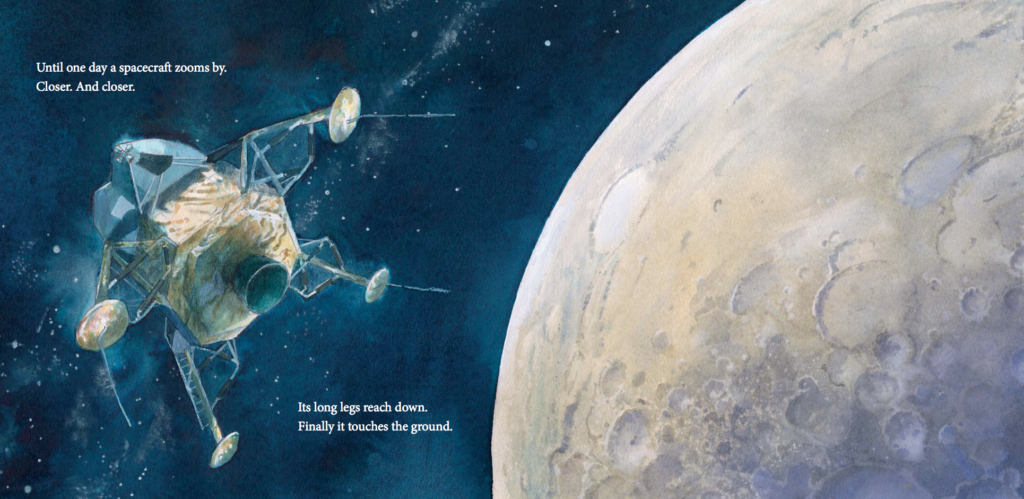 2. I love the gorgeous black/blue space backgrounds with lovely sparkling stars. How did you create such stunning depictions of space?
I use watercolour which is a wonderful medium for creating evocative and mysterious backgrounds. I apply washes of colour and often work on wet paper so that the washes spread and create their own patterns. Blue/black washes are not the easiest to work with; it's quite easy to obliterate details of a drawing that you want to keep, so it's a question of controlling the paint without losing the spontaneity.
I read that stars would have been visible but not picked up by NASA's cameras so added specks of white paint to represent the myriad of other galaxies. The contrast between the dark skies and the lighter surface of the Moon was also important as it gives a sense of luminosity.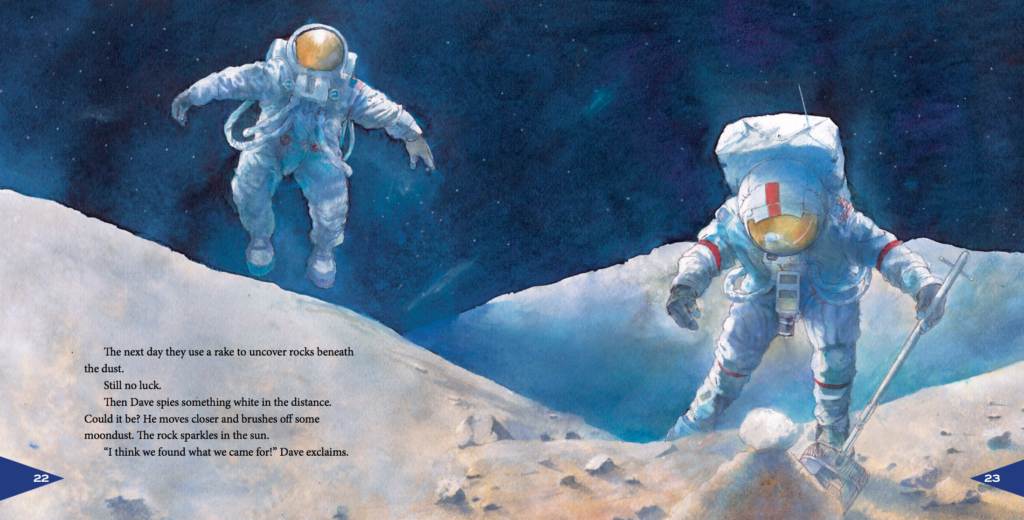 3. It's amazing how you captured the astronauts' action so colorfully and accurately, such as a lunar rover zooming over the dust, an astronaut leaping in little gravity, and Alan Shepard's impromptu golf outing. Were there any special challenges to creating such realistic action?
This was a challenge but also part of the fun of illustrating the book where I imagine what it would be like to visit the Moon and draw the reader into how that might feel. The movement of the astronauts' came from lots of rough drawings; exploring the restrictions of wearing a cumbersome spacesuit together with the freedom of lower gravity; I reckon that small movements would take you a long way, and the astronauts themselves described the sort of jumping movements they made across the surface.
My editors at Charlesbridge might then say something like, 'We don't think they could have jumped that high.' or ' Perhaps their knees couldn't have bent that much.' So it's a process of trying to understand how it might have been.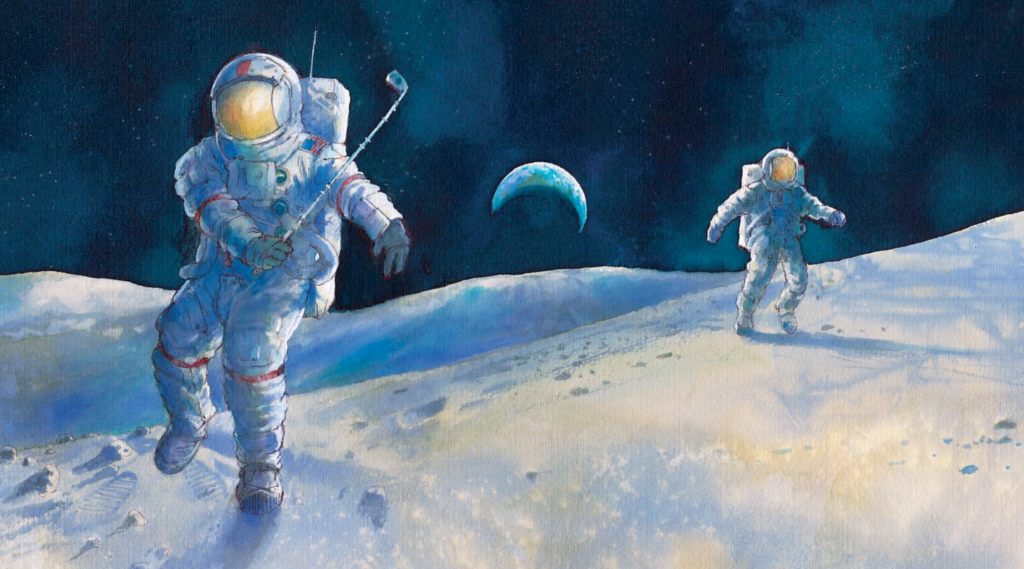 Similarly, Alan Shepard wouldn't have been able to strike a golf ball as he would on Earth, it's likely that he couldn't even see it properly. I read that he only used one arm to swing at the ball and that it travelled 'miles and miles'. The text plays a big part too; you describe the rover as travelling at speed and soaring through the air every time they hit a rock, so I gave it a slightly exaggerated movement and perspective; and ultimately it has to look right on the page.
* * * * * * GIVEAWAY! * * * * * *
Three winners randomly selected from those who leave comments on this post will receive a personal Space Selfie photo! (YOU in a spacesuit!)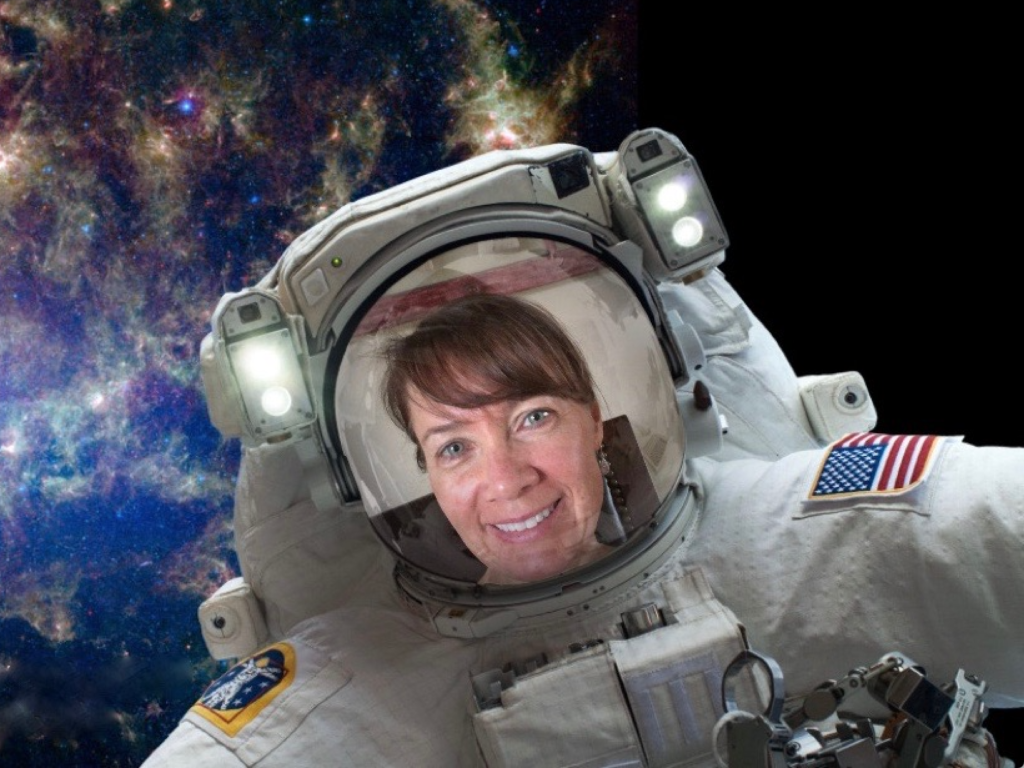 [I'm also happy to email a Space Selfie to anyone who purchases DARING DOZEN and emails a photo of yourself with the book!]
* * * * * * * For Space Lovers * * * * * * *
Apollo Lunar Surface Journal – Astronauts' dialogue while on the moon
* * * * * * * * * * * * * * * * * * * *
*Booklist STARRED Review – "An outstanding choice for children …"