As Mike pointed out in his post last week, "how to" picture books offer lots of opportunities for humor. So I thought I'd follow up with another recent example: How to Give Your Cat a Bath in Five Easy Steps, written by Nicola Winstanley and illustrated by John Martz (Tundra, 2019).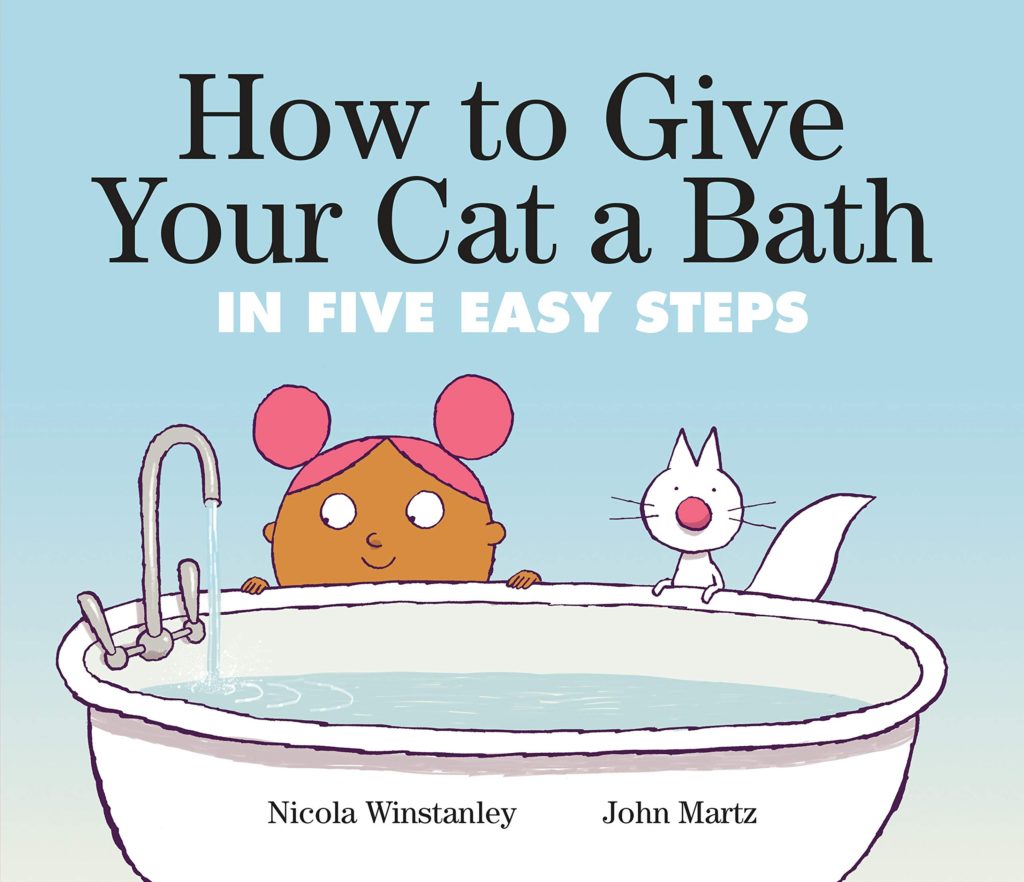 There are many things to love about this book, but I'm going to talk about three things that inspired me as a writer. Here goes:
1. It Sets Up Expectations—Then Dashes Them
Bathing a cat is a breeze, right? It says so right in the title—just five easy steps! Establishing that expectation at the outset makes the ensuing chaos that much funnier. Here's how it begins: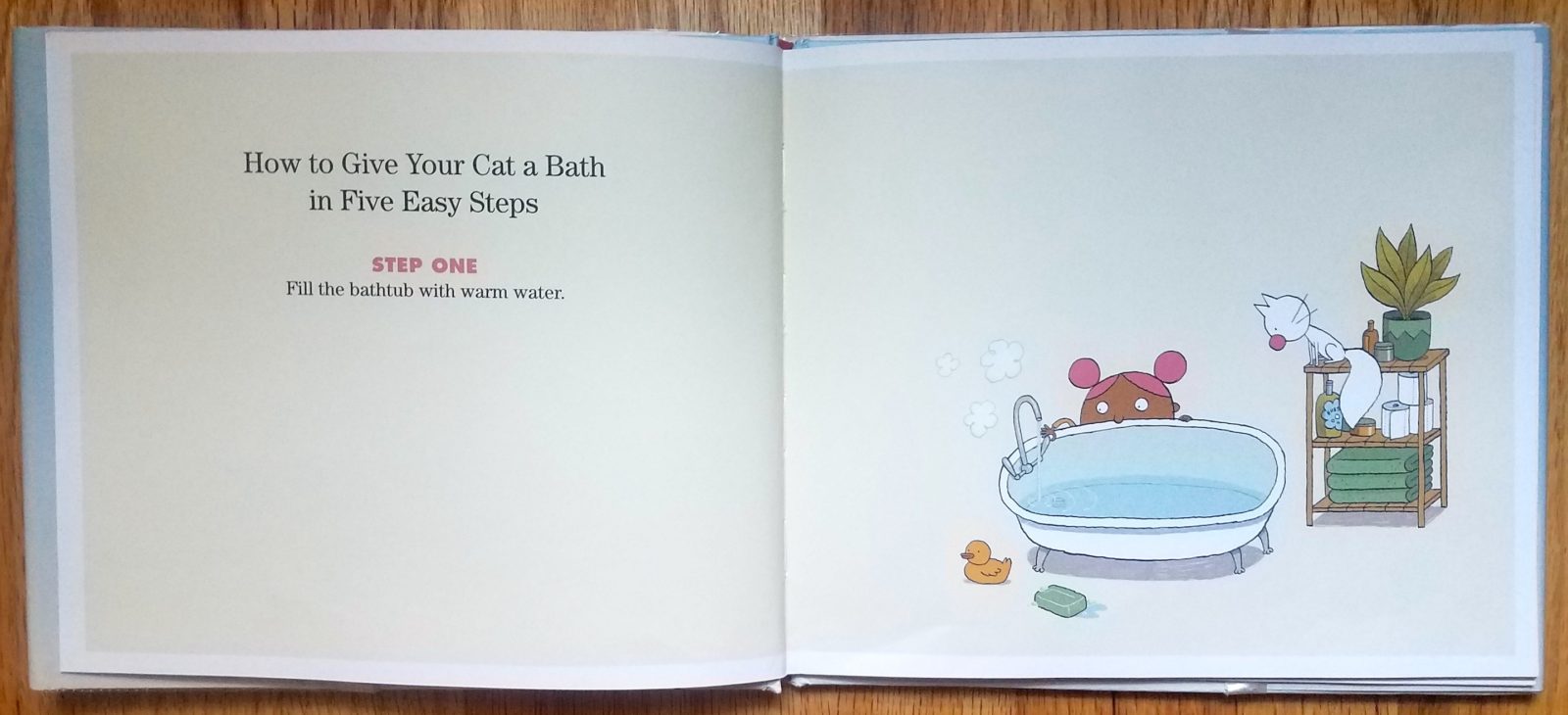 What could be simpler than filling the tub? Turns out, it's not quite so easy. First there's TOO much water. Then there's not enough. Then the girl is instructed to fill it up "to your cat's knees." Your cat's knees?? No wonder she's confused.
2. It Includes a Find-the-Hidden-Animal Game
Cats are famously uncooperative. And this one—Mr. Flea—is no exception. By the time our protagonist finally has exactly the right amount of water in the tub, Mr. Flea has disappeared. While the girl frantically searches for her cat, the reader can find him in all sorts of funny places—among the stuffed animals on her bed, in a laundry pile, under a couch cushion . . .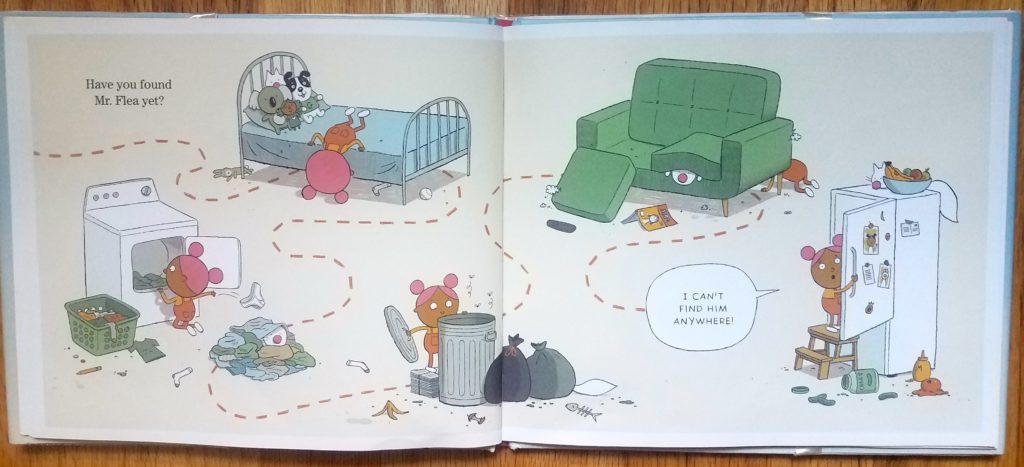 3. It Lets the Reader in on the Joke
Thanks to the clues in John Martz's very funny illustrations, the reader can predict the calamitous outcome of the steps before the narrator realizes what's happening. For example, by the time the girl gets Mr. Flea back to the tub, the water needs to be warmed up. Just as she turns on the tap, Mr. Flea escapes. The girl immediately gives chase—which leads to rather disastrous consequences (note what's happening at the top of the stairs) . . .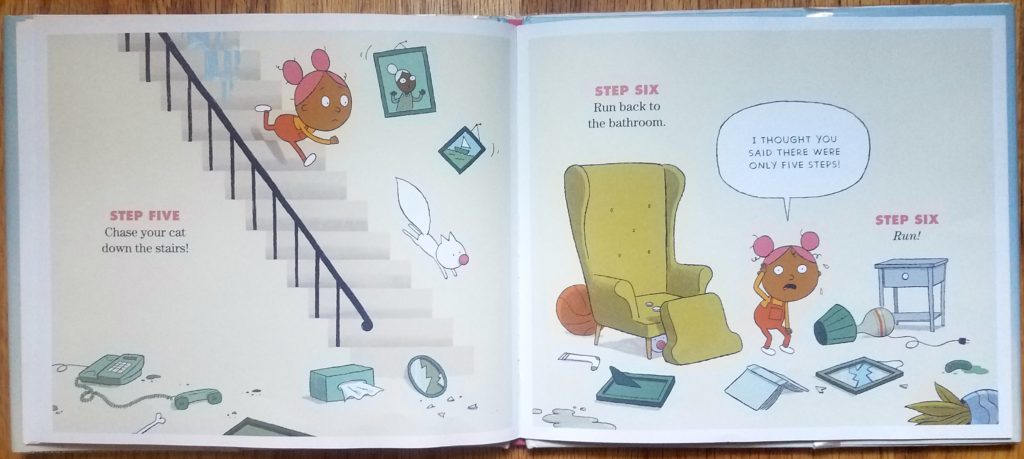 Through it all, the instructions keep changing and expanding to adapt to the increasing pandemonium. The "five easy steps" become "ten really convoluted, circular and exhausting" steps. Then, in a classic "Ha!" ending, it turns out only one step was needed. (Hint: it didn't involve the girl's help at all.)
I know a few of us here at PBB have written variations on the "how to" book, but I've yet to give it a try. How about you?
As always, thanks for reading!
Linda