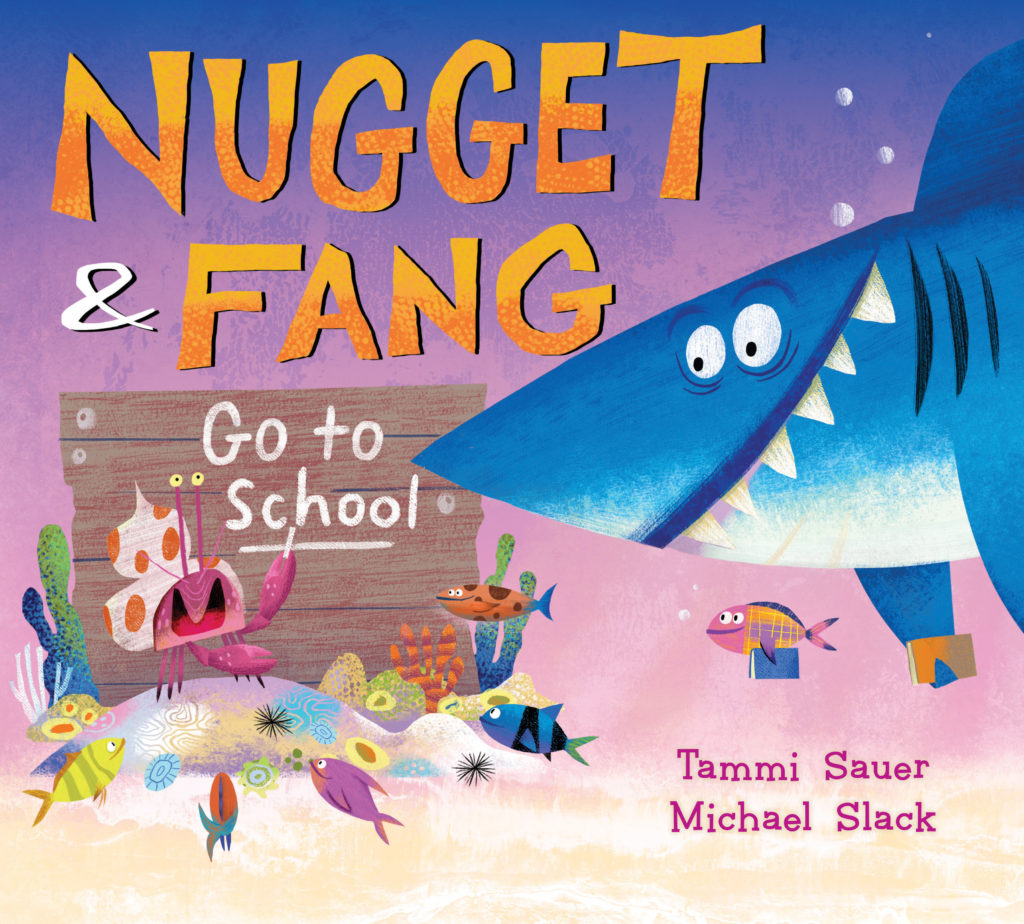 Nugget & Fang the SEA-quel is finally here! It's called Nugget & Fang Go to School.
When Fang the shark is invited by his friends to attend Mini Minnows Elementary, he thinks it's a great idea! But then his first day of school arrives . . . and suddenly, he's not so sure. He's not very good at reading or math. He doesn't exactly fit in with his classmates. And the teacher looks crabby! Can Fang's best friend, Nugget, and the other minnows help him discover that school really is FANG-TASTIC?
Not only was it so much fun spending time with these old friends, but it was a total joy to get to work on another book with Michael Slack.
This is what Kirkus had to say about Michael's art in the sea-quel:
"Slack deftly portrays Fang's every emotion. Readers will no doubt feel empathetic."
Nice, huh?
Want to know a secret about Michael Slack? The first Nugget & Fang went to auction. I was having a hard time deciding which house to choose until I posed this question to the editors: whom do you envision as the illustrator for this book? Both editors came back with a wonderful option, but I happily accepted the offer from Houghton Mifflin Harcourt because, well, MICHAEL SLACK. I knew Michael's vibrant palette and ability to create endearing, expressive characters would make the perfect fit for these fishy friends.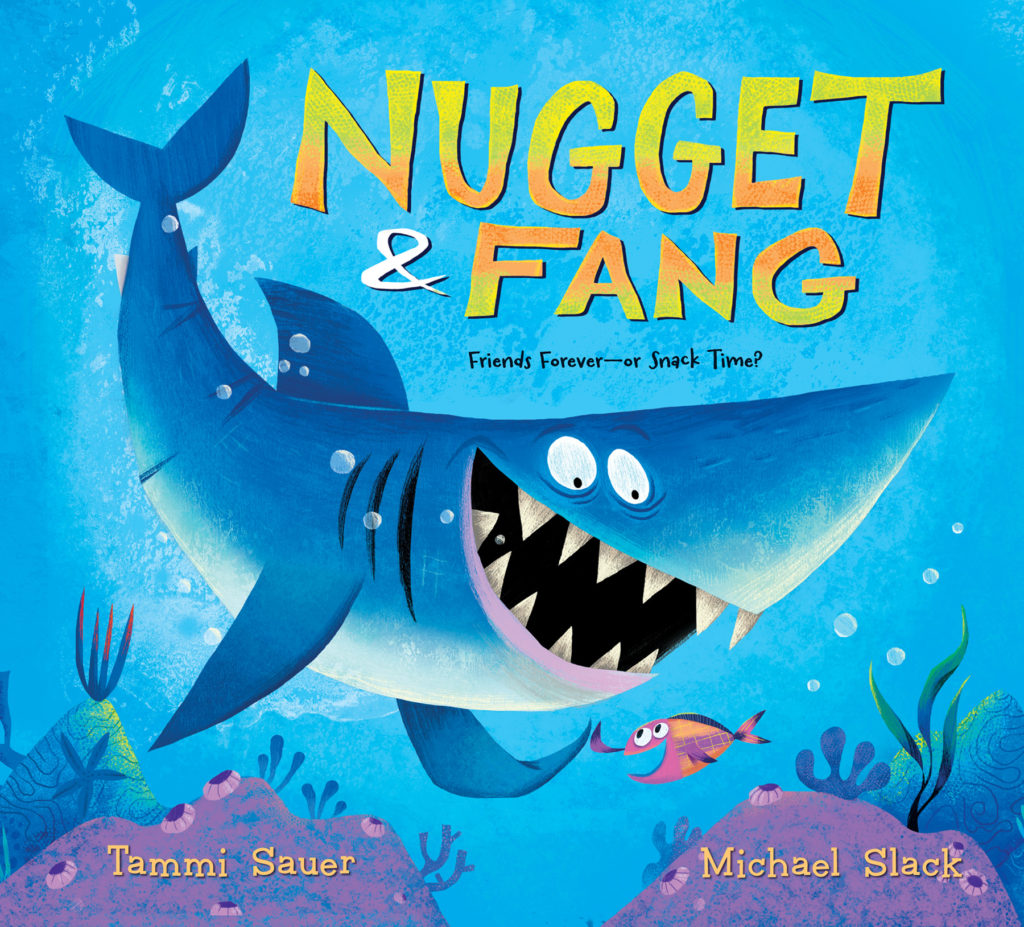 Today, I want to welcome Michael to Picture Book Builders!
Michael, what made you say YES to the first Nugget & Fang?
I was already a fan of your books. They are funny and clever and you have a very unique voice. Me Want Pet took me forever to read to my daughter because I was laughing so hard . When I read the Nugget & Fang manuscript, I got the to line "Nugget was shocked. (And apparently delicious.)" and I knew I was doing it. It was also a great opportunity to create a character that looked slightly menacing but is a total softy at heart. Also, I admired so many of the illustrators you had worked with ( Bob Shea, Scott Magoon, Dan Krall, Dan Santat) I wanted to be a part of the Tammi Sauer Illustrator Club.
Well, it IS a pretty great club. 🙂
Btw, that line was my favorite one in the whole book!
Can you share a little about your process?
I always start with character sketches–iteration after iteration–until I find the character. That is always a wonderful moment seeing the character for the first time. It's like meeting someone that you really like and want to hang out with.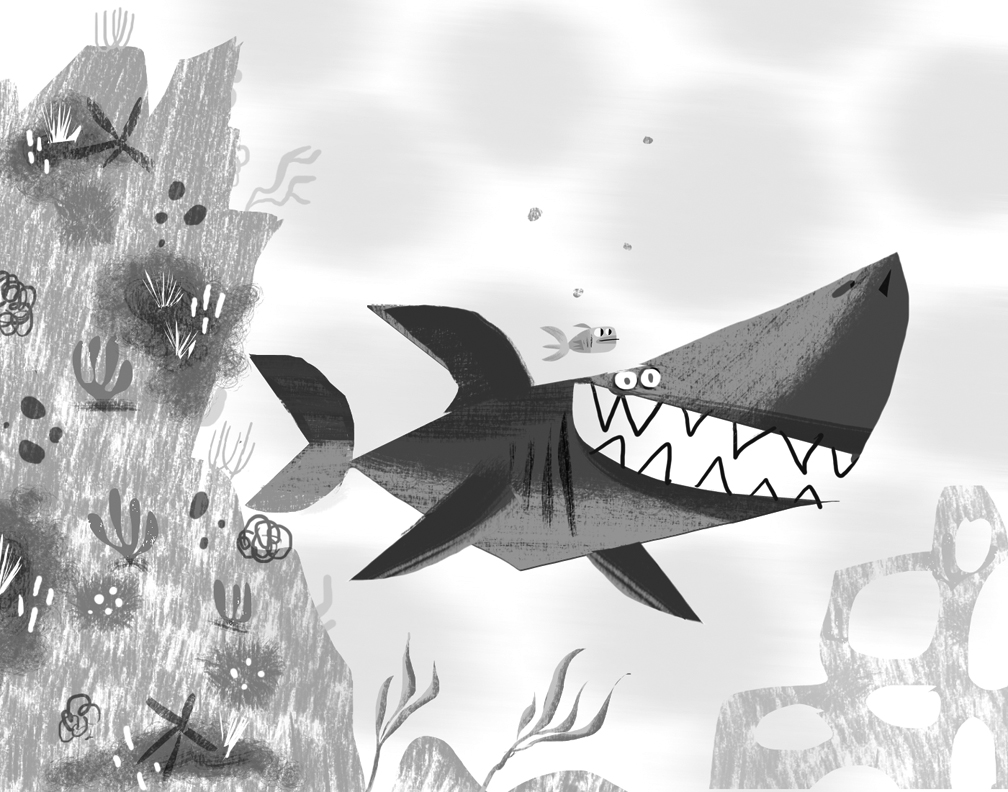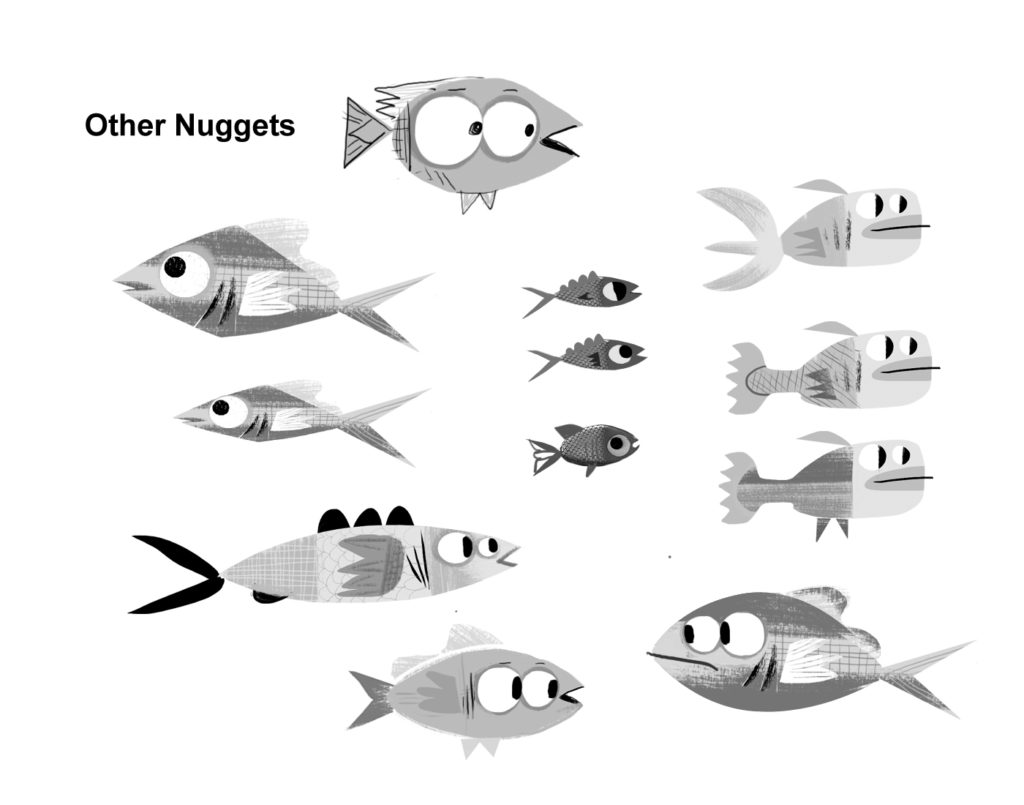 Since the characters in Nugget & Fang Go to School were already established, it was more about capturing Fang's expressions and finding the funniest situations to compliment your wonderful sense of humor. Here are a few of the earliest concept sketches for Nugget & Fang Go to School: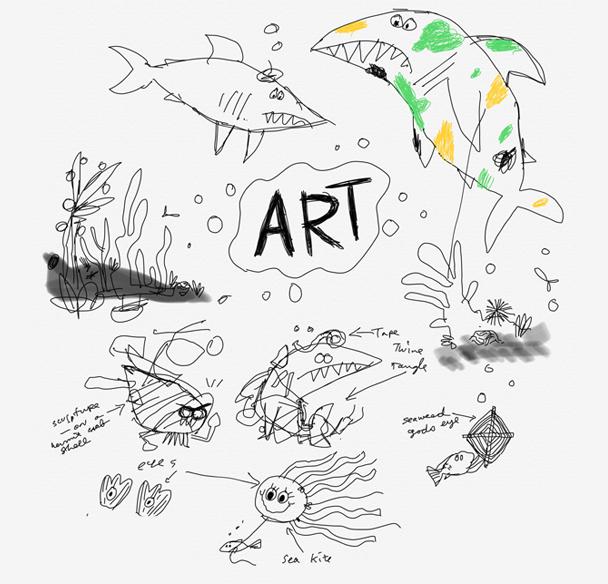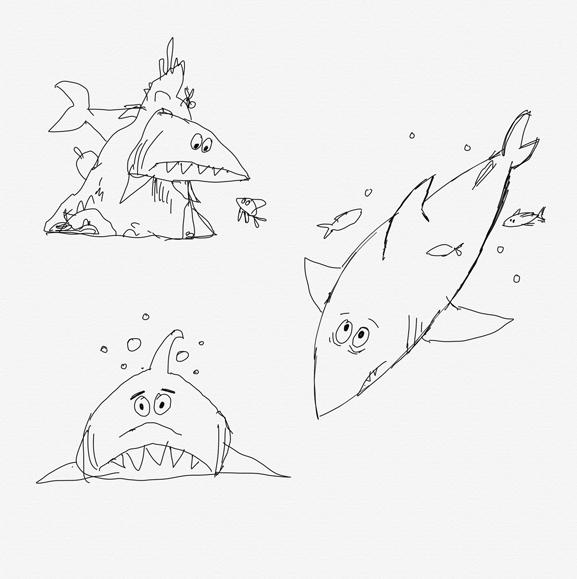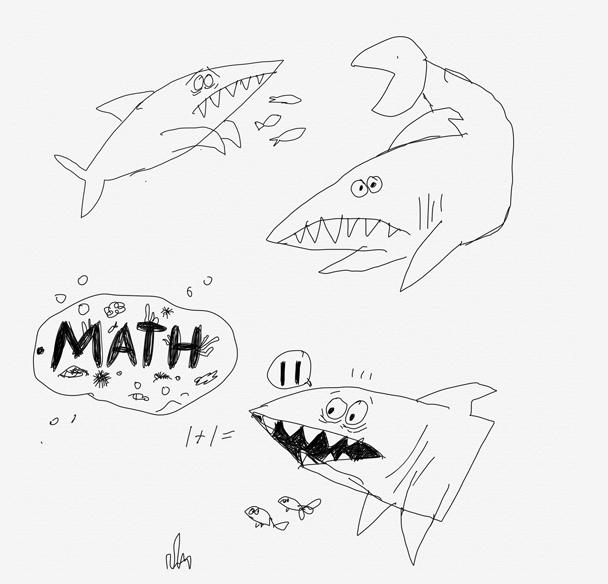 Please give us a tour of your studio. (You get a bonus point for every sea creature in the scene.)
I work in a 10,000 sq. foot converted sardine factory. Here is the mermaid pool / think tank. They come up with the best ideas during our brainstorming sessions. This is my studio assistant Jules. I was surprised when a colossal squid answered my LinkedIn ad . If it weren't for him, I'd get nothing done around here. Cephalopods can really multi-task . This whole place is powered by electric eels. Can you believe it?

Wait. You want photos? Let me start over.

I work from a very small room in my house. There is just enough space for my work table, a small drawing table, a shelving unit, and my loyal "studio" companion Iggy Pup.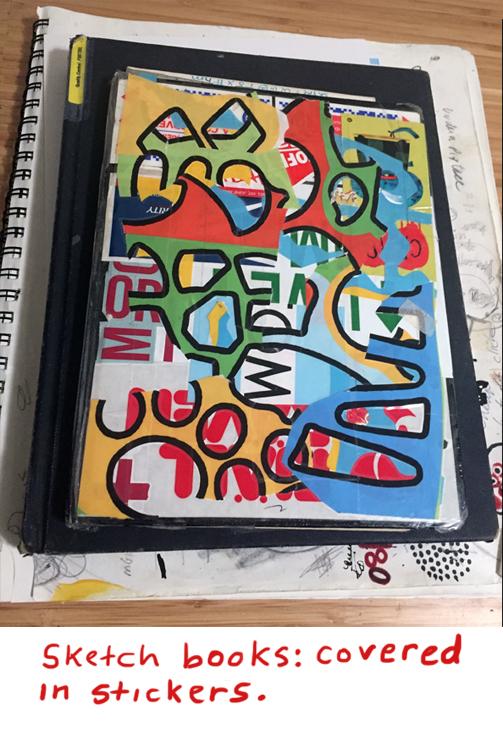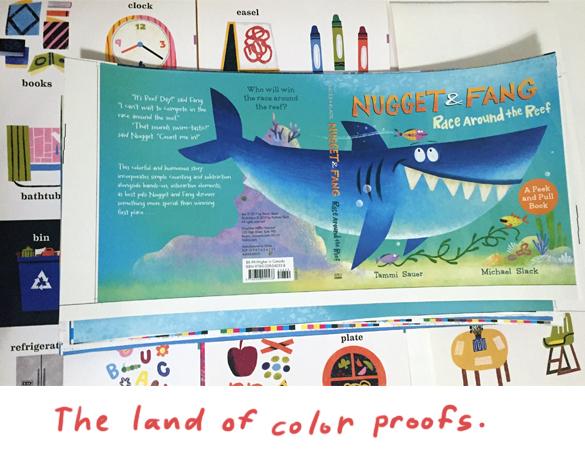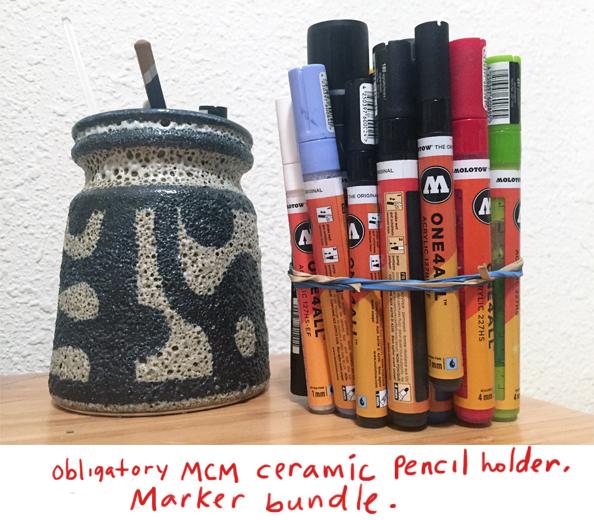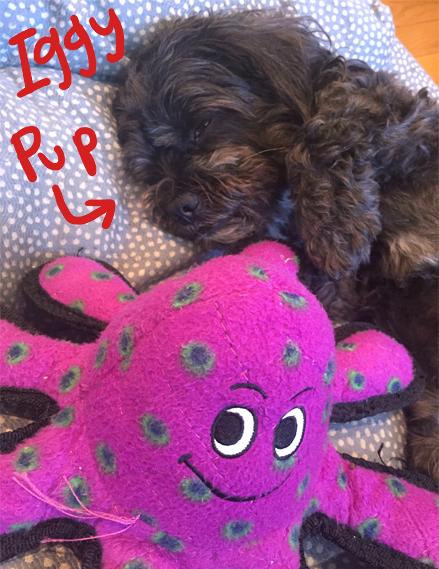 Not only have you illustrated lots of books by other people, but you often write and illustrate your own books. Would you please share an illustrating tip and a writing tip with us?
Illustrate things that aren't being said in the text, something different that adds another level of depth to the story. It is also fun to add little details that can be discovered over multiple readings. As for writing, that is more tricky. I rarely write the story first. My author/illustrator books are a back and forth between imagery and text. I think visually so most of the first drafts of my books are wordless storyboards. I sketch, then find the words to go with it. Then see where it takes me. I make lots of lists in the beginning for example:

Spread 1: Lumpy Ghost is looking for something.
Spread 2: Still looking but in funnier places.

It helps me organize my thoughts and gives me a simple outline to build from. So, I guess my writing tip is make lists.
Scoop time! What's next for you?

I've just finished my next author/illustrator book, Dragon Meets Boy for Christy Ottaviano Books/ Henry Holt out next year. I've recently sold two projects that have not been announced yet. As an illustrator, we have Nugget & Fang Race Around the Reef coming out in October. I've also illustrated a fun non-fiction reader series called Truth or Lie by Erica S. Perl.
Michael, FANGYOUVERYMUCH for visiting Picture Book Builders.
BIO: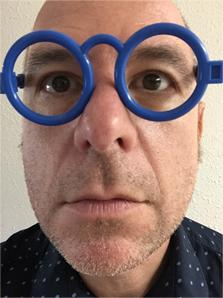 After receiving a Fine Art degree in painting, Michael worked as a character designer and art director in the children's gaming industry before launching his career in illustration. He has authored and illustrated books for Henry Holt, Simon & Schuster, Houghton Mifflin, Chronicle, HarperCollins, and Disney*Hyperion and has created many popular kids products. While contemporary art, animation, and modernist design inform his style, it is his humor, playfulness, and love of quirky characters that are the heart of his illustrations. Michael lives in the San Francisco Bay Area with his family.
insta: @michael_slackart
twitter: @michaelslackart
GIVEAWAY: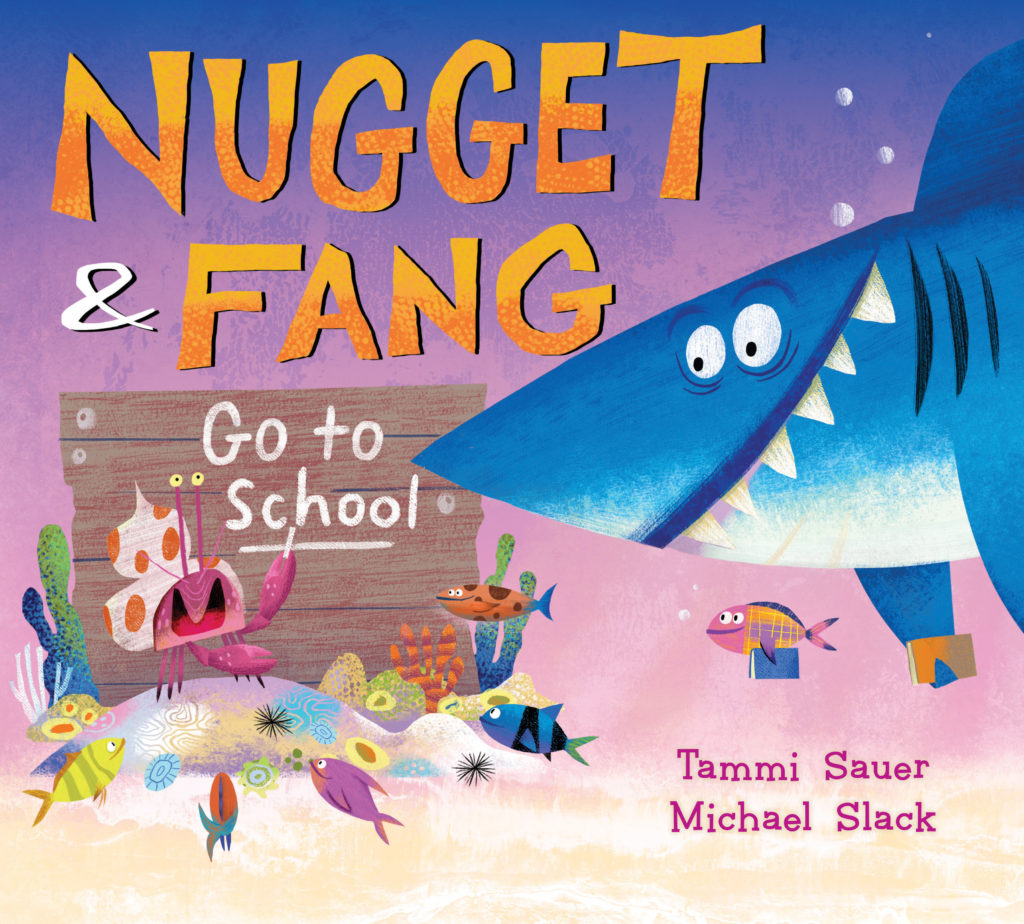 To enter to win your very own copy of Nugget & Fang Go to School, please leave a comment on this post. For a second entry, share this post on Twitter. Don't forget to tag Tammi @SauerTammi and Michael @michaelslackart.
WINNER: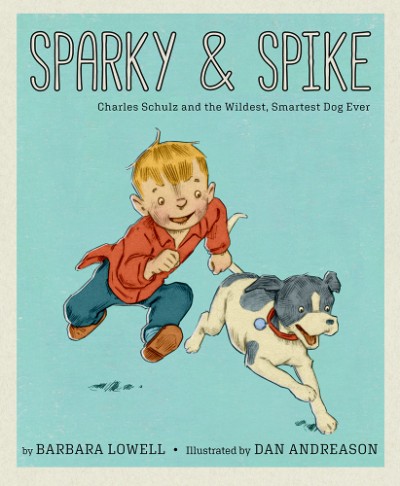 Congratulations, Annette Bay Pimentel! You are the winner of a signed-by-Barbara-Lowell copy of Sparky & Spike.