Being a picture book author or illustrator can feel like a rather lonely occupation at times. I suppose that's why many of you visit Picture Book Builders — to learn, share, encourage, and connect with other book creators.
In recent years it seems authors and illustrators are gathering together for more than just critique groups, blogs, and conferences. There's a wonderful collaborative spirit growing, and today I wanted to highlight a special group of picture book creators — Tameka Fryer Brown, Alice Faye Duncan, Kelly Starling Lyons, and Vanessa Brantley Newton — who've joined creative forces to form the Sowing Circle. (www.sowing-circle.com)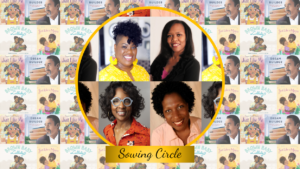 This lovely, talented group of women is joining PBB to answer a few questions about their Sowing Circle collaboration which began last month.
1. How did the idea for the Sowing Circle start?
It was early December 2019 when Tameka Fryer Brown noticed that four picture books with Southern roots shared the same publishing date — January 14. With her very own book in that number, Tameka contacted the remaining authors — Alice Faye Duncan, Kelly Starling Lyons and Vanessa Brantley Newton. The group used social media to discuss initiatives to promote our collection of new titles. Each writer wanted to inspire benevolence as we also advanced literacy and a love for books in young readers. With this mission established, the collective was named the "Sowing Circle."
2. What are your dreams and hopes for the Sowing Circle?
"Sowing" calls to mind harvest time. And ultimately, we want to use our individual and collective gifts to sow words and images in the hearts of children to reap a generation that is inquisitive, empathetic and enlightened. This mission is achieved when adults purchase our books and share them with a child in their family or donate our books to a library, school, or children's hospital. We call our books living seed. They take root and help children grow–healthy and strong.
3. Please share a little bit about the four new picture books by the members of your group:
JUST LIKE A MAMA by Alice Faye Duncan celebrates and affirms adopted children. It is a great read aloud for any story-time occasion. The story explores the joy of being chosen and cherished, mixed with childhood grumblings about green peas and cleaning a junky bedroom. It is a love note to celebrate children and their forever families. The book also acknowledges grandmothers, aunts, big sisters and guardians, who care for children JUST LIKE A MAMA.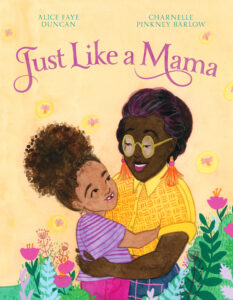 BROWN BABY LULLABY by Tameka Fryer Brown is an energetic, rhyming read-aloud that would be great for any story time activity. Use with lessons about families, routines, self-awareness and identity (i.e., what makes us unique/special), and rhyme. The Spanish words sprinkled throughout, combined with other cultural references in the text make this contemporary title a mirror book for Black and brown children. Such are important to incorporate in various ways throughout the entire school year. And of course, it's a good right-before-naptime read.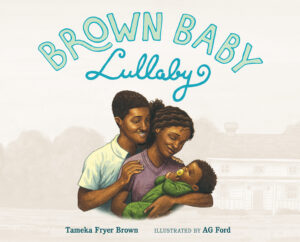 JUST LIKE ME, written and illustrated by Vanessa Brantley Newton, is a conversation starter for a variety of topics like friendship, self-image, self-acceptance, racial unity and kindness. Poetry has no age limit here. When reading to children, teachers and parents can pick one poem or pick several poems to highlight a theme for the curriculum or occasion. As a singer and speaker, Vanessa Brantley Newton encourage adult readers to offer children an opportunity to memorize and perform JUST LIKE ME poems.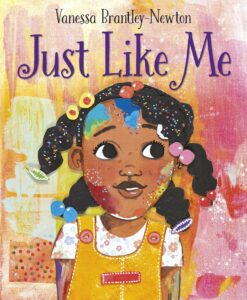 DREAM BUILDER by Kelly Starling Lyons is a picture book biography that explores the journey of Philip Freelon from being a kid who loved to draw and build models, to becoming the architect of record for the National Museum of African American History and Culture. This book shows children the power of STEAM exposure, embracing your gifts, family and community support, and finding your unique learning style. Parents, educators and librarians can engage children in all of these topics through discussion, writing, and related activities.
[Congratulations to Kelly Starling Lyons, whose book DOWN HOME WITH DADDY was awarded a Caldecott Honor for illustrator Daniel Minter!]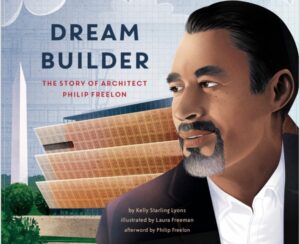 4. Independent book stores are important to the survival of writers and local economies. How did you select the booksellers in your cities who are offering a "Sowing Circle Book Bundle" of your four new titles for those who'd like to donate a bundle?
Each member in the Sowing Circle has published picture books over the span of several years. Therefore, we connected with local bookstores in our respective cities that have a history of supporting our efforts. Ultimately, indie booksellers are endearing like family and friends. And each store has made a commitment during 2020, to help us, inspire donors to use our books as "seeds" of benevolence.
5. At Picture Book Builders we often share craft advice and learn from each other. What advice, or personal essentials, would each of you have for building picture books?
Alice Faye– I search my memory and old telephone books for strong lyrical names. When I find the perfect name, I assign it to a character and from that name I build the character's flesh, breath and bones. The right name gives me the character's face, voice, and personality. For me, the character's DNA is in the perfect name. www.alicefayeduncan.com
Tameka– I'm always focused on diction. I try to craft language that is evocative and mellifluous, even as it is child-centric. Consonance, assonance, and alliteration are devices I intentionally use to create both interest and a playful vibe. I usually throw in a few "challenge" words, too, as it gives children the opportunity to grow their vocabulary. www.tamekafryerbrown.com
Vanessa– When I create picture books, I am looking for the story "within a story," and I do that with the illustrations. While one text or narrative is going on, I'm thinking about underlining text that could be happening as well. Thus, a story within a story! It's a second layer and gives the story an added dimension. www.vanessabrantleynewton.com
Kelly– At the Writers Workshop at Chautauqua, I received advice I still carry in my heart: "Write the story only you can tell." Editor and author Patricia Lee Gauch shared those words and immediately they resonated. Writing stories informed by who you are and what you know brings authenticity and nuance to your work. When you dip into that well when creating picture books, you bring special stories into the world.  www.kellystarlinglyons.com
Tip from all four– Join the Society of Children's Book Writers and Illustrators (SCBWI). The power of community keeps writers encouraged during seasons when the writing doesn't go well. The writing community also organizes writing conferences and is equipped with important information that can lead toward a successful publishing career.