I have a new book out, We Love Babies!, and I get to pretend it's mine, all mine…because my name is the only one on the cover. In reality, the ones deserving the credit here are the brilliant design-photo-editorial team at National Geographic Kids. They took my rhyming concept book submission and ran with it, creating a beautiful book beyond my wildest dreams.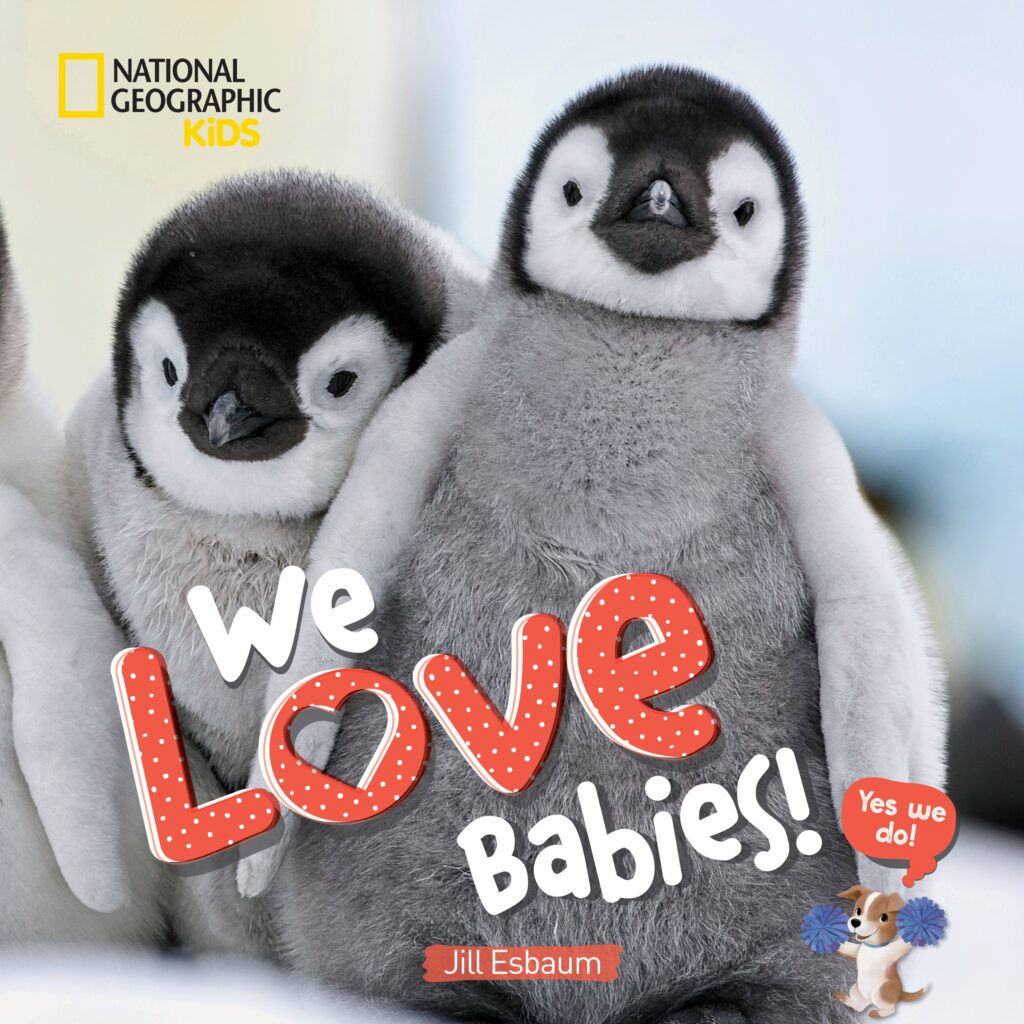 We Love Babies! is a joyous CHEER covering all the things we love about baby animals: Their unique and adorable little features. Their funny behavior. Their sweet little squeaks and cheeps and peeps.
I'm thrilled to share a few spreads.
The poem's opening lines lead into this p. 6-7 spread with:  Big or tiny, fast or s-l-o-w, smooth or bumpy, short or…
Another spread, a few pages beyond…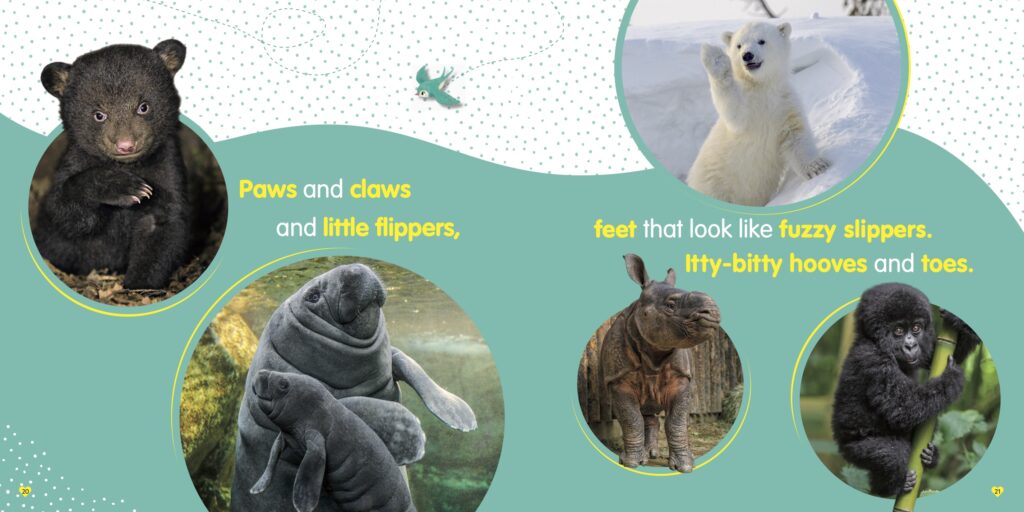 The stanza above wraps up on the following page with: Webby footsies? We LOVE those!
The accompanying full-spread closeup photo is of three fuzzy yellow ducklings, the teensy feathers and fluff of which look so irresistibly touchable that your fingers will be drawn to the page as you wonder Is this a Touch 'n Feel book? Nope.
Finally, a pair of spreads from the behavior section…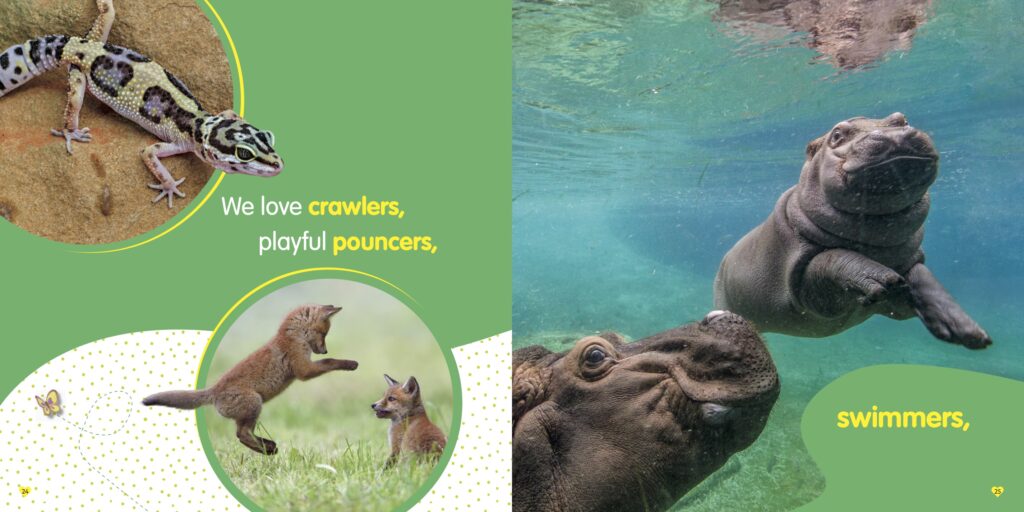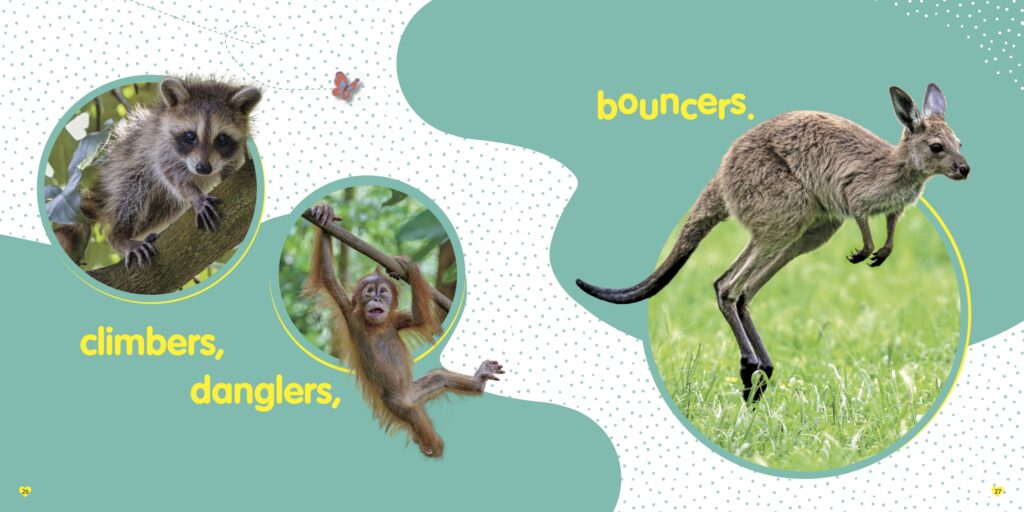 I wish I could show you the entire book here, but that's impossible. I can tell you there's a STEM-centric back matter spread, Meet the Babies!, where small round photos identify each species appearing in the book and give the proper name for its young— cub, chick, kit, etc.
I want to give illustrator Sydney Hanson a special shoutout, too. Her cheerleader animal spots who shout the refrain here and there are beyond delightful and add immeasurably to the book's appeal. THANK YOU, Sydney!!!
Since this post falls smack in the middle of Storystorm (which I encouraged any and all of you picture book writers to sign up for in my last post), I thought I'd tell you what lit the spark for We Love Babies!
Babysitting.
On a hot July day in 2015, I was pacing my daughter's kitchen, holding my fussy two-month-old granddaughter. Snuggling her close, I whispered nonsensical Grammy things: "Aw, sweetie. It's okay. Yes, you're Grammy's girl, aren't you? We love babies…yes, we do…."
The ending of that old high school cheer We Got Spirit came into my head—We got spirit, how about you?—followed immediately by a: Whoa. Wait a minute…!
I hustled to the counter, jostling baby B into my left arm so I could jot a note with my right. Less than a week later, I had the manuscript finished, pretty much as it is now.
IF ONLY all ideas would come that easily. They don't, of course. But I'll take one when I can get one.
And that granddaughter? She's four and a half now, and let me tell you how excited she and her two-year-old brother are about this book. When they walked in a few days before Christmas, I showed it to them: "Look! A new book! Baby animals!" My daughter (no doubt envisioning the same sweet photo opp as me) picked right up on it and chimed, "Wow! Hey, guys! Want Grammy to read it to you right now?!" As one, they shrugged out of their coats and chorused, "No." as they breezed right past us to check under the tree. Soon after, two more beloved grands, three and one, had nearly identical reactions. The fifth grand is only 11 months old and can't yet walk. I plan to hold him down and read it to him before he gains the power of speech.
I'm hoping YOU will be more eager to check out We Love Babies!, available now wherever books are sold. And if you could do me a favor and ask your friendly librarian to order it, that would be great, too.
** GIVEAWAY ** GIVEAWAY ** GIVEAWAY **
To celebrate the arrival of my book baby, I'm giving away THREE autographed copies to random folks who comment below. Winners will be notified next Friday, January 24th, and announced here in my next post.