The crazier the world gets—and it's been especially crazy lo these past few years—the more I crave simplicity. Based on my first two posts of 2020, this longing applies to picture books as well. This month's pick? The Perfect Seat by Minh Lê, illustrated by Gus Gordon (Disney-Hyperion, 2019).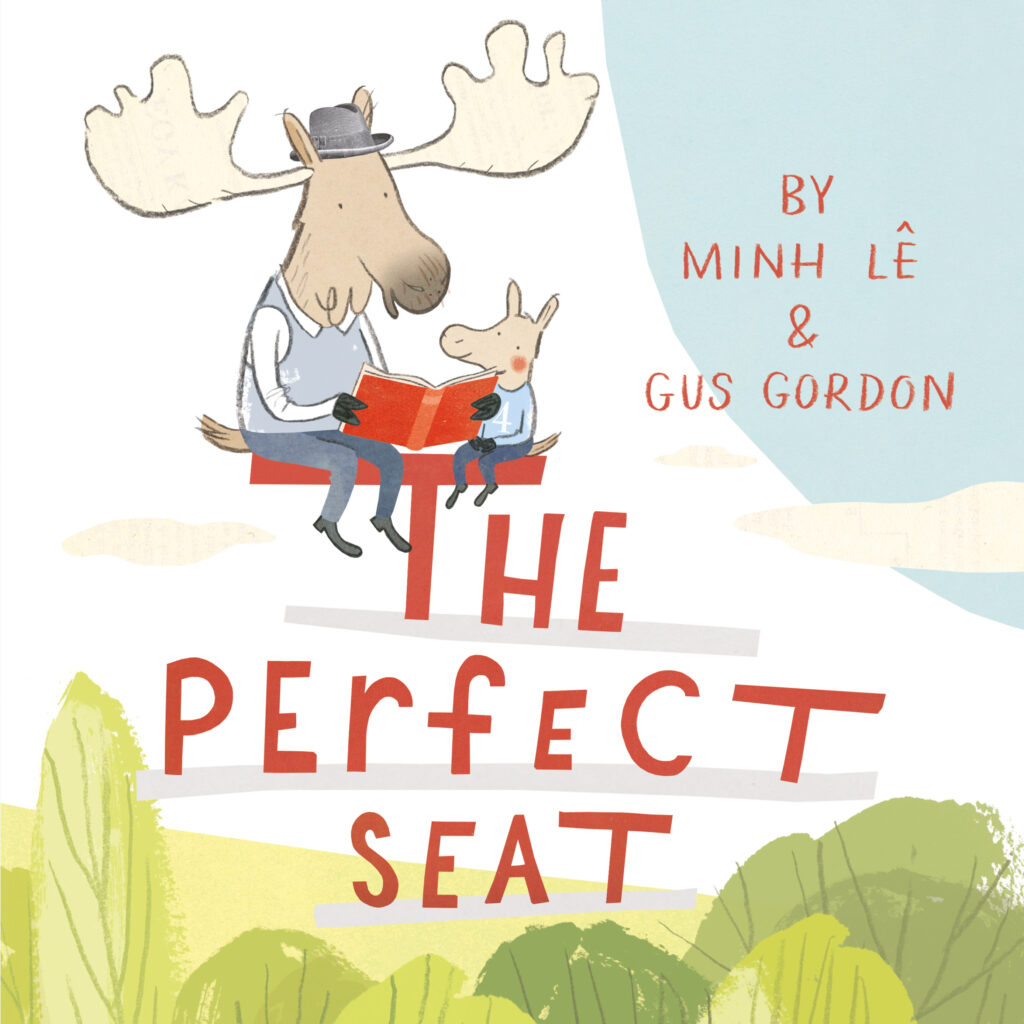 Like Good Boy (featured last month), The Perfect Seat has few words—just over 60 in all. Also like that book, it's fully formed despite its brevity and works on several levels. As a writer (and reader), here's what I liked:
1. The story starts before the title page. I like when picture books draw us in as soon as we crack them open and incorporate the title into the preceding text. It's like a little appetizer before the main course.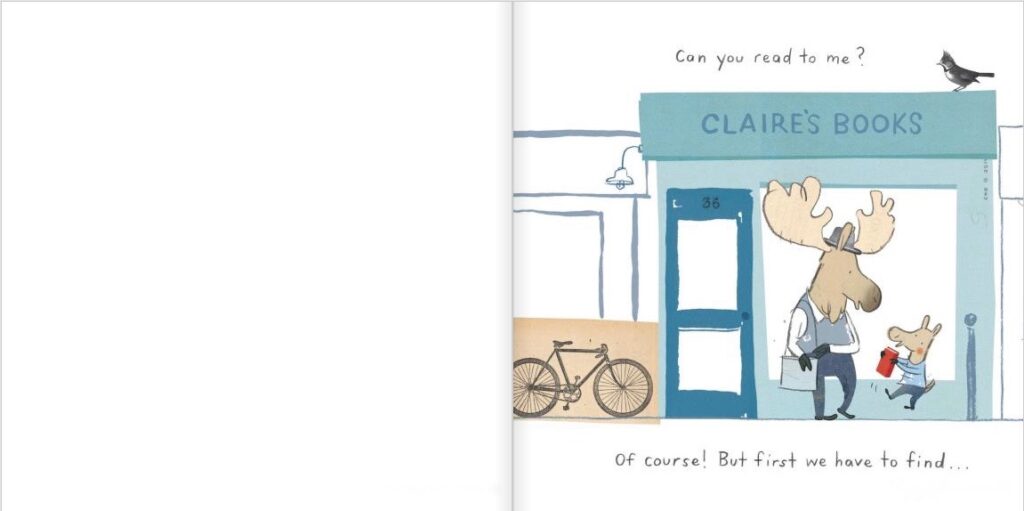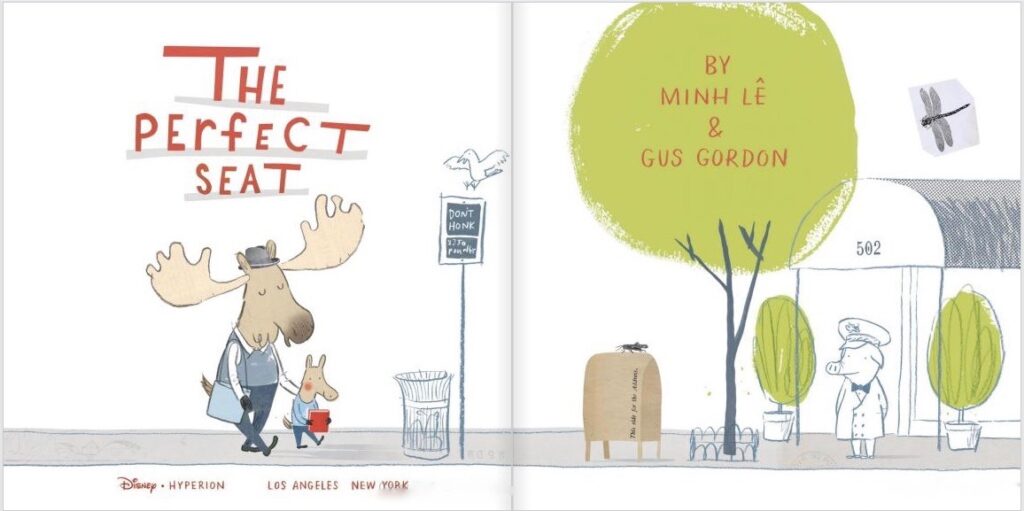 2. It's simple yet satisfying. Papa Moose and his little boy have a brand new book. But they need just the right place to read it. Will they find it? It's a classic story structure: The protagonists want something, search and search without success, then—Eureka!—they find it. Mission accomplished.
3. It's relatable. Whether you're a kid or a grown-up, it IS important to find just the right seat when reading. Yes, dedicated readers will read anywhere, but the experience is so much better when you're curled up in your favorite spot.
4. It's a lesson in opposites. Papa and son try a range of seats that just won't do—they're too big/too small, too old/too new, etc.—adding another layer to the story.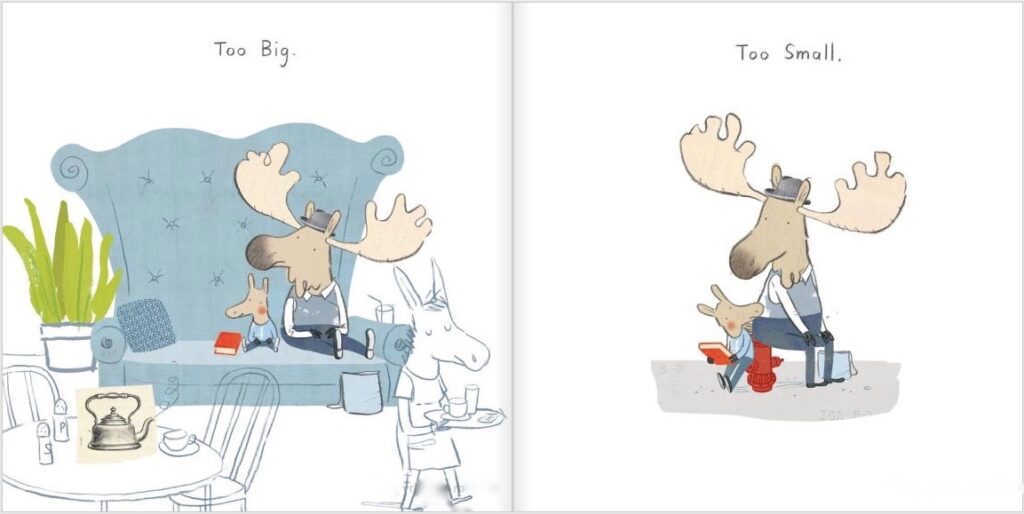 5. The pattern is broken, adding interest and humor. Just when you think the book consists of a string of opposites, Minh Lê shakes things up. Papa Moose, wild-eyed on a tire swing, asks: Should the perfect seat make you this dizzy? (Apologies that my camera doesn't do justice to Gus Gordon's warm and appealing art.)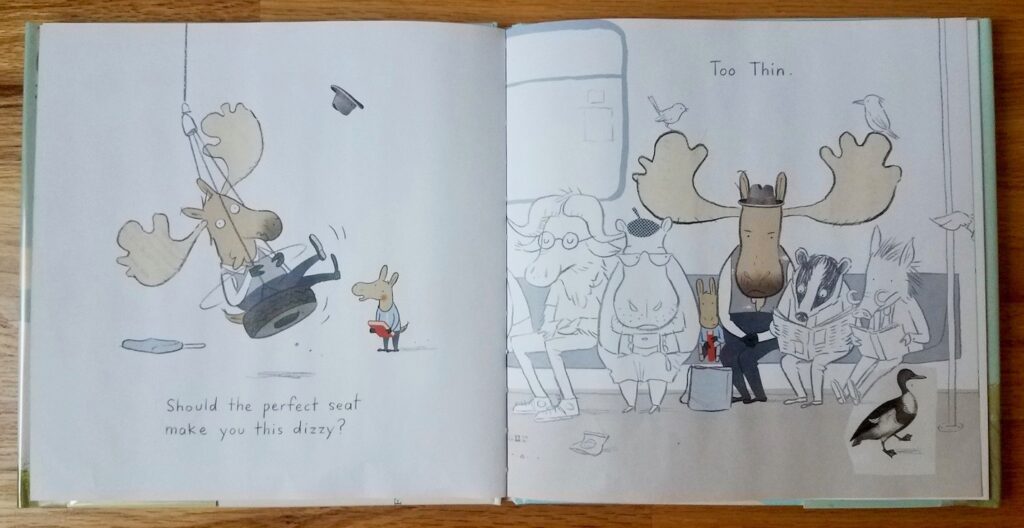 I also like that this spread, with "Too Thin" on the right, made way for the following spread, one of my favorites in the book: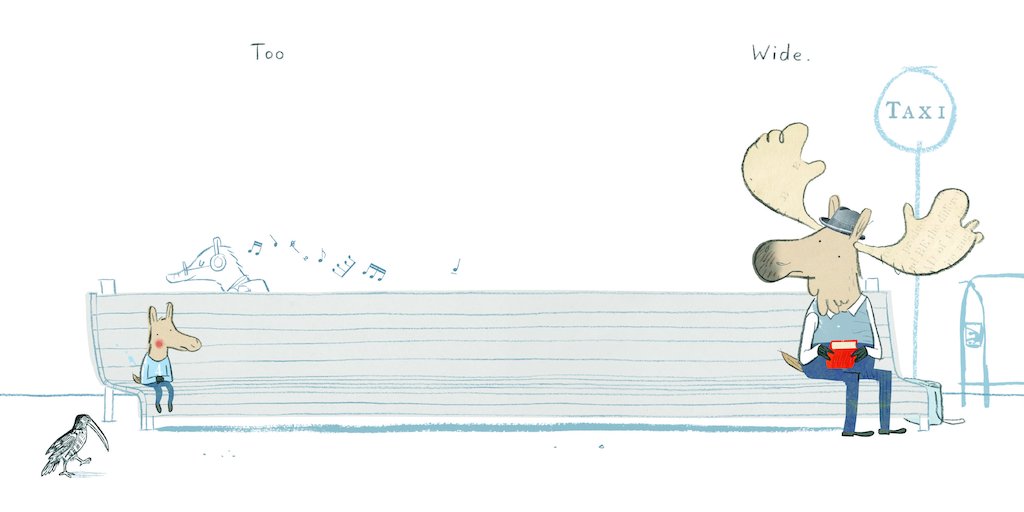 6. It ends on a sweet note. Like Good Boy, the book has a cozy "Aww" ending. Papa despairs of ever finding the right spot and plops down dejectedly beneath a tree. His son cries "Found it!" and leaps into his lap, ending with a word that sums up the whole book: PERFECT.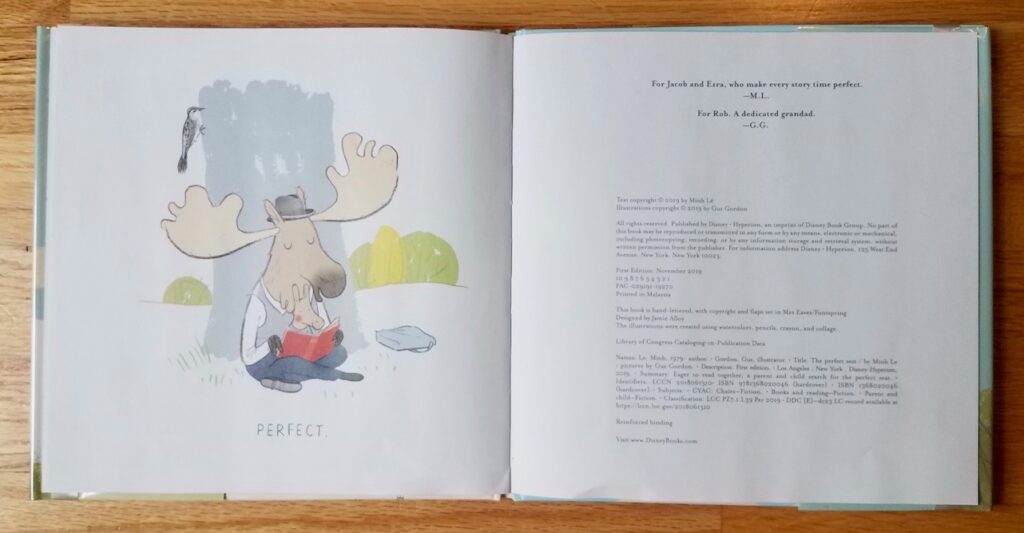 7. The endpapers continue the story. I've never used my master's degree in Urban Planning professionally, but I love studying places and I LOVE maps! The endpapers show the little town and the various spots the two have visited—the bookstore, the tire swing, the too-wide bench. I can imagine kids poring over the endpapers and retelling the whole story.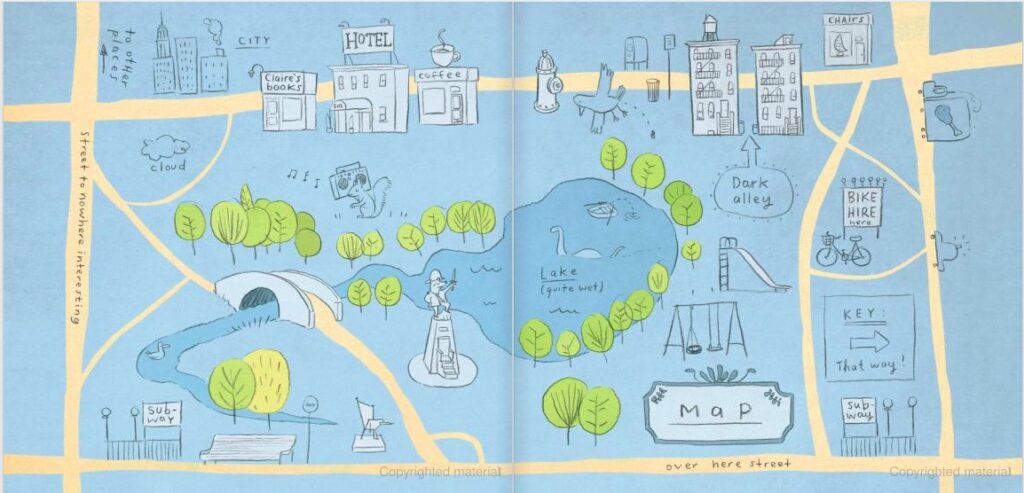 And there it is: a beautiful little respite from the madness.
Where's your favorite reading spot? Mine is at one end of the couch in my office, my husband at the other, with Sammy sprawled in between. Here she is, waiting for company…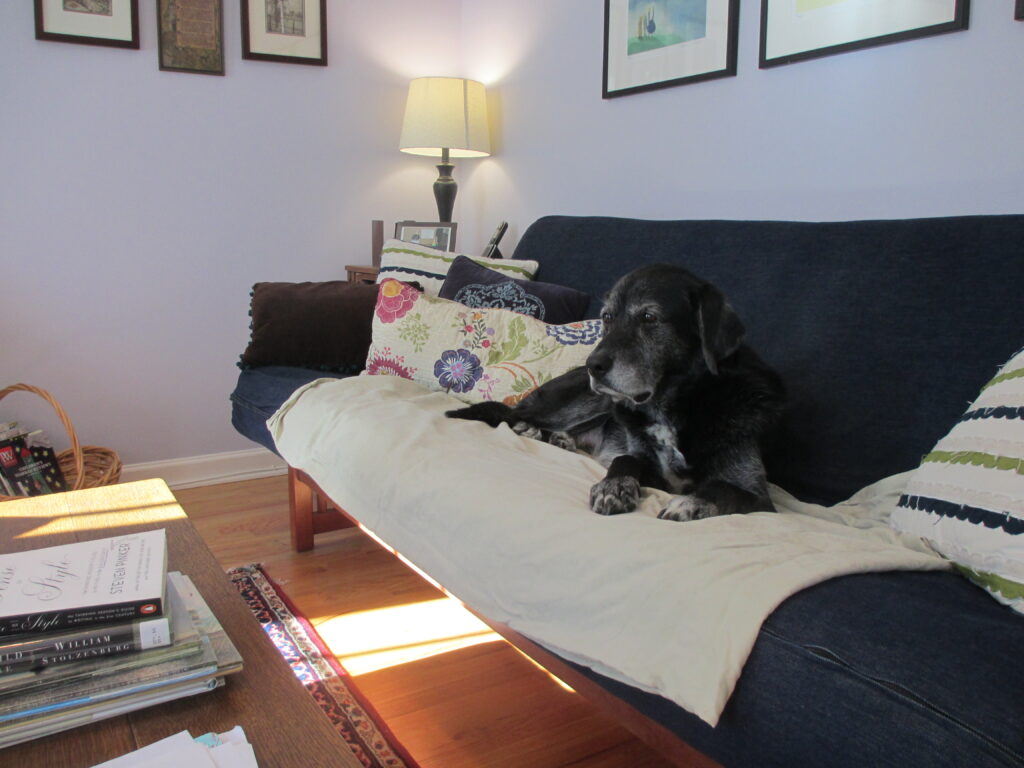 Thanks for reading. Hope you're doing it in exactly the right spot!
Linda