Hello, PBB friends—
First of all, how are you doing in this strange and otherworldly time? Are you writing? Baking? Discovering new talents? Or, like me, are you feeling scattered and unfocused?
A month ago, when my last post was due, I couldn't put a sentence together (thanks, Jill, for filling in). My sister had been hospitalized with COVID-19 and spent eleven days in the ICU. I'm incredibly relieved and grateful to report that she's at home now and doing really well. But I know that too many have not been so fortunate, and that we've all been touched by this isolating illness in a variety of ways, from the inconvenient to the heart-wrenching. I hope you're all hanging in there.
But let's go back to a different time—say, early March—when people traveled great distances to gather at things like children's book festivals. In fact, there was one right here in North Carolina, where people read together, ate together, and joked about bumping elbows (ha!). That's where I met today's guest—the vibrant and talented author Beth Ferry, whose many acclaimed children's books feature clever language, warmth and humor.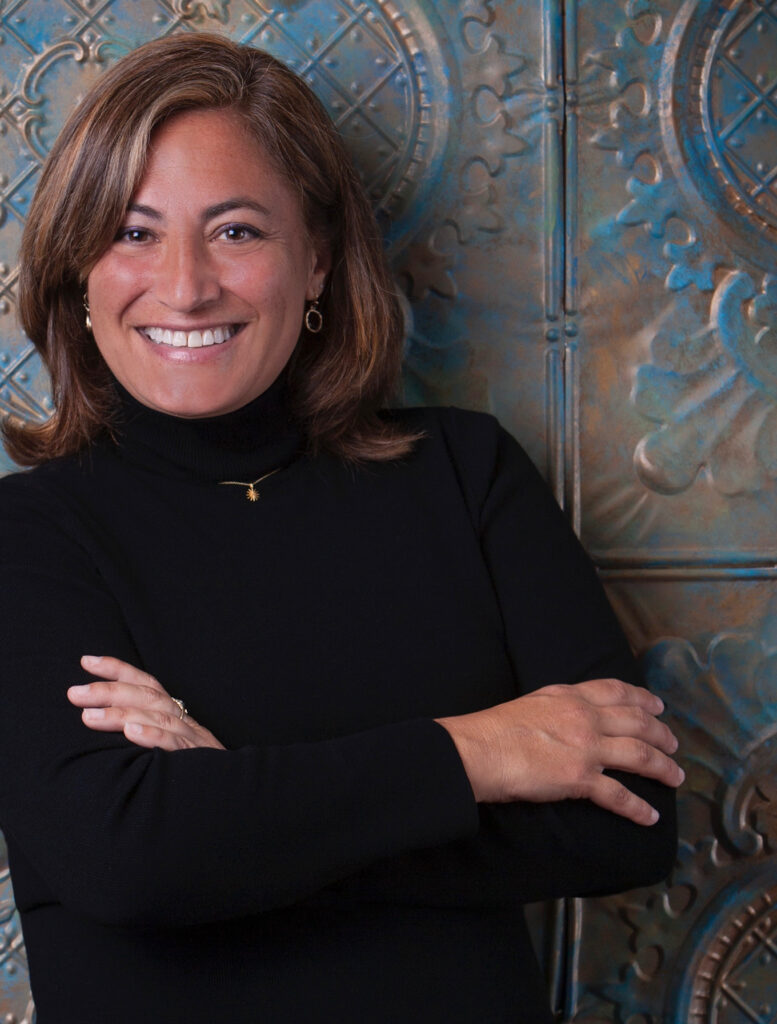 LA: Welcome, Beth! Let's start with a pandemic check-in. How are you doing?
BF: I'm sure I feel like everyone else – like we are living in a dystopian novel where it fluctuates between being super scary and then a bit like summer vacation. Very strange times indeed. I work from home, so besides two of my kids being home, it is very much business as usual, although with more cooking, cleaning and puzzles involved. I am trying to focus on the positive and am grateful my family is healthy! I am also still trying to write every day, but am truly reading more than I am writing. Thank you, Booktowne!
LA: You've had so many picture books published in the last few years, with many more in the pipeline. How did you get started? Any advice for aspiring writers?
BF: I started seriously writing after my kids had all entered middle school back in 2009. I finally had that smidge of time that I never seemed to have before while simultaneously noticing that the years were flying by. Wasn't it just last week that I was tucking my kids in and reading picture books to them? So armed with some free time and a lifelong love of words, I decided it was now or never to try to see if I could fulfil a dream and write a picture book. I wrote and read and wrote some more. Joined SCBWI. Wrote and read and wrote some more until finally I wrote Stick and Stone in 2011 which was published in April, five years ago.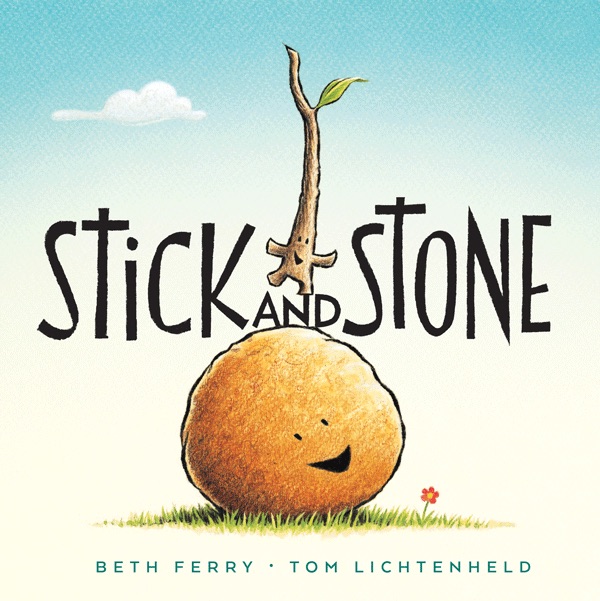 As for advice – there is so much great advice out there, but I would have to say: study mentor texts and identify what you love in your favorite books. What speaks to you as a writer and a reader? Then read your own story. Does it have any of those elements you love? If not, add them!
LA: Speaking of books we love, let's talk about your latest, Swashby and the Sea, illustrated by Juana Martinez-Neal (Houghton Mifflin Harcourt, May 2020).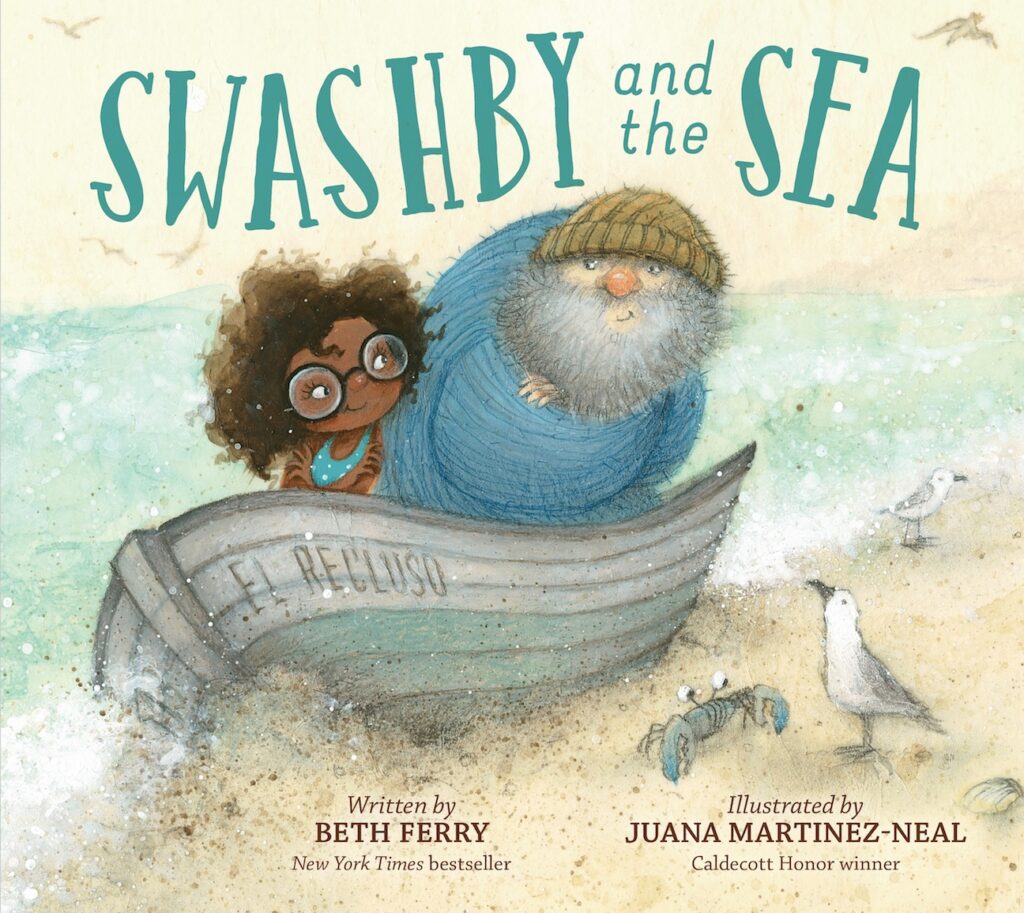 Swashby's a grumpy go-it-aloner who doesn't exactly welcome his new neighbors, a young girl and her grandmother. He writes them "stay away" messages in the sand.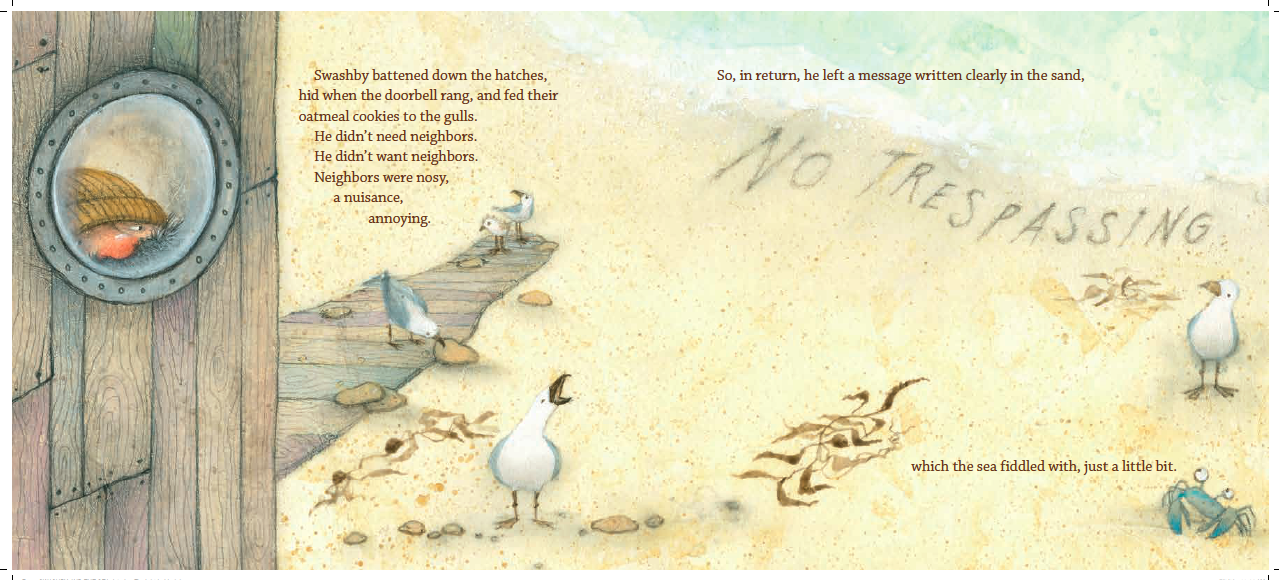 But his friend the sea, who knows him "in and out, up and down, and better than anyone" rewrites the messages in a more inviting way.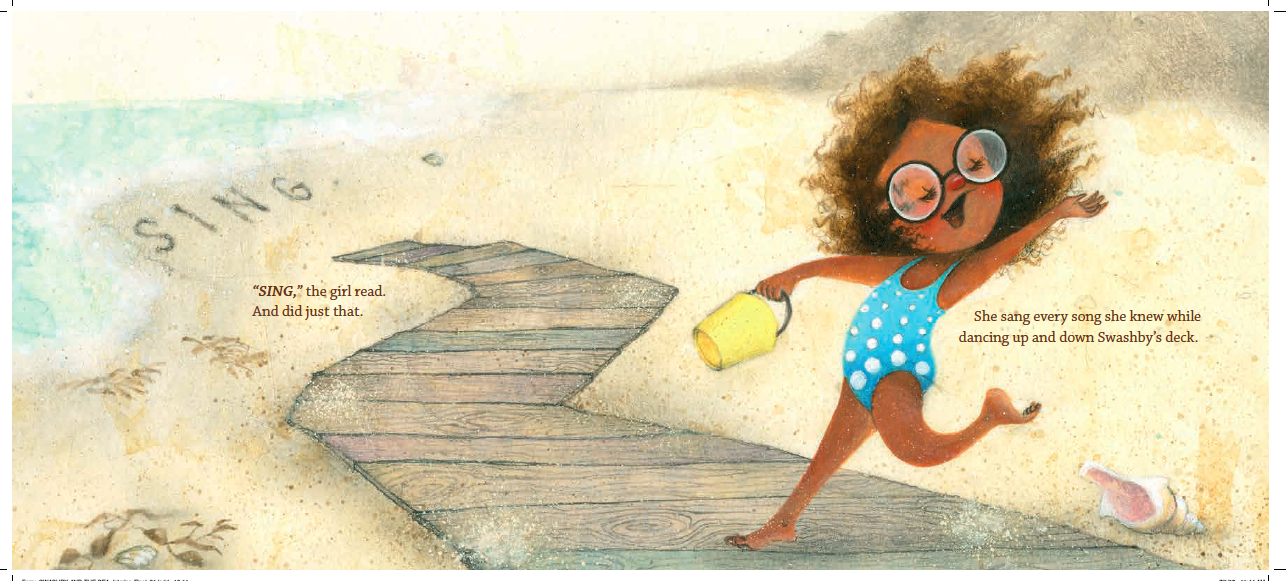 Can you tell us about the inspiration for this story—and about the rewriting of the messages (which I love)?
BF: Swashby and the Sea is one of those books that is close to my heart. And with Juana illustrating, it is truly a work of art. I wrote the story back in 2014 and sold it in 2015 so it's been over five years in the making (a lot seemed to have happened five years ago). I actually sold Swashby before Stick and Stone was even published which was a surprise to me when I went back and looked. I got the idea when I was . . . surprise, surprise . . . at the beach. The berm of a beach is just so inviting, almost like a blank canvas and the wet sand is irresistible. My kids were always writing their names, building towers or playing tic-tac-toe in the sand, and without fail, the waves eventually washed their marks away. This is where the idea for this book came from. I loved the idea of the sea as a character and a friend to Swashby who used her skill at erasing things to change messages written in the sand.
And here's a fun fact: when I named the main character Swashby, I thought I was inventing a hypocorism (a pet name) for Swashbuckler, but in fact the swash zone is the part of the beach that is constantly being covered and uncovered by the waves. It goes like this: Ocean, swash zone, beach face, wrack line (high tide mark) and berm (where we beachgoers reside). It felt auspicious that the main character's name actually was part of the shore.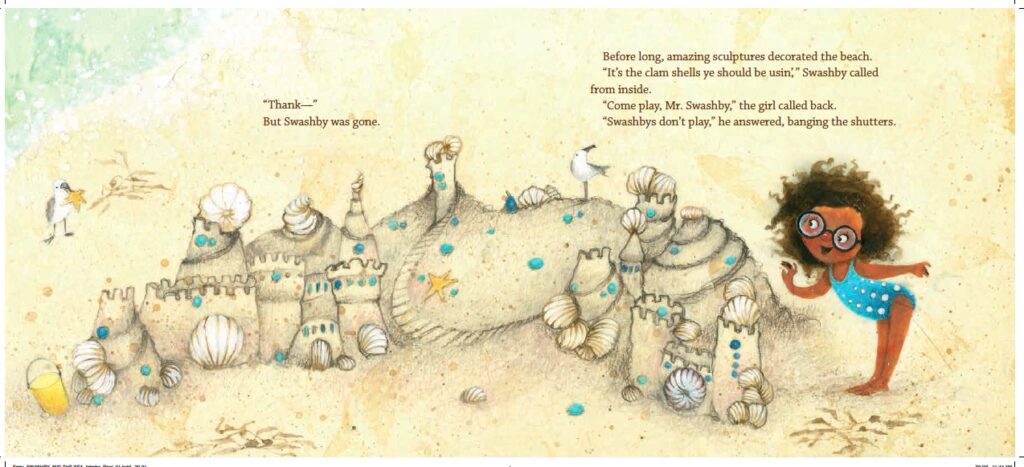 LA: Kate O'Sullivan is such a wonderful editor and has an amazing knack for finding the perfect illustrator for each text (she asked Christian Robinson to illustrate my book RAIN!, for which I'll be forever grateful). She's clearly done it again for this book. Tell us about working with her.
BF: Kate O'Sullivan was my very first editor, thanks to my agent, who thought that Stick and Stone could find a happy home with her. Kate acquired S&S in 2012 and suggested Tom Lichtenheld as the illustrator. This actually changed my life. Tom and I had the opportunity to meet in 2017 and since then have become very good friends. We published Ten Rules of the Birthday Wish in 2019 and are working on several more books together – two of which will be again with Kate, much to our delight. In addition to those two, I have worked with Kate on Swashby and a 2021 book entitled Marsha is Magnetic. Kate is a sharp and thoughtful editor and her suggestions irrefutably make my writing better. Furthermore, her instincts for matching text with the perfect illustrator are, in my experience, incomparable. She herself is a gifted writer and her book, Lovely Beasts, is stunning.
LA: There's a clear oceanic theme running through many of your books. How does living by the sea (the Jersey Shore in particular) affect your writing? Where else do you find inspiration?
BF: If all my books could be about the beach and the ocean, I'd be a happy author indeed! Everything about the beach brings me happiness and that's obviously why I write about it so much. But I truly get most of my ideas from words. Obviously words are a writer's tools, but they are also a writer's toys and I enjoy nothing better than playing with them.
LA: Your first early reader, Fox and Rabbit, was published this year. How is writing this series different from writing traditional picture books?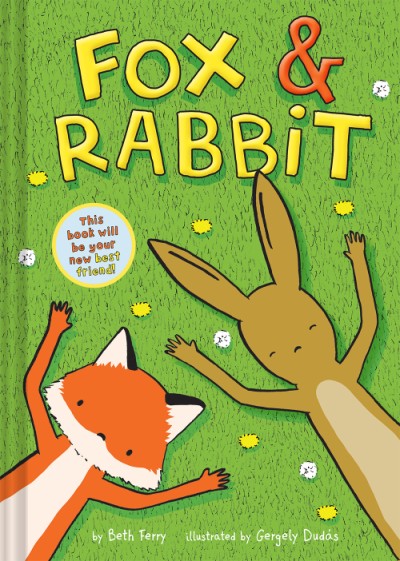 BF: Boy, is it different! And pretty awesome! Because there is no narrative in graphic novels, the writer relies on nothing but dialogue to move the story forward. I used many more art notes than I ever had in a picture book because there are so many wordless scenes. My illustrator, Gergely Dudás, expanded the world and words of Fox & Rabbit in such a perfect way. He went way beyond my art notes and created a world that is happy and warm and welcoming. The first book is 96 pages and has five chapters which seemed crazy to me at first. For the first time ever, I wasn't focused on word count. 
LA: What's up next for you?
BF: I had a fabulous opportunity to write a picture book for the movie that Disney is making of The One and Only Ivan. I am a huge fan of Katherine Applegate's book and was delighted to be a part of this special story in the smallest of ways. If the movie remains slated for August 2020, then the book will publish in July 2020. Then in September, the second Fox & Rabbit is coming out. And lastly, in October, Molly Idle and I have a book coming out called We Believe in You. If you know Molly's work (and who doesn't), you will not be surprised to hear that it is breathtakingly gorgeous. 
Thanks so much for visiting, Beth!
To find out more about Beth and her books, visit her website and connect with her on Twitter and Instagram at @bethferry1.
---
book giveaway!
---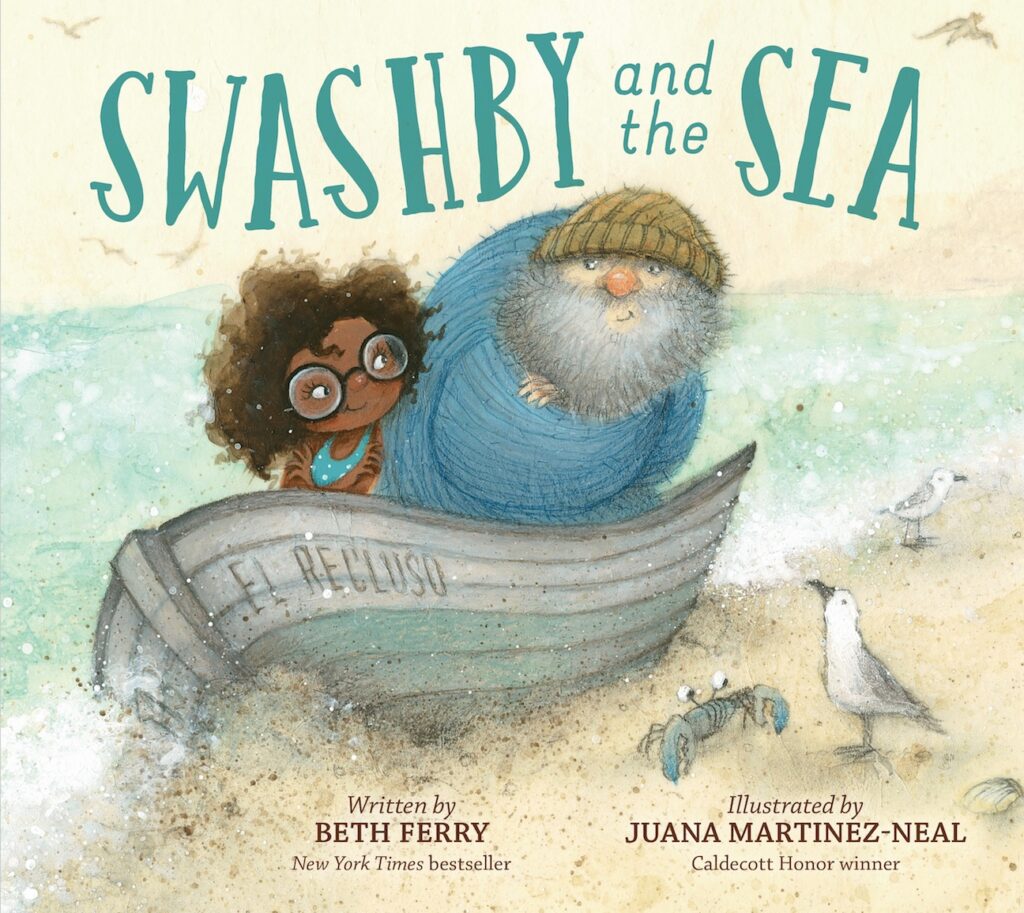 For a chance to win a copy of Swashby and the Sea, leave a comment below by May 10th. And if you have any questions for Beth, ask away! Beth has agreed to answer them–just be sure to check back in the next day or two for her responses.
---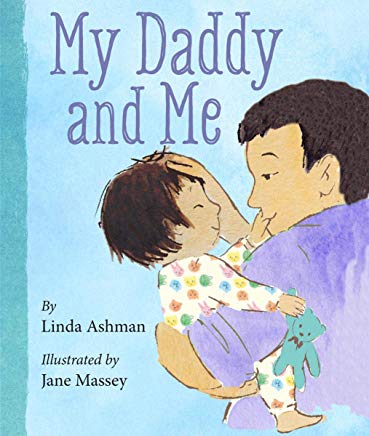 And, finally, the winner of My Daddy and Me from my March post is Tanya Konerman.
Take care, everyone. And, as always, thanks for reading!
Linda
---